Full Disclosure: This Is a Bragging Story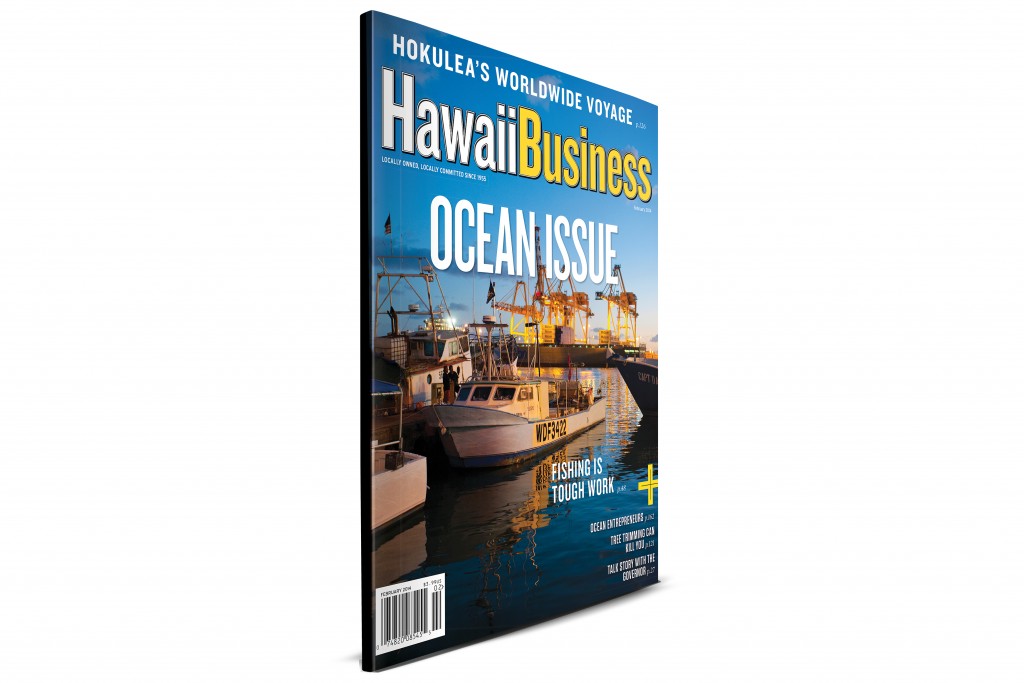 WE THINK WE DO good work at Hawaii Business magazine, but it's always reassuring when we receive affirmation from others – whether our readers or peers. At the end of June, we got a lot of reassurance.
In the annual statewide contest run by the Hawaii chapter of the Society of Professional Journalists, Hawaii Business does well each year. In some years, we have won more awards than any other media organization in the state. This year, we won 15 awards for work published in 2014 and finished second to Honolulu Civil Beat. The judges were journalists based on the
mainland, so there would be no conflict of interest.
Those results were announced June 26. A day later, we won four national awards in the contest run by the Alliance of Area Business Publications, the only other competition we enter. We competed head to head against publications with much bigger circulations and in much bigger markets, such as New York, Chicago, Dallas and Los Angeles. The judging was conducted by the University of Missouri's prestigious School of Journalism.
National Awards from the Alliance of Area Business Publications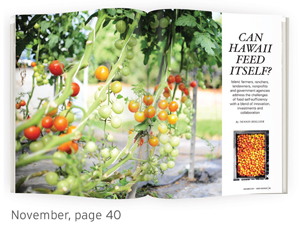 Silver (second place) for best magazine feature
for Dennis Hollier's "Can Hawaii Feed Itself?" The judges said, "The economy and the ecology are strongly affected by the ways in which farmers large and small respond. With an anecdotal beginning and a solidly reported body, this is a feature with substance."
---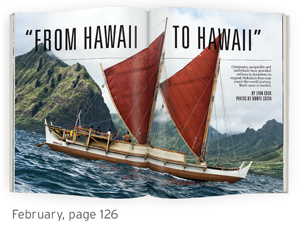 Silver for best magazine feature layout
for Kristin Lipman's "From Hawaii to Hawaii," our preview story about Hokulea's trip around the world. "Strong documentary photography carries the reader through a series of important storytelling moments," the judges said. "The photos are sized for impact, especially the beautiful opening image, yet the layouts also include ample breathing space around the elements. The accompanying map is well designed and provides an essential storytelling component."
---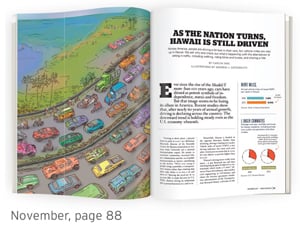 bronze for best local coverage of a national business or economic story
In this open category that included entries from magazines, weekly newspapers and websites, we won with the article about local transportation by freelance writer Carlyn Tani, "As the Nation Turns, Hawaii Is Still Driven." Accompanied by "compelling graphics, the story was told in a variety of segments that made the news useful and informative," the judges said.
---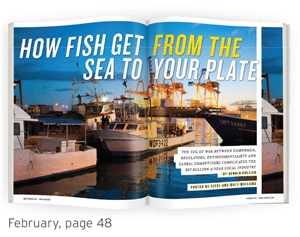 Silver for best use of photography and illustration in a magazine for a body of work
by Jen Tadaki Catanzariti, Kristin Lipman and Mary Pigao. "The entry includes a balanced mix of illustrations, photography, strong visual storytelling and documentary work. Of note are "From Hawaii to Hawaii," (February) "Mission of Mercy" (April) and "How Fish Get From the Sea to Your Plate" (February), all with telling moments and multiple photographs. "How to Lead" (June) is a cohesive portrait series in which design and photos play off each other beautifully."
---
State Awards From the Society of Professional Journalists, Hawaii Chapter

Health reporting, first place
For Dennis Hollier's story "The Next Wonder Drug?" about Cardax's synthesized version of the drug astaxanthin. The judges said, "In-depth and detailed account of the problems, solutions and predictions facing a small biomed company hoping to leave a lasting impact."
---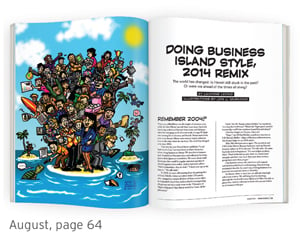 Editorial cartoon or illustration, first place
This award went to freelance artist Jon J. Murakami for his series of cartoons illustrating "Doing Business Island Style, 2014 Remix."
---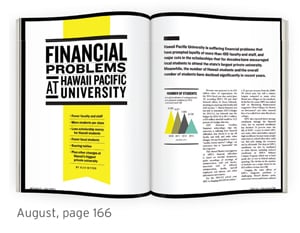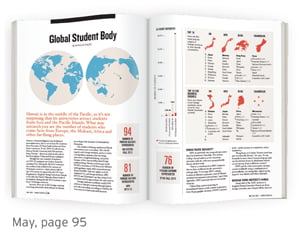 student news reporting in any media: First place and both finalist awards
Students working for Hawaii Business swept the category called student news reporting in any media. First place went to summer intern Alex Bitter for his story, "Financial Problems at Hawaii Pacific University" (August). The judges said, "Well-sourced, diligent work trying to get the details of the budget from a private university that seems intent to keep the problems private. Important reporting."
One finalist was spring intern Noelle Fujii for her story, "Global Student Body" (May) about foreign students at Hawaii's colleges. The other finalist award went to Deborah Manog and Bobby Bergonio, who traveled on scholarships to the Philippines with HB staff photographer David Croxford and the Aloha Medical Mission. Their report appeared in the April issue. "Lovely storytelling here," the judges said, "with vivid details about the scene and the scenarios surrounding these surgeries."
---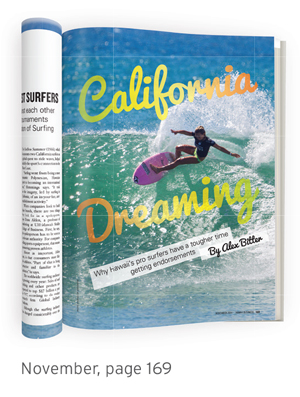 Student feature reporting in any media: First place and one Finalist award
First place again went to Alex Bitter, this time for "California Dreaming," a story about diminished marketing opportunities for Hawaii surfers compared to their mainland and Australian counterparts. Noelle Fujii was a finalist for her story, "We May Love Opihi Too Much" (June). By the way, this summer Alex finished his year as editor in chief of UH Manoa's newspaper Ka Leo o Hawaii and Noelle succeeded him.
---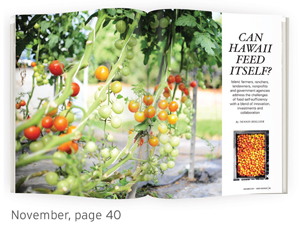 Two First Place awards: Feature writing/long form & Industry or trade reporting
Dennis Hollier won both these awards for "Can Hawaii Feed Itself?" about the challenges of farming in Hawaii.
---
Other Winners
Hawaii Business is part of Pacific Basin Communications, and other PacBasin magazines also did well at the SPJ contest: Honolulu took home nine awards, Hawaii eight and Mana five. For a list of all the SPJ winners, go to hawaiispj.org
and click on "062615 contest results." The full AABP results are available at bizpubs.org; look for "2015 Award Winners."