Fund Supports Women and Childern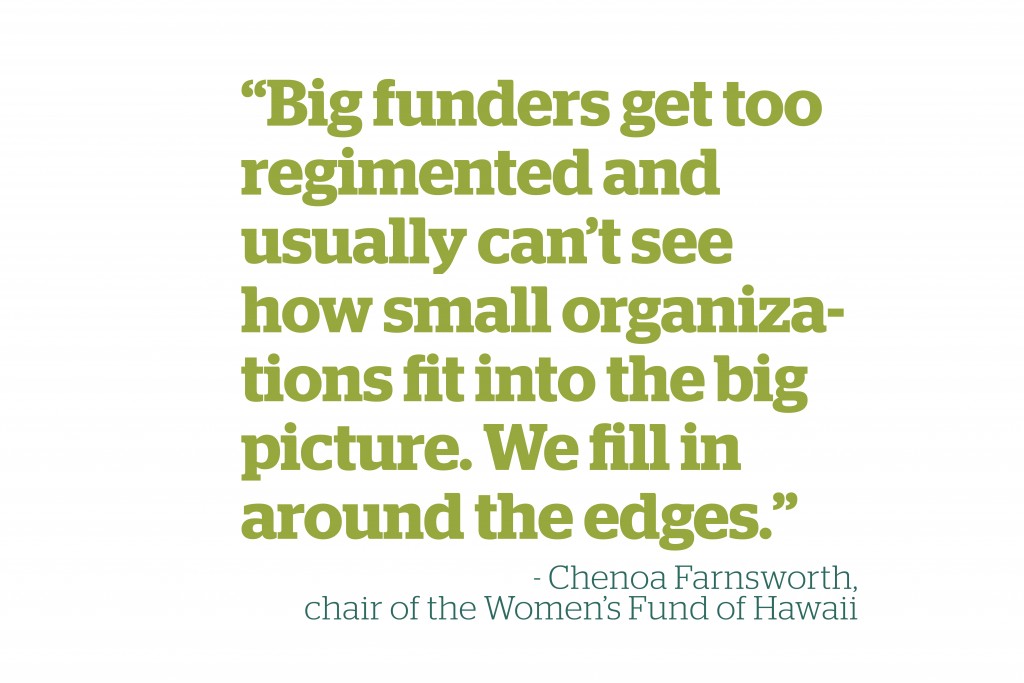 Working out of donated space on a shoestring budget with just one part-time employee and a volunteer board filled with some of the state's most influential businesswomen, the nonprofit Women's Fund of Hawaii supports unique programs for women and children.
"Nationwide, only 5 percent of grants support women's programming," says Abigail Nickell, the fund's executive director. "Without our grant program, most of the organizations we fund would never get off the ground."
In 2011, 18 nonprofits were awarded grants totaling $80,000. Learning for a Lifetime, which provides educational services to children in the Kalihi and Palama areas, got one of those grants to support its Girls Power of Writing Club, which started in 2008 with help from a Women's Fund grant. Margaret South, an LFAL board member, says starting and maintaining the program could not have been done without the Women's Fund.
Women's Fund chair Chenoa Farnsworth says that what sets it apart from most other foundations is its out-of-the-box thinking. "The big funders get too regimented and usually can't see how the small organizations fit into the big picture. We fill in around the edges of other funders."
Farnsworth, who also serves as managing director of Hawaii Angels, a nonprofit that promotes private equity investment, also notes that the fund balances its grants between needs-based and strengths-based programs because, "although the need is great in Hawaii, it is important to break out of the cycle of need to create greater opportunities for women and children."
The fund holds two major fundraising events annually – its Tea & Champagne event and the Women Drivers Golf Tournament – plus many smaller events.
Ever evolving, the fund established a permanent endowment in 2011 and is now considering a microloan program to support female entrepreneurship in Hawaii. – marcie kagawa