Talk Story with George Ehara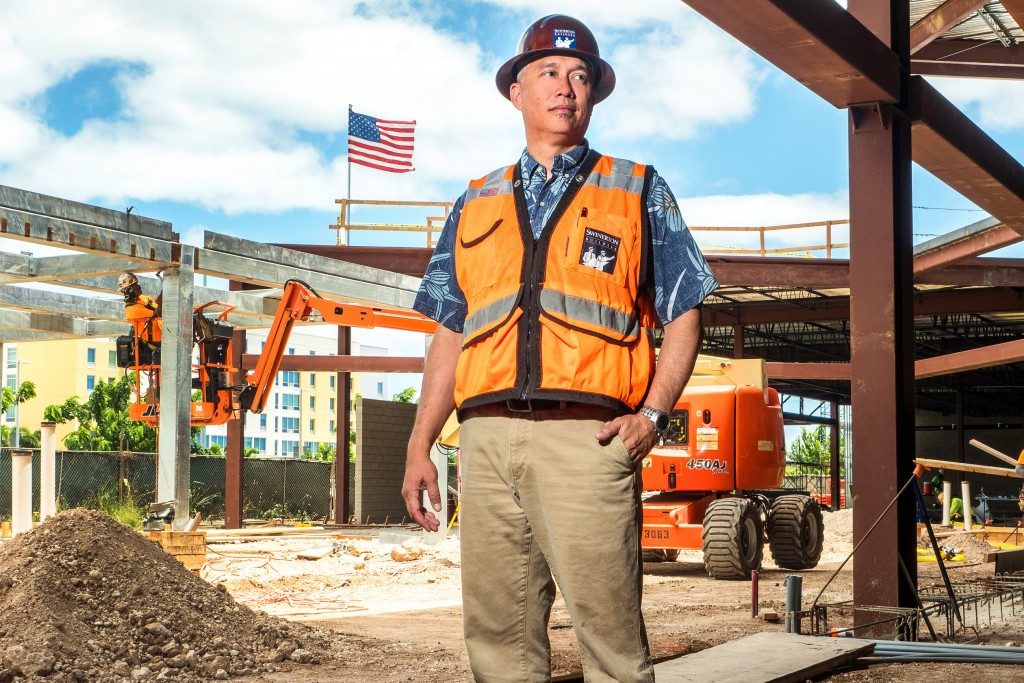 He's the VP and Division Manager, Swinerton Builders
Fifteen years after bringing Swinerton to Hawaii, Ehara offers a nuanced take on the construction industry: Bigger isn't necessarily better; boom markets have their own challenges; and if you build it, they won't necessarily come. Plus he discusses innovative construction trends that help to counter Hawaii's limited land space.
Q: Swinerton's gross revenue rose by 92 percent to about $280 million in 2017. What propelled that huge growth?
Ehara: About 98 percent of our work comes from repeat clients, so we are always focused on taking good care of them. We also finished big projects, like the UH West Oahu administration building.
Q: By design, Swinerton is mid-sized with about 140 employees. How do you calibrate in such a competitive field?
Ehara: We tend to stay away from really huge projects. If we grow too big it's hard for us to provide the high level of care that our clients are used to. A lot of companies double in size during boom times and that can get them in trouble later.
Q: Does that mean sometimes you turn away projects?
Ehara: Of course. I think the total Hawaii market is over $3 billion (value of building permits a year) and we want less than 10 percent. So by definition we want a business model that sees all the opportunities and we pick the ones where we bring the most value.
We're definitely not chasing everything. A couple of years ago a lot of revenue was going to Guam, but we just said no to that because we didn't feel that was the right move for our company.
Q: Why are zero-lot-line projects, where buildings get squeezed into small plots, gaining momentum?
Ehara: There is a lot of urban infill going on because the best sites are already taken. Rather than build on undeveloped land or expand our urban core, we're building on sites that maybe 10 years ago developers didn't want to touch. Zero lot line means we are 6 inches from the next building, but we don't run away from challenges.
Not everybody takes on these projects. How you erect a crane on a project like that gets impacted. How you stage materials gets impacted. The key is planning. For example, we don't have room to store materials on the site, so a lot of times our trucks pull right up to the site and the crane off-loads them. Those materials get stored in external warehouses.
Q: Are there other creative approaches to counter the finite land in Hawaii?
Ehara: There are other things, like re-adaptive use of properties. A great example is the Hyatt Centric project, where we transformed the old Waikiki Trade Center from office to hospitality. It had been failing as an office building, but it is doing great as a hotel.
Q: Real estate projects take a long time from vision to completion. How do you hedge your bet?
Ehara: The amount of time it takes to go from when you start spending money to when you make money is a long time.
Part of our job is to make our projects attractive to the subcontractors, so we can maintain the pricing. Recently when construction pricing was going through the roof, we were able to self-perform about 25 percent of the jobs – carpentry, etc. That helps us hedge against inflation. Another strategy is to pay every 15 days, instead of every 30 days.
We also try to understand the larger economy and where things are headed. For instance, the condo boom happens every so often and the last thing you want to do is jump into the condo building at the end of the cycle.
I think the condo cycle has definitely peaked. Now would not be the time to jump on that bandwagon.
Q: Can Micro units succeed in a market accustomed to bigger places?
Ehara: Yes. One thing we have in common with places like Hong Kong, where micro units are popular, is the cost of land is astronomical. If you can double the number of units on the same size parcel, your cost of land is less of a factor.
Some micro units are not intended to be long-term housing. They are intended to lower the barrier of entry so people can get into their first place and eventually trade up.
Q: If you build it, will they come in Hawaii?
Ehara: Not necessarily. There were several buildings that didn't get completed for a long time during the last recession. One of the misperceptions is that booms are good and downturns are bad. But when we have booms, we have problems containing costs or holding on to good people.
Sometimes booms come with their own challenges. We were the major urban area with the highest construction costs for at least a year. The market was so hot that projects weren't getting built because of construction costs. Now things have leveled off.
Q: What are you doing to prepare for the next downturn?
Ehara: I remember in 2008 when the market crashed, we all saw it coming but we were so busy because there was so much work out there that it was hard to prepare.
In hindsight I wish we could have seen that earlier because we probably would have prepared better. Some of the early signs we look at are building permit volumes. We also watch the Architectural Billings Index (a leading indicator for nonresidential construction). So far, we are not seeing any major red flags.
This interview was edited for conciseness.