Getting On Board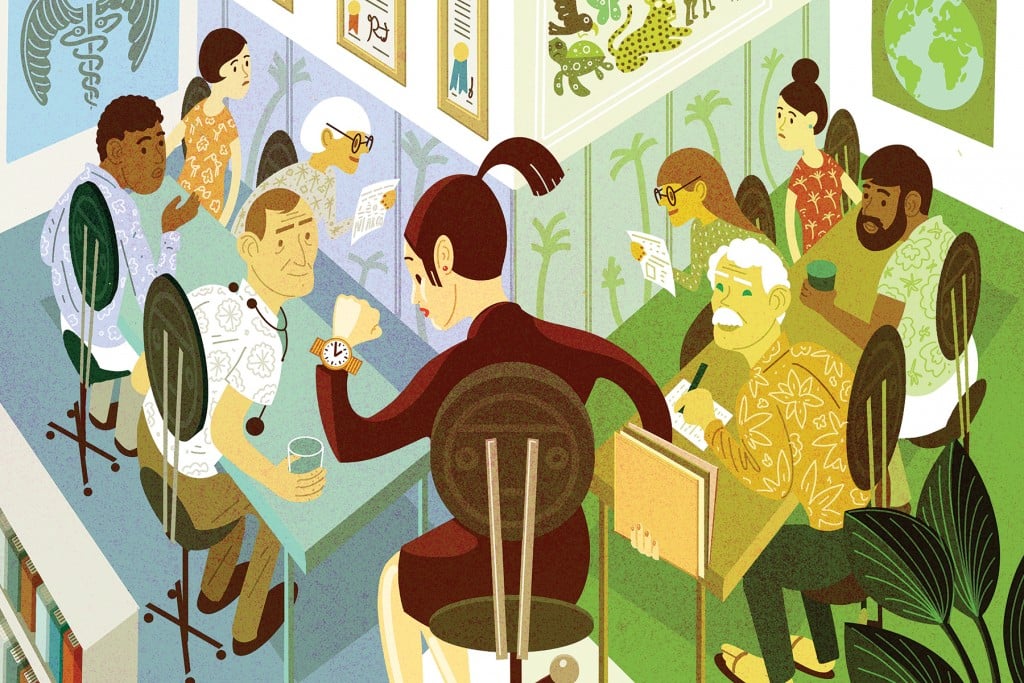 You've been offered a seat on an executive board. Should you take it?
Q: I've been asked to serve on an executive board for a local charity. I'm flattered but worried I don't have time. What are some pros and cons to this commitment?
A: Let's start with "What's in it for you?" A board position can be a way to network – especially if you are an up-and-comer in your industry – to broaden your personal marketability and to expand your skill set. On the other side of the coin, working on causes dear to you is a way to give back to the community.
I heard through the grapevine that Steven Ai, president and CEO of City Mill Co. Ltd., has served on a few boards, which turned out to be an understatement. He's on the UH Shidler College of Business Advisory Council. He's vice chair of the YMCA of Honolulu. And past vice chair of the American Cancer Society Hawai'i board. He gave 25 years of service to 'Iolani on the school's board of governors and the alumni association board. Plus nine years with the American Cancer Society. And he's on the board of advisors for Catholic Charities of Hawai'i though he's not Catholic. 
Ai says serving on a board or advisory committee usually comes down to three W's: "Work, wisdom or wealth." That is, you can help a board by participating in activities, by offering specialized expertise or by providing financial support. "Although I do give to most of the charities, I wouldn't want people to expect money from me," Ai says. "Some boards will say you have to donate in the amount of half or one whole tuition for a school year, for example. So definitely ask what would be expected from you."
He also suggests inquiring about the group's finances. "I always ask, 'Are you going into a capital campaign?' That would call for giving or getting money at a significant level. You have to know what you're getting into."
In terms of time, find out how often the meetings are held. Some boards gather once a month, while others convene only a few times a year. Ai is on the board of governors for the Filipino Community Center in Waipahu, an advisory role that he says is "important to me because at City Mill, probably two-thirds of our employees are Filipino and many live on the West Side." But it only meets once a year, so it's not a huge time commitment. 
Equally important, Ai says, is to question yourself. "Why are you doing this? A lot of young people want to get something on the resume, and that is OK too, but make sure it's something you care about."
For example, Ai says he chose to work with the American Cancer Society "because cancer hangs over everyone. I've seen the devastating consequences, seeing people fight that battle, and not always win that battle." He chose Hawai'i Pacific Health to repay what he sees as an old debt: "I was born two months premature. That was my first address, Kapi'olani, inside an incubator. Two months I was in there. I owe a lot to them, so I'm on the parent board of the medical centers."
He loved helping Le Jardin Academy build a high school. He loves helping the YMCA because his grandfather helped start it in Hawai'i. Diabetes affected Ai's parents, so the American Diabetes Association was a natural fit. He's been on the Children's Discovery Center board since 1992. "I love the interactive displays; everyone is a kid there in Kaka'ako. There are so many worthy causes – all causes are worthy, if there's a need." 
Ai brings up the Chinese proverb he learned from his father, David C. Ai, and grandfather, Chung Kun Ai, both of whom were also board-serving philanthropists. "When you drink water, remember the source," Ai says. "Our success comes from the community. Without the support of the community, my family wouldn't be successful, our business wouldn't be successful. We try to give back."
So, what do I think about you serving on a charity board? I say go for it. It's a great way to start your own legacy of service.
Q: Do I really need to get back to people on email within 24 hours? Who made up this dumb rule? I can barely get back to my spouse in that time. 
A: As I read your question, I'm reminded of that wonderful essay KJ Dell'Antonia wrote, "Why I Didn't Answer Your Email." She starts it: "I'm 47 years old. Two days ago, you sent me an email, which I did not answer. I didn't answer it, in part, because I am 47 years old." Midlife is not the best age for email, when work demands overlap with both parenting and the caretaking of parents and you're still expected to fit into your Spanx. On the other hand, no part of your life is the ideal time for answering email. But I digress.
Yes, you need to get back to some people in 24 hours, but context is key. Your boss? Clients? Yes. "But if it's someone you don't know who is emailing you personally, like a cold pitch, you might not need to respond at all," Jeff Toister boldly asserts. Now we're talking. Toister is a San Diego-based expert on customer service and the author of four books on the topic. (He also provides weekly customer service tips at toistersolutions.com/tips.)
For a business, though, email does need to be answered quickly and consistently. He has a few suggestions:
Have more than one person responsible for handling customers' emails. That way, the "contact us" button isn't leading to the unmonitored in-box of an employee who quit two weeks ago.

Monitor the emails. "If a company isn't monitoring email intake, they can't tell if they have enough representatives who can help properly."

Have employees answer what Toister calls "the next question." They should address what a customer is logically going to need as another step, so they don't have to email back again.

Set reasonable expectations. "You can have a generated response that assures the customer you're on the case. 'Thank you for your message. We generally reply to emails within four hours.' "