Gold Diggers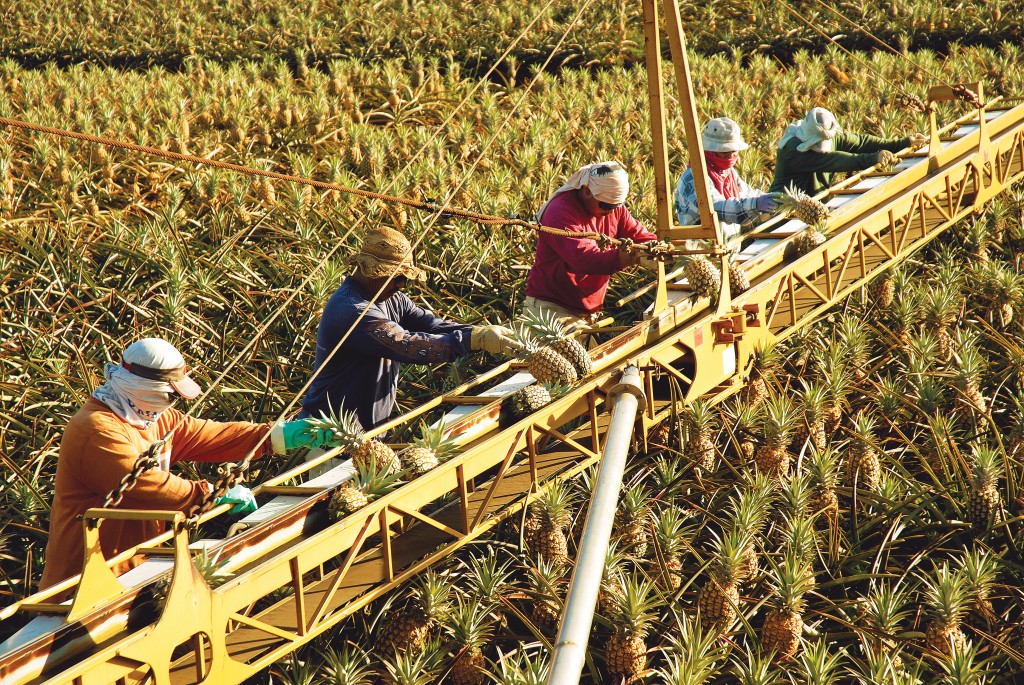 IT LOOKED LIKE the end of an era. Maui Land & Pineapple shuttered its agricultural operations after 90 years and laid off the few farm workers left out of a workforce that once numbered more than a thousand.
In what many saw as a hopeless effort, a group of former ML&P executives gathered financing to take over the 1,350-acre Haliimaile plantation and hired 69 former workers to plant and harvest the fields. Five years later, Maui Gold Pineapple Co. has not only survived, it's thrived and grown to 83 employees.
"As farmers, we're pretty happy with what we're doing," says president Darren Strand. "We've taken a business that closed over five years ago, and we've been able to continue growing Maui Gold."
While ML&P aggressively pursued new markets for Maui-grown fruit, Strand says, Maui Gold's strategy has been to get back to basics. "They tried to wrap their arms around everything and try to do everything as a company," says Strand, who served as director of farm operations at the defunct Maui Pineapple Co. "Our skill and our focus needs to be just on growing the best pineapple."
That's one reason the company found an outside contractor to run Maui Gold Pineapple Tours, which provides revenue to Maui Gold in exchange for access to fields (and pineapples for visitors to taste).
Maui Gold also stays c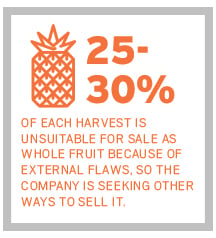 lose to home. The company sells around five million pineapples a year, with 40 percent of all revenue coming from Maui itself and about 85 percent from all of Hawaii.
A notable exception is Maui Gold's new flash-freezing operation. The company began selling 20-pound cases of frozen chunks and "tidbits" in February. "It's all going to food-service companies in Japan," Strand says. The fruit is currently being served in Japanese Tully's Coffee shops and MOS Burger fast-food restaurants, where it's featured in a signature dessert.
"It's frustrating for our group that kids in schools are eating canned pineapple from Thailand."

— Darren Strand, President, Maui Gold Pineapple Co.
"It's all marketed as Maui Gold," Strand says.
The frozen fruit is about more than just expanding markets, Strand says, it's also a way to make better use of off-grade fruits. Around 25 to 30 percent of each harvest is unsuitable for sale as whole fruit because of external flaws, such as small crowns or imperfect shapes. Some of it can be sold as fresh-cut pineapple, but the short shelf life makes that a minor solution.
"Freezing the fruit also allows us to use the smaller fruits that aren't marketable," Strand says. "It's a big deal for us."
Flash freezing could also open institutional markets to Maui Gold. Previously, the company had a hard time selling fresh product to school lunch programs and hospital cafeterias, but a frozen product could change that. "It's frustrating for our group that kids in schools are eating canned pineapple from Thailand," says Strand.
The frozen chunks remain 100-percent natural with no preservatives, he notes.
Teena Rasmussen, director of the Maui County Office of Economic Development, says frozen fruit should open new doors for Maui Gold. A grant from the county supplemented federal funding so Maui Gold could buy the freezer equipment.
"I'm very, very excited about the frozen project, because that is a whole new market we didn't have before," she says. "It's export, so that means new money coming in to Hawaii. It's not just money circulating here."
Overall, she says, the county felt it was important to support the continuation of pineapple on Maui. "It's part of our identity, part of our history, part of our agricultural legacy. And to have so much pressure put on us from imports, and this small company emerges from the ashes of a huge plantation that went out of business. It's just a great story."
Plus, she adds, "I think we produce better pineapple here than I have tasted anywhere."
The Maui Gold variety was developed at UH in the 1970s, one of several "gold" varieties whose delicate texture and high sugar content was better suited to fresh eating than the tougher, more acidic varieties preferred for canning. An international legal battle between pineapple producers in the 1990s over rights resulted in an agreement that ML&P would exclusively use the variety that became known as Maui Gold, while Dole and Del Monte claimed other "golds."
Although Maui Gold holds no legal patent on the fruit, Strand says, the island's unique growing environment – on a volcanic slope with warm, sunny days and cool, rainy nights – is ideal for the variety.
While he likes seeing the creative ways people use his company's product – he's seen pineapples in everything from locally made pickles to spa treatments – Strand himself prefers to keep it simple.
"There's not much you need to do to it to make it good. My family and I still eat just a lot of fresh-cut pineapple. I take it home and always keep some cut in the fridge – although my kids like it with li hing mui on it."