Goliath Is Gone, but 5 Davids Survive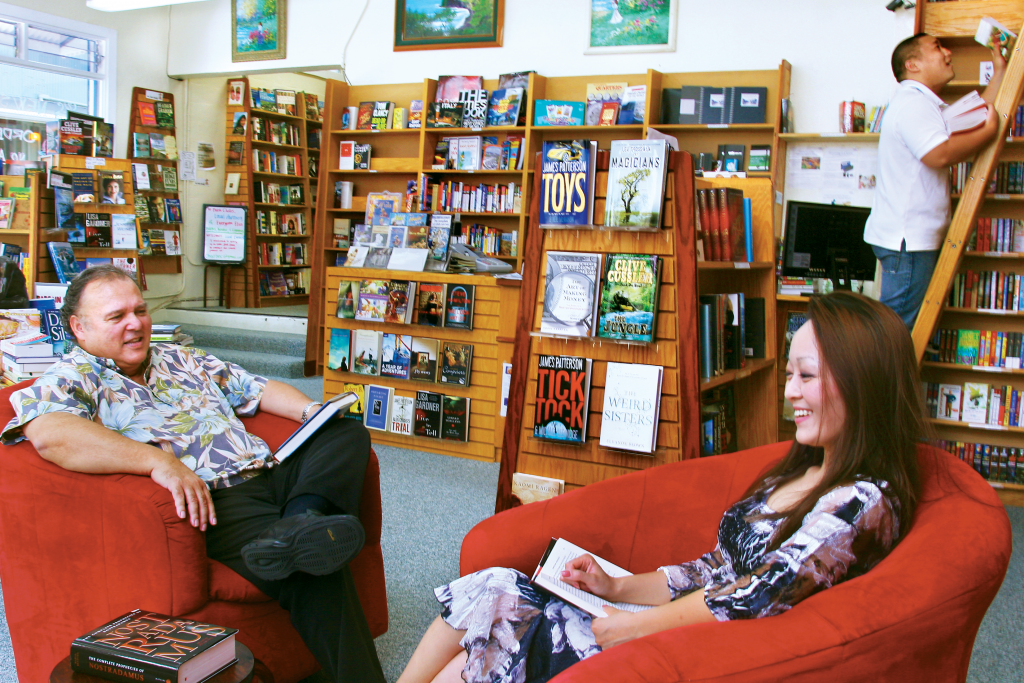 When the big Borders bookstore closed in Hilo in August 2010, attorney Bob Marx helped fill the void by opening Books, Nooks and Crannies two months later. His store adds to a rich literary scene in downtown Hilo, where four small bookstores and a bookbinder are all within several blocks.
Books, Nooks and Crannies seeks to be a general bookstore/coffee shop whose motto is "where friends, coffee and conversation meet."
There are 14 or 15 places to sit in Marx's 1,500-square-foot store, but it is still evolving. "I wanted it to be a more warm and friendly place," he says.
He is increasing his inventory of bestsellers and other books but says Hawaiian and children's books are his biggest sellers. "E-readers can't get the color, pop-up and fun that children's books have."
Jesus Sanchez, who has owned Sanchez Book Binders for the past 22 years, says he gets customers from other islands and even the Mainland.
His business focuses on restoring books or special printings. "People ask me if I can restore this book, bind this book, or I get a big project of 300 to 400 handbound books."
Sanchez sees the book businesses as part of a revitalization of Hilo. "It seems like Hilo was depressed for so long after the plantations closed," he says. "Now you see another life in Hilo."
Christine Reed, owner of Basically Books, is proud of her store's "strong reputation for our niche of Hawaiiana" and its selection of children's books.
Barbara Nakamoto, owner of the Book Gallery, Hilo's oldest bookstore, at 43 years old, says her store has evolved over the years, and now also focuses on Hawaiian and children's books. But, she says, it has never served as a hangout. "It seems like when you have places where people just hang out, you're not going to pay your bills."
Marx recognizes some of the costs of building a "hangout." For instance, because he wants to sell coffee along with books, he needs a special license.
"You need a restaurant-type license if you have any little bit of milk in your product," Marx says. "That was another expenditure in the $7,000 to $8,000 range" for upgrades.
"It's a difficult business," Marx acknowledges, "but I think if you run a really tight ship, you market fairly well, discount some and develop good relations, if you're hip with lots of folks and let them know you're there with available titles that they want, then I think you are going to do fine."
Book Gallery
259 Keawe St.
(808) 935-4943
Basically Books
160 Kamehameha Ave.
(808) 961-0144
Still Life Books (used books)
130 Kilauea Ave.
(808) 756-2919
Books, Nooks and Crannies
14 Waianuenue Ave.
(808) 961-1110
Sanchez Book Binders
165 Mamo St.
(808) 557-6410