Project Delays at Hawaii's Airports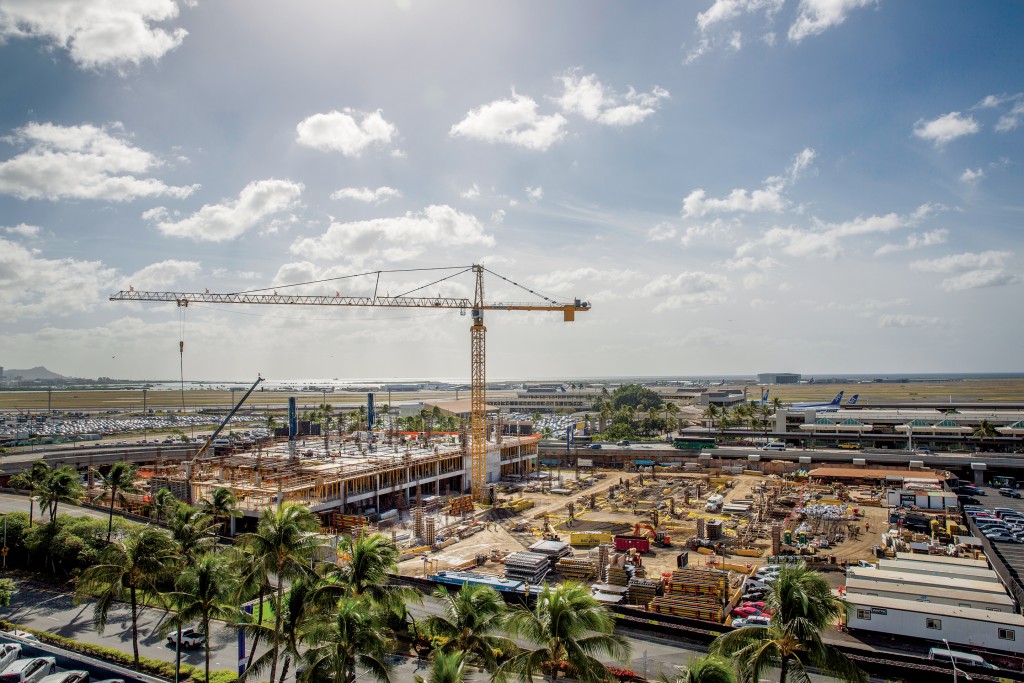 Modernization and expansion projects at Hawaii's airports are years behind schedule and tens of millions of dollars over budget. Some say the solution is an independent statewide airport authority.
Twenty-one hours out of the day, Hawaii's largest airport has enough gates to accommodate all the arriving and departing planes. But during the peak hours of 10:30 a.m. to 1:30 p.m., that's not always the case.
If a flight arrives in Honolulu outside of its scheduled time, or if there are operational delays that keep a plane from leaving its gate, planes often have to wait on the tarmac for a gate to open. During the summer, when seasonal flights are added, that wait can last an hour, says Blaine Miyasato, co-chair of the Airlines Committee of Hawaii. Airports in Lihue, Kahului and Kona face similar situations. "We're at and beyond capacity."
The state's program to expand and modernize Honolulu's Inouye International Airport and Neighbor Island airports is years behind schedule. In fact, red tape often stands in the way of getting things done. That's why advocates say Hawaii's 15 airports should be managed by an independent airport corporation, rather than directly by the state government.
Airport construction projects are subject to the state Legislature's oversight and can take a long time to be approved. And often, with every new governor or state transportation director comes a new vision for the airport system that can send everything back to the starting line.
In the last decade, Hawaii has had three governors and even more transportation directors, each with their own ideas.
The state government doesn't have the nimbleness and flexibility needed to address changes in the fast-paced airport industry, Miyasato says, but an airport corporation would. He estimates that hundreds of airports around the world are run by airport authorities. Over the last two years, the state Transportation Department and airlines committee have unsuccessfully tried to establish such a corporation. This year, they'll try again, but they will need approval from the Legislature, where a similar proposal died last year.
"It'd be hard to imagine a more important piece of infrastructure for the state than its airport system," says Mark Dunkerley, Hawaiian Airlines president and CEO. "And we are a long way behind. We've got a lot of ground to catch up on, and I think it's broadly acknowledged, including at the state level – which is to their credit – that the current system cannot deliver the expectations that people in the community and the airport users have in the system.
"So the time is ripe for change and fortunately there are models of how this can be done elsewhere around the country and around the world that have proven successful," he says, citing Orlando International Airport and Oakland International Airport as examples.
THE PROBLEM
Hawaii's airports are often the first and last thing nearly 9 million tourists a yearsee when they visit the Islands, says George Szigeti, president and CEO of the Hawaii Tourism Authority.
A successful airport has efficient, well-maintained operations and modern facilities – with on-time and on-budget capital improvement projects – that are conducive to the travel experience, Miyasato says. Hawaii's airports need a different governance model to meet that definition, he adds.
Dunkerley agrees: "In the 15 years since I've been at Hawaiian Airlines, I don't think for one moment of time would anybody describe Hawaii's airports as being adequate to their tasks." He says the state's airports are deficient in many big and small ways, such as replacing lightbulbs, having functioning moving walkways and making sure there are few temporary structures and arrangements.
While he thinks there are many well-meaning people associated with running the state airports, he says the current government system is preordained to fail. "Our industry moves more quickly than the political and legislative cycles do," he says. "We have things that are simple and straightforward and should take little time, end up being complex and costly and take a lot of time."
Hawaii's airport system is an enterprise, Miyasato says. The airports are funded by users: the airlines, concessionaires, restaurants and car rental facilities. However, the state Transportation Department is required to get approval from the Legislature before it can spend airport funds. Former state transportation director Ford Fuchigami says the Legislature is basically the airport system's board of directors – which approves staffing, budgets, appropriations and more – but the four-month legislative session makes it difficult for the department to get things done outside of that time.
Take construction projects as an example. Before a design firm can be paid to design a new facility, an appropriation is needed from the Legislature. "Everything involving the airport has to await that counter and that timetable, so that's sort of the first problem," Dunkerley says. Then the state has to go through the process again for an appropriation for construction.
If there's a change in the amount of money needed for a project – such as if the bids for a project come in higher than anticipated – the Transportation Department has to return to the Legislature to get the rest of the funds, Fuchigami says.
Then there's the state procurement process, which requires about 50 steps to complete a single construction project. That work involves getting approval from various state agencies like the departments of Budget and Finance, Accounting and General Services, and Commerce and Consumer Affairs, plus the offices of attorney general and the governor, Fuchigami says.
"Each of these steps, everything that should take months takes years, essentially, to get through," Dunkerley says. "And these delays compound."