Student Invention That Aims to Prevent Stillborn Births Wins Entrepreneur Competition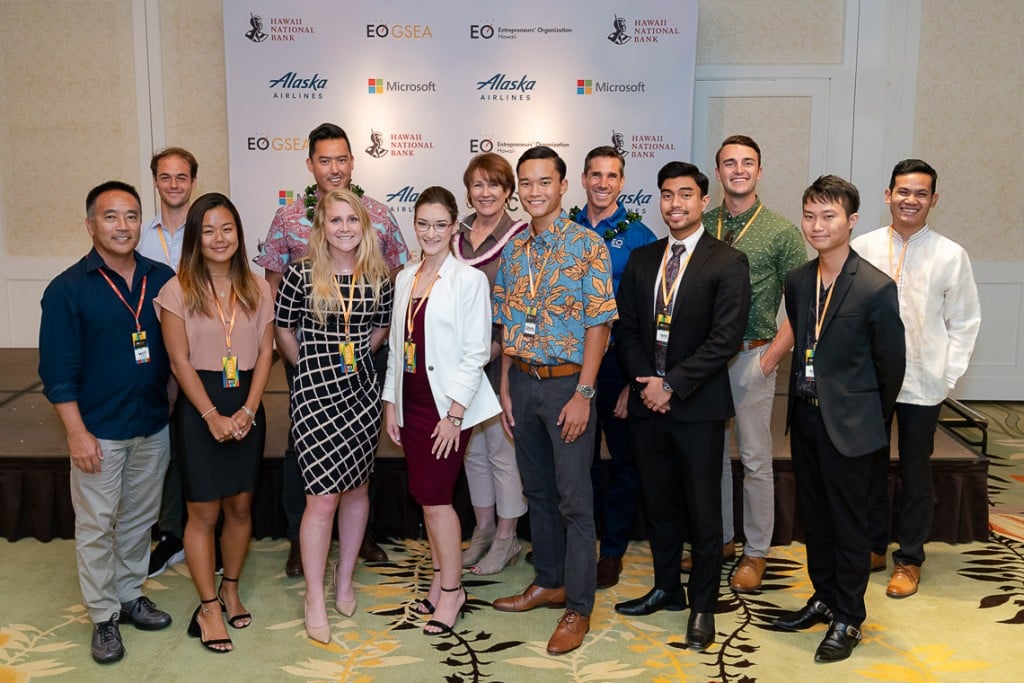 Nathan Neeley is still a student at Brigham Young University Hawaii but he's already developed a device that can alert a pregnant woman if something is wrong with her baby.
He won first place pitching his company, Rubi, Nov. 8th at the Hawaii regional competition for the EO Global Student Entrepreneur Awards.
"Rubi is the world's first passive wearable pregnancy monitor," Neeley said. "Our sensors embedded inside (a wearable band) measure the baby's kicks and send that information to the mother's and father's smartphones."
The National Institutes of Health says mothers often notice a reduction in the baby's movements for days before a baby's death. With Rubi, "If the kick count drops below a safety parameter, the mother can check in with the baby and seek medical attention if something is not right," Neeley said.
Rubi is being developed primarily for high risk pregnancies, but can also help first-time mothers understand what's going on inside themselves and alleviate anxiety, Neeley said. To address the disproportionate numbers of stillbirths in developing countries, the company is developing a give back program. Mothers who have completed their pregnancy can return the equipment and Rubi plans to send it to clinics in poor nations.
Neeley co-founded Rubi with friend Eric Stopper, the company's CEO, after Stopper nearly lost his son from pregnancy complications. "We worked to take our passion to fix something to help. Once we started using these sensors we knew we were on the right track," he said. At the time of the competition, Neeley's wife was pregnant.
Rubi's offices are in Provo, Utah, with research and product development taking place in a lab on the main BYU campus, also in Provo. Rubi has tested over ten series of prototypes with pregnant mothers and is hope to commercially launch its product by the end of 2019.
"Rubi is the world's first passive wearable pregnancy monitor. Our sensors embedded inside (a wearable band) measure the baby's kicks and send that information to the mother's and father's smartphones."


–Nathan Neeley, Co Founder, Rubi
The EO Global Student Entrepreneur Awards is a competition for college students who own and operate a business that has been generating revenue for at least 6 months. Selected applicants compete first in a regional event; winners advance to national and then global competitions. This final is in Macau, China.
The regional judges this year were Bryan Luke, president and COO of Hawaii National Bank; Cheryl Oncea, publisher of Hawaii Business magazine; and Scott Paul, president and CEO of Kleenco Group. Contestants were narrowed down to three finalists during a closed pitch session in which the judges also chose the winner. The finalists then presented to a public audience, and afterward the winner was announced.
GSEA is put on annually by Entrepreneurs' Organization, a global network of business owners with chapters in 60 countries. This year's qualifier received 10 applicants, double last year's. "The event has gained traction from the hard work of Scott Paul," says Matt Lyum, 2019 GSEA Chair. "The substantial sponsor prize packages really motivate the college kids to enter, and their professors are really supportive." Prizes included tickets from Alaska Airlines, business support services from HonBlue, Wall to Wall Studios, Business Consulting Resources, Dale Carnegie and Simon Leadership Group as well as a bundle of products from Microsoft.
Luke said he supports GSEA because "competitions like this prepare and encourage students and young business owners to think strategically. EO Hawaii also provides the opportunity for students to meet and learn from seasoned professionals and potentially build meaningful, lifelong business relationships."
Esther Lambright and Tate Castillo were the other top three finalists. Lambright is a Chaminade University of Honolulu student running a full-service portrait photography business called Captured Imagery. She said her approach is designed to bring the best out in her subjects through pre-production consultations to create rapport and trust.
Castillo is a UH Richardson law school student and operates Kope Soap with several friends. Kope incorporates coffee grounds into its soaps because the biodegradable waste acts as an exfoliant and is brimming with antioxidants, Castillo said. He called it "upcycling" – creating a product of higher value than the discarded materiel. Kukio resort in Kona is one of Kope's customers.
"All the contestants are amazing in how they manage serious business ventures while juggling collegiate work load," Lyum said. "Rubi has a social and economic benefit with global reach. Nathan doesn't have just a great idea presented well, his team has raised hundreds of thousands of dollars already."
Asked about long-term goals for Rubi, Neeley said, "I hope that every mother who is considered high risk leaves the hospital with this product. That will bring the most impact." He said he has refined his entrepreneurial skills through several app developments as well as a successful Amazon consulting business. Neeley said he had been looking to change the world through a business and believes Rubi is poised to do just that.
Luke recognized this drive: "Neeleyʻs passion was apparent during his presentation. Out of all the businesses represented, Rubi had the widest possible impact, marketability and broad appeal, potentially improving the outcomes of millions of pregnancies globally."
Next stop for Neeley is the GSEA national competition Jan. 10-11, in Denver, where he will compete against winners from 32 different U.S. regions. "I'm very excited for nationals," he said. He intends to adjust a few aspects of his presentation away from the technical details toward the story and importance of the product. "More story telling than nerd telling."