The 2020 Guide to Hawaiʻi's Shipping, Air & Transportation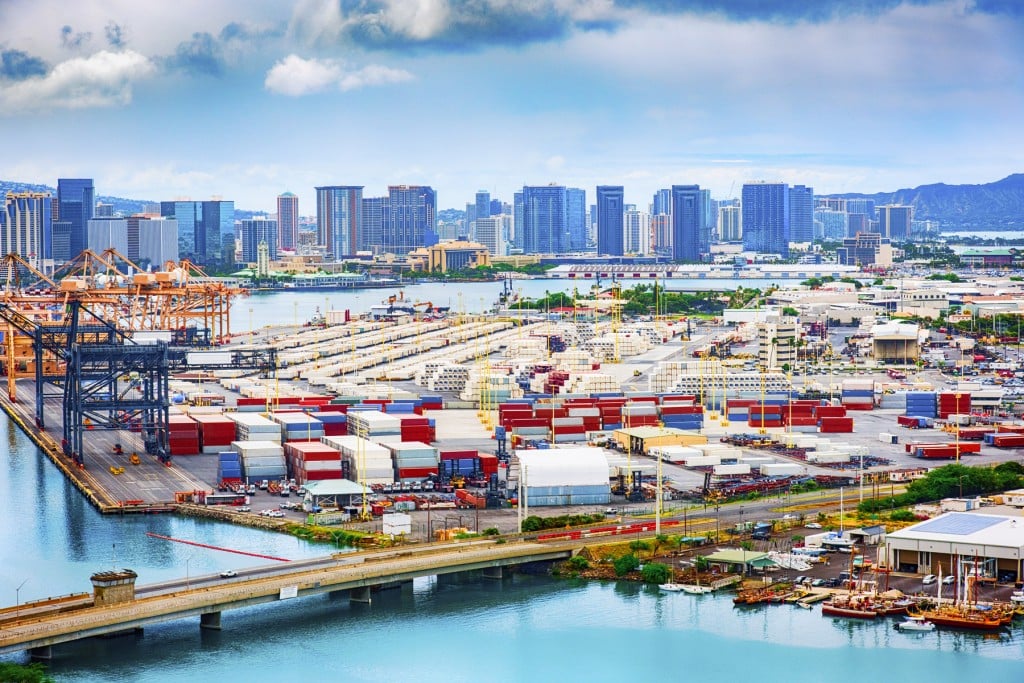 Industry leaders share how they have adapted and transformed to serve Hawaiʻi's needs.
With San Francisco 2,397 miles to the east and Manila, the Philippines 5,293 miles to the west, the Hawaiʻi archipelago is the most isolated in the world. After Captain James Cook made European contact with Hawai'i in 1778, the Port of Honolulu soon became a popular stop for whalers and traders crossing the Pacific. Today Honolulu Harbor is one of the largest container ports in the US and serves as the hub of 10 commercial harbors: Nawiliwili and Port Allen Harbors on Kaua'i; Honolulu and Kalaeloa Barbers Point Harbors on O'ahu; Kahului Harbor on Maui; Kaunakakai Harbor on Moloka'i; Kaumalapau Harbor on Lana'i; and Kawaihae and Hilo Harbors on Hawai'i Island. Honolulu Harbor's proximity to Daniel K. Inouye International Airport provides easy access to intermodal cargo transport.
2020 and the COVID-19 pandemic have brought new challenges to shipping and transportation to and from Hawai'i. Industry leaders have adapted and innovated to continue to serve the Islands, demonstrating universal dedication to serving Hawai'i's needs.
George Pasha, IV, President and CEO of Pasha Hawaii, says, "Following a statewide shelter-in-place order for California in mid-March and Hawai'i shortly thereafter, our 400- plus employees [worked] remotely at full capacity." Front-line employees, including those on ships and at terminals, continued to work on-site while implementing CDC and State DOH guided safety measures such as PPE, extensive sanitation protocols, and social distancing.
Hawaiian Air Cargo added dedicated cargo freighters flying to and from cities in Asia to assist with movement of PPE and other necessary items. Dana Knight, Director, Cargo Commercial says, "We continue to see a strong demand from the West Coast for perishable cargo to the Islands and expect this to continue."
Dependable Hawaiian Express (DHX) provides international import and export services, their own freight services, local hauling, trucking and warehousing. About 60% of DHX employees now work remotely to ensure their safety and security. DHX President, Brad Dechter, says, "We've seen a surge in the customers we serve who handle hand sanitizers and cleaning supplies." DHX ships to Hawai'i from Long Beach and Oakland, California; Portland, Oregon; and Seattle, Washington. With terminals on O'ahu, Maui and the Island of Hawai'i and the support of delivery agents in Hilo and Kaua'i, DHX provides seamless coverage to all the major Hawaiian Islands. In August, 2019 the company added a new warehouse in Honolulu and began offering multiple island public warehousing there and in Maui, Kona, and Guam.
To meet increased customer demand during the pandemic, George Pasha, IV says, "We quickly deployed our reserve ship [to run] all six ships between California and Hawai'i… as consumers emptied shelves at pharmacies, grocery and big box retail stores that supply essential goods." Pasha's employees worked 24/7 to ensure the supply chain to Hawai'i and to fulfill all customer requests, even at unprecedented levels. Like many essential businesses, it is operating in unchartered territory. The frequency of flights for Hawaiian Air Cargo has changed. Dana Knight says, "We currently have daily passenger flights with our Airbus 330 or Airbus 321 that we load cargo in the belly from Honolulu to Los Angeles, San Francisco, San Diego, Sacramento, Portland and Seattle. We are also operating a daily Honolulu – Los Angeles all cargo flight…[and] additional all cargo flights 2x per week between Honolulu – Narita, Japan and 3 x per week between Honolulu – Incheon, South Korea." Hawaiian Air Cargo operates over 10 Boeing 717 passenger flights per day from Honolulu to Kahului, Kona, Hilo and Lihu'e and 5x weekly ATR-72 freighter flights.
Despite COVID-19, multiple carriers report that construction materials and equipment continue to flow on a steady basis. The State and Federal government have not ceased to provide funding for public-awarded contracts to support the economy.
George Pasha, IV, says, "… We will continue to look for ways to maintain the integrity of our business model while ensuring Hawai'i's supply chain remains uninterrupted…" He adds, "…early in the pandemic there was a tremendous need for essential goods – food, beverages, medications, sanitation products and household consumer goods. Grocery stores and big box retailers like Costco, Walmart and Safeway required increased shipments in these categories in order to keep their shelves stocked." Shipping of non-essential cargo such as large electronics, furniture, and cars has decreased dramatically. With tourism coming to a standstill, rental car companies have shipped excess cars back to the mainland, secured lots to store cars temporarily, or implemented a combination of both.
Looking ahead, Pasha Hawaii will add M/V George III to its fleet in late 2020, while delivery of M/V Janet Marie is expected in early 2021. George Pasha, IV, says, "Successfully pivoting our operations during a crisis such as COVID-19, or even the recent Hurricane Douglas, is a responsibility our team is committed to, 24/7… We understand the importance of ensuring that Hawai'i's supply chain remain uninterrupted regardless of the circumstances or challenges we face. We have numerous protocols in place ready to implement if needed to make sure Hawai'i continues to receive the goods it needs, while keeping our team members safe."
Hawaiian Air Cargo is focusing on the expansion of its all-cargo neighbor island ATR-72 freighter service, which since March has made flights 5 days/week between Daniel K. Inouye International Airport (HNL) and Kahului Airport and Kona International Airport, an extension to earlier operations. The company continues to heavily invest in technology such as remote access for booking and tracking shipments. It is converting paper processes to digital to improve speed and accuracy, increase eco-friendliness, improve warehouse mobility, and make real-time information available to employees and customers.
In December 2019, the Hawai'i Department of Transportation (HDOT) Harbors Division announced it was moving forward with Phase 2 of the Kapalama Container Terminal (KCT) project at Honolulu Harbor. Phase 2 has an estimated cost of $200-300 million and is anticipated to be complete in 2023. The project will help address capacity issues and meet the growing economic demands for the long term.
---
Dependable Hawaiian Express (DHX)
It's estimated Hawaii's economy imports at least 80% of its goods from mainland sources. During COVID-19, while some less fortunate businesses closed, DHX-Dependable Hawaiian Express continued our role as the State of Hawaii's largest essential freight forwarder of dry goods into the islands. With warehousing and distribution on Oahu, Maui, and Kona, (as well as Guam) DHX is uniquely positioned to receive and store an influx of goods for customers not able to receive products as well as meeting critical demands for personal protective equipment, hand sanitizers, and related products. When the time was of the essence, more time-sensitive commodities were also airfreighted and expedited by our sister company DGX-Dependable Global Express. Even during these trying times, building supplies continued their flow through our services, keeping construction project supply chains operating.
As an essential business, our top priorities remain service, safety, and the health of our Ohana of employees, customers, and community. For many, remote home workstations were established. Strict adherence to the customer shipping and receiving protocols and safety measures were implemented for our frontline operations employees. Serving the Islands for 40 years, we're proud of our efforts to keep our Ohana healthy and safe.
We are extremely proud of giving back to our Communities by transporting much needed supplies to various community organizations and volunteering at Food Banks during this time of need. With the recent completion of our 79,000 square foot facility in the heart of industrial Honolulu, we remain proud and prepared more than ever to serve and provide for our community. For more information, visit www.dhx.com or contact your local office or call toll free at 1-800-488-4888.
Hawaiian Air Cargo
In 1942, Hawaiian Airlines became the first airline in the nation certified to ship cargo, holding U.S. Cargo service certificate #1. In the decades since that pioneering beginning, Hawaiian Air Cargo has built a reputation for high-quality shipping and outstanding customer service.
America's most on-time airline. When you're shipping goods, on-time service is crucially important. Hawaiian Airlines has recorded the best on-time record in the country for 16 consecutive years.
An extensive network. Hawaiian Air Cargo gives you access to more Neighbor Island flights each day than anyone else, and also offers shipping to a wide range of destinations throughout the Asia-Pacific region and the U.S. Mainland. Whether you're importing or exporting, extend your reach with Hawaiian Air Cargo.
Dedicated aircraft. Open up new possibilities for your business by taking advantage of dedicated cargo aircraft serving the Neighbor Islands. These ATR-72 aircraft can handle palletized shipments, offer seamless connections and accept a wider range of goods.
Personalized service. Need shipping solutions tailored to your needs? Hawaiian Air Cargo delivers. They offer fast and affordable shipping for domestic and international cargo, and will work with you to make sure the service is exactly what you require.
Learn more at HawaiianAirCargo.com
---