Happy Employees Seem to Increase Profits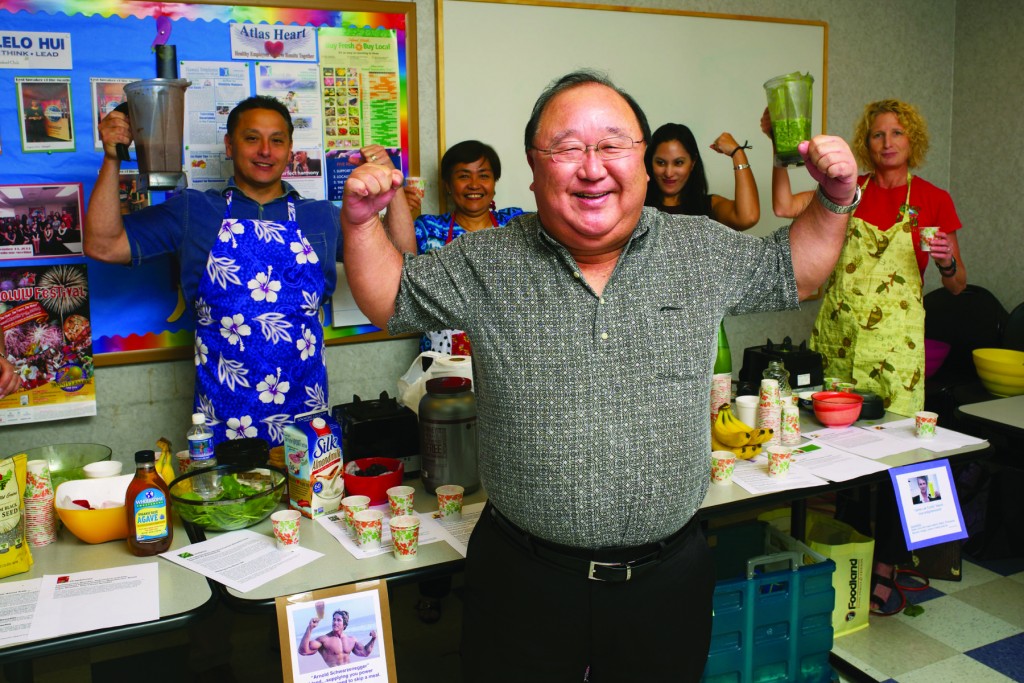 Delaney launched HiHR in 2009 and the company has made the Hawaii Best Places to Work list in every year for which it was eligible – four straight now. In the same time, HiHR went from revenues of $6.1 million in 2009 to $123 million in 2013.
Delaney doesn't chalk up all that success to being a Best Place to Work, but he knows it's a key ingredient. For one thing, the recognition gives his young company enormous credibility.
"We've consistently been recognized, and are continuing to be recognized," he says. "For such a new company to get that, it really helps our reputation. It truly adds legitimacy."
Numerous national and international studies have revealed the connection between an engaged workforce and a company's profits. The studies have not proven that an engaged workforce leads to higher profits, but there is an undeniable correlation between the two.
Peter Burke is the co-founder and president of Best Companies Group, the company based in Harrisburg, Penn., that conducts the Best Places to Work survey for Hawaii Business and similar surveys in 23 states and four countries. He notes that study after study shows a connection between contented employees and a thriving bottom line.
For instance, a study by Hay Group, a global management-consulting firm that operates in 49 countries, found that the return to shareholders is 19 percent higher in companies where employees are "highly engaged" compared with the average company. Conversely, the shareholder return is 44 percent below average in companies where employees are disengaged.
Aon Hewitt, a global firm involved in risk management, insurance and HR consulting services, estimates that each disengaged employee costs a company $10,000 in lost profit.
And Towers Watson, an international consulting firm, studied 10 global companies and found that the companies with high employee engagement had net profit margins three times greater than companies with low employee engagement.
"When you have engaged employees, there are so many great things that actually happen," says Burke. "If you have a highly engaged workforce, you're going to be in a better financial position."
The annual Best Places to Work survey identifies Hawaii companies that have engaged employees, Burke says. "Engaged" means that workers feel an emotional connection to their jobs and their employers, he says. "Engaged employees feel their jobs have a sense of meaning and purpose. They want to go to work every day. They're willing to give extra effort to help the company succeed. And they're willing to stay (employed there) for a significant time. If an employee says they're willing to stay at least two more years, that's a fairly engaged employee."
Atlas Insurance Agency has made the Best Places to Work list for six years straight. President and CEO Myles Murakami says that each year, he and his team study the results of the survey in which his employees respond anonymously to 80 statements and questions posed by the Best Companies Group. Each year, the leadership team learns new things to apply and gets ideas on fine-tuning the things they already do well.
Healthy employees are a big part of the Best Places to Work. That's why, at 10 a.m. on the first Thursday of every month, Atlas Insurance's office on Bishop Street is filled with an array of locally grown fruits and vegetables – an idea inspired by the Best Places To Work program.
"When you look at the winners, a lot of it has to do with health and wellness," says Murakami. "So we established a health and wellness committee and what that group did for the staff is create a monthly farmers market right here in the office. Here's the irony: We have a farmers market outside the building and yet the employees really enjoy having it in the office. And every other month we bring in a top chef to advise on how to cook some of the things and share recipes."
"We can't say participating in this program changes our bottom line from x to y," he says, "but what's really helpful is getting the breakout reports so we can focus on areas where we didn't do as well as other areas. Just today we were talking about issues we need to address. To me that's the biggest benefit. Right from the beginning, I encouraged as many employees as want to participate (in the survey) because this is part of the leadership team's way to improve what we do as leaders. The more feedback we get from everybody, the more benefit we get as leaders to improve our operation."
HiHR's Delaney says there are many benefits to being on the Best Places list, including the boost to recruiting. Job hunters come to him, he says, because they've heard and read good things about his company. That's especially important because HiHR plans to hire 50 or more new employees this year.
"We have candidates seeking us out," Delaney says. "They're saying, 'I read about you and all the nice things you do for your employees and for the community and your exciting growth, and I want to be part of it.' People have said, 'It took me a year and a half to get a job with you guys, but I want to hang my hat in a company where I see myself working for a long time.' "
It also makes an impression on potential customers.
"We have clients who literally signed up with us because they read about us and say 'I can't believe you care about your employees so much that you feed them (lunch) every day. We want to do business with you. If you really care about your employees that much, we know you'll care about us, too.' "
Delaney says HiHR earns loyal employees by being loyal to them. An HR manager whose mother suffered from cancer was allowed to work remotely from Oklahoma for two months while caring for her, Delaney says. The company paid the security deposit for another employee, a single mom, when she changed apartments.
"We constantly try to help our staff whatever their needs are," says Delaney.
Burke of Best Companies Group says there's no downside to a highly engaged workforce.
"You can make the case for better financials in terms of cost savings: There's lower turnover, lower sick leave and recruiting becomes easier. Turnover alone is incredibly expensive because of training and down time," he says.
Susan Springer, director of workplace assessments for Best Companies Group, says one of the most powerful tools the Best Places to Work program provides to companies is the simple act of surveying their employees.
"Surveying in itself is a very important component in having an engaged workforce," Springer says. "There's not enough that can be said about just surveying your employees and getting that two-way dialogue established. Employees need to be listened to. If you don't know what the majority of your employees value, you could be throwing dollars at benefits and employee programs that will see no return."
"For instance, you may go into the survey process thinking, 'We've got to double what we're matching on the 401k,' " but find employees are fine with the 401k just the way it is, she says. However, the same survey may reveal employees are truly unhappy about something else that should be fixed instead.
Springer says the No. 1 return on an engaged workforce is retention. "You have the cost to advertise a new position, the down time in productivity and then the cost to train someone. It far outweighs what the actual salary would be. It costs far more to replace an employee than to keep one. That in itself is an amazing reason to try to improve your workplace."
The second big return on an engaged workforce is you will likely get more qualified job applicants than an average company.
A third big return is satisfied customers, Springer says. "We've had banks use this in their promotions to gain customers because they know if their employees are happy, those employees are more likely to go above and beyond with their customers."
Brian Bowers, principal at the architectural and construction management firm Bowers + Kubota, points to huge gains in net revenue during the six years the company has been named one of Hawaii's Best Places to Work. Those gains took place even during the recession, when many other companies lost revenue and cut staff.
"From 2008 to 2013, our net revenue grew 63 percent," Bowers says. "… We didn't cut any benefits. We didn't cut anything – definitely no people. Part of that is due to the culture here. The fact that we are a Best Place to Work feeds into the culture, but I think we also have a good strategic plan business-wise."
Bowers notes his company intensely scrutinizes the results of the survey and makes many policy adjustments as a result. And the company always shares its action plans with employees.
"It facilitates our continuous improvement process because of the anonymous feedback report provided by the Best Companies Group," Bowers says. "There's a ton of good information in there, not only in HR issues, but in leadership issues. It gives you an overall snapshot about how the employees feel about eight different categories. You can take the results and look at the trend over the past six years and we chart that and see how we're doing in each area. If you see the same kinds of comments maybe five or six times, maybe you have something you have to address."
When employees noted anonymously their concerns about promotions, the company added an additional promotional step as an option on the road to management.
"We're a relatively flat organization," explains Bowers, "and that was a valid concern. We like the officers and owners to be as close to the employees as possible, but there were just two levels. So two or three years ago we added an associate category to recognize people who had performed well and move them up to that level and then they would be coached to get to the next level. We realized the gap from staff to senior associate was too great, so that allowed people to see there was promotion potential."
Amy Matsushima, HR director at Bowers + Kubota, notes that once the two principals, Brian Bowers and Dexter Kubota, have reviewed the Best Places to Work report, they bring the whole staff together in a "town hall" meeting to share results.
"It's good for the employees to hear what they've shared (in the survey) and Brian and Dexter come back with answers right then and there for the questions that came up," says Matsushima.
Bowers knows from personal experience that being a Best Place to Work helps retention and recruitment. "Last year, turnover was 4 percent," he says. "The industry average was 12.7 percent."
At Skyline Eco-Adventures on Maui – another repeat Best Place to Work – co-founder and owner Danny Boren agrees that being known as a great workplace is like a magnet. "It's great for employee retention," Boren says. "People vying for jobs here say they've seen that and hope they'll be considered for a position with us."
Skyline general manager Erik McLellan says that over the past nine years – including six on the Best Places list – the company has grown 700 to 800 percent in staff and revenue. The company grew every year, even during the recession.
Today, now with 25 competitors in the Hawaii zipline market, the company is still growing about 5 percent a year. Boren says the employee survey results have inspired the company to tweak benefits and add some that were missing.
"We added a 401k – something we hadn't done prior to getting involved with Best Places," he says. "That was one of the first things we added after being on the list. …. Retirement is a big thing we've tried to focus on and also health benefits. We go for top tier health insurance, including dental and vision and everything."
The company also has some uncommon perks, such as reimbursing employees who participate in sporting events. "A number of competitive surfers work for us and we'll pay their entry fees for surf contests," Boren says.
To create another advancement opportunity, the company created the job of outreach coordinator and a former guide moved into that position.
"He's really passionate about the native environment and we created a position for him," says Boren. "We've always done reforestation and outreach, but now he's the one who coordinates with youth groups to do native tree plantings." To date the company has planted more than 2,000 trees.
Has all of this translated into a better bottom line?
"Not directly, but I think just having happy employees translates into having a place that people want to visit, which translates into improved sales," says Boren. "Guest satisfaction is a result of our staff doing a great job. And they do a great job when we take care of them."
What Leads to Engaged Employees
Every year, the Best Companies Group conducts surveys of employees at Hawaii companies to find the Best Places to Work. All employees are guaranteed anonymity so they will respond truthfully. Best Companies Group conducts dozens of similar surveys each year across the country and in three foreign countries. Based on those survey results, Best Companies found that agreement with these statements are the main factors that separate the Best Places to Work from ordinary places to work.
I feel I am valued at this organization.
I have confidence in the leadership of this organization.
I like the type of work that I do.
Overall, I'm satisfied with this organization's benefits package.
I can trust what this organization tells me.
There is room for me to advance at this organization.
I understand the importance of my role to the success of this organization.
I like the people I work with at this organization.
My pay is fair for the work I perform.
My supervisor treats me fairly.
---
Great Workplaces
The Great Place to Work Institute, which compiles Fortune magazine's annual "The 100 Best Companies to Work For" report, has spent 30 years doing research in more than 40 countries, and has discovered that "investing in a high-trust workplace culture yields distinct, tangible business benefits.
"Our studies of the 100 Best Companies show that great workplaces enjoy significantly lower turnover and better financial performance than industry peers," says the institute. "Case studies of specific workplaces demonstrate additional, industry-specific benefits, including reduced shrinkage, improved track records on safety, higher patient satisfaction, better quality job applicants and more."
As an example, the institute's website cites the remarkable growth at the financial services firm Robert W. Baird & Co. – one of Fortune's 100 Best Companies To Work For – partly as a result of creating a culture of responsiveness to employees and service to clients.
Between 1994 and 2010, the firm's revenue grew from $180 million to $847 million. It says it averages 200 applicants for every job opening, and has a turnover rate of 4.7 percent compared to an industry average of 16 percent.
Another case study cited by the institute is Scripps Health, a San Diego hospital system plagued by operating losses, high turnover, labor shortages and other problems in the early 2000s. Concerted efforts by management transformed the workplace, resulting in over $70 million in cost savings and annual profits that increased by more than 1,200 percent.
Scripps Health CEO Chris Van Gorder, who led the turnaround, says: "If you have been your people's advocate, have been credible and honest with them, and have trust with them, then you won't have to lead the charge, they will be ahead of you. They will surround you and take care of and protect you."