Passing the Torch at the Weinberg Foundation
When Corbett Kalama retires at the end of 2022, two co-leaders plan to keep expanding rural funding and stabilizing the $1-billion-plus real estate portfolio.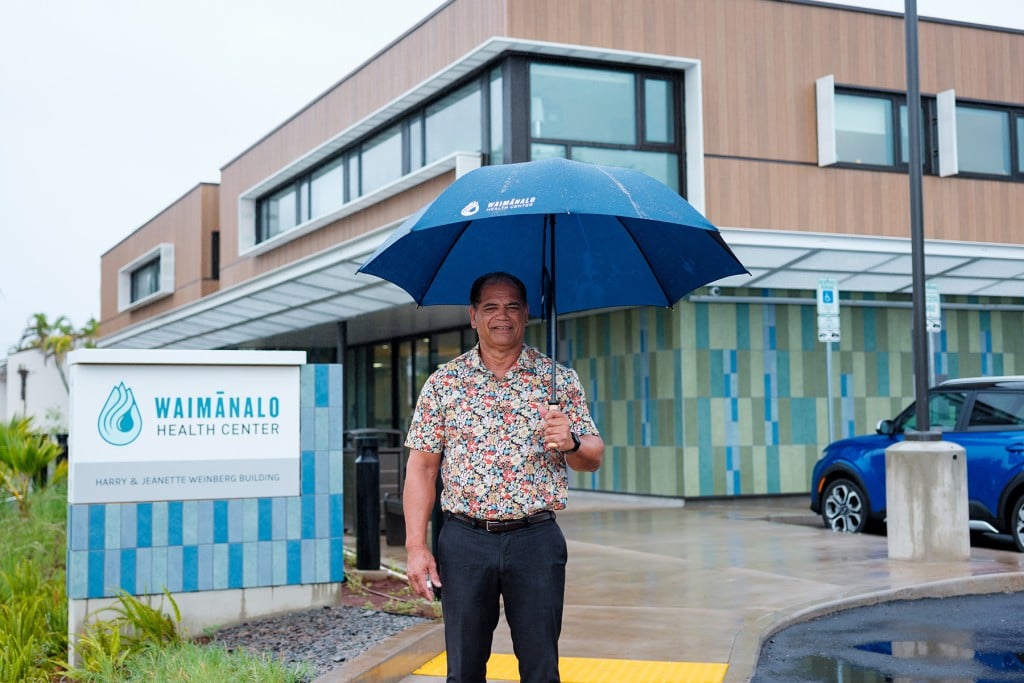 The names Harry And Jeanette Weinberg are ubiquitous in the Islands, displayed prominently on buildings of many of the state's premier nonprofits.
On O'ahu, that includes the Boys & Girls Club of Hawaii in 'Ewa Beach, Catholic Charities Hawai'i in Makiki, the Japanese Cultural Center of Hawai'i in Mō'ili'ili, the Mānoa Heritage Center's Visitor Education Hale and Kupu's Ho'okupu Center at Kewalo Basin. These nonprofits and many others have been funded by the Harry and Jeanette Weinberg Foundation.
Since Harry Weinberg's death in 1990, the foundation has given about $365 million to Hawai'i nonprofits in the form of grants for building projects, programming and operating expenses – the legacy of a self-made billionaire who moved to Hawai'i in 1968 with his wife, Jeanette.
Weinberg was born in 1908 in what's now Ukraine, one of seven children of Jewish parents who immigrated to Baltimore when he was a small child. He skipped formal education after the sixth grade and went to work, turning a gift for spotting opportunity into a growing fortune.
During the Depression, according to a New York Times obituary, he bought distressed properties in Baltimore and held on to them until the market rebounded. In 1941, he purchased a large tire store that turned a profit when wartime scarcity made tires more valuable. He began buying and selling shares in transit companies in the late '40s, including the Honolulu Rail Transit Co. in the mid-'50s, which he eventually sold to the City and County of Honolulu.
Before jet travel, when Hawai'i had few visitors and real estate buyers, Weinberg was able to snatch up commercial properties for bargain prices, as well as shares in Hawai'i companies. At shareholder meetings, he pushed aggressively for change, which could rub people the wrong way, especially those in Honolulu's inner circles.
"I think of him as the original activist investor. He would get on the board and really push the organization to be better managed, more efficient," says Giorgio Caldarone, who currently manages the foundation's more than $1 billion real estate portfolio, most of which is located on O'ahu and Maui. The Hawai'i portfolio funds about a third of the foundation's total $130 million in annual grants, he says.
Kalama's Enduring Impact
Despite its largesse, the Weinberg Foundation used to keep a low profile in Hawai'i, says Caldarone. That changed, he says, when Corbett Kalama joined the Hawai'i office as VP of real estate investments and community affairs in 2013; he was elevated to executive VP in 2018. The foundation has offices in both Honolulu and Baltimore, and funds projects in Baltimore, Chicago, New York City, San Francisco, northeastern Pennsylvania and across Hawai'i. The overall mission is to help people out of poverty.
"Corbett was critical in changing the way the office was run. … He worked to improve the overall morale and just bringing people together and blending our operations into one foundation so we're not duplicating everything," explains Caldarone.
He knows Kalama from his years working in asset management and planning and development with Kamehameha Schools, where Kalama was a trustee from 2007 to 2019. In 2018, Caldarone moved to the Weinberg Foundation as managing director of Hawai'i real estate.
"Corbett has got an amazing heart and is a tireless advocate for anyone who is less fortunate," says Caldarone. "He is also a warrior who fights for what is right."
Marisa Castuera Hayase joined the foundation in 2019 as program director after years spearheading Storyline Consulting, where she did strategic planning for the state Department of Education, Hawai'i P-20, the Polynesian Voyaging Society, the Healthcare Association of Hawaii and other groups. She finds inspiration in Kalama's down-to-earth leadership style.
"He really operates from a sense of valuing every person in our community. He's just as likely to seek counsel from a neighbor who's unsheltered and living on the streets as he is from a banking president," says Hayase. "I wish there were more leaders like him who really cared deeply about listening to so many different perspectives from people of so many different walks of life."
At the end of the year, Kalama will retire and Hayase and Caldarone will co-lead the Hawai'i office starting in January 2023. Hayase will assume the title of managing director of Hawai'i programs and communications, while Caldarone will become VP of Hawai'i operations and real estate.
They will build on the directions that took root when Kalama came on board after more than three decades with First Hawaiian Bank. His last position there was leading the bank's Wealth Management Group, where he oversaw 250 employees and about $10 billion in assets.
Community And Sharing
Kalama, like Weinberg, comes from humble roots. He grew up in a small house in Kailua as one of 11 children. His father was a plumber, draftsman and musician, and his mother was a well-known kumu hula.
Despite being poor, he remembers his early life as also being incredibly rich. He went fishing in Kailua Bay and learned what to harvest, and when. He knew everyone in his tight, multiethnic neighborhood and he loved reading National Geographic to learn about the outside world. At home, he internalized the lessons of community and sharing as his family opened its house to people who had less than they did, including the homeless.
To this day, Kalama goes out of his way to seek out unsheltered people – in San Francisco's Mission District, on Hotel Street, under bridges in Kāne'ohe – talking to them and letting them know they are seen and valued, the way others have valued him.
One early experience that sticks with him is when four military guys "adopted" him for the day. They also gave him the only new things he had ever received: a football and helmet.
"They told me through their actions that my life had value," recalls Kalama. "They just spent four hours with me, but it changed my entire life because it told me to keep pushing, they see you."
As a kid, he regularly took Weinberg's HRT bus to town, the only public transportation across the Ko'olau Range. He says he was intrigued with Weinberg, who was often in the newspapers and seemed "larger than life." Little did he know that he would become the foundation's banker in 1990, or that he would join the foundation himself decades after that.
"In all the different leadership training, they talk about challenging the process," says Kalama. "Harry was the best at it. He challenged the process, but he had a noble motive in mind, and that was caring for people."
More Grants To Neighbor Islands
Broadly, the Weinberg Foundation funds nonprofits working in the areas of housing, health, jobs, education and community services. The philanthropy serves a range of people, including the elderly, women at risk and their children, people with disabilities, veterans and the Jewish community.
In Hawai'i, Hayase oversees $12 million in grants each year, up from the $10 million that was distributed previously. She says funding strategies have moved from an O'ahu-centric approach to one focused on rural communities across the state, many on the Neighbor Islands.
In 2021, 81% of new Hawai'i-based grants approved by the foundation went to rural projects, totaling $7.93 million; 60% of new, approved grants went to nonprofits on the Neighbor Islands, totaling $5.81 million. In the past, only about 20% of funding left O'ahu.
"We want to make sure that we're supporting our Neighbor Island communities, especially in the more rural and remote areas of the Islands that tend to have wonderful community-based programs and solutions, but that sometimes go unrecognized," says Hayase.
In a new initiative, her team is helping organizations tap into federal resources dedicated to rural areas. Many of these federal grants and loans require local matching funds, which can be difficult to locate.
Last year, for example, the foundation awarded $500,000 to the Friends of the Library of Hawai'i, which was the 20% match required for the state library system to access $3.3 million from an FCC program that helps schools and libraries expand internet access.
The state Department of Health then partnered with the library system to create telehealth hubs at those newly connected libraries in rural and low-income communities, further increasing the impact of the foundation's initial grant.
All told, she says Weinberg Foundation grants awarded in 2021 "directly supported nonprofits in drawing down and allocating over $33.5 million in federal funding into Hawai'i's communities."
A Lifeline For Nonprofits
From 2019 to 2021, the Hawai'i office distributed grants to 66 organizations, ranging from $50,000 to Ka Hale A Ke Ola on Maui to locate permanent housing for the homeless, to $650,000 to West Hawaii Community Health Center on Hawai'i Island for renovations, and $1.75 million to Ma'o Organic Farms on O'ahu to buy more land and build a processing facility.
These grants can be a lifeline for small nonprofits. Megan Fox, executive director of Mālama Kaua'i, a food hub linking local farmers with customers, says the foundation was one of her organization's first big donors. Last year, the nonprofit received a $150,000 capital grant.
"It's very challenging to find capital investment opportunities for food systems projects, and to have them at the table so early really helped us to open other doors," explains Fox.
And Hayase and her team are not just passively sifting through applications. She says they get into the community and actively search for groups that are doing valuable work.
Fox has benefited from that proactive approach. "They don't just write checks, they also advocate for your project with others. … They do so much to bring the funder community together and help their grantees see their ultimate vision realized. We absolutely couldn't be so far along in our project without their support and guidance."
In 2020, Ceeds of Peace received a $357,500 multi-year grant for its Resilient Communities, Schools and Families Project. The pilot program helps six rural elementary schools implement social-emotional learning while bringing an array of educational and social services to kids who are struggling.
Scott Nishimoto, executive director of Ceeds of Peace, explains that "the Weinberg Foundation was one of the earliest funders to believe in our work. The trust that they showed in us has helped us gain the trust of other funders, partners and schools."
Says Hayase: "We're really interested in being a part of community solutions. We have to be finding ways to collaborate, to convene people, and to be good listeners and good learners."
Stabilizing The Real Estate Portfolio
The foundation's grant-making is financed through a diversified portfolio, with more than a third derived from real estate holdings, says Caldarone. Nearly all of those properties are located in Hawai'i, and the proceeds go into a pool for distribution nationally.
The Hawai'i portfolio is made up of "a lot of small and midsize assets. It flies below the radar to some degree," he says. "What I tell people is, if our name is on the property, we don't own it."
About 20% are ground leases in the industrial retail sector; the rest are directly owned and operated properties. Among them are the Aiea Shopping Center, an industrial complex on Sand Island Road and the former Hilo Hattie headquarters on Nimitz Highway, as well as ground leases for the Outlets of Maui in Lahaina and parts of the Halekulani Hotel in Waikīkī.
Caldarone says the foundation has sold some of its properties lately in order to stabilize the portfolio, which means the properties are "in good shape in the sense that they've got their deferred maintenance addressed, their capital needs are being addressed, occupancy is high for that given market and type. Once you get there, you're in what I would call a steady state."
His focus now is on actively investing in the properties and ensuring that they're productive, "because there's so much riding on the performance. We've got to make sure that we're providing enough income yield to help support our overall grant-making."
Committed To Hawai'i
Kalama says his work with the Weinberg Foundation has been some of the most important of his life. And his life has been marked by accomplishments, including addressing 9,000 attendees from across the globe at the International Union for Conservation of Nature conference hosted in Honolulu in 2016. He also spoke at the 19th meeting of the Asia Pacific Economic Cooperation, or APEC, in Honolulu in 2011, which then-President Barack Obama and then-U.S. Secretary of State Hillary Clinton attended.
He says he's thrilled with the new team stepping in – "they're very, very effective" – and is confident that the foundation's impact in the Islands will continue to grow.
"The Weinberg story in Hawai'i is a never-ending story that has just strengthened year after year," says Kalama. "And now with the team of Marisa and Giorgio, and the depth that we brought to our organization, the commitment of the foundation to Hawai'i is in perpetuity. You know, Harry just loved this place."