Hawaii Beef Comes Home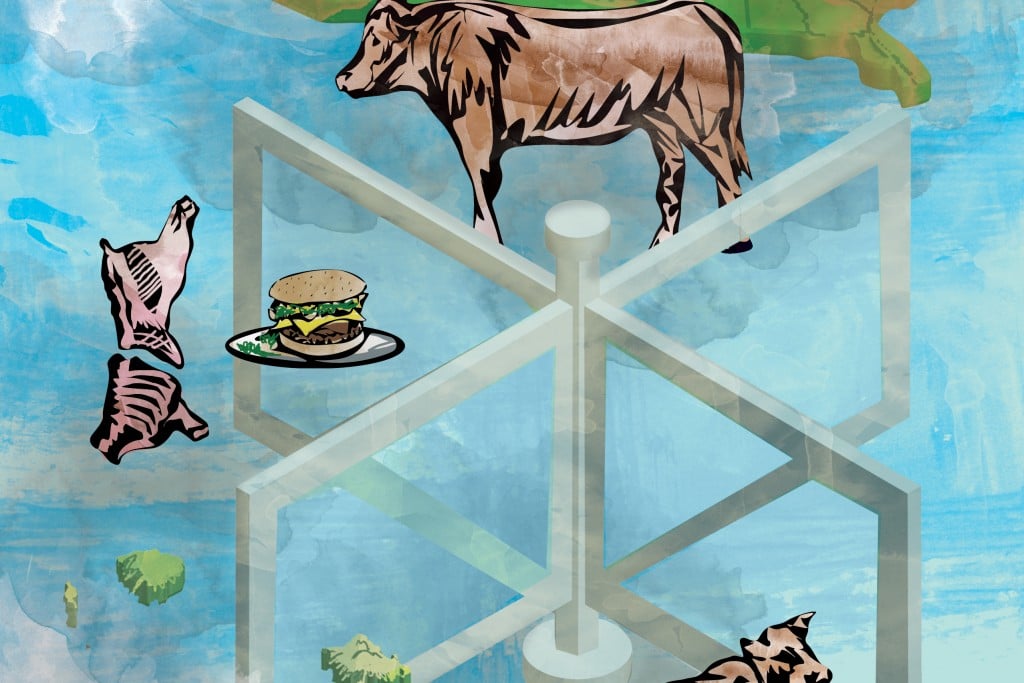 Call it Hawaii's most unusual export.
For years, the vast majority of calves born in Hawaii have been sent to feed lots on the mainland, where they matured, and then were slaughtered and shipped to grocery stores and restaurants around the country. Rarely did the beef return to Hawaii.
But demand for locally grown food and grass-fed beef has prompted a new program aimed at bringing Hawaii-born beef to Island stores and restaurants.
Last December, the Hawaii Cattle Producers Cooperative Association launched the Hawaii Ranchers Hawaii Country Beef program, which would bring Hawaii-born beef products back to the state. It's part of Country Natural Beef, a ranching co-op based in Oregon, with more than 100 member-owners selling more than $50 million worth of beef annually.
In the program, Hawaii-born calves are shipped to feed lots in Oregon, where they are kept separate from cattle from other states. They receive no hormones or antibiotics, and are fed a vegetarian diet that has no animal by-product feeds and, whenever possible, has no genetically modified grains. The cows are processed on the mainland and the meat is shipped to Hawaii.
The beef is being sold as Hawaii Country Beef in select Foodland Farms stores on Oahu and has been distributed to restaurants such as Roy's, Alan Wong's,3660 on the Rise, Café Laufer, the Hapuna Beach Prince Hotel on Hawaii Island and Pineapple Grill on Maui.
While Hawaii ranchers are known for top-quality cattle, advocates say, consumers and restaurateurs most often buy local to support Hawaii's agriculture industry.
"The point is that the local consumer has an opportunity to support Hawaii ranchers by purchasing this product," says Keoki Wood, livestock operations manager for Parker Ranch, which sends most of its calves through Country Natural Beef.
Betty Spence, general manager of the Hawaii Cattle Producers Cooperative Association, says it also "comes down to a personal preference for grass-fed versus grain-fed products."
This is the latest initiative by the HCPCA to provide local consumers with Hawaii meat.
In 2009, it started marketing Hawaiian Red Veal to restaurants and retailers. The veal is produced from Hawaii-born calves that are 20 to 24 weeks old and weigh 500 to 600 pounds. These calves have been weaned off their mothers and grazed on grass in open pastures.
In 2010, the Hawaii co-op began selling ground beef at select Foodland locations on Oahu, made from locally raised, grass-fed cattle. Both the Hawaiian Red Veal and the ground beef, which is branded as "Hawaii Ranchers belonging to Hawaii Cattle Producers Coop," are free of hormones and antibiotics.
In May, the U.S. Department of Agriculture awarded more than $58,000 to HCPCA to market its Hawaiian Red Veal, ground beef and Country Natural Beef programs.
HCPCA is looking at other beef products for Hawaii consumers including hot dogs, beef jerky and frozen, ready-to-eat beef entrees.
Hawaii's cattle industry suffers from constraints. There are only six slaughterhouses in the state and limited pastures, especially for grass-fed cattle. This has led ranchers to ship about 40,000 live cattle each year to be fattened up and processed on the mainland. Only 10 percent of cows born in Hawaii are slaughtered in the Islands.
"We have about 40,000 heads born every year, but our slaughter facilities have limited capacity and we're not able to grow programs like grass-fed much larger than what it is," says Spence, who oversees a co-op that has 33 active members statewide. "There's no other option for us."
But the cost of shipping cattle to mainland feed lots and raising them there has been inching upward, due to the rising price of grain and oil. Wood says it now costs nearly $200 a head for weaned calves to be shipped away.
A multiyear drought has helped shrink herds by about 30 percent statewide in the past eight years.
"There is nothing Hawaii ranchers would like more than to leave their cattle here," Wood says. "But until economically competitive and viable finishing and processing segments of the industry are developed in Hawaii with adequate capacity, the cow-calf producers must send the majority of their calves to the mainland to stay in business. As transportation costs continue to increase, it might make more sense to leave more cattle in Hawaii."
The goal of marketing Hawaii-sourced beef – whether as steaks or ground beef – is to support the local ranching industry while giving consumers a high-quality product, Spence says.
"Consumers want a grass-fed program in which the revenues get returned to Hawaii ranchers," she says. "We look at that as sustaining for them."