Hawaii Business BOSS Survey – December 2012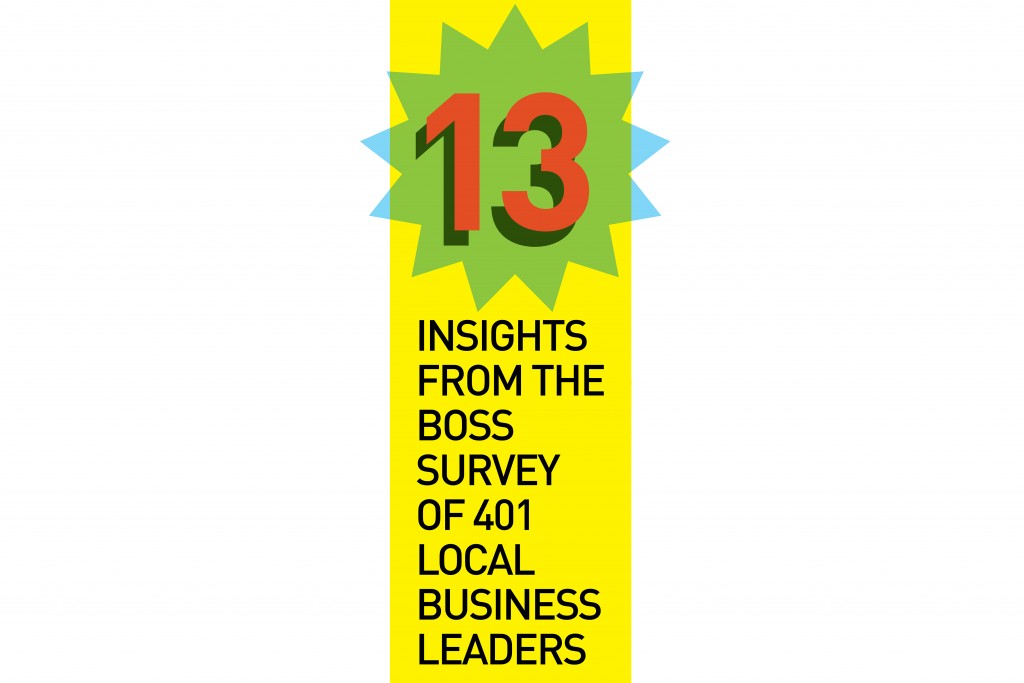 13 Insights from the BOSS survey of 401 local business leaders
Seven of the 13 are good news, one not so good and two are just plain odd. You decide about the other three.
1. Overall Economy Maintains Momentum
The BOSS survey's Performance Index is at its highest level since the first quarter of 2008, which was when the Great Recession was just underway. The index accounts for revenue, profit and hiring at the 401 Hawaii companies surveyed, and all three measures are stronger than previous surveys a year ago and six months ago.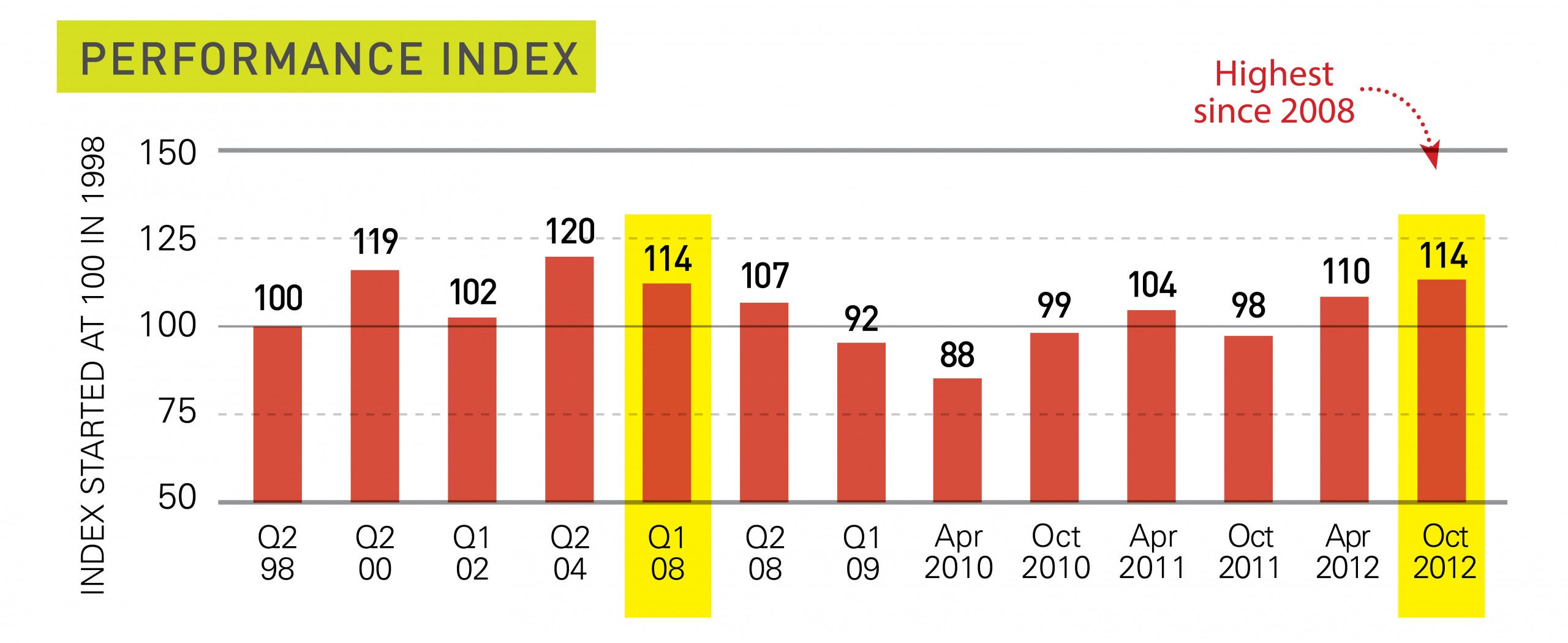 2. Most Optimism Since 2004
Almost half of the business leaders surveyed, 47 percent, predict the overall Hawaii economy will improve over the coming year. Forty percent say it will stay the same and only 13 percent believe it will decline.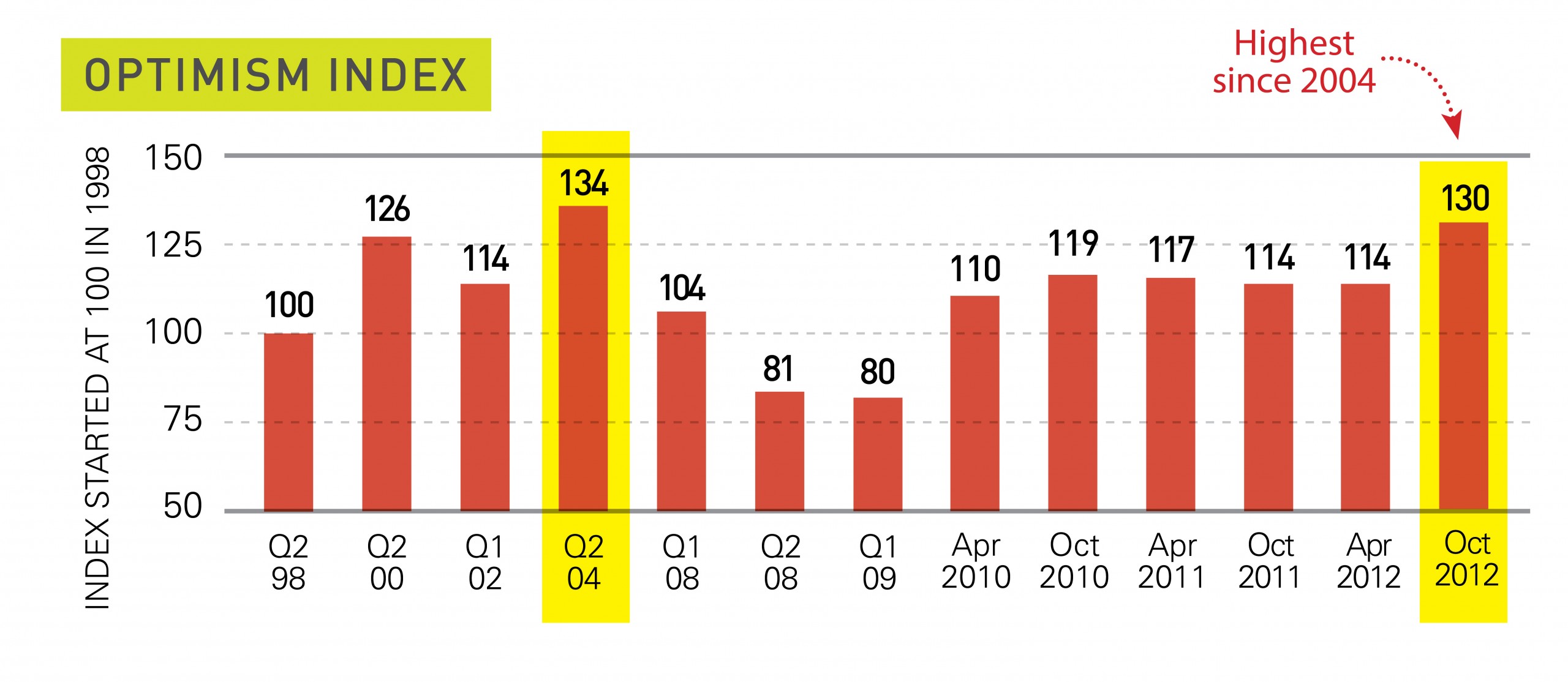 3. Glass Only Half Full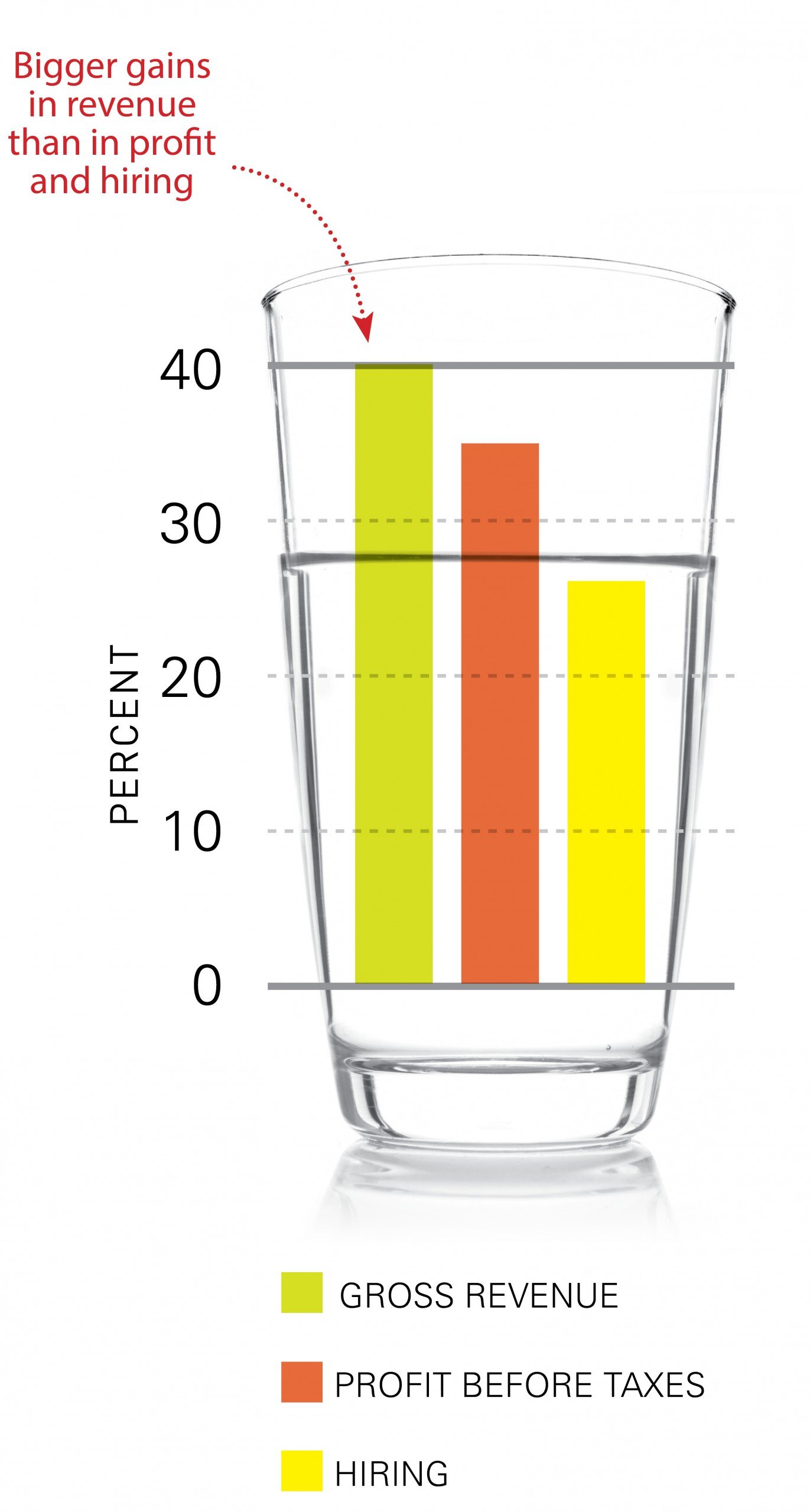 Make no mistake: The BOSS survey shows strong performance overall from the 401 companies surveyed. However, if you look deeper, the powerful recovery in Hawaii companies' revenues is not matched – at least not yet – by equally strong rebounds in hiring and profits. Three-quarters of all companies surveyed say they either held steady with the size of their workforces during the past year or cut staff.
Barbara Ankersmit, president of Qmark Research, the company that conducted the BOSS survey, says the results of this survey are consistent with similar surveys during past recoveries.
"We see many firms waiting first until overall revenues rebound and then holding until they see at least some improvement in profit levels before adding employees to the payroll," Ankersmit says. "As we talked to businesses during the interviews, we definitely felt a sense of recovery, but we also were still seeing some caution."
4. Big Companies Lead
On all three measures – revenue, hiring and profit – bigger companies have made the biggest gains, while smaller companies lag.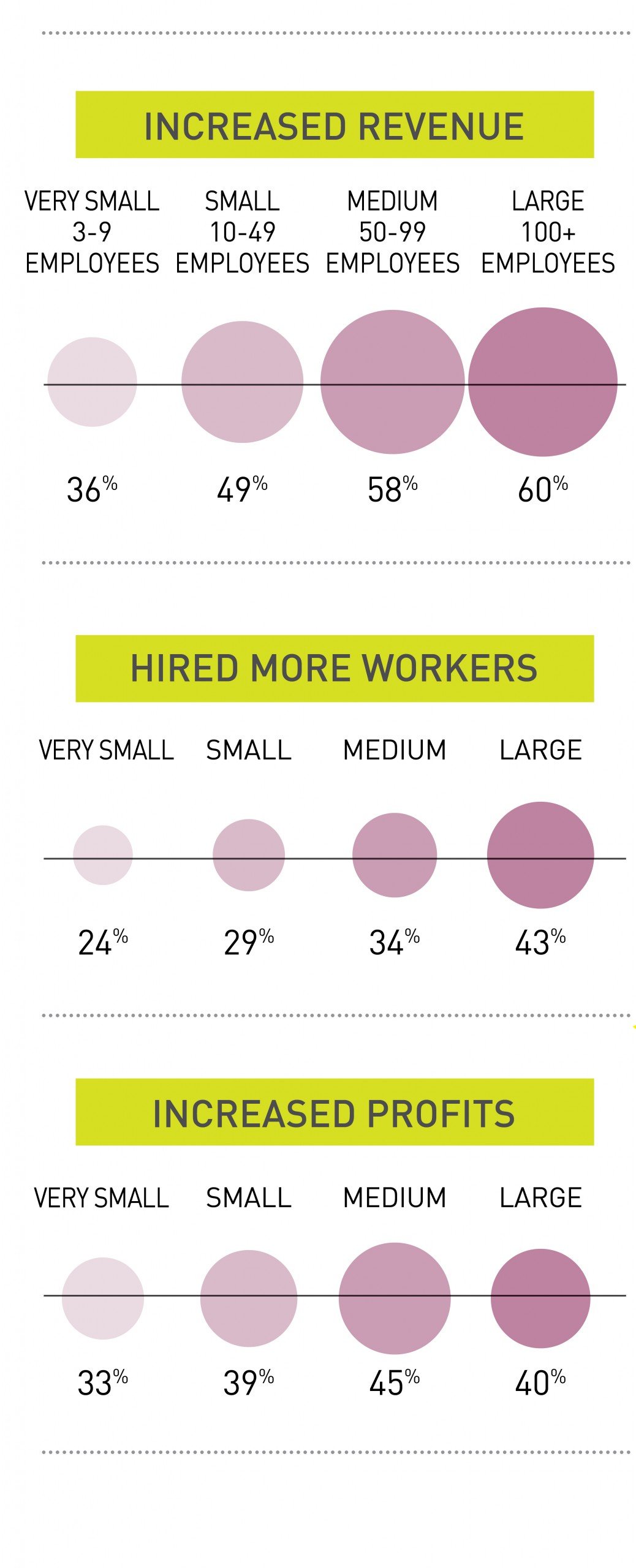 5. Less Bleeding, More Building Ahead
We were encouraged by the responses about businesses' plans for the coming year. The executives were given three possible responses: substantial increase planned in spending on capital or other items; no substantial cost cutting or spending increase; or more cost cutting. For two years, the numbers for increased spending have slowly risen, while the trend is away from further cost cutting. That's more reason for optimism about the near future for Hawaii's economy.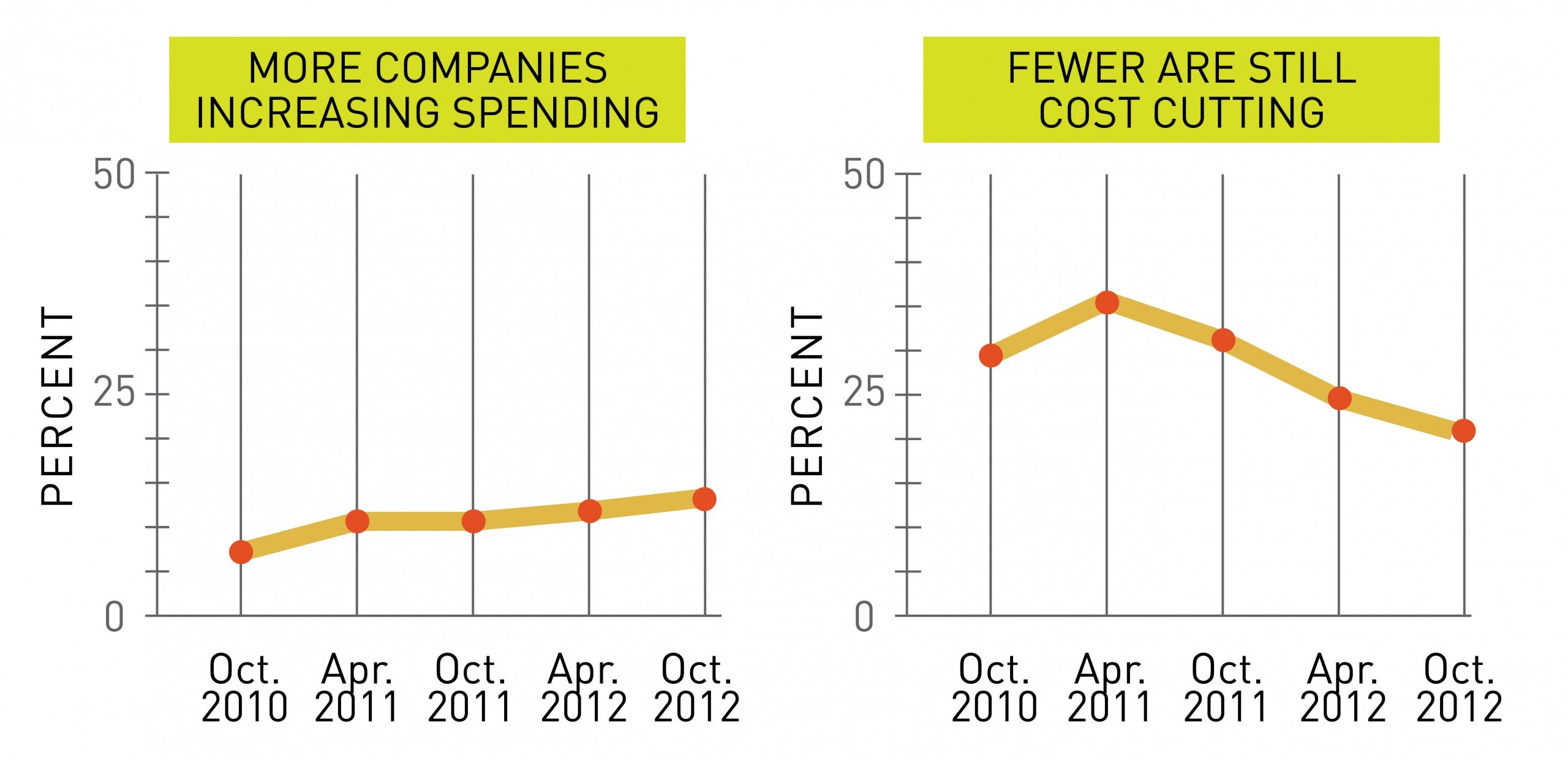 6. More Cash Reserves
More companies say they have money in the bank for a rainy day or for expansion.
7. Less Debt
It's a small increase, but more companies say they are debt free. Now, a little more than half of the companies surveyed say they have no debt.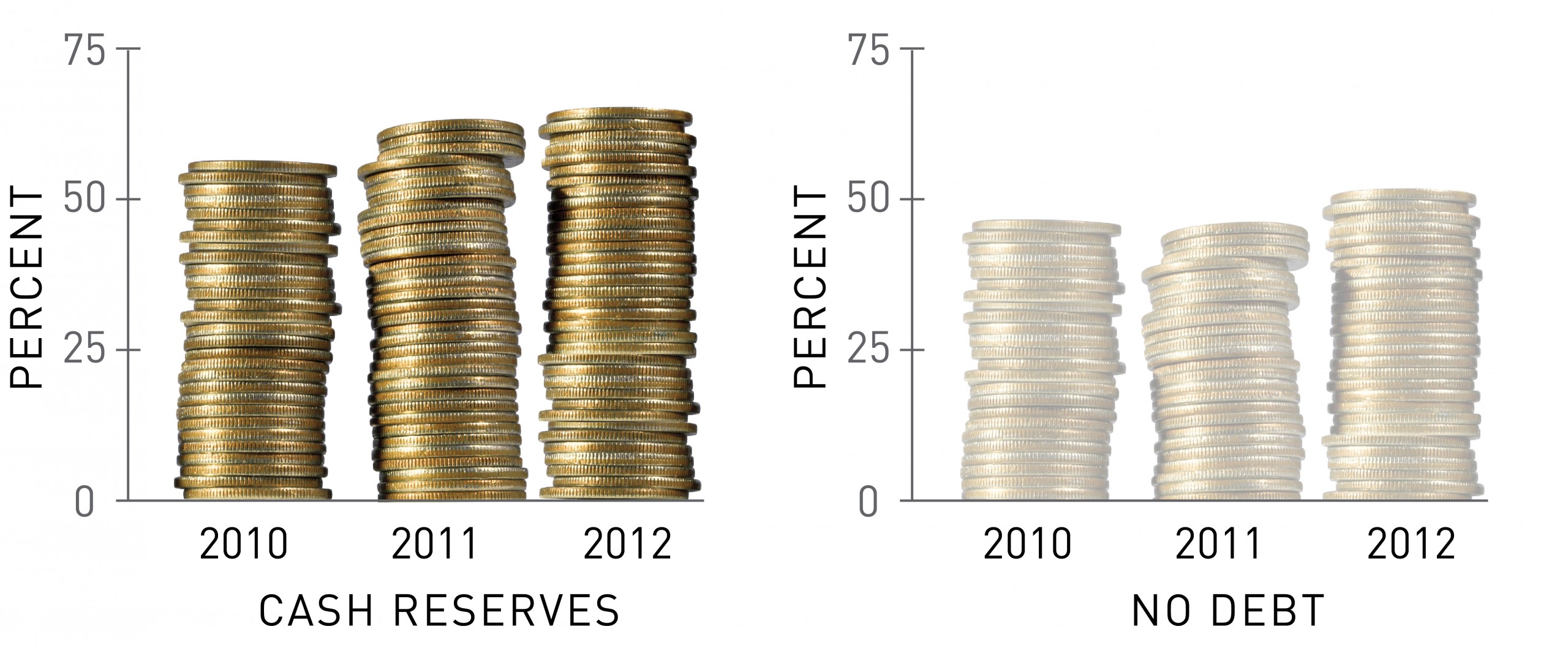 8. More Marketing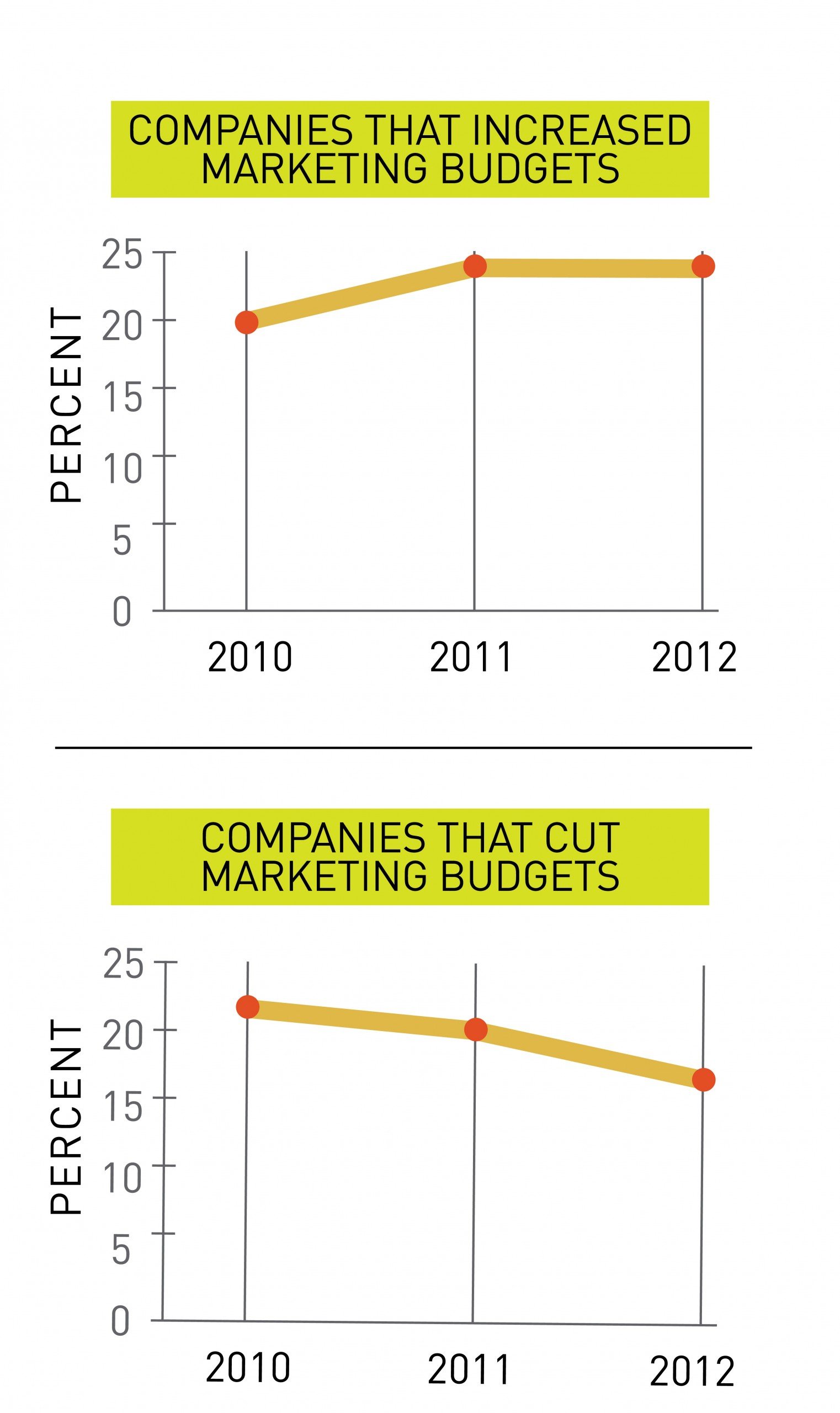 Conflict of interest alert: As a magazine and media company, Hawaii Business is delighted to report that there is an uptick in companies that plan to increase their marketing and advertising budgets in the coming year, and fewer companies that plan to cut spending there.
9. This Is An Odd One
With the 2012 visitor count for Hawaii coming close to an all-time record high, the BOSS team asked our 401 business leaders if the state should limit the number of visitors coming to Hawaii. Only 7% say yes. No surprise there; all businesses benefit directly or indirectly from more visitors and their spending.
What was odd was that 10% of the 129 leaders in the tourism industry say yes, there should be a limit on the number of tourists coming here. The people who benefit directly from more tourists are more likely to favor a limit.
Of course, only a few people in both groups favored a limit and the difference of three percentage points between the two groups was within the margin of error for a survey of this size.
Bonus Insight: Among those who thought there should be a limit, the majority said the limit should be fewer than 8 million tourists a year. That was the smallest option of the three possible answers we offered.
Focus On The Visitor Industry
10. Limit Commercial Activity
There has been a revolt at some beaches and offshore locations, as local residents oppose increases there in kayak rentals, tours and other visitor activities. Honolulu City Council passed a law that apparently bans commercial activity at all Oahu beach parks. Our survey asked business leaders to weigh in on the subject.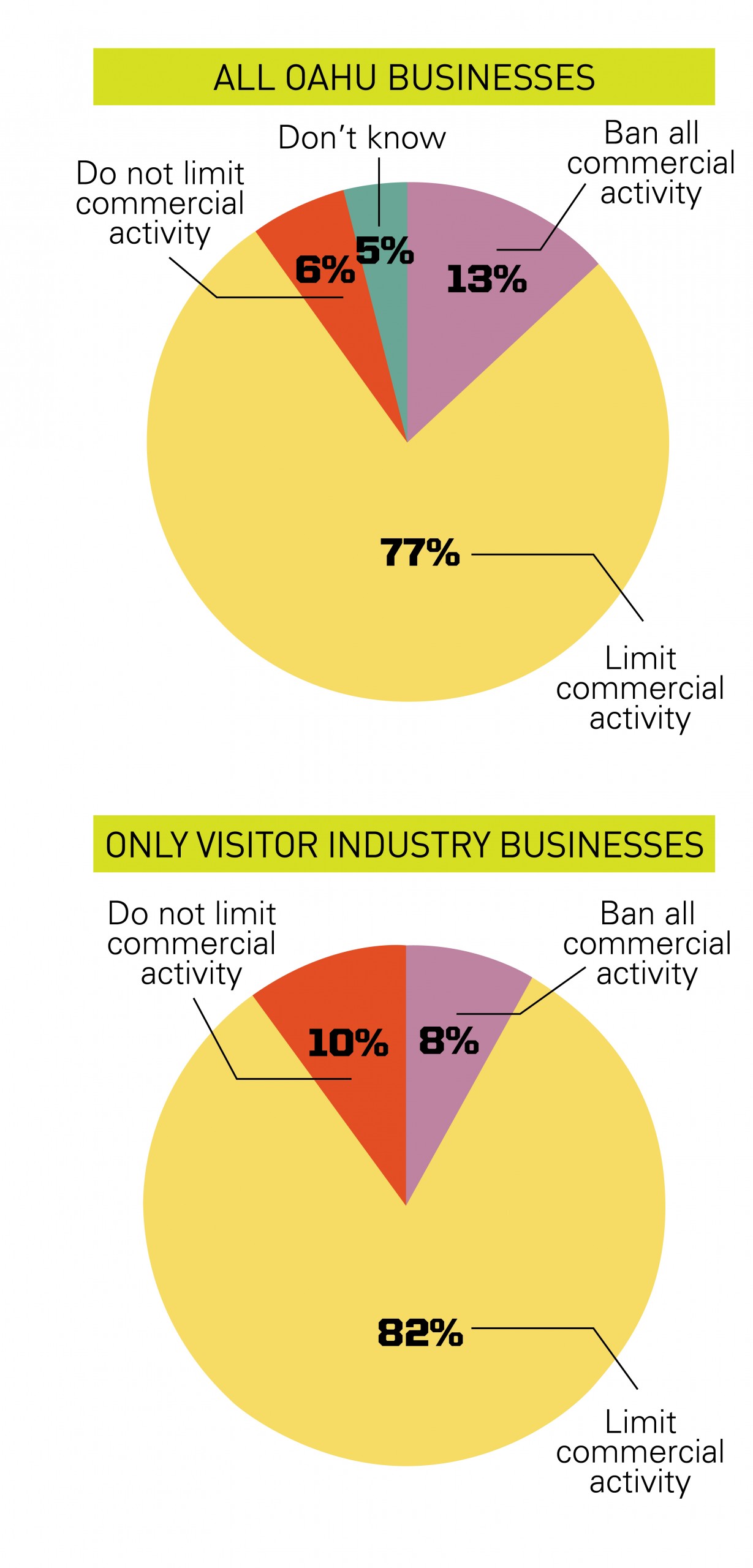 11. Here's the Other Odd One
We compared the results of all the survey respondents with those in the tourism industry. No surprise: Tourism is leading Hawaii's economic recovery, so tourism-based companies in our survey reported much better results on revenue, profits and hiring than the average Hawaii company. That's reflected in the Performance Index.
But, when we asked the business leaders about their outlook for the coming year, the tourism leaders were slightly less optimistic than the overall sample of business leaders. Again, the difference was within the margin of error for a survey of this size, but we thought optimism for 2013 within the tourism industry would be higher than with overall Hawaii companies. After all, the increased airlift that began in 2012 should reap even bigger arrival numbers in 2013. Is optimism in the tourism industry tempered by a belief that coming increases in tourist traffic will be much less than the increases we have enjoyed over the past few years?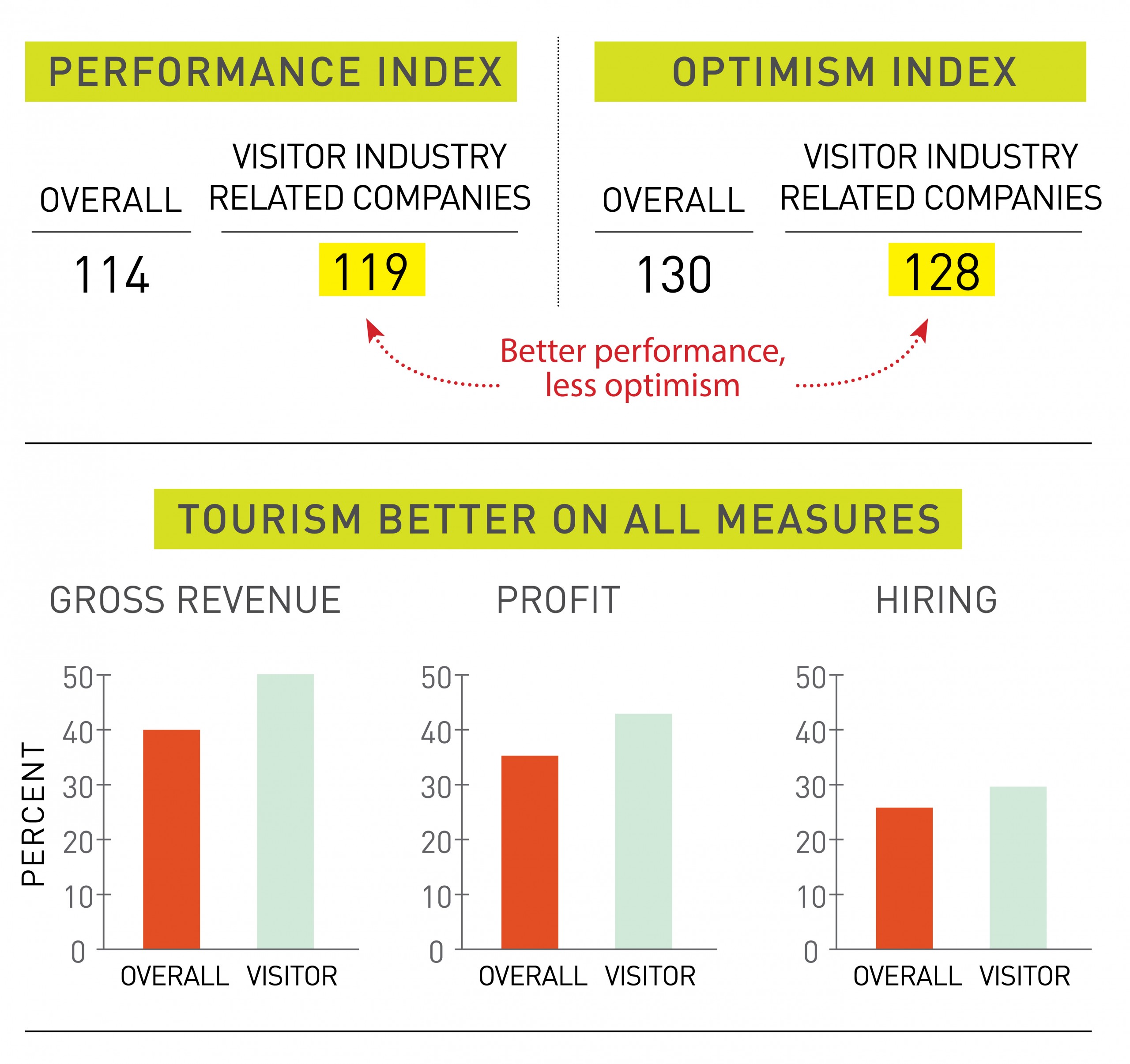 12. Where the Spending Comes From
We asked our tourism industry companies which countries their visitor spending comes from. We are going to spare you our computations*, but this chart shows where these companies estimate their revenue is coming from. We have only separated out Chinese and Korean spending from others in the past four years; both segments remain small, but have shown strong growth.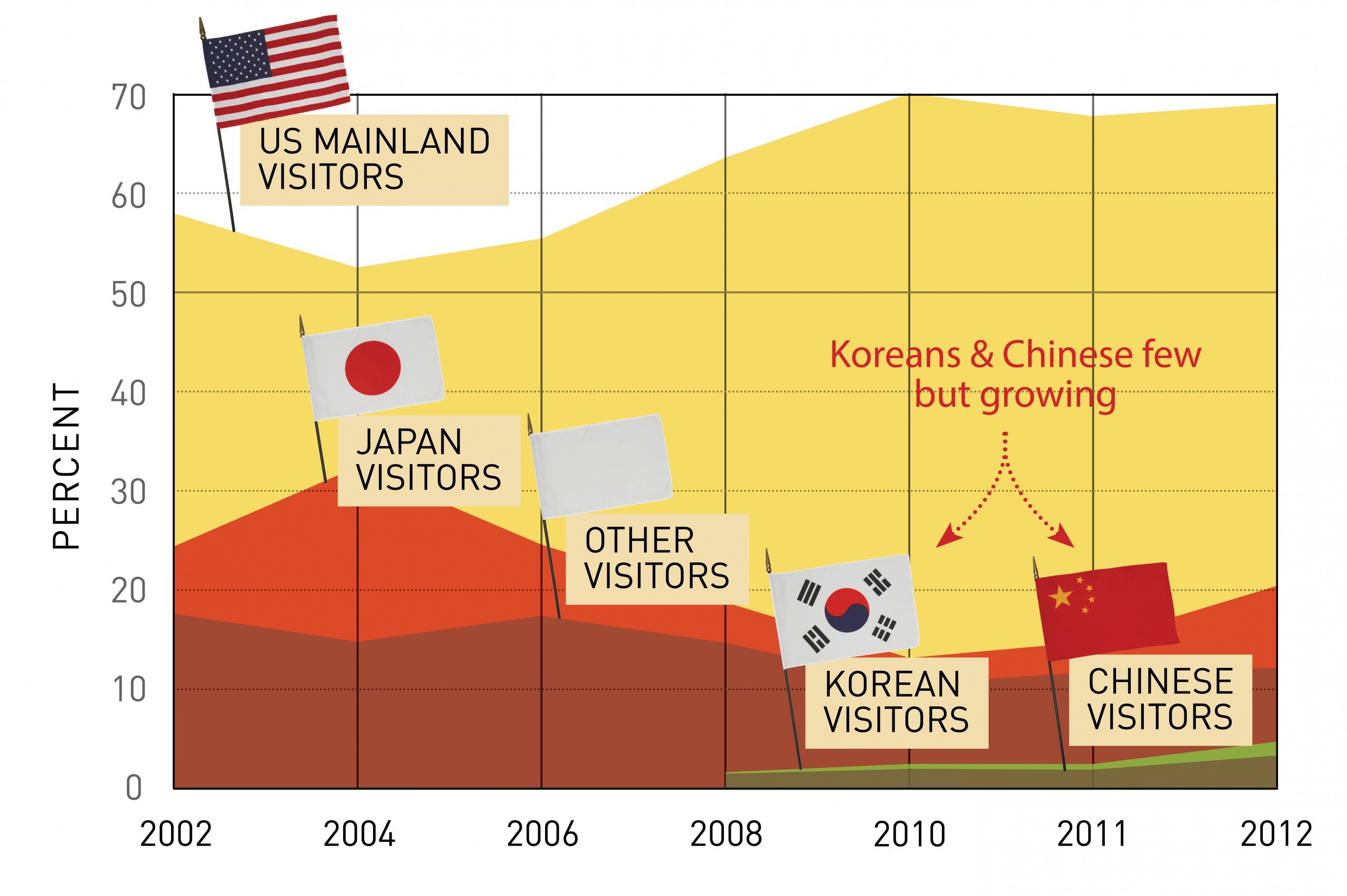 13. Richer Tourists
Tourism companies think that the average visitor to Hawaii has become much more affluent over the previous four years.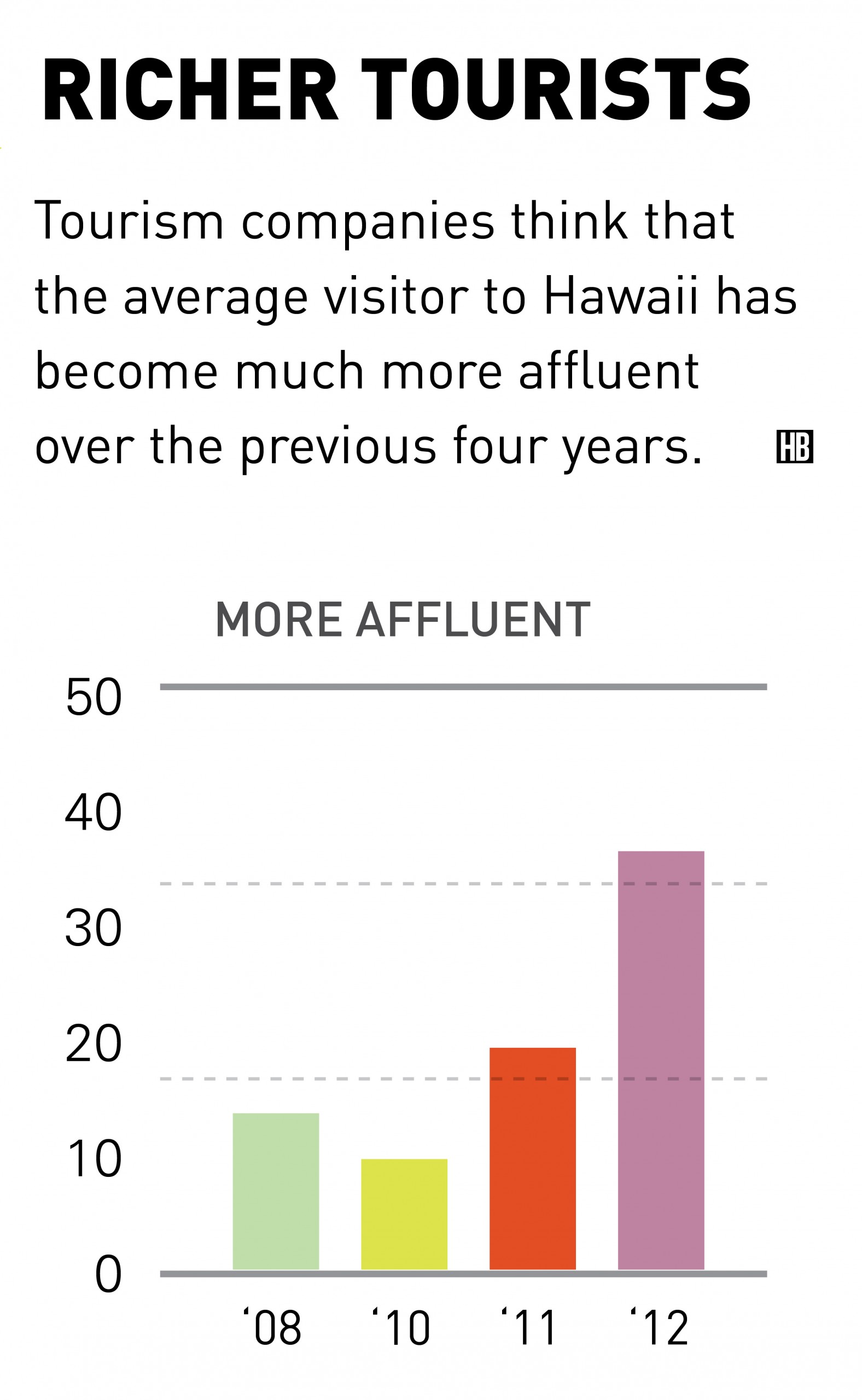 ---
What's the BOSS? BOSS stands for Hawaii Business' Outlook and Sentiment Survey.
Our polling partner: Qmark Research, www.qmarkresearch.com.
When: This edition of the twice-a-year survey was based on 401 random interviews of business executives and owners conducted by Qmark from Oct. 15 to Oct. 29.
Who: The sample includes proportionate representation of all sizes of Hawaii companies: Businesses with three to nine employees are designated as "very small;" 10 to 49 employees as "small"; 50 to 99 employees as medium; and 100 or more employees as "large." The data was weighted to reflect the proper proportions of each company segment based on number of employees as reported by the state Department of Labor.
Tourism: The tourism section of the survey was based on interviews with 129 company leaders who said that a majority of their business was in tourism.
Where: Executives on all the major islands were interviewed, in proportion to the relative size of their island's business activity.
Margin of error: A sample of this size (n=401) has a margin of error of +/- 4.90 percentage points with a 95 percent level of confidence.