"It's Not Quite as Doomsday as People Think"
Report from Hawaiʻi Life details the 2022 market for luxury real estate in the Islands and anticipates strong demand for $3 million-plus homes in 2023.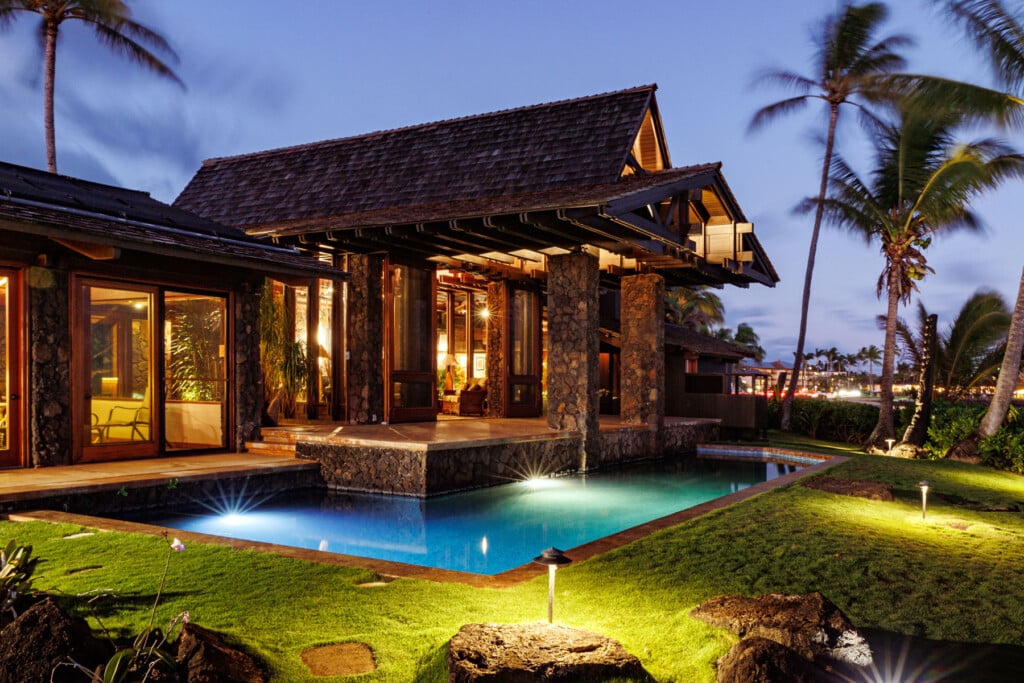 Hawaiʻi's luxury home market experienced a 22% decline in the number of sales last year compared with 2021, and the total dollar volume declined 23%. Yet, the $3.72 billion in sales of residential properties for $3 million or more was more than double the sales volume of 2019.
And a new report from Hawaiʻi Life says demand for luxury homes could remain high in 2023.
The overall decline in high-end home sales in 2022 followed a record-breaking first half of the year. By the end of 2022, sales and prices were still remarkably high – more than double – compared to the last full year before the Covid-19 pandemic attracted more second-home buyers and people seeking to work remotely, according to the Hawaiʻi Luxury Market Report.
"It's not quite as doomsday as people think," Hawaiʻi Life CEO Matt Beall says of 2023. He expects a few surprises remain for the rest of the year, including the chance of some "big, big trades that are outside numbers."
"I don't know that we're going to see another Bezos-style purchase, but we could," he says, referring to Amazon founder Jeff Bezos' off-market purchase of an estate in Mākena in late 2021. "It would not surprise me at all."
He says there are still plenty of people with "dry powder" looking for high-end homes, especially on the Neighbor Islands.
"In a market that doesn't have a lot of inventory, and there's still demand, it's totally understandable that people are going to poke around and turn up deals," he says.
Despite the changes the U.S. economy has seen in the past year – higher mortgage rates, Wall Street's bear market and inflation – there is still a lot of capital looking for places to land, says Beall.
"If you zoom out, and you look at just the aggregate wealth creation over however long you want to go back, even if it's just in the pandemic, it's just an extraordinary amount of capital," he says. "Everyone will tell you a different version of the future for the real estate market and how much contraction there will be, how much prices will change and whatever, but regardless of what that future holds, the reality is there's a lot of money on the sidelines."
No Need for Short Selling
While the U.S. is not officially in a recession, polls show many economists and ordinary people are girding for one this year. But unlike previous downturns, there is a lot of equity in the Hawaiʻi real estate market, Beall says.
"In the last market contraction related to the 2008 recession, there was not a lot of equity in the market at all, people were short selling and it was very much a real estate-driven recession," he says. "This is not that and that's part of why this new buyer doesn't really have to unload (homes purchased during the pandemic). They paid cash, or they're very low leverage so they can wait it out."
The tight inventory of homes in the $3 million-plus market also means there have been more off-market transactions – deals involving homes that were never listed on the Multiple Listing Service – than in pre-pandemic years.
There's likely going to be more of that this year, along with the MLS sales.
"The reasons people decide to sell often are not market related – the factors of marriage and divorce and children and commutes and jobs," says Beall. "There's going to be buyers and sellers. We've just had such a run on consumption that it took available inventory out of play."
Luxury Details Across the Islands
In 2022, there were 652 residential sales – single-family homes, condominiums and vacant land – for $3 million or more. The bulk of them, about 75%, were in the $3 million to $5.99 million range.
There were 101 sales from $6 million to $9.99 million, or 15.5% of all sales in the luxury category, while the $10 million-plus sales totaled 63, or 9.7% of all luxury sales.
Here's a look at the individual islands:
Oʻahu
Total sales of $3 million or more: 224
Total volume: $1.13 billion
Total sales of $10 million or more: 14
Highest price: $23.9 million in Lanikai
Maui
Total sales of $3 million or more: 184
Total volume: $1.09 billion
Total sales of $10 million or more: 20
Highest price: $28.5 million in Mākena
Kauaʻi
Total sales of $3 million or more: 87
Total volume: $568 million
Total sales of $10 million or more: 13
Highest price: $36 million in Kīlauea
Hawaiʻi Island
Total sales of $3 million or more: 157
Total volume: $927.4 million
Total sales of $10 million or more: 16
Highest price: $33.75 million for vacant land in Ka'ūpūlehu