Records Broken as the Rich Buy Hawai'i Homes
During the first half of this year, 424 homes, condos and vacant land parcels sold for $3 million or more. The top price: $36.1 million for an oceanfront estate on Kaua'i.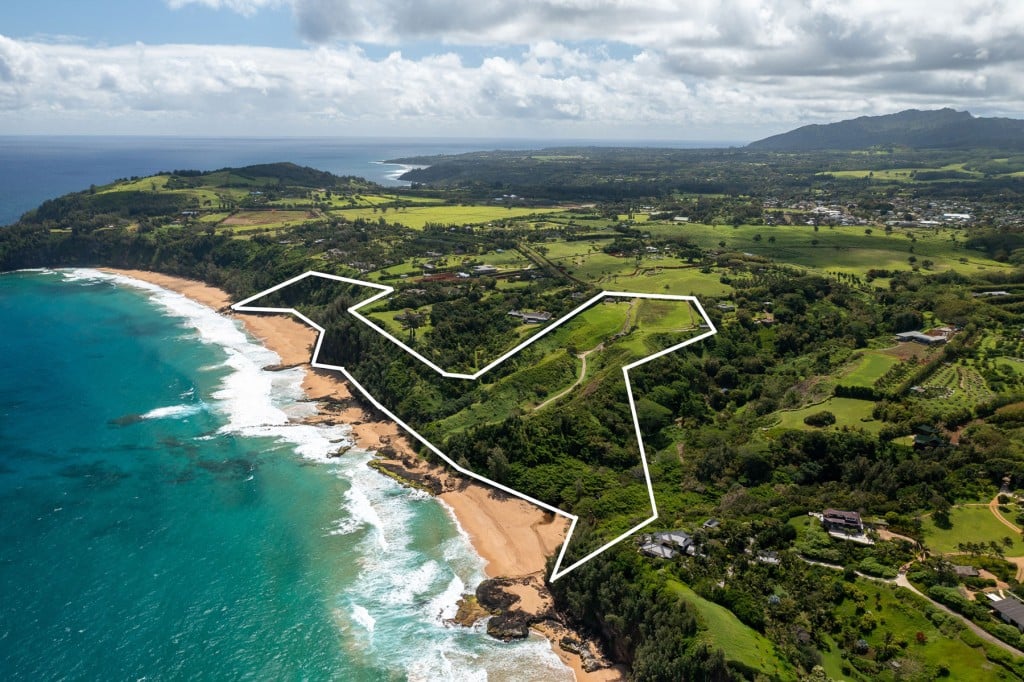 The demand for luxury homes in Hawaiʻi has exploded in the last two years as wealthy buyers bought in numbers unseen before 2020. And while sales in that stratosphere may be starting to dip along with the rest of the market, the first half of 2022 is one for the record books.
Statewide, 424 homes, condominiums and vacant home sites sold for $3 million or more in the first six months of 2022 – for a total volume of just under $2.48 billion. That's an increase of 2.15% from the same period last year, which was a record, according to Hawaiʻi Life in its 2022 Midyear Hawaiʻi Luxury Market Report.
Forty-seven of those homes sold for $10 million or more. That's 1.4% more homes than a year ago – and more than all of 2019 and 2020 combined.
The report notes that the sales volume for high-end luxury properties for the first half of this year was more than six times the volume during the first half of 2012, when $3 million-plus sales totaled $373 million.
Hawaiʻi Life defines luxury as homes that sell for $3 million or more. Other firms set the bar at $1.5 million or $1.75 million. No matter the threshold, demand for high-end homes in Hawai'i since the start of the pandemic two years ago exceeds the supply.
Seeking Excellence and Rarity
Hawaiʻi Life CEO Matt Beall says the frenzy that marked the last two years is starting to wane, but only slightly. Pre-Covid, marketing to the high-end buyer centered around seasons, when they would be on island, during holidays and such.
"That was obliterated" during Covid, he says, as buyers began flying in year round to shop for a second or third home or, in some cases, primary residences. "It feels like there could be some slow return to a sense of seasonality, but it remains to be seen."
While sales may be starting to dip at the high end, that market is driven less by rising interest rates, inflation and inventory than properties at lower price points. Instead, high-end buyers seek less tangible attributes such as excellence and rarity, says Beall.
Anecdotally, buyers of these homes have more in common than wealth and taste, he says.
"The great majority, most of these people, were somehow prewired to Hawaiʻi," he says "They had a lot of context and they had been here. They're way more plugged in than anyone gave them credit for."
Luxury Condos Too
Beall says the large volume of high-end sales of single-family homes is likely unsustainable because the supply is finite. Meanwhile, the luxury condo market has rebounded in the past year, with 33 Honolulu condos selling for $3 million or more during the first half of this year, including a unit at Park Lane Ala Moana that sold for $12.15 million in April. Another, priced at $10.98 million, is in escrow.
The supply of market-priced and luxury condos will increase over the next few years. Howard Hughes Corp. last week announced it had received approval to build its next high-end tower at Ward Village, the 330-unit Kalae, on the former site of Ward Warehouse.
Beall says the pent-up demand from foreign buyers – especially buyers from Japan – is expected to significantly impact the market.
"The depth of the demand is still going to lead to crazy, record-breaking sales," he says. "I just don't think it's going to be anywhere near the number of transactions that weʻve had."
But luxury buildings are not the only projects moving forward in Kaka'ako. In March, Kamehameha Schools selected Kobayashi Group to build a 477-unit tower called Ālia, which will include 40 reserved units and 437 market-priced units on Kamehameha Schoolsʻ Block I – on Ala Moana, across from the Cutter Mazda dealership and bounded by Kōʻula and Auahi Streets.
Last week, Kamehameha Schools announced that it tapped Azure Ala Moana developer ProsPac to develop its Block G in Kaka'ako into a 330-unit market-priced tower called Kaliʻu. It will be bordered by Ala Moana, Auahi, Coral and Cooke streets.
Luxury Details Across the Islands
Oʻahu led the islands in number of $3 million-plus sales with 137, while Maui topped the dollar volume at $737.3 million and Kaua'i had the highest-priced sale with a $36 million estate on its North Shore, according to the Hawaiʻi Life report.
Oʻahu

Total sales $3M+: 137; 102 single-family homes, 33 condos, 3 vacant sites
Total volume: $713.9M
Total sales $10M+: 12
Highest price: $23.9 million in Lanikai

Maui

Total sales $3M+: 122; 63 SFH, 50 condos, 9 vacant sites
Total volume: $737.3M
Total sales $10M+: 15
Highest price: $26.5 million in Mākena; second highest was $24.5 million in Mākena.

Kaua'i

Total sales $3M+: 57; 45 SFH, 8 condos, 4 vacant sites
Total volume: $394.4M
Total sales $10M+: 9
Highest price: $36 million for an oceanfront estate on Kauapea Road in Kīlauea; the largest home sold was a 10,320-square-foot, six-bedroom estate in Kīlauea that sold for $31.5 million one day after it went on the market.

Hawai'i Island

Total sales $3M: 108: 47 SFH, 49 condos, 12 vacant sites
Total volume: $633.5M
Total sales $10M+: 11
Highest price: $33.75 million for vacant land at Kaʻūpūlehu Beach Club