Why Rent Relief in Hawai'i Became a National Model
The government program helped over 13,000 households. One reason it succeeded may have been that people who had experienced housing instability had a seat at the decision-making table.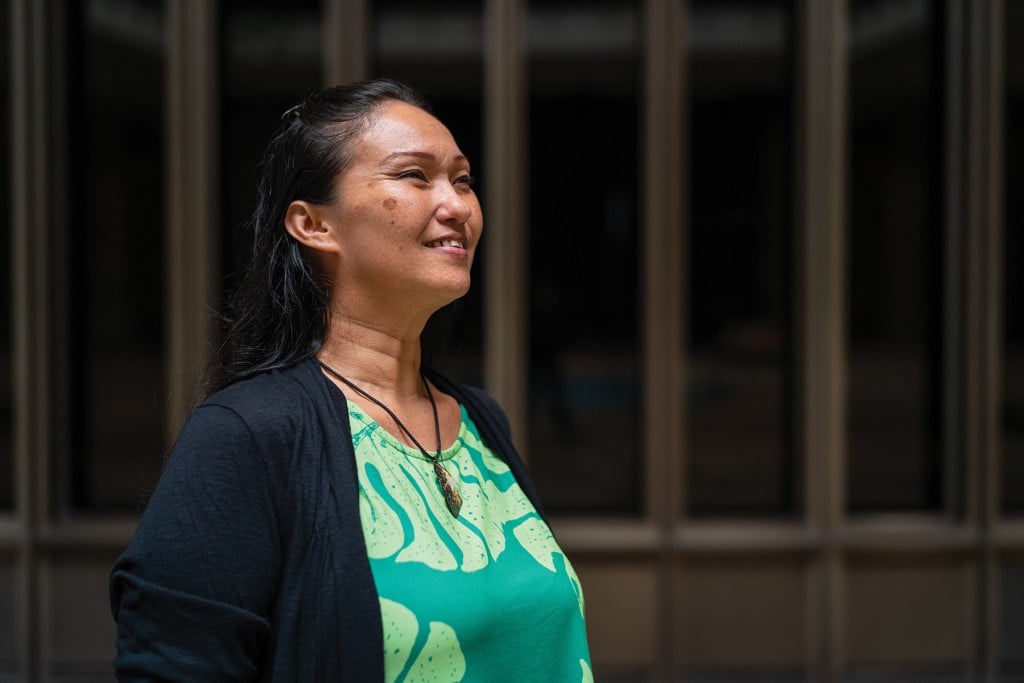 Mother of four Aura Reyes lost her O'ahu home over 10 years ago, but she can still remember the experience like it was yesterday.
"When you first come out on the street and when you first lose your home, it's hard, it's traumatic," she says. "Just the uncertainty and the not knowing and the just – mentally, emotionally – just everything."
She, her husband and children found housing in 2018. In May 2020, Reyes was appointed to a state legislative subcommittee to address housing and homelessness during the pandemic. She wanted to help prevent tens of thousands of renter households from losing their homes like she did.
The group spent months creating a temporary state rent and mortgage relief program that ultimately distributed nearly $59 million on behalf of 13,700 households in three months. The program was considered a leader in distributing housing assistance funded by the U.S. Coronavirus Aid, Relief and Economic Security Act. An analysis by the Hawai'i Budget and Policy Center found that the 2020 Hawai'i program distributed more funds per capita than any other state effort in the country.
Those involved in designing and implementing the local program say several elements were integral to its success, including early collaborations among state government, nonprofits and others; the inclusion of people in the decision-making process who have experienced housing instability and homelessness; and strong support from the community.
"I think sometimes we do undercount the disasters that didn't happen," says Suzanne Skjold, chief operating officer at Aloha United Way, one of two nonprofits that distributed the assistance. "But this really did prevent tens of thousands of families from becoming potentially houseless, either temporarily or permanently. And I know … that is very often the ALICE (asset limited, income constrained, employed) population families who are working, who don't have a lot of assets to be able to fall back on if they don't have income.
"Programs like this that can fill that gap and help people to stay stable and in housing, it's so critical. It's exactly what we need to be doing to make sure that 50%, 60% of our population can continue to live in Hawai'i and be able to thrive."
Urgent Need for Help
A dark cloud loomed over Hawai'i as the Covid-19 pandemic dragged into May 2020: About 22% of Hawai'i's workforce was unemployed and the U.S. Census Bureau estimated that nearly 30% of Hawai'i's adults missed the previous month's housing payment or had little confidence that their household could pay the next month's rent or mortgage on time.
Things weren't projected to improve as the year progressed. An analysis by UHERO, the UH Economic Research Organization, and the Hawai'i Budget and Policy Center looked at the second half of 2020 and estimated that between 40,000 to 45,000 renter households would be unemployed, lose their increased unemployment benefits once federal pandemic unemployment compensation expired and would not be receiving other rental assistance come July 31. About 21,500 of these households would be at risk of losing their housing, including about 7,500 that would be at extreme risk.
It's no surprise that several members of the legislative subcommittee on housing and homelessness felt a sense of urgency. But Gavin Thornton, executive director of the Hawai'i Appleseed Center for Law and Economic Justice, says there was also optimism.
"The stuff that sticks out most to me was, I think, the hopeful feeling of the way that this shared crisis was bringing together all these different stakeholders and perspectives to really provide focus to the things that were most important at the time," he says.
Diverse Decision-Makers
Those stakeholders included CEOs and executives of banks and philanthropic organizations, nonprofit leaders, policy experts, and officials from the Hawai'i Housing Finance and Development Corp. and the governor's office. Also at the decision-making table were people who had experienced housing instability and homelessness, like Reyes, who represented Ka Po'e o Kaka'ako, a group of current and formerly houseless individuals trying to change the way homelessness is addressed. The subcommittee fell under the state House Select Committee on Covid-19 Economic and Financial Preparedness.
Thornton says it's rare to see community members who have experienced housing instability or homelessness involved in decision-making, but the subcommittee's chair, James Koshiba, thought it was important to include them.
Koshiba is a co-founder of Hui Aloha, which brings together houseless people and others to work on service projects. Several years ago, Koshiba spent a week living on Kaka'ako's streets to better understand the impacts of homelessness policies. That experience, he says, made him realize that some of the flaws in Hawai'i's housing and homelessness systems exist because of a disconnect between the goals of those systems, the people making decisions and the people experiencing the systems' impacts.
By including individuals directly affected by homelessness and housing instability, other subcommittee members better understand what it's like to get housing assistance in normal times, how the current systems' rules impact those in need and the hoops they must jump through to get help, Koshiba says.
Their involvement also made the crisis tangible for group members who previously may not have personally known anyone who's experienced housing instability or homelessness.
"If you went to a private school all your life and you never interacted with someone who was incarcerated or struggled with substances or lived on the street, lost their kids, that kind of thing, your reference points are different," says subcommittee member Rose Rombawa.
"That's not a reflection of any lack on a person's intelligence, just maybe the need for an expanded perspective. And it's absolutely transformative when you are able to have relationships across sectors, across class, across these different social dynamics."
Meetings were opened by checking in with one another and using ice breakers, like "What's one unexpected thing you learned about people on this committee or through this committee experience?"
Rombawa says that fostered a space of vulnerability and created a culture where members would relate to one another as people first, rather than just seeing one another based on their titles. She represented the Affordable Hawai'i for All fellows, a group of people who have lived with housing instability and homelessness and now advocate for affordable housing policies.
"We're sitting across the table from some of the biggest CEOs in the state to problem solve and think through potential solutions," she says. "It took a lot of stepping outside our individual roles and showing up as people, trying to do our part in this huge wave of Covid impacts."
Creating the Program
The subcommittee's main task was to create a statewide rental and mortgage assistance program to help stabilize the local economy and housing market during the pandemic.
Members spent several weeks in June crafting their proposal and included lessons learned from existing Covid relief programs run by Honolulu and Hawai'i counties and nonprofits. Among the elements they wanted: Applicants should be allowed to self-attest their household income, a state agency should use a grant-in-aid process – which is faster than going through procurement – to pass coronavirus relief funds to a nonprofit intermediary, and the nonprofit should get funds upfront to launch the program, rather than be reimbursed later.
This was when the duration and full impact of the pandemic were still uncertain, so the group also requested that the administering agency have the flexibility to change the program's eligibility requirements, rules and assistance amounts to meet residents' needs.
The state Legislature passed Act 9 in July 2020 to establish a temporary program to help with rent and housing and allocated $100 million in federal coronavirus relief money to fund it. The law also required the state to spend funds by the end of 2020, the same deadline set by the federal government. The Hawai'i Housing Finance and Development Corp. was named program administrator – HHFDC's first time administering rental assistance.
Denise Iseri-Matsubara, HHFDC's executive director, says the agency went through an expedited procurement process to select the nonprofit intermediaries. Normally, procurement takes three to six months, but in the rent relief program's case, a notice of funding availability was issued on July 2 and contracts were executed with Catholic Charities Hawai'i and Aloha United Way in mid-August. By that time, the governor had enacted a state moratorium on evictions for nonpayment of rent.
The program launched on Sept. 8 and would distribute monthly rent payments of up to $2,000 per household on O'ahu and up to $1,500 per household in Hawai'i, Maui and Kaua'i counties. Households could also receive up to $500 for homeowner association fees. Payments would cover March 1 through Dec. 28, 2020, and go directly to landlords.
Full-time Hawai'i residents had to have lost income because of the pandemic, and current household income could not exceed the area median income. That varies from place to place, but in Honolulu, that was $125,900 for a four-person household.
The program concluded on Dec. 31, 2020, with nearly $59 million distributed on behalf of 13,700 households. Most of the assistance, $42.1 million, helped 9,500 households on O'ahu. More than 900 Kaua'i households received $3.8 million, 2,500 Maui County households received over $10 million, and nearly 700 Hawai'i Island households received more than $2.5 million.
Fifteen percent of households that received assistance reported having no income, and 68% were at 50% AMI or below, according to a joint press release from Catholic Charities Hawai'i and Aloha United Way.
About $8.6 million was spent on program administration, and the remaining $30 million was transferred to the state unemployment insurance fund, which was required by Act 9. Iseri-Matsubara says the state probably could have distributed all of its allocated funds if it didn't have the late December spending deadline from the state Legislature. The federal spending deadline was later extended to December 2021.
Considered One of the Best
Skjold of Aloha United Way says Hawai'i's program was considered one of the most successful rent assistance initiatives in the country due to the amount of money it distributed per capita, the speed at which funds were disbursed and the program's flexibility to meet residents' needs.
"All the people who were in the weeds, we saw the challenges, the incredible amount of work, and the stress of doing this really quickly and without a blueprint," she says.
"Although it was very difficult … in the end we did meet the needs for thousands and thousands of households and prevented even greater heartache from what Covid has already brought to the Islands."
In fall 2020, nonprofit advocacy group Seattle for Growth hosted a Zoom call with housing providers from around the country to learn about Hawai'i's program. Director Roger Valdez wrote about the state's efforts in a January 2021 Forbes article and says Hawai'i is a great example for the rest of the country. At the time, states and jurisdictions were preparing to receive $25 billion in federal emergency rent relief funding.
"I wanted to motivate people to go to their state and local government and say, 'We need to do this the way Hawai'i is doing it,' which is to make it quick, make it electronic transfers" and, as much as possible, eliminate the intermediary steps to getting the money to people who need it, he says.
Seattle for Growth, which advocates for the creation of more housing of all types, had pushed for local and federal Covid rent relief. Valdez says, "What's happened in the rest of the country is that most of the money either didn't get spent or it got spent and it's unclear exactly where it went and whether or not it actually solved the problem."
An investigation by the Center for Public Integrity and The Associated Press published in June 2021 (tinyurl.com/cvdrntrlf) found that of the $2.6 billion in federal coronavirus relief funding set aside by states for rent relief, more than $425 million hadn't made it into the pockets of tenants or landlords. They surveyed about 70 state and local agencies.
"About $1 out of every $6 of that $2.6 billion wound up getting spent on other Covid-19-related expenses, such as protective equipment, police officers' salaries and small-business loans," the two organizations reported.
Property Profiles Inc. manages just over 1,300 rental units on O'ahu. About 5% to 10% of its tenants experienced hardships because of the pandemic. Shannon Heaven, a property manager and Realtor with the company, says the state program, as well as the county-level ones, have had a positive impact on the company's tenants and property owners. She says there likely would have been a "tremendous amount" of property owners who would have had to sell their houses or default on their mortgages if there were no relief.
"When that happens, that takes away that housing unit for that renter, and we already have a shortage of housing in Hawai'i, so it would have been very difficult," she says.
---
Rent Relief by the Numbers
---
A Helpful Program
Several of the subcommittee members and others involved in implementing the program say that collaboratively designing it with community stakeholders and nonprofits made a difference.
"This group was in front of the legislation and out in front of the actual program itself to make sure that all these issues were thought of," says Rob Van Tassell, president and CEO of Catholic Charities Hawai'i. "And I think that's a reason why Hawai'i led the nation, is because of all the forethought that went into this."
In shaping its proposal, the subcommittee gathered information from a variety of stakeholders, including nonprofits that might ultimately implement the program. Typically, the people pushing programs through procurement are unable to consult with agencies that might bid for it, Koshiba says, but this time it was essential. Without that consultation, it's likely the state would write things into the contract that would not work for the implementing agencies, thus slowing the program's launch, he says.
"Those are examples of how the system in normal times, doing business as usual, is designed to minimize fraud, minimize risk to the state of a federal audit or a lawsuit or bad press," he says. "And those systems exist for good reason in normal times. But in a time of crisis, if you're operating that way, we'll never respond to the needs in a timely way or in a way that actually fits what the community needs."
Another major change was providing the nonprofit intermediaries with some advance funds to pay for staff and IT systems and to start delivering assistance. Typically, nonprofit partners are reimbursed, but for a program this big, they generally don't have enough cash to carry on if they have to wait to be reimbursed.
Skjold says HHFDC listened to what the nonprofits needed and pivoted so the assistance could be distributed as quickly as possible.
"There had to be a huge amount of trust, and we knew we had to select the right partners," Iseri-Matsubara says. "And that's why we went through procurement, setting up parameters that you had to have so much experience, so much capacity because we knew this was going to be a short takeoff." The Aloha United Way and Catholic Charities Hawai'i ran their own housing assistance programs before Covid. And AUW was one of three nonprofits that ad-ministered Honolulu's Covid-19 hardship and relief fund for households.
Another bright spot was the communication between HHFDC and leaders of CCH and AUW, Iseri-Matsubara says. The group talked weekly, discussing things like how they could streamline the application procedure and why there were fewer requests for back rent than anticipated.
"If there was any one lesson around this, I think it's how essential it is during the set up and the launch and the sort of how are things going, to have that back-and-forth. Really candid communication was so critical," Skjold says. "And it sounds like an easy thing to say, but that's actually not typical, when you get government contracts, to have regular weekly check-ins."
There was also a commitment among the program's leaders to find a way to make the program work. "We were operating in uncharted waters during a pandemic," Iseri-Matsubara says. "We needed to act fast and in a responsible manner or people were going to be evicted – no time to be perfect."
The broader community also pitched in. Several business and community leaders answered Iseri-Matsubara's weekend phone calls to spread the word about the program, and AUW and CCH worked with several community organizations and credit unions to reach different populations and process applications.
"Building A Ship While You're Sailing It"
Creating a rent relief program of unprecedented scale is hard, and several challenges had to be addressed.
"We're figuring things out as we go, so it's like building the ship while you're sailing it," Iseri-Matsubara says, adding the process was complicated as the U.S. Treasury changed how coronavirus relief monies could be spent. For example, it wasn't clear initially whether funds could be used for mortgage payments.
There was also initial confusion about what period the housing assistance could cover. Act 9 specified that assistance could be distributed between Aug. 1 and Dec. 31, 2020. Koshiba says the state's interpretation was that back rent before Aug. 1 couldn't be covered. Subcommittee members pushed against that because renters would still be evicted later for past-due payments. By October, the program started covering back rent prior to Aug. 1.
"When you see that half of Hawai'i residents are struggling to make ends meet, to me that says pretty clearly this is not just about people's bad personal choices. This is a systemic problem."

– Gavin Thornton, Executive director, Hawaiʻi Appleseed Center for Law and Economic Justice
The program also reached capacity quickly after receiving more than 18,300 applications in its first five weeks. In that time, it approved about $6 million and disbursed less than half of that. The program temporarily stopped accepting applications in mid-October so it could catch up.
A report on lessons learned prepared by the subcommittee (tinyurl.com/hirn-trlflsn) says the primary challenges included issues with the program's database; the intermediaries were still hiring, training and making space for staff during the program's first five weeks; income verification was slowing processing time; many landlords were initially unable or unwilling to submit form W-9s; and a system had to be created to check whether applicants had received Covid housing assistance through other federal funding and were therefore ineligible. The program switched to self-attestation of income in October, Koshiba says, and processed applications quicker in the following months.
Authors of the subcommittee's lessons learned report also wrote that the strain of implementing the program under "extraordinary stress and time constraints" pushed "many to their breaking point, with staff at all levels facing vicarious trauma and burnout."
"We had to live and breathe it," Iseri-Matsubara says.
A January 2021 report commissioned by the Hawai'i Community Foundation, "Covid and Cares Act: Lessons for and from Hawai'i's Nonprofit Sector," (tinyurl.com/HIcovidnpft) echoed the strain local nonprofits faced as they distributed coronavirus relief funds. The report is based mostly on interviews with staff/leaders at 16 nonprofits that received nearly $265 million through the coronavirus relief fund or other federal programs.
"Constraints imposed by federal Covid-19 relief spending deadlines, strict interpretations of federal law, process variation between different levels of government, burdensome paperwork and several other factors have strained many organizations," the report's authors wrote. "Reaching a breaking point and facing stress and burn-out, some staff left their jobs for their own mental health. More than anything, organizations have had to face longstanding issues inherent to Hawai'i's government funding infrastructure, rooted in a heavy risk management focus and a measure of a lack of trust."
Landlord Participation
One challenge was getting landlords to participate.
A UH Economic Research Organization survey conducted in November 2020 (tinyurl.com/HIrentmkt) suggested that about 36% of landlords and property managers were participating in the state rent relief program, and nearly 40% were participating in at least one rent relief pro-gram. Honolulu and Hawai'i counties, as well as the Council for Native Hawaiian Advancement, had their own rent relief programs running at the same time. The survey's responses came from 181 landlords and property managers who collectively represented 6,167 rental units.
Philip Garboden, UH Mānoa's affordable housing professor and author of the November UHERO study, says landlords probably didn't want to participate for several reasons. Some may have been renting out unpermitted structures, like ADUs, while others may have felt like they were being taken advantage of by tenants and just wanted them to leave.
Some were also initially hesitant because they didn't understand how their taxes would be impacted or why the nonprofit was asking for so much information, CCH's Van Tassell says. Landlords had to provide contact information, W-9 information and confirm the amount owed. He adds that landlords wanted to do the right thing and the nonprofit's outreach efforts helped make many of them more comfortable with the program.
The Honolulu Board of Realtors helped with that outreach. Heaven, the property manager and Realtor and immediate past president of the board, says many HBR members contacted mom and pop landlords to help them with the paperwork and educate them about the program.
She says there was a learning curve for both landlords and tenants. "You have to think a lot of these tenants had never been late before, had never not been able to pay rent before," she says.
"And on the flip side, some of my landlords … they don't have extra income to be able to continue paying a mortgage when a tenant isn't paying rent."
Takeaways
One of the top lessons from creating the rent relief program is that future decision-making to address Hawai'i's housing crisis should include people most impacted by the crisis.
Hawai'i faces its current problems, in large part, because those perspectives have been excluded from decision-making, Thornton says. The Hawai'i Appleseed Center executive says society often values traditional expertise over lived experience, and people tend to assign personal blame to folks struggling under the current system.
"The reality is yes, we do make choices that positively or adversely impact our individual lives," he says. "But when you see that half of Hawai'i residents are struggling to make ends meet, to me that says pretty clearly this is not just about people's bad personal choices. This is a systemic problem."
Jeff Gilbreath, executive director of Hawai'i Community Lending and a subcommittee member, says a lot of the energy behind creating the rent relief program came from community members who had experienced housing instability and homelessness. And he saw business leaders and policy leaders look to those community members, as well as community-based nonprofits, to lead the way.
Garboden, who has been part of several housing-related working groups, says he's almost nostalgic for how well the subcommittee members worked together and operated in good faith. Sometimes, legislative-appointed committees barely get off the ground because everyone is so upset before discussions even begin.
But including the voices of people with lived experience is only the first step, says Rombawa, whose background is in social work, substance abuse counseling, loan processing and marketing.
"If we can't even get to a place where we're creating space for the lived experience folks, then we're not anywhere closer to solving the big issues," she says.
Koshiba says the lesson for the community and for government and business institutions is twofold. One is that Hawai'i's institutions need to be ready to partner with the community when there's another crisis. That means government needs to recognize that it can't do it alone and must prioritize community needs, even if doing so increases potential legal risk.
The other lesson is that the community must acknowledge its collective responsibility to address Hawai'i's housing and homelessness issues.
"All of this urgency and attention that we brought to it during the pandemic and the same lessons about having to adapt to an emergency, that's how we need to be operating to solve this problem," Koshiba says.
Continued and Future Need
The pandemic shined an even brighter spotlight on the state's ALICE households that even in normal times barely make enough to get by.
"Noticing that probably half of our state does not have the savings to be able to cover their monthly expenses the following month, to me that should be a wake-up call," Skjold says. "That's a big concern. We have families working full time and unable to save that kind of funds to be able to pay their rent if they have an unexpected crisis."
"The rent relief program, yes, it initially helped that crisis, but it didn't address the past problem that was already there."

– Tracey Wiltgen, Executive Director, Mediation Center of the Pacific
Other Covid rent relief programs continue to run today, with the largest ones administered by the counties. They were introduced in April 2021 and are funded by the federal Emergency Rental Assistance program, or ERA. As of April 25, 2022, the programs had collectively distributed $212 million to nearly 19,600 households statewide.
Some ERA funds can be used to help people whose hardships have occurred within the last two years but not as a direct result of Covid. Previously, applicants had to have experienced hardship directly from the pandemic.
Garboden, who was also a subcommittee member, says the fact that Hawai'i hasn't seen a large bump in evictions since the eviction moratorium ended is a testament to the temporary rent relief programs' effectiveness over the last two years.
He points to pre-pandemic figures: 208 summary possession cases in January 2020 and 212 in February 2020. The numbers have decreased since, with a low of 26 cases in May 2020. There were 143 cases in August 2021 – the month the eviction moratorium expired – and 179 in September 2021. Garboden's numbers only go until February 2022, but they show the number of monthly eviction cases are just below pre-pandemic levels.
Tenants and Landlords
Receiving rent assistance also helped tenants and landlords settle disagreements. Tracey Wiltgen, executive director of the Mediation Center of the Pacific and a subcommittee member, says she saw several hundred tenants pull out of mediation efforts once they received assistance. But part of that was because the state's eviction moratorium on non-payment of rent was in place.
The moratorium expired on Aug. 6, 2021. Since then, the center has mediated 940 cases – about 86% of which resulted in agreements. Wiltgen says that's a result of Act 57, which took effect in August 2021 and requires landlords to let tenants mediate evictions for non-payment of rent.
She says it's a positive sign that so many tenants and landlords are willing to negotiate and have reached agreements. But, she adds, receiving rent assistance is only a short-term fix.
She expects to soon see some tenants max out on rent relief. Federal rules only allow residents to receive federally funded rent relief for up to 18 months. She says some of those tenants are in a better position now and will be able to pay their rent on time after the assistance ends. Others recognize they will not be able to pay their rent and are looking at different housing options.
"I think the rent relief program only solved part of the problem," she says. "It addressed the immediate problem that things overnight got worse. People lost their jobs or were downsized or some of them had to stay home with their kids because of sheltering in place. So what was already a bad situation became a dire situation. So the rent relief program, yes, it initially helped that crisis, but it didn't address the past problem that was already there."
---
Another Collaborative Approach to Covid Housing Relief
On Hawai'i Island, tight collaboration between the county government and a group of local nonprofits has helped the island respond to tropical storms, hurricanes and volcanic eruptions.
In 2020, the county worked with Hawai'i Community Lending, which served as an intermediary and oversaw five on-island organizations that would disburse funds under the Hawai'i County Rent and Mortgage Assistance Program. Sharon Hirota, a specialist with the county Office of Housing and Community Development, says the island's nonprofits drove the collaborative design of the program.
All the nonprofit partners used the same application, data management system, set of policies and outreach plan. Hirota says that made disbursing aid efficient and kept the money on the island.
"It's hard to say that but we really wanted to make sure that at a time where people were losing their jobs or having reduction in hours, how do we keep the money here on Hawai'i Island and how do we ensure that those who may have lost hours within their community-based organizations were able to keep full-time employment?" she asks.
We Just Listened
Jeff Gilbreath, executive director of Hawai'i Community Lending, adds that the nonprofits' existing relationships with residents made it easier to connect with applicants, many of whom had never applied for aid before.
The program ran from Au-gust through December 2020 and distributed $10.96 million to 1,729 households.
"As much as I read, 'Oh it's the county's program,' it's not us, it's them," Hirota says, referring to the local nonprofits. "We just listened and we relied on their expertise and what they were hearing on the streets and making adjustments as appropriate. So it's more on them. Kudos to all of them."
The county has carried forward this collaborative approach to its current rent and utility assistance program, which began in April 2021 and has so far distributed nearly $15.6 million to almost 2,000 households.
Gilbreath says Hawai'i Island is the only county using this intermediary approach. And the county's hui of six nonprofits has now grown to 11, with some of the organizations focusing on housing stability services like landlord-tenant mediation, financial counseling and community navigation. In community navigation, trained community members help clients connect with housing assistance and other services.
Hirota says she's heard lots of stories about how families have benefited from the county's rent relief programs.
"One mother told me, 'I was ready to tell my kid you have to go live with Grandma and Grandpa because me and Dad got to go on the streets. Like we cannot take any more calls from the landlord.'" Hirota recalls the mother saying, "You guys came and got me caught up and we can be made a family."
Hirota adds: "We don't hear all of them, but when you do it's so satisfying to say this is why we do what we do, because it's keeping our families safe and keeping families together."