Hawai'i's Top 250 Companies 2022: List Now Available Online
Revenue figures reflect a year when tourists returned, real estate prices soared and people went shopping again.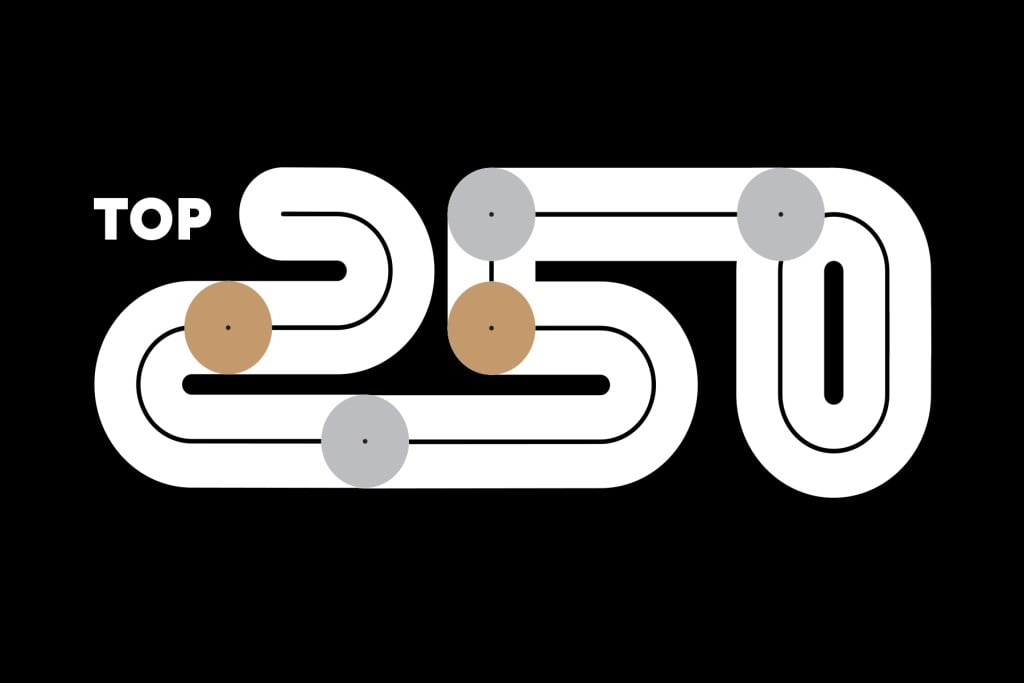 Click here to jump down to this year's Top 250 list!
The 39th edition of the Top 250 list offers a welcome picture of an economy in rebound. This annual survey tracks fluctuations in the fortunes of individual companies and specific sectors, as well as the overall business climate in Hawai'i.
Each year, Hawaii Business Magazine asks hundreds of companies and nonprofits to share their gross revenue figures from the previous year. Most of the information we collect is self-reported, while some comes from public sources. Locally based companies report all their gross revenue; companies based elsewhere report their Hawai'i revenue only.
Every sector was up in 2021, which is great news after a difficult 2020. Not only that, but few companies in our database had closed and few emails went undelivered.
Eugene Tian, chief state economist with the Department of Business, Economic Development & Tourism, says there's no published government data on business closures last year. But in a survey completed in March 2021, 55% of local businesses reported being fully open, while 45% said they had cut their hours or were temporarily closed.
Only 1.8% – about 600 companies – planned to permanently close, says Tian. Of those, 81.8% were businesses with 10 employees or fewer, and 27.3% were in tourism-related industries such as retail and restaurants.
In another sign of strength, many more companies participated in Hawaii Business Magazine's Top 250 survey this year. Last year, some companies did not complete the Top 250 survey – possibly because they did not want to report their weak 2020 numbers.
Another good sign: No. 250 on this year's list reported $3.7 million in gross revenue. The 250th company on 2021's list reported $1.3 million.
Tourism Makes Big Gains
Hawai'i's visitor industry came back strong in 2021, with the crowds to prove it. UHERO data shows that about 6.8 million people arrived by air in 2021, up from 2.7 million in 2020 but well below the nearly 10.4 million in 2019.
More tourists meant more spending, which was up 152% in 2021 over the year before, at nearly $13 billion, according to DBEDT. The first half of 2022 shows even more visitors and spending this year.
The return of tourists led to markedly better results for companies that rely on them. Among the 13 tourism companies that reported data for the Top 250, 2021 gross revenue was up by an average of 124% over 2020.
Total gross revenue among the group was more than $951 million in 2021, compared to just $397.5 million in 2020. While that's less than the $1.5 billion reported in 2019, the gap is closing.
---
Click here to jump down to this year's Top 250 list!
---
Hotel Companies and Airlines
The largest tourism company on the Top 250 is Kyo-ya, which owns the Royal Hawaiian, Sheraton Waikiki, Moana Surfrider and Sheraton Maui Resort & Spa, among others. The company's gross revenue was up nearly 120% from 2020, at $405.3 million, though still below $713.3 million in 2019.
Second-largest Prince Resorts reported $195 million in gross revenue in 2021, only slightly below its $196 mil-lion in 2019. And Kawailoa Development LLP, which owns the Grand Hyatt Kauai Resort & Spa and Poipu Bay Golf Course, reported $104.5 million in gross revenue in 2021 – down about 20% from 2019.
The airlines transporting people to the Aloha State saw similar gains. Hawaiian Airlines reported an 89% increase in gross revenue in 2021 over 2020, and Alaska Airlines reported an almost 147% rise. Both, however, still trailed 2019 results.
Matson's Best Year Ever
While airlines were still working their way back to pre-pandemic levels, the shipping industry reported phenomenal growth in 2021.
Matson, Hawai'i's largest shipping company, saw gross revenue rise by nearly 65% in 2021, to $3.925 billion. In 2020 and 2019, the figures were $2.38 billion and $2.2 billion respectively. Net profit in 2021 was more than $927 million, up from $193 million the year before.
Matt Cox, chair and CEO of Mat-son, says the bulk of that growth came from a spike in demand for goods from China.
"Half the world's air cargo was carried in the bellies of passenger planes. When the pandemic hit, half of the capacity disappeared in literally a week," he says. So many goods, including scarce personal protective equipment, had to be transported by boat.
Expanded China Routes
Matson was poised to act. The company runs an established week-ly trans-Pacific line that launched in 2006 between the mammoth ports of Xiamen, Ningbo and Shanghai in China and Long Beach, California.
In 2020, Matson quickly opened a second weekly China-to-Long Beach line, and in 2021, the company launched a third service from China to Oakland, California. According to earnings reports, Matson's container volume from China to the West Coast increased 55.4% in 2021 over the previous year.
International shipping is big and competitive, and Matson is "quite a small player in global markets," says Cox. "We don't strive to have a world-wide footprint." But he says the company recognized sooner than other shippers that consumer demand was rising despite the economic uncertainty of a pandemic.
"We made a very significant move and leased every ocean container in the world that we could get our hands on and positioned ourselves well," he explains.
---
Click here to jump down to this year's Top 250 list!
---
Bypassed Congestion at West Coast Ports
In addition to chartering containers and ships, Matson owns its own fleet of vessels, and its three trans-Pacific lines are faster than competitors, says Cox. The company also operates 2022 its own West Coast terminals, partners with trucking companies, and owns containers and chassis, thus bypassing much of the congestion at the ports.
"Given the chaos and turmoil in the supply chain, we stand out head and shoulders better," says Cox. All told, "2021 was our best year in the company's 140-year history."
Another factor adding to Matson's earnings was a dramatic rise in international freight rates, which more than quadrupled since 2019.
"There was an explosion in e-commerce and people doing things like remodeling houses, resulting in a ton of spending on goods, which overwhelmed cargo capacity," explains Cox. "Every ship had significantly more demand than it could possibly carry." The result was ballooning freight rates.
However, Cox notes that rates for domestic shipments from the U.S. mainland to Hawai'i and Alas-ka have been rising at a more modest 3% or 4% a year, along with charges for escalating fuel costs.
"We used the launch pad of Hawai'i to expand. But Hawai'i is always our home and our first place of responsibility," says Cox.
Other local shipping companies also experienced growth. Pasha's gross revenue was up 18.2% in 2021, while Young Brothers was up 36.6%.
Construction Holds Steady
In 2020, construction was a stabilizing force in the state's economy, making up 6.2% of GDP. While tourism languished, projects such as new and remodeled homes, hotel renovations, infrastructure work and military construction continued through the shutdown.
Last year, construction remained strong. The 36 construction and development companies on the current Top 250 list reported an average 11.3% rise in gross revenue over 2020. The companies' average gross revenue was more than $110 million in 2021, compared with $96 million in 2020.
Employment was flat, with the average number of full-time employees at about 187 in 2021 and 182 in 2020.
Real Estate Grows Frenzied
Bidding wars, cash-only offers and houses selling in just nine days on average: Real estate went nuts in 2021.
According to a Hawaii Business Magazine report from March 2022, sales of single-family homes and condos in 2021 jumped 29% over the pre-pandemic highs of 2019. And prices rose even more. The total sales volume in 2021 was $22.2 billion – 64% higher than in 2019.
The heated market, combined with limited inventory, has created a housing crisis for many residents. But for many sellers and real estate professionals, the picture looks quite different.
Among the 15 residential and commercial real estate companies on this year's list, 2021 gross revenue averaged more than $102 million – up from $87 million in 2020 and $96 million in 2019.
Auto Dealership Gain $1.1 Billion
Across the country, supply chain snarls have made cars and trucks increasingly difficult to find and expensive.
That translates to higher revenue for the Top 250's 14 auto dealerships – including top-ranking Servco Pacific, which also has branches in musical instruments and venture/growth capital. Total gross sales for the group was $5.1 billion in 2021, compared with about $4 billion in 2020 and $3.7 billion in 2019.
Jim Falk Automotive Group, the second largest auto dealer company on the Top 250, reported $411 million in gross sales in 2021. Even the smallest, Hilo-Kona Mazda Subaru Hyundai, reported nearly $38.8 million in gross sales. Gross sales for the two companies were up 24% and 11.4%, respectively, over the prior year.
---
Click here to jump down to this year's Top 250 list!
---
Punahou Doubles Its Gross Revenue
Among the 10 schools and universities on the 2022 list, most reported gross revenue that was fairly stable, ranging from 10% down at the UH System to 22% up at Hawaii Baptist Academy.
But Punahou School reported a dramatic gain of 104%, with about $232 million in gross revenue in 2021 versus $114 million in 2020. Similar to Kamehameha Schools' 88% jump in the 2021 edition of this list, school officials say they adopted an accounting change that affects how they report investments.
An added factor was that Punahou "saw favorable returns on our endowment investments, which are used to support school priorities such as financial aid," the school says in a statement. The total market value of endowed funds was $361 million in 2021 – a one-year rise of $36.4 million.
Newcomers to the List
The Top 250 welcomes many newcomers to the list that come from a wide array of sectors. Listed by gross revenue size, the companies and organizations include:
Honolulu Authority for Rapid Transportation, The Elite Companies, Corcoran Pacific Properties, Hale Koa Hotel, WestPac Wealth Partners Hawaii, Waikiki Health, Hawaii Baptist Academy, Hawaiian Humane Society, Elemental Excelerator, National Tropical Botanical Garden, Maunalani Nursing and Rehabilitation Center, Century 21 iProperties Hawaii, Mālama Solar, Aloha Green Holdings Inc., Life Cycle Engineering, ATN Construction, Alana Investment Group, Boys & Girls Club of Hawaii, Vivia Cares Inc., Integrated Facility Services Hawaii and Kona Coast Property Management.
"I'm 100% sure that this super cycle we're in will end and supply and demand gets back in balance."

– Matt Cox, Chair and CEO, Matson
Rising Inflation Looms
While the gains made in 2021 are heartening, inflation has been rising quickly, casting a shadow on Hawai'i's recovery.
Higher interest rates designed to lower inflation are cooling the housing market and visitor numbers could start dropping again as fares rise. Spending in general could fall as essentials like rent, food and gas get more expensive.
For the shipping industry, the insatiable demand for electronics, furniture and fashion from China is expected to dampen, potentially untangling supply chains but also slowing trade.
Matson's Matt Cox nicely sums up prospects for 2022 and beyond: "I'm 100% sure that this super cycle we're in will end and supply and demand gets back in balance."
Top 250 List of 2022