Hawaii Entrepreneur Awards 2022
Profiles of winners of the annual Hawaii Venture Capital Association awards.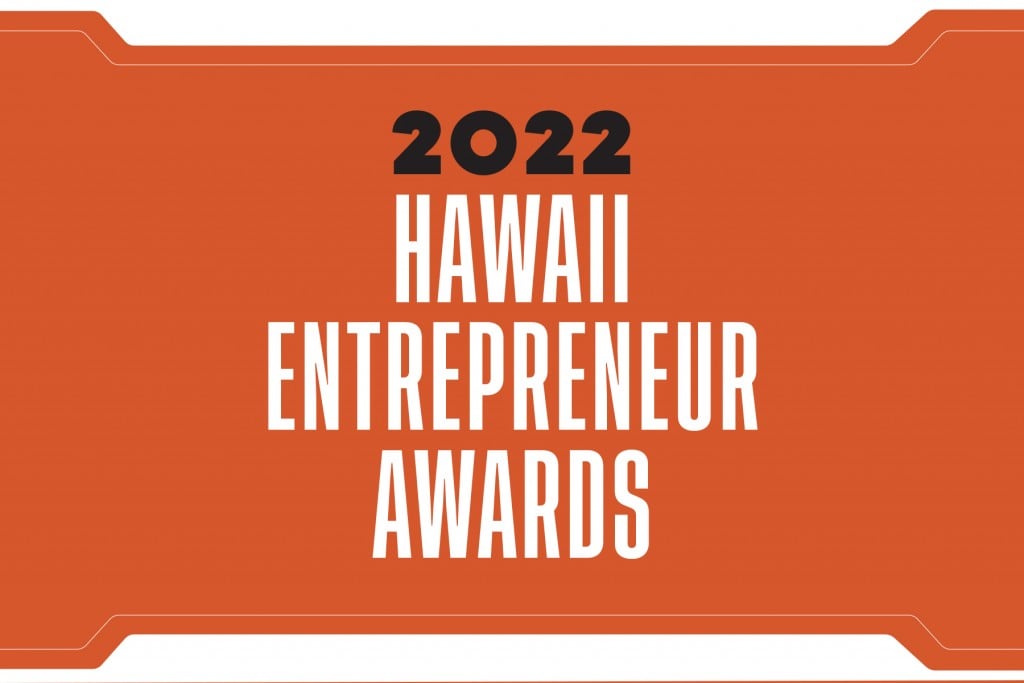 One theme of this year's Hawaii Entrepreneur Awards is "Re-imagining Hawai'i's Economy," with an emphasis on sustainability, innovation and diversification.
Meli James, president of the Hawaii Venture Capital Association, which sponsors the annual awards, hopes that everyone in Hawai'i learns about all that's going on within Startup Paradise, the nickname given to the local innovation community.
"It's amazing to see the level of innovation from our Islands' newest generation of entrepreneurs. This year's winners are a testament to that innovation as they show us how they bridge Hawai'i to broader global markets and sustainability," says James, who is also co-founder of Mana Up, an accelerator and venture fund supporting local companies that make consumer packaged goods.
"We're seeing a new wave of entrepreneurial spirit and drive that locals have to re-imagine our future economy."
Bella Hughes, winner of the Entrepreneur of the Year award, believes that sustainability and environmentally positive solutions are top of mind at local startups.
"The future is rooted in an abundance mindset," Hughes says. "I hope that over the next 10 years, we'll continue to see our entrepreneurial ecosystem come up with innovative solutions rooted in sustainability, creating a pipeline for smaller businesses to collaborate with larger ones, resulting in environmental and economic vibrancy for our community and economy."
Kā'eo Duarte is VP for community and 'āina resiliency at Kamehameha Schools, which was named Investor of the Year. He says Hawai'i's entrepreneurs are leaning again and again toward sustainable solutions.
"More than ever, we're seeing ventures across food systems and other sustainable industries that will contribute to the resiliency of our Islands in the long term," Duarte says. "Investing in the next generation of business innovators and connecting them to our resources is part of our kuleana to advance the well-being of Native Hawaiians and the communities they live in."
---
Social Impact Entrepreneur of the Year
CPG (Consumer Packaged Goods) Entrepreneur of the Year
Corporate Intrapreneur of the Year
Ag/Clean Tech Entrepreneur of the Year
Student Entrepreneur of the Year
---
Entrepreneur of the Year: Individual or team that has gone above expectations with their company, a clear example to other entrepreneurs.
Winner:

Isabella "Bella" Hughes
Shaka Tea
"I have long felt that the dots in my life, they all connect," says Isabella "Bella" Hughes. "The big why and the arc of my life is definitely a commitment to my community, and intention and abundance."
That arc and commitment brought her to founding Shaka Tea in 2016 with her husband, Harrison Rice.
"Starting Shaka Tea really just feels like an extension of what I've been doing for over a decade, whether it's training and championing voices of artists from Hawai'i or co-founding and launching the Hawai'i Triennial," Hughes says. "It's really rooted in highlighting our community, and in a really powerful way, connecting stories of Hawai'i and sharing them off-island with larger audiences."
The Punahou graduate raised on O'ahu received her undergraduate degree in art history from Boston University, where she met her husband, before earning a master's degree in museum studies from Johns Hopkins University.
Hughes says Shaka Tea – the beverage and the company's business model – are rooted in sustainability for Hawai'i. The key ingredient is the māmaki plant, a species endemic to the Islands and traditionally used by Native Hawaiians for medicinal purposes, according to UH's online guide to native plants.
"Women ate māmaki fruits and seeds during the later months of pregnancy. The fruit was also used in healing sores and wounds," the UH guide says.
Hughes says she's proud that Shaka Tea's ingredients are from 20 small family farms on Hawai'i Island, resulting in distinctive island flavors like Mango Hibiscus, Guava Gingerblossom and Lemon Lokelani Rose.
"Over the last six years we've simultaneously built not only one of the fastest growing beverage brands in the country, but we built our entire supply chain from scratch and given away over 35,000 māmaki seedlings to small farmers," Hughes says.
Shaka Tea describes its newly released Immunity Shot beverage as fusing "Hawaiian turmeric, 'ōlena, with herbal māmaki leaves. The Immunity Shot is blended with tangy, tropical passion fruit, a touch of monk fruit for gentle sweetness and premium vitamins for enhanced function."
Hughes volunteers for several local nonprofits and recently launched FoundHer by Purple Mai'a with former YWCA USA CEO Gloria Lau. FoundHer, a small-business accelerator for Native Hawaiian, Pacific Islander and Asian women in Hawai'i, provides both childcare to participants and grants that do not require business owners to give up shares of equity or ownership.
Social Impact Entrepreneur of the Year: An entrepreneur and company that substantially contributes to helping solve some of Hawaiʻi's toughest problems.
Winner:

Mondenna "Mondy" Jamshidi-Kent and Mālia Sanders
Travel2change and Native Hawaiian Hospitality Association
Sustainable tourism is a worthy goal, but Mondenna "Mondy" Jamshidi-Kent and Mālia Sanders want to take it to a higher level: regenerative tourism.
"Regenerative is the next step beyond sustainability," says Jamshidi-Kent. "It is this concept of leaving a place better than you found it" by following cultural and indigenous knowledge.
In December 2021, Jamshidi-Kent was named executive director of Travel2Change, a nonprofit that is partnering with the Hawai'i Tourism Authority and the Native Hawaiian Hospitality Association to promote Mālama Hawai'i. That statewide initiative is a pillar of the HTA's 2020-2025 strategic plan to "rebrand" Hawai'i tourism and "encourage more responsible tourism by giving visitors an opportunity for an extended stay if they participate in a voluntourism activity."
Sanders is executive director of the Native Hawaiian Hospitality Association. She says HTA's Mālama Hawai'i aligns with the guiding principles behind regenerative tourism and Hawaiian cultural values.
"These are things that our people have been practicing for time immemorial."
Sanders says regenerative tourism should instill a sense of reciprocity and kuleana in both host and visitor.
"When we think about the Western models of hospitality, it really is a one-way relationship. But when we think about the values of the Hawaiian culture and the word ho'okipa, hospitality becomes a reciprocal relationship," she says.
Finalist:

Gunars Valkirs
Maui Kuʻia Estate Chocolate
Following the $1.7 billion sale in 2007 of his San Diego-based medical diagnostics company, Gunars Valkirs and his wife, JoRene, moved to Maui where they founded the nonprofit Makana Aloha Foundation. The foundation disburses about $250,000 in grants annually to Maui nonprofits.
"One of the reasons why we decided to start Maui Ku'ia Estate Chocolate is to give back more to the Maui nonprofit community than we can through the foundation," Valkirs says.
Valkirs leases 50 acres of Kamehameha Schools land in Lahaina that had been used to grow sugar cane. In April 2018, Maui Ku'ia Estate Chocolate harvested its first crop and now more than 18,000 mature cacao plants grow on the estate.
Before his first harvest, Valkirs says, he went "all in," building a 10,000-square-foot solar-powered chocolate factory in 2016, plus a store, cafe and outdoor pavilion, where chocolate tastings are held after tours of the farm.
The estate's chocolate won a gold medal for the Asia/Pacific Region at the 2021 Cocoa of Excellence Programme and its 2020 spring harvest of 70% dark chocolate won a Good Food Award from the Good Food Foundation.
Finalist:

Candice Dietz and Connie Derry
Givespace
Givespace launched in 2021 and was part of Blue Startups' 13th cohort. It's the second partnership for sisters-in-law Candice Dietz and Connie Derry, creators of the children's clothing brand Alexander and Sophia.
They developed GiveSpace's concept after their own time-consuming experiences while incorporating "give back" campaigns into their e-commerce business, says Dietz.
The software platform's website says it "helps businesses, non-profits and individuals create, manage and execute online fundraising campaigns. It allows users to track donations on a live dashboard, enable in-cart application, set up email marketing, display live statistics and generate automated tax-deductible receipts."
Dietz, who has management experience in marketing, event planning and more, says, "GiveSpace ties in my professional experience to bring a product we saw was missing into the market as a tool for companies, charities, and individuals to come together and make impacts in their communities."
Tech Entrepreneur of the Year: Honoring the entrepreneur who has created technology and innovation to make our lives better.
Winner:

Cyril Moukarzel and Steve Markowitz
LifeDNA
LifeDNA launched in May 2017, offering personalized health and wellness recommendations based on detailed data from DNA samples. LifeDNA kits can be sent to your home, or you can submit DNA results from an Ancestry.com lab partner, such as 23andMe.
"We've grown more than 100%, year over year" and expect continued growth as the company expands globally over the next 12 to 18 months, says Cyril Moukarzel, co-founder and CEO.
LifeDNA's reports are based on an individual's unique metabolism and nutritional needs, paired with recommendations for maintaining optimal health. More than 170 unique reports can be generated, including fertility and genetics, longevity, allergies and sensitivities, personality and cognition, and potential risks for disease, says Moukarzel.
"We give you easy to understand information about your nutrition, about your fitness, about your vitamin and skin care needs and give you concrete recommendations on what you need to do to improve your health and wellness."
Finalist:

Ed Lallier and Pat Cronin
Vanta Leagues
Ed Lallier and Pat Cronin went to West Point as undergrads and attended business school together at Boston College. Both have coached youth sports.
So, when Ed's son was cyberbullied while gaming online during Covid-imposed school shutdowns, the two friends and business partners began a serious dialogue: How to imbue young gamers age 9-14 with the type of social-emotional learning opportunities and core values of sportsmanship typically taught by coaches of in-person team sports?
In 2021, Lallier and Cronin launched Vanta Leagues, a youth esports development platform that provides expert coaching and mentorship. They say the platform is compliant with the federal Children's Online Privacy Protection Act and that coaches are trained based on the West Point leadership development system.
"Through our team-based learning platform and competitive leagues, we teach gamers how to be successful in the games they love," says Cronin. "Esports and gaming are the ultimate equalizer. You can have people with disabilities, people of every race, creed, gender."
Vanta's accounts are now primarily with private schools, but the founders are seeking funding for expansion into public schools and after-school programs.
Finalist:

Dan White and Robert Metcalfe
Signol
Signol CEO and co-founder Dan White has a bachelor's degree in ecology from Lancaster University in Britain and has worked in sustainable energy tech for nearly a decade. Co-founder and Chief Research Officer Robert Metcalfe is an associate professor in economics at the University of Southern California with a research focus on consumer, employee and business behavior.
The duo launched Signol in 2017 after conducting an experiment with airline captains, in partnership with Virgin Atlantic Airways. The experiment provided pilots with feedback and behavioral nudges during more than 40,000 flights, resulting in a reduction of 55 million pounds of carbon emissions and saving the airline more than $5 million.
The technology can be employed in different modes of transportation by using behavioral science to frame and deliver information to incentivize efficient fuel use. "We believe this is the most cost-effective way today to reduce greenhouse gas emissions for any technology, because we help profits as well as environmental outcomes," says White.
Signol is a portfolio company of Hawai'i's Elemental Excelerator, which funds the deployment of climate restoration technology and innovations.
CPG (Consumer Packaged Goods) Entrepreneur of the Year: Presented to the entrepreneur whose CPG company has consistently seen month over month growth in revenue and customers.
Winner:

William Davis
Vitalitea Hawaiʻi
"I was really passionate about home-brewing beer as a hobby and I started really getting into the science of it," says William Davis, a commercial airline pilot and owner of Vitalitea Hawai'i. Then "kombucha kind of came along as another challenge."
Davis describes kombucha as "an effervescent, detoxifying, fermented tea packed full of probiotics, digestive enzymes, organic acids and a variety of nutrients and vitamins."
Davis sold his first keg of kombucha made in 2015. Then he spent the next few years creating flavors and developing the process, and creating a canned nitro cold brew coffee using Maui Red Catuai coffee.
The company launched in 2018 with two accounts at South Maui taprooms. Davis says he now has eight employees serving about 100 Maui accounts and "a pretty good presence on O'ahu and the Big Island." In April 2021, Vitalitea partnered with Whole Foods Market to have his products sold in 60 stores across Southern California, Arizona and Nevada.
He says the next steps include "some outside funding, some strategizing and the right people to make those decisions."
Finalist:

Holly Harding
Oʻo Hawaii Skincare
Holly Harding says she studies health and nutrition after selling her organic bath and body product company, Bubble Shack Hawaii, in 2016. Two years later she launched her own skin care line, O'o Hawaii, which was picked up by Neiman Marcus and is being promoted on the QVC Network, with distribution spanning the U.S., Europe, India and South Korea.
"Unwilling to give up my ocean lifestyle in the name of beauty, I developed O'o Hawaii to preserve, protect and repair the effects of the sea and sun," says Harding.
She also developed the H Lyfe Method, which combines her skin care line with daily nutritional supplements based on her belief that "beauty starts from within with a diet of nutrient-rich, unprocessed and unrefined foods from nature."
The supplements consist of four capsules, taken daily.
"The supplement really does everything. It addresses the three main areas of the body that really affect the skin: your digestion, your liver, and the hormones."
Finalist:

Justin Orr and Katie Cook
HI Spice
Husband and wife team Justin Orr and Katie Cook tapped into a "hot market" in 2015 with a Kickstarter campaign to help them market the hot sauce they had been making at home and giving to family and friends for years. They easily met their campaign goal and shipped their first batch of HI Spice Hot Sauce in August 2016.
HI Spice is made from local ingredients, including peppers, liliko'i, guava, pineapple, mango, papaya and honey, to create what they call "the perfect balance of heat and flavor." It's sold at farmers markets and supermarkets on Maui, and used at restaurants and hotels.
Orr says the market for hot sauces is "exploding – it's the No. 1 growing condiment out there."
"Initially our intention was for it to be like a weekend side hustle at the farmers market. … It quickly outgrew that, and we had to just evolve with it, which has been awesome."
Deal of the Year: Recognizes the startup paradise company that received the largest financial deal in the past year.
Winner:

Assaf Karmon and Tim Roy
TurnoverBnB
Assaf Karmon and Tim Roy, co-founders of TurnoverBnB, last August closed a series A funding round for $4.5 million, led by Real Estate Technology Ventures with participation from Hawai'i-based accelerator Blue Startups.
Karmon and Roy founded TurnoverBnB in 2016 as a software as a service (SaaS) company that connects cleaners with vacation rental hosts. They have since added rental hosts in more than 70 countries while remaining head-quartered in Hawai'i.
"We're thankful for the support we've received from the community, especially Blue Startups," says Karmon, adding that he and his partner regularly hire interns from their alma mater, UH Mānoa's Shidler College of Business, with the goal of helping to build Hawai'i's business ecosystem.
"We're very grateful for all of the local partners who helped us get to where we are."
Karmon says RET Ventures will become a "key partner" of TurnoverBnB, providing access to its extensive group of partners who collectively own and operate over 2 million rental units worldwide. The startup is now poised to launch a new brand called "Move Out" for residential properties, he says.
"The potential of a market like the one organized by TurnoverBnB is significant, especially as the company evolves to offer services oriented toward the residential space," says Aaron Ru, VP of RET Ventures.
Investor of the Year: An outstanding individual or entity that has invested substantially in the Hawaiʻi startup ecosystem – with time, talent, money, inspiration and public service.
Winner:

Lauren Nahme and Kāʻeo Duarte
Kamehameha Schools
Creating healthy food systems involves understanding and responding effectively to everything that can happen between the farm and the fork – or the 'āina and the 'ōpū.
Kā'eo Duarte, KS' VP for community and 'āina resiliency, explains that numerous networks with social, economic, environmental and ecological impacts drive the logistics, management and successful harvests of the food we eat. He also believes those networks build relationships, creating many opportunities to enrich the communities and businesses where people live, work and thrive.
Kamehameha Schools, the state's largest private landowner, established the $10 million Hawai'i Food Systems Fund in November as part of a "holistic approach" to aligning its institutional and investment goals, Duarte says.
He says the institution's investment in food systems is expected to have "a positive ripple effect on our farmers and our renters and our tenants across the state."
The fund is focused on local investments to support food production, distribution, processing, purchasing and consumption; $2.89 million has been invested in businesses contributing to the sustainability and growth of local food systems, says Duarte.
Hawai'i 'Ulu Co-op was the first: It received $300,000 to scale up breadfruit production statewide.
"Kamehameha Schools' investment is extraordinarily catalytic to the entire food chain," said Kyle Datta, Hawai'i 'Ulu Cooperative board president and owner of Mana 'Ulu, a farm on leased KS land in Umauma on Hawai'i Island.
Others that received funding:
Mana Up: The startup accelerator that supports local entrepreneurs received $700,000.
Farm Link Hawai'i: The O'ahu-based food hub that "connects local growers and buyers" got $892,000.
Ola Brew: The Hawai'i Island-based brewery with a mission to encourage growth in local agriculture received $1 million. The brewery's website says it is employee- and community-owned, "with more than 2,200 small investors and 40 employee-owners."
While financial returns on investment are important, Duarte says, the broader impacts to local jobs and careers will have an economic "multiplier effect" on communities.
Island Innovators of the Year: Celebrating innovations that help Hawaiʻi and other islands solve a major problem in communities, the ocean or the ʻāina.
Winner:

Brian Glazer and Kevin Mukai
Hohonu
Technology startup Hohonu monitors water levels and provides forecasting to help communities respond to flooding and adapt to climate change.
The company was selected in October 2021 to join a team of scientists working to expand a water level observation network in the U.S. Southeast, an area hard hit by superstorms and flooding events.
Brian Glazer, Hohonu CEO and co-founder and an oceanography associate professor at UH Mānoa's School of Ocean and Earth Science and Technology, explains that extreme weather events are generally forecast for large areas, sometimes multiple states and regions. Many small municipalities don't have access to updated emergency flood zone mapping or effective monitoring of levies, waterways and drainage systems.
He says Hohonu's technology helps communities measure water level changes "in their own backyards."
Glazer says climate change and extreme weather events are "only going to become more intense and more frequent in the coming years."
"I think there's this idea that climate change impacts would be slow and linear through time, and what we're seeing is nonlinear responses. Not every coastline is responding the same way to sea level rise. … The world is not a bathtub and it's not responding as such."
Co-founder and COO Kevin Mukai, an engineer who has previously worked at other startups, says Hohonu is about to close on new funding that would enable significant expansion.
"We now have about 50 sensors, the majority of which are in the Carolinas. This fundraising round is going to allow us to expand nationwide," says Mukai. "The goal is to really increase the number of sensors that we have across the country, especially in Hawai'i."
Says Glazer: "Anywhere in the U.S., Hohonu can now collect water data within a matter of days, at a fraction of the cost, and without requiring a team of installation technicians. We're excited to bring this service to all communities who need it."
Corporate Intrapreneur of the Year: This award honors someone who works in a large organization but advocations for innovation and entrepreneurial thinking.
Winner:

John De Fries
Hawaiʻi Tourism Authority
As CEO of the Hawaiʻi Tourism Authority, John De Fries has a leading role in transforming tourism in the Islands.
HTA's mission, as set out in its strategic plan for 2020-2025, is to "strategically manage Hawai'i tourism in a sustainable manner consistent with economic goals, cultural values, preservation of natural resources, community desires and visitor industry needs."
An important part of HTA's strategy is to rebrand and promote Hawai'i as a destination for regenerative tourism and by seeking "mindful" travelers. That means educating both tourists and locals about the need for a reciprocal relationship with the Islands' fragile ecosystems based on traditional Hawaiian cultural practices.
"It is everyone's responsibility to help our tourists understand that this is a place of deep spirituality," says De Fries, a Native Hawaiian born and raised in Waikīkī.
His career spans more than 40 years in tourism and resort development, and he has served as executive director of the Native Hawaiian Hospitality Association and led the Department of Research and Development for Hawai'i County.
"We have an opportunity to reimagine and redesign a model of tourism that is more compatible, a better fit with the communities throughout our Islands," he says.
He acknowledges that it's a complex challenge, but worth taking on.
"Who are we as a brand if we do not celebrate and elevate the uniqueness of the Hawaiian culture, and all of us as a community? That is a multiethnic fabric held together by the spirit of aloha."
"It's by no means perfect. But it may be among the best of models. Diversity, coexisting in a relatively harmonious way, that all constitutes the direction that our messaging in our branding strategy is headed."
Startup Paradise Champion: Someone who consistently contributes to the success of Hawaiʻi's innovation community.
Winner:

Paul Yonamine
Central Pacific Bank
Paul Yonamine believes the strong spirit of collaboration within Hawai'i's business community is key to growing both successful existing businesses and strong startups.
And investing in a well-trained, tech-savvy workforce is central to building a more diversified and sustainable local economy, says Yonamine, who is executive chairman of Central Pacific Bank and chairman and CEO of its parent company, Central Pacific Financial Corp.
To promote that goal, he and a diverse group of "change agents" and local leaders collaborated to launch TRUE, a local initiative creating "a pathway for businesses to accelerate their adoption of technology."
In an interview with Hawaii Business Magazine, Yonamine mentioned several other initiatives and programs that reveal his broad vision and involvement.
He says CPB's Rising Tide program offers members a local business registry plus business education and capital raising opportunities like the recently launched WE by Rising Tide, an accelerator program for female entrepreneurs.
The 10-week program includes workshops designed to hone financial management, marketing and leadership skills. Participants also have the chance to network with business leaders.
Yonamine says leveraging Hawai'i as a world-renowned brand remains a strong model for success.
"Consumer packaged goods is probably the strongest way for a startup to scale up quickly in today's environment," says Yonamine. "That's why I love what Mana Up is doing so much."
Yonamine is also board chair of the U.S.-Japan Council. "Japan loves products from Hawai'i," he says. "They just can't get enough. Economic growth and diversification for Hawai'i must include cultivating key markets like Japan."
Ag/Clean Tech Entrepreneur of the Year: An entrepreneur and company whose technology supports a greener future or helps farmers with innovative agricultural practices.
Winner:

Nick and Miki Vericella
Pawniolo Pets
Nick and Miki Vericella began making raw pet food for their own animals on the family's cattle ranch in Kamuela on Hawai'i Island in 2017. The couple was already raising live-stock and providing fresh food for family and friends.
Vericella remembers thinking out loud, "We're eating great and we know where our food is coming from, so why are we still buying bagged dry food for our pets?"
Pawniolo Pets started marketing on Facebook Marketplace in 2019 and now offers fresh, locally grown and packaged raw pet food, treats, chews and other products to stores on Hawai'i Island, O'ahu and Maui, and one store in San Francisco.
Nick Vericella's grandfather built a meat processing facility on the ranch for the family's personal consumption. "We were able to use that facility and a lot of equipment that we already had" while expanding and modernizing, he says.
Pawniolo Pets now supports nine Hawai'i Island ranches and also buys venison from Moloka'i. "We utilize whole animals, nose to tail, in an effort to waste nothing."
Finalist:

Alexia Akbay
Symbrosia
Livestock account for more than 10% of global methane emissions. That's why in 2019, Alexia Akbay founded Symbrosia, a Kailua-Kona-based startup producing a seaweed feed supplement that she says helps reduce methane emissions from livestock by 90%.
Symbrosia's supplement is made from Asparagopsis taxiformis, red "macroalga" native to Hawai'i, grown via sustainable aquaculture technology that "involves zero fresh water and actually bioremediates waste from fish farms," according to the company's website. The product is going through commercial trials now on cows, sheep, goats and buffalo, says Akbay.
Before establishing production in Hawai'i, Akbay honed Symbrosia's business model as a participant in two tech accelerators: Yale University's Tsai Center for Innovative Thinking and Hatch Blue, a global aquaculture accelerator. Symbrosia has raised about $9 million in grants, awards and other pre-seed funding.
Akbay has been recognized as one of Forbes magazine's 2022 "30 under 30" scientists recognized for "leveraging business smarts to save the world." Symbrosia has been awarded the Sabin Sustainable Venture Award by the Yale Center for Business and the Environment and the Massachusetts Institute of Technology's Water Innovation Prize.
Finalist:

Ashley Watts
Local Iʻa
Marine biologist Ashely Watts was working as an at-sea monitor for the NOAA Fisheries Observer program when a Hawai'i nonprofit hired her to source fish for Local I'a, which allows local fishing boats to sell their catches on O'ahu through the company's subscription memberships. Watts says that after building up the company and running it on her own for two years, the nonprofit recognized her "sweat equity" and made her the company's owner-operator in 2017.
"Local I'a brings fresh local seafood from the boat to your table," Watts says. "We shorten the local seafood supply chain by purchasing fish directly from fishers and selling it directly to the community. We source local, in-season seafood that is caught through pono fishing practices and distribute it to chefs and consumers islandwide."
According to the company's website, the overarching goal of the business is to support sustainable fishing jobs by increasing the value of local fisheries; improving consumer access to fresh, local, responsibly caught seafood; and preferentially sourcing from sustainable fisheries that are well-managed and can provide seafood for future generations.
Student Entrepreneur of the Year: Honoring a younger member of the innovative community who has a passion for learning and the tenacious spirit of an entrepreneur.
Winner:

Craig Opie and Anthony Lopez
Pulse Utility
Pulse Utility began when then-UH Mānoa students Craig Opie and Anthony Lopez teamed up for the 2021 Innovation Impact Challenge, a competition organized by Hawaiian Telcom and UH.
They won first prize: $15,000 and support services for their technology capable of locating and mapping public utilities and other buried infrastructure to avoid dangerous and costly blind excavations. Soon afterward, they won the UH Venture Competition and a prize worth $33,000.
The direct and indirect costs of utility strikes in 2019 alone were estimated at $30 billion, according to the Common Ground Alliance, an association of stakeholders in America's underground infrastructure.
Lopez says Pulse Utility's technology combines ground penetrating radar and augmented GPS technology to locate buried infrastructure and then create a 3D geo-map. He says it's accurate within 1 centimeter and can detect virtually anything: clay, concrete, fiberglass, PVC conduits, fiber-optic cables.
"We've come up with an exceptional solution that will save customers time and money and also make working conditions a lot safer for construction companies, or anybody that needs to dig," Lopez says.
Finalist:

George Donev
Student Corner
George Donev says he's taking a gap year from the computer science program at UH Hilo to continue development of his education technology startup, Student Corner.
"Our mission is to bring student work and student achievement to the forefront and create a streamlined process for the entire learning experience for teachers and administrators," Donev says.
Hawaii Business Magazine reported on his company in July 2020 after Covid-19 shutdowns forced Hawai'i State Science Fair organizers to cancel their annual in-person event. Student Corner's digital platform made it possible to "stage the science fair virtually and raised the bar by providing a permanent online home for the students' projects," that story reported.
In February 2020, Student Corner was one of three UH student teams to earn a share of $40,000 in grants from the Pacific Asian Center for Entrepreneurship's Liftoff Advisors program to help create their products. The UH Hilo team was composed of George Donev, Althea Kamali'i, Morgan Dean and Ted Shaneyfelt.
Finalist: Keira Henriques
Keira's Kreations
After taking a class in entrepreneurship at Punahou School, Keira Henriques founded Keira's Kreations, combining her artistic talents with a passion for keeping Hawai'i's waters "clean of debris so we can help protect our sea life."
"I have handcrafted and created a variety of unique keychains with small pieces of plastic, glass and netting that were washed up on our shoreline," the 10th grader says, adding that she hopes to increase awareness about "what our sea life is exposed to daily."
She says 20% of her sales revenue is donated to local non-profits dedicated to preserving Hawai'i's ocean environment – a total of $1,515 since March 2021.
Henriques first learned about the proliferation of microplastics from her parents, who own a recycling business. A 2021 report from Kyoto University in Japan estimates that more than 24.4 trillion pieces of microplastics litter the upper parts of the world's oceans.
Henriques promotes her keychains via Instagram. They are also sold at all three locations of Fresh Catch, a local chain of seafood restaurants owned by her uncle.
People's Choice Award: Chosen by our local community via an online poll conducted by Hawaii Business Magazine.
Winner:

Jared Kushi and Taylor Martin
Hawaiiverse
With the goal of helping local businesses to not just survive but thrive during the global pandemic, Jared Kushi and Taylor Martin in 2020 launched Hawaiiverse – an online marketplace that they call "The Best Place for All Things Local."
Hawaiiverse was built by retooling an existing business directory and a dormant Facebook community with close to 25,000 followers. A more "commerce-centric" platform resulted, says Taylor, which has grown to about 2,000 local vendors.
"We want to extend far beyond just a site. We're not just a marketplace. We want to be top of mind, the No. 1 entity for Hawai'i," says Martin, who envisions Hawaiiverse as a lifestyle portal and fulfillment center for "everything local," from goods and services to food and entertainment.
The Hawaiiverse team consists of partner Kamaka Dias, who hosts a podcast series featuring local businesses, community leaders and influencers, while Kushi and Martin produce video reviews and add vendors. Partner Callie Martin, Taylor Martin's wife, runs daily operations with help from interns from local high schools and UH's Shidler College of Business.
Finalist:

JT Ojerio
Aloha De Mele
JT Ojerio spent more than 10 years learning and practicing sports medicine before a hip injury required reconstructive surgery. Her healing journey led her to art, and eventually the online launch of Aloha de Mele in 2020.
Ojerio credits Mana Up – she was part of the Hawai'i-based consumer product accelerator's sixth cohort in 2021 – with helping her to significantly grow her online business.
"This spring I'm opening up my own studio and I'll also be offering printing services for other artists that I know who need some resources," says Ojerio, adding she'll also be hosting pop-up events featuring a variety of artistic vendors.
"I think that collaborative spirit and willingness to help others succeed is really crucial to our way of life here."
Ojerio's knowledge of anatomy and physiology, and her distinctive attention to accuracy, are evident in her line drawings. Much of her work features "strong looking women," says Ojerio, "women that look like me. You know, mixed, all kinds of different ethnicities."
Finalist:

Kēheaulani Nielson
Kahulaleʻa
Fashion designer Kēheaulani Nielson first gained recognition in 2013 for her hand-sewn clutches, made from vintage hula apparel. She then began creating her own clothes, rooted in the Hawaiian culture of storytelling and sense of place. Her designs were featured at pop-ups and on local runways before the opening of the Kahulale'a store at Ala Moana Center in October 2020.
In 2021, Nielson teamed with two other local designers, Manaola Yap and Kini Zamora, on a project with international fashion company REDValentino. They presented a limited-edition collection inspired by the story of the goddess Pele and her sister Hi'iaka at the company's London store as part of the Chelsea in Bloom festival.
"It was exciting to be put on an international stage," says Nielson. She says she hopes more large brands seek out smaller, local businesses when they consider featuring Hawaiian designs.
"I hope that they will actually reach out to people who live here and are from the culture."
Finalist:

Nick Kuchar
Nick Kuchar Art & Design
A series of Nick Kuchar's large-format illustrations are prominently displayed in the lobby of the newly remodeled Queen Kapi'olani Hotel. Inspired by a nostalgia for vintage surf and travel posters, his art depicts the eclectic vibe and laid-back lifestyle of Waikiki Beach and an iconic view of Diamond Head.
Kuchar has collaborated with organizations such as Patagonia, OluKai and the Molokai 2 Oahu Paddleboard World Championships, and now he is the 2021-2022 artist-in-residence at the Four Seasons Resort Oahu at Ko Olina.
After college, Kuchar developed trade show exhibits but his wife's unfulfilled quest for art to decorate their Kailua home persuaded him to "get back into art."
"If you're creative but you're not working in a creative fi eld, you will never feel fulfilled," he says. "That's just how a creative is wired. They have to be making something. Taking something from nothing and creating something cool."
Finalist:

Matt Hong, Zak Barry, Luke Untermann and Galen McCleary
Banan
Banan is a smooth frozen treat made from locally grown bananas and other fruits and herbs, with no sugar added.
"If a smoothie bowl made love to frozen yogurt, its love child would be Banan," says the website of the company, now with two locations in Waikīkī and one in Kailua.
Four friends – Matt Hong, Zak Barry, Luke Untermann and Galen McCleary – say they started Ban n with hopes of supporting Hawai'i's agriculture and serving healthy food.
"We dream of a Hawai'i that can feed itself," they say on their website. "We hope to be a part of this change through offering exciting tropical foods and flavors, while using our business as a vessel to not only support local agriculture but inspire its growth. We hope to bring our community closer to the story of their food and realize how our eating choices impact our local and global environments."