Hawai'i's Best Paid Athlete is DeForest Buckner, at $16 Million
Here's what 28 football and baseball stars with local ties earn in 2022, including Tua Tagovailoa, Kolten Wong, Isaac Suemalo and Isiah Kiner-Falefa.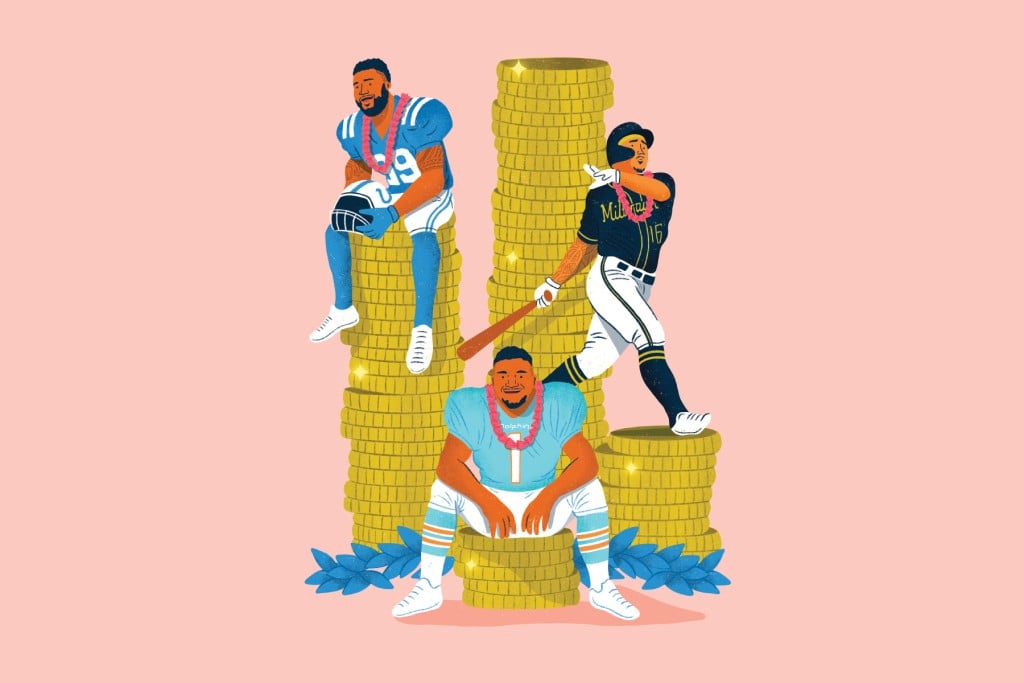 Buffanblu? More like bathed in green.
Former Punahou standout DeForest Buckner heads this year's list of highest-paid professional athletes with Hawai'i ties. Now entering his seventh NFL season – his third with the Indianapolis Colts – Buckner owns the second-most lucrative contract for a defensive tackle, behind only Aaron Donald of the reigning Super Bowl champion Los Angeles Rams.
Buckner's former Buffanblu teammate, Ka'imi Fairbairn, also ranks high on our list. The Houston Texans placekicker, who led all NFL players in scoring in 2018, sports the eighth-highest contract among kickers.
No fewer than 15 Hawai'i athletes are scheduled to make $1 million or more in 2022.
Here is our list of athletes with Hawai'i ties and their 2022 salaries. Our source is Spotrac.com, a website that tracks the contracts of athletes in the major professional sports leagues. Spotrac does not track the earnings of professional surfers and MMA fighters.
1. Deforest Buckner
Defensive Tackle, Indianapolis Colts
Wai'anae, Punahou School
2022 Salary: $16 million*
Four-year Contract (2021-2024): $84 million
*Includes a $5 million roster bonus
2. Tua Tagovailoa
Quarterback, Miami Dolphins
'Ewa Beach, Saint Louis School
2022 Salary: $9,633,094*
Four-year Contract (2020-2023): $30,275,438*
Includes a $4,894,625 signing bonus and $2,467,313 roster bonus
3. Kolten Wong
Second Baseman, Milwaukee Brewers
Hilo, Kamehameha-Hawai'i, UH
2022 Salary: $8.5 million*
Two-year Contract (2021-2022): $18 million
*Includes a $500,000 signing bonus
4. Isaac Suemalo
Offensive Guard, Philadelphia Eagles
Born in Honolulu
2022 Salary: $7,668,000*
Three-year Contract (2020-2022): $15,918,000
*Includes an $800,000 signing bonus
5. Isiah Kiner-Falefa
Shortstop, New York Yankees
Honolulu, Mid-Pacific Institute
2022 Salary: $4.7 million
One-year Contract: $4.7 million
6. Ka'imi Fairbairn
Placekicker, Houston Texans
Kailua, Punahou School
2022 Salary: $4.3 million*
Four Year Contract (2020-2023): $17.65 million
*Includes a $750,000 signing bonus
7. Marcus Mariota
Quarterback, Atlanta Falcons
Honolulu, Saint Louis School
2022 Salary: $4.25 million*
Two-year Contract (2022-2023): $18.75 million
*Includes $2.5 million sign-ing bonus
8. Kamu Grugier-Hill
Linebacker, Houston Texans
Honolulu, Kamehameha-Kapālama
2022 Salary: $4 million*
One-year Contract:$4 million
*Includes a $1.5 million signing bonus and $411,754 roster bonus
9. Tyson Alualu
Defensive End, Pittsburgh Steelers
Honolulu, Saint Louis School
2022 Salary: $3,462,500*
Two-year Contract (2021-2022): $5.5 million
*Includes a $962,500 signing bonus
10. Jamin DavisLinebacker
Washington Commanders Born in Honolulu
2022 Salary: $3,135,040*
Four-year Contract (2021-2024): $13,794,176
*Includes a $1,848,032 signing bonus
11. Nate Herbig
Offensive Guard, New York Jets
Līhu'e, Saint Louis School
2022 Salary: $2,433,000
One-year Contract: $2,433,000
12. Rigoberto Sanchez
Punter, Indianapolis Colts
UH
2022 Salary: $2,345,000
Four-year Contract (2020-2023): $11.6 million
13. Kurt Suzuki Catcher
Los Angeles Angels
Wailuku, Baldwin High
2022 Salary: $1.75 million
One-year Contract: $1.75 million
14. Jahlani Tavai
Linebacker, New England Patriots
UH
2022 Salary: $1.22 million*
Two-year Contract (2021-2022): $1,858,886
*Includes a $25,000 signing bonus, $180,000 roster bonus and $50,000 workout bonus
15. Kirby Yates
Relief Pitcher, Atlanta Braves
Līhu'e, Kaua'i High
2022 Salary: $1 million
Two-year Contract (2022-2023): $8.25 million
16. Alohi Gilman
Safety, Los Angeles Chargers
Born in Lā'ie
2022 Salary: $942,051*
Four-year Contract (2020-2023): $3,483,204
*Includes a $47,051 signing bonus
17. Bradlee Anae
Defensive End, New York Jets
Lā'ie, Kahuku High
2022 Salary: $905,000*
One-year Contract (2022): $905,000
*Includes a $10,000 signing bonus
18. Trayvon Henderson
Safety, Cincinnati Bengals
UH
2022 Salary: $895,000
One-year Contract: $895,000
19. Breiden Fehoko
Defensive Tackle, Los Angeles Chargers
Honolulu, Farrington High
2022 Salary: $825,000
Two-year Contract (2021-2022): $1,485,000
20. Josh Rojas
Outfielder, Arizona Diamondbacks
UH
2022 Salary: $730,900
One-year Contract: $730,900
21. Myron Tagovailoa-Amosa
Defensive Tackle, Las Vegas Raiders
'Ewa Beach, Kapolei High
2022 Salary: $708,333*
Three-year Contract (2022-2024): $2.57 million
*Includes a $3,333 signing bonus
22. JaredSmartWide
Receiver, Arizona Cardinals
UH
2022 Salary: $705,000
Three-year Contract (2022-2024): $2.56 million
23. Rico Garcia
Pitcher, Baltimore Orioles
Honolulu, Hawai'i Pacific University
2022 Salary: $700,000
One-year Contract: $700,000
United States Football League
A new version of the USFL was launched in spring 2022. The eight-team league is primarily viewed as a proving ground for players who hope to earn (or regain) roster spots in the NFL. USFL players with Hawai'i ties include:
1. Jordan Ta'amu
Quarterback, Tampa Bay Bandits
Pearl City, Pearl City High
2022 Salary: $36,450
2. Nick Rose
Placekicker, New Jersey Generals
Born in Honolulu
2022 Salary: $36,000
3. Kalani Vakameilalo
Defensive Tackle, New Jersey Generals
Kapolei, Kapolei High
2022 Salary: $27,000
4. Jojo WardWide
Receiver, Houston Gamblers
UH
2022 Salary: $23,600
5. Hercules Mata'afa
Defensive End, New Jersey Generals
Lahaina, Lahainaluna High
2022 Salary: $2,350