The Enterprising Story of Hawaii's Blind Vendors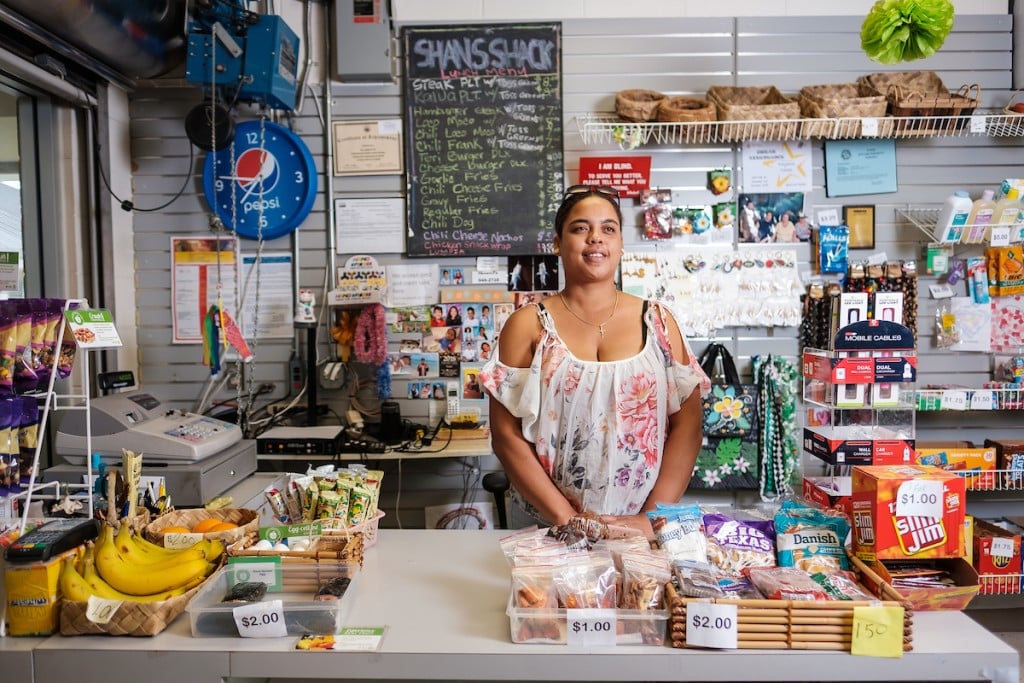 The first shop opened in 1938 and today dozens are owned and operated by entrepreneurs with grit, ingenuity and vision.
If you've passed through a federal state or county office building or a state airport, you've probably seen Hawaii's enterprising blind vendors in small shops selling musubis, snacks, drinks and more. What you may not know is that most of the vendors own these small businesses and some have employees who work for them.
The Blind Entrepreneur Program, now in its 81st year, is managed by Hoopono Services for the Blind under the state Department of Human Services.
"Our first shop was in the King David Kalakaua Building in 1938, next to the U.S. Post Office on Merchant Street, in partnership with the Lions Club," says Lea Dias, administrator for Hoopono. "Our gross sales that first year were only $295."
Dias says the program today includes snack bars, cafeterias and dining services for the military.
"The purpose of the blind vendor program," she says, "is to empower blind people to achieve economic and social self-sufficiency by becoming entrepreneurs, with minimal oversight by the state."
A Hoopono counselor evaluates potential owners for the program's 43 facilities and accepted applicants are trained, according to Dias. There are currently 43 blind owners and 14 blind employees, plus sighted employees.
"Not everyone can be a businessperson," she says. "So it's not just that they're blind, they have to be self-motivated, have a good business acumen and be willing to work long hours. They also have to handle their own licensing and taxes."
Joel Cho, 49, is the owner of Aloha Newsstand LLC at the Ellison Onizuka Kona International Airport. Cho says he started to lose his vision in his mid-20s when he contracted retinitis pigmentosa, a genetic disorder. Currently, he can see light, but no images.
"The purpose of the blind vendor program is to empower blind people to achieve economic and social self-sufficiency by becoming entrepreneurs, with minimal oversight by the state."



—Lea Dias, Administrator, Hoopono Services for the Blind
Cho attended UH Hilo for 2½ years but left due to his declining vision. His eye doctor told him about the state's blind vendor program.
"I flew to Honolulu in 1999 to start my first business in the basement of Tripler Army Medical Center," Cho recalls. "It was a tiny store – only about 100 square feet – with one beverage cooler, a coffee counter and an ice cream freezer. The selection was very limited."
Cho says the state helped to pay for his liability insurance that first year. "They start you out with a certain amount of inventory, which you're responsible for when you leave. It's like a zero percent interest loan. It's up to you to maintain the inventory.
"They give you the basics, but it's up to you to find new (suppliers) or get new products. It's up to you to grow the business."
After six months, Cho moved to a busier location in Tripler. In 2003, he moved again, this time to the Hale Koa Hotel in Waikiki, where he ran a sundry store. "We sold more tourist and military items there," he says. "This was my first facility that opened seven days a week and during the evenings, and this was also the first time I had to hire employees.
"I had to learn a lot on my own – about insurance, workers' comp, medical. It was a little rocky at the beginning, but I had a good accountant."
Cho returned home to Hawaii Island in 2008 after his winning bid for the snacks and newsstand facility at the Kona Airport. "We can bid for, then get assigned to, different facilities as they become open. On paper we own the business, but the physical location and most of the equipment is vested with the state. I treat every facility as a stepping stone for growth.
"There's more passenger traffic at the airport – it's more fast-paced. The retail space is slightly larger at 150 square feet. With three full-time and three part-time employees (who are sighted), my role is more to manage, keep track of the inventory and run the overall business."
Although the Kona resident says assistive technology is available to blind vendors – such as money bill readers, audible motion detectors and talking cash registers – the Apple iPhone has features that can easily do most of those tasks.
"As for theft prevention, it all comes down to making your customer feel comfortable and welcome. I don't think blind vendors experience any more theft than sighted ones; if they did, I would blame it on poor customer service more than anything else."
Cho says the blind vending program has been extremely helpful to him. "I think it's the greatest rehabilitation program the country has ever known."
Michelle Tilley, 40, is the market development manager for Coca-Cola Bottling of Hawaii LLC, which has been a supplier of beverages for Cho's airport shop for five years.
"The newsstand provides a great service to the airport passengers," she says. "Not only do they have food and drinks, but they are one of only a few locations with books and magazines.
"Joel is fun to work with and he has a great sense of humor. He is always willing to consider trying new products if he thinks that they will be a good fit for his customers."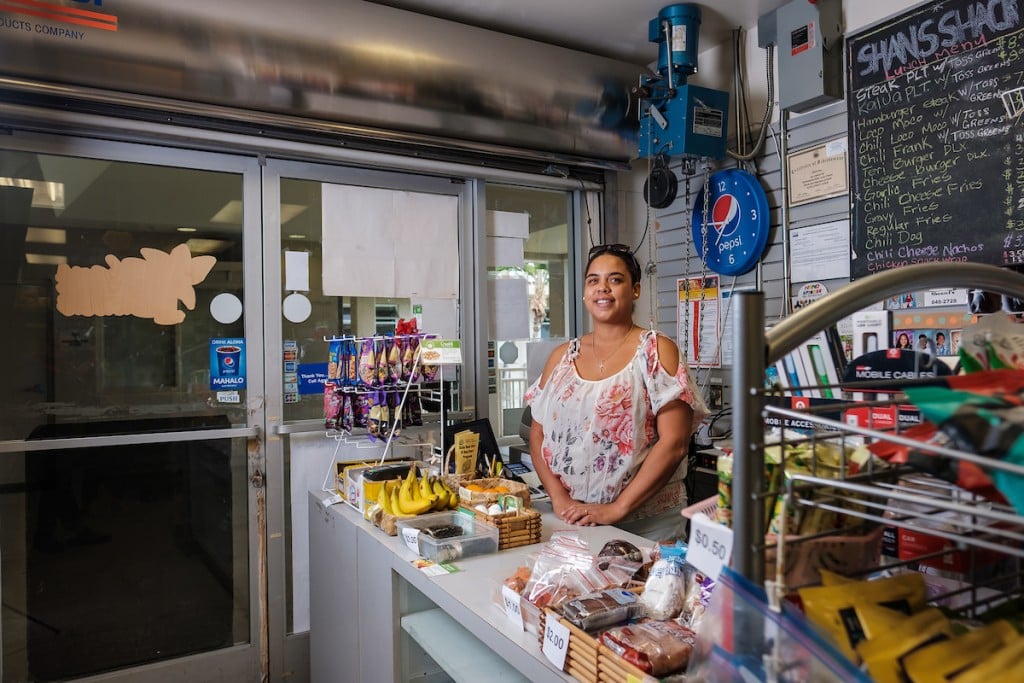 At Kuhio Park Terrace in Kalihi, Shontel Jones, 35, is one of the newer blind vendors. Jones was born and raised at KPT and now lives there, and says she feels "blessed to be able to give back to my community" by running a small snack shop in the public housing's resource center, which she named Shan's Shack after her nickname.
Jones was diagnosed with Stargardt disease – a form of macular degeneration – when she was 12, but says she's had vision problems ever since she was in kindergarten. She has no central vision – only peripheral – and needs a magnifier to read. At the store, her computer, cash register, calculator, scale and even her thermometer all talk.
"I was in denial about my blindness when I was growing up – I was ashamed," Jones recalls. "My mom brought me to Hoopono when I was around 15, but I didn't want to go there. I had trouble in school, got pregnant, then dropped out of high school. I got into hard drugs and hit rock bottom. That's when I decided to turn my life around."
At age 25, the mother of three went back to school to earn her GED and returned to Hoopono for training and vocational rehabilitation. The ultimate coincidence, Jones says, is the person she turned to for initial help in contacting Hoopono was the previous owner of her snack shop. When he retired in 2015, Jones took over the business.
"I'm known for my french fries, burgers and sandwiches, and musubis are my No. 1 seller," Jones says. "I can cook by touch and do a lot of things myself without central vision. Don't ever watch me cut – my fingers literally graze the blade!
"At Hoopono's New Visions Program, they teach totally blind people to cook and clean – it's amazing. You don't need vision to do a lot of things."
Jones spent several years gaining experience in retail sales at other businesses run by blind people before joining the state's blind vendor program in 2012. "You have to take a nine-month class, then you go on a waitlist for a facility. You get evaluated by points and you get interviewed by a panel. The facility is awarded to the most qualified." Since taking over her shop and renaming it, Jones added a slush machine, makes strawberry parfaits, stocked up on new sodas and began selling household items.
"The initial challenges for me were learning software programs, such as Word and Excel, to complete the necessary paperwork, purchasing additional equipment and learning the organizational aspects of running a business," Jones recalls.
"Sometimes we've had customers try to steal from us or 'con' us, but my mom – who is sighted – puts them in their place really fast! I always have a second person working the store with me."
Doris Ernist, 42, who works nearby as a support services supervisor for Parents and Children Together, has been a customer of Shan's Shack since it opened.
"I buy coffee, musubis, burgers and snacks from them almost every day.
"Shontel and her mom are very friendly to their customers. Shontel works hard, like any normal business owner."
Jones says the blind vending program changed her life dramatically. "It opened doors for me to be an independent, working individual. If it wasn't for the blind vending program, I don't know where I'd be."
The state's Blind Entrepreneur Program is mostly funded by the U.S. Department of Education's Rehabilitation Services Administration, under the Randolph-Sheppard Act of 1936. "Approximately 80 percent of funding is federal, and 20 percent is state matching funds to pay for staff salaries," says Hoopono's Dias. In 2017, the state's portion was around $100,000.
Although a blind vendor's initial equipment and inventory is paid for under DHS' Division of Vocational Rehabilitation, anything that needs to be replaced is covered by a revolving fund under the Randolph-Sheppard Act, according to Dias.
"This revolving fund is used to pay benefits to the blind vendors, for replacement equipment and to pay for staff to fly to the Neighbor Islands. The fund is replenished through airport fees and income from 'unassigned vending machines' – snack or beverage machines that have not been assigned to a blind vendor.
"We're the only state in the country to have airport locations."
Dias says she's optimistic the blind vendor program will continue, but "it's constantly under attack. Particularly, we've been having to fight for our military troops' dining contract – not only in Hawaii but nationwide. There's been a change of tone at the federal level.
"But I believe in the strength that these blind vendors have."