Hawaii's Latinos Defy Stereotypes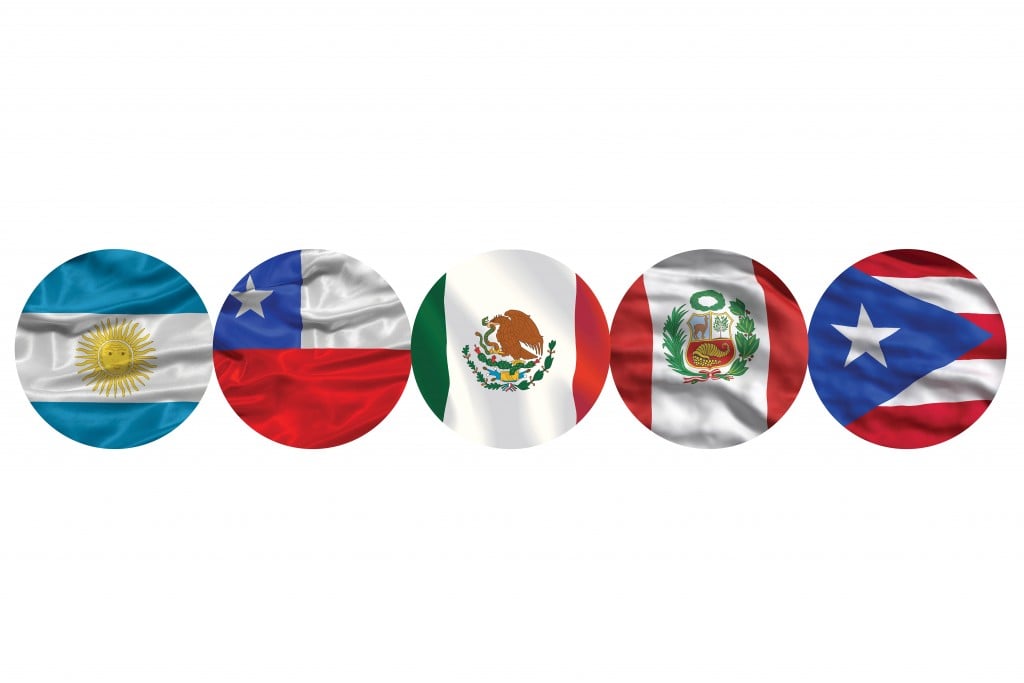 Many people were surprised when the 2010 Census revealed that 120,000 people in Hawaii identified themselves as having Hispanic heritage, about 9 percent of the state's residents. In fact, the Hispanic population in the Islands had grown by 38 percent since the previous Census, while the overall population grew only 12 percent, making them the state's fastest growing ethnic group counted by the Census.
Hispanics have a long history in Hawaii. The first Spaniard arrived in 1794 and two waves of immigrants established a strong Hispanic presence by the beginning of the 20th Century. In the past decade, thousands of Latin American migrants arrived in Hawaii, many to work in the service industry and on construction projects on Maui and Hawaii Island. If current trends continue, their share of Hawaii's population will continue to grow.
One reason local Latinos are somewhat under the radar is their lack of self segregation.
"When I first came here," says Grissel Benitez-Hodge, dean of students at Chaminade University, "I was asking people for the whereabouts of the Latino neighborhood – I wanted to see the stores and restaurants – but nobody was able to tell me, because it doesn't exist."
Benitez-Hodge compares favorably the dispersion of Hispanics in Hawaii with the barrios of New York and Connecticut, states where she had previously lived. "It's an indication of how well communities integrate in Hawaii and that's a good thing," she says.
The local Latino population is very well educated on average. "Forty-nine percent of us have a college or some kind of a professional degree, compared to 16 percent for the whole of the U.S.," says Mari Roma Villa, who was in charge of collecting data about Hispanics in Hawaii for the 2010 Census.
She says that difference is a consequence of the Islands' remoteness from traditionally Hispanic areas. Before settling in Hawaii, many professionals and business people have established themselves in other places. As a result, the majority of Hispanic newcomers – especially those on Oahu – are U.S. born, educated and affluent.
Villa herself is from Mexico, grew up in Los Angeles and moved to Hawaii in 1990. She calls the Islands home and says it was here that she "learned how to be a Latina. People in Hawaii are really proud of their ancestry. I learned much about my own culture because of living in such a diverse place."
Latinos are also well integrated into Hawaii society because they often intermarry. Villa gives a personal example: "Out of seven Latinas involved with the Hispanic portion of the Census, only two of us were married to a Latino."
Despite their relative affluence and educational attainment, local Hispanics tend to be underrepresented in business ownership and politics. According to an estimate by the Census Bureau from 2007, only 3.6 percent of Hawaii's businesses are Hispanic owned, much lower than their share of the population.
Mari Roma Villa's husband, entrepreneur José Villa, has organized local Hispanic business leaders with the group Latin Business Hawaii (LBH). For many years, the two of them also published the monthly newspaper Hawaii Hispanic News, until it was closed in September 2012.
José Villa, a Puerto Rican American of African descent, grew up in New York's Spanish Harlem, but settled in Hawaii 26 years ago after a successful career as an IT specialist in the Air Force.
Villa and LBH work hard to connect Hispanic professionals and business people with each other and with other local leaders. "We are Latino based, but we are not Latino exclusive. Everybody is welcome at our mixers," he says.
Steve Colón, president of Hunt Companies' Hawaii Region, is another Puerto Rican American who is deeply involved with LBH. A Navy retiree with 22 years of experience in real estate development, he says, "Given Hispanics' ever increasing share of the general population (in Hawaii), we are gradually starting to see their commensurate growth among senior business ranks."
Latinos are also underrepresented in local government, but that, too, is likely to change. Joaquin Diaz, safety director at Hawaiian Dredging Construction Co., says many local Hispanic professionals are young, comparatively new to the public scene and still cautious about making their voices heard. "I believe that as more Latinos move to Hawaii, we will become more active," he says.
A Cuban-American originally from Florida, Diaz has served on appointed boards for the administrations of both Govs. Linda Lingle and Neil Abercrombie. Politicians should take note: 58 percent of all of Hawaii's Latinos are eligible to vote, the second-highest rate among Latinos in the nation, according to the Pew Research Center.
Preservation of Hispanic heritage is an important objective for newcomers and locals alike. Hawaii-born Hispanics "are very proud of their culture even when they no longer speak the language," says Benitez-Hodge. "Even fourth and fifth generations of local Puerto Ricans have kept traditional music, which they call kachi kachi. It's interesting, because you can't hear it in Puerto Rico that much any more. That was a key factor for me to stay connected."
Residents of Puerto Rican ancestry comprise the largest group among local Latinos, representing 36 percent of the population, followed by those of Mexican ancestry with 29 percent. However, there are Hispanics in Hawaii from almost all Latin American countries. "It's unique how people from different Latino nations get together here in Hawaii," Mari Roma Villa. "The environment is really Pan-Hispanic."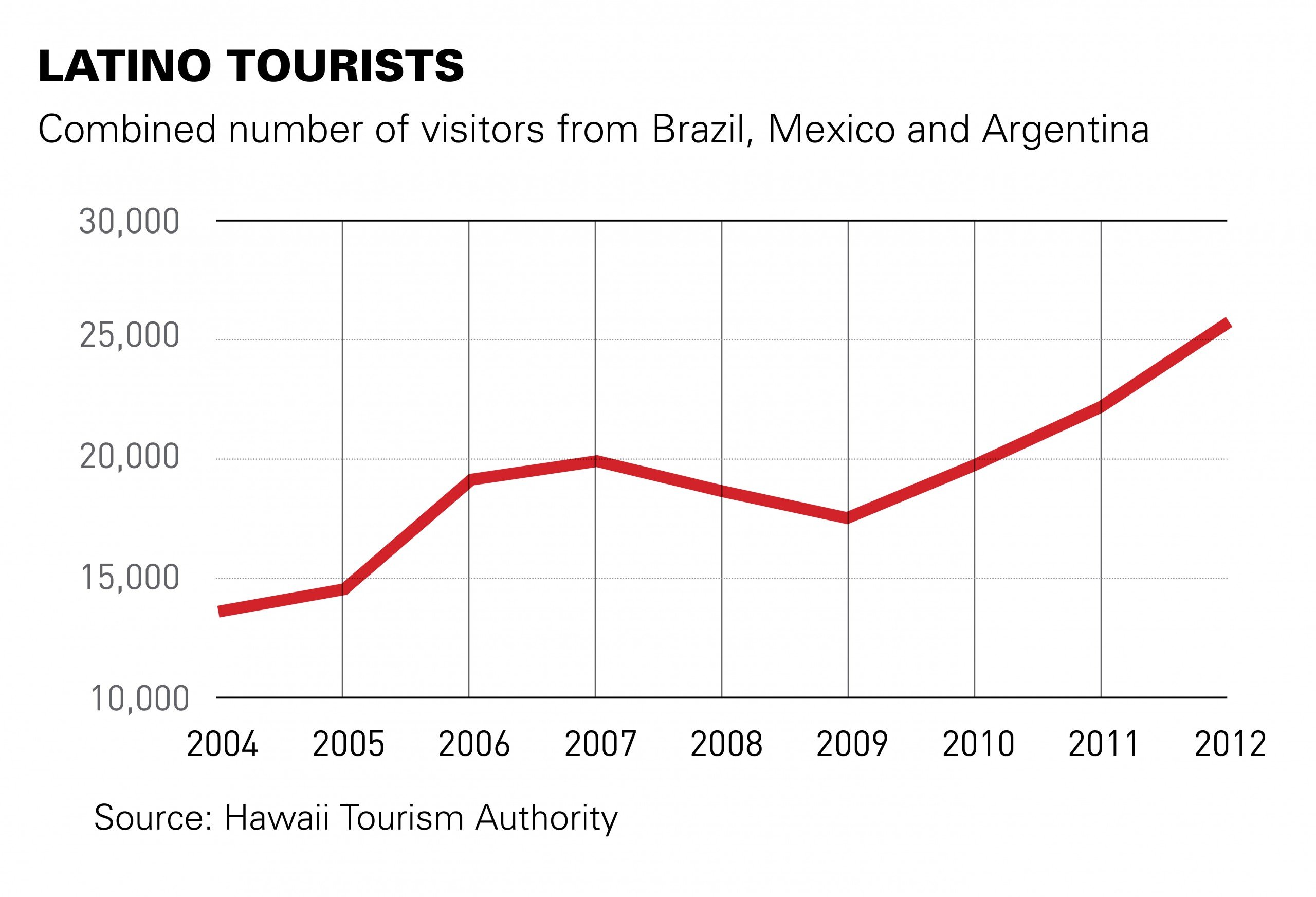 Augie Rey Fernandez, a singer and financial advisor who has both Puerto Rican and Cuban ancestry, is a strong advocate of uniting Hispanics in Hawaii.
"I first came in 1964, but I moved permanently in 1969. The community was in its infancy back then," he says. "There was no organization to unite all Latinos; there were two Puerto Rican groups but you had to be Puerto Rican to join."
With one of his 10 children married to a Peruvian and another to a Colombian, Fernandez feels strongly about Pan-Hispanic solidarity. "We need to be together so we can have a voice," he says.
Though many of Hawaii's Hispanics are business people and professionals, there are also many blue-collar newcomers. Census takers found them working at construction projects in Lahaina, on coffee farms in Kona and in fish markets on Kauai, according to Mari Roma Villa, recounting her nine months of research for the 2010 Census. The biggest increase came on Maui, which is why the Census team found six Latino soccer teams just on that one island. Maui is also the only place in Hawaii where Latinos of Mexican descent outnumber Puerto Rican Latinos, a pattern that is prevalent across the U.S.
José Villa hopes that, as their numbers grow, newcomers and established Latinos will work together to make Hawaii a better place for everyone.
"We've been in Hawaii for a long time and we always wanted a seat at the table. Now that we have it, we need to contribute and help other communities," he says.
Hawaii's Hispanic Population
After growing slower than the general population in Hawaii for 20 years, the number of local Hispanics increased three times as fast during the first decade of this century: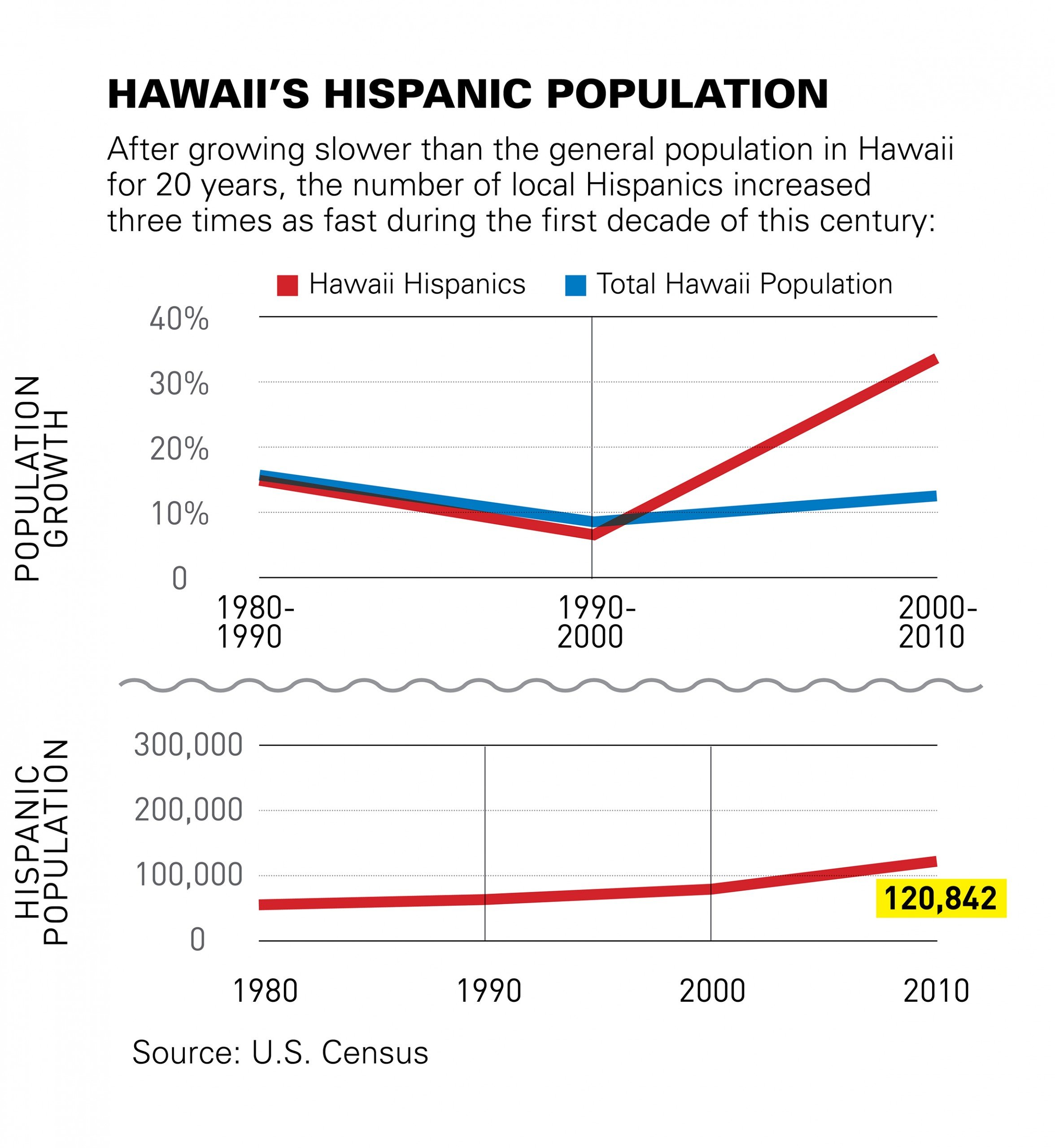 ---
What Do We Mean by Hispanic?
People of Hispanic heritage trace their origin to Spain and areas dominated by the Spanish Empire in what is now called Latin America. The related term Latino refers specifically to people from Central and South America, which includes Brazil and its Portuguese-speaking people.
Most Spanish-speaking people with ancestry from Latin America use Hispanic and Latino interchangeably, a tendency also followed in this article.
The U.S. Census relies on people's self-identification, so Hispanic can be viewed as a cultural marker attached to any race or ethnicity. Many Hispanics who also have European, African American or Native American heritage identify themselves in the Census as belonging to "two or more races" or "some other race."
---
Increases in Different Ethnic Groups
Population increases or decreases in Hawaii by ethnicity from the 2000 Census to the 2010 Census: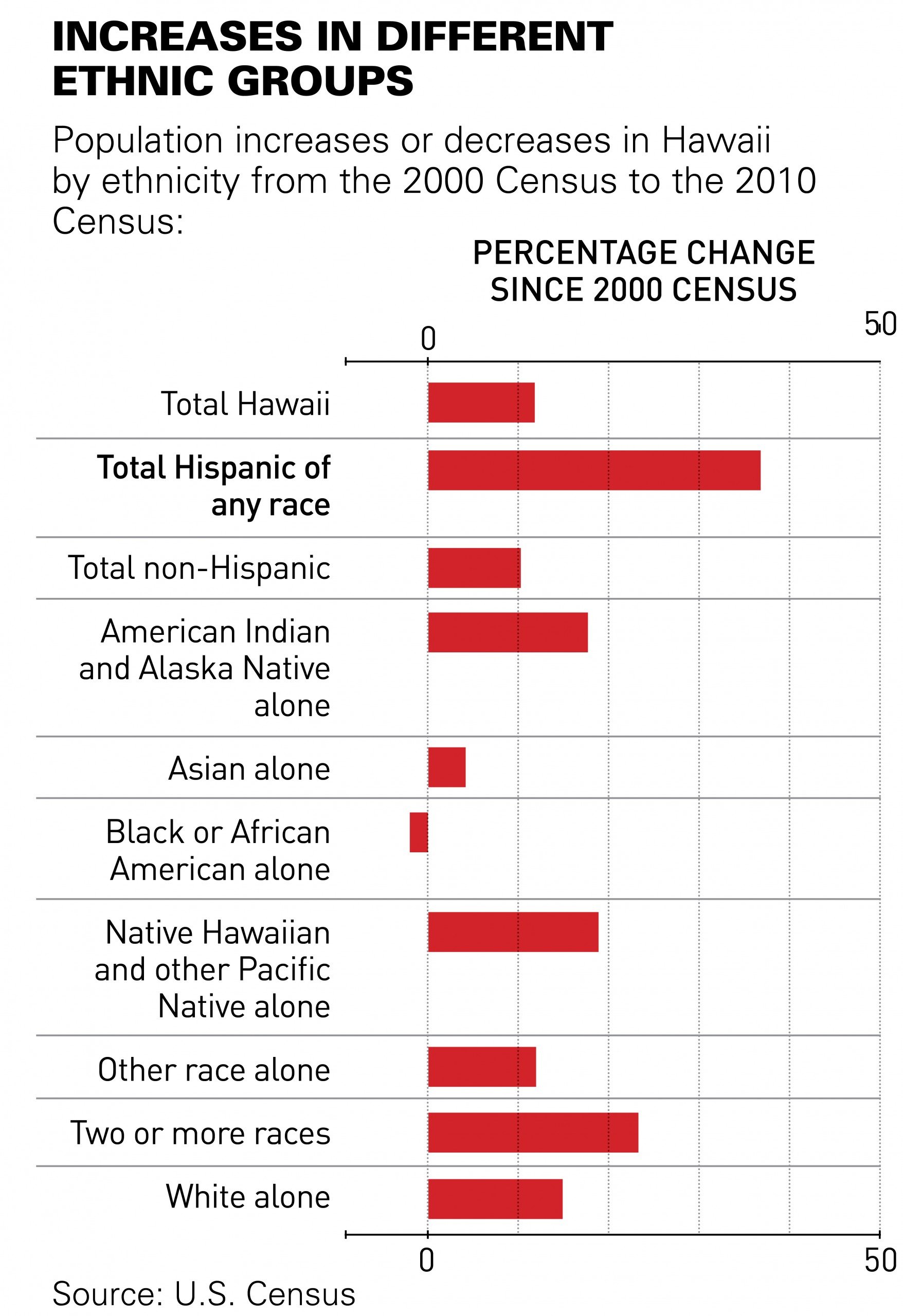 ---
Pan-Hispanic People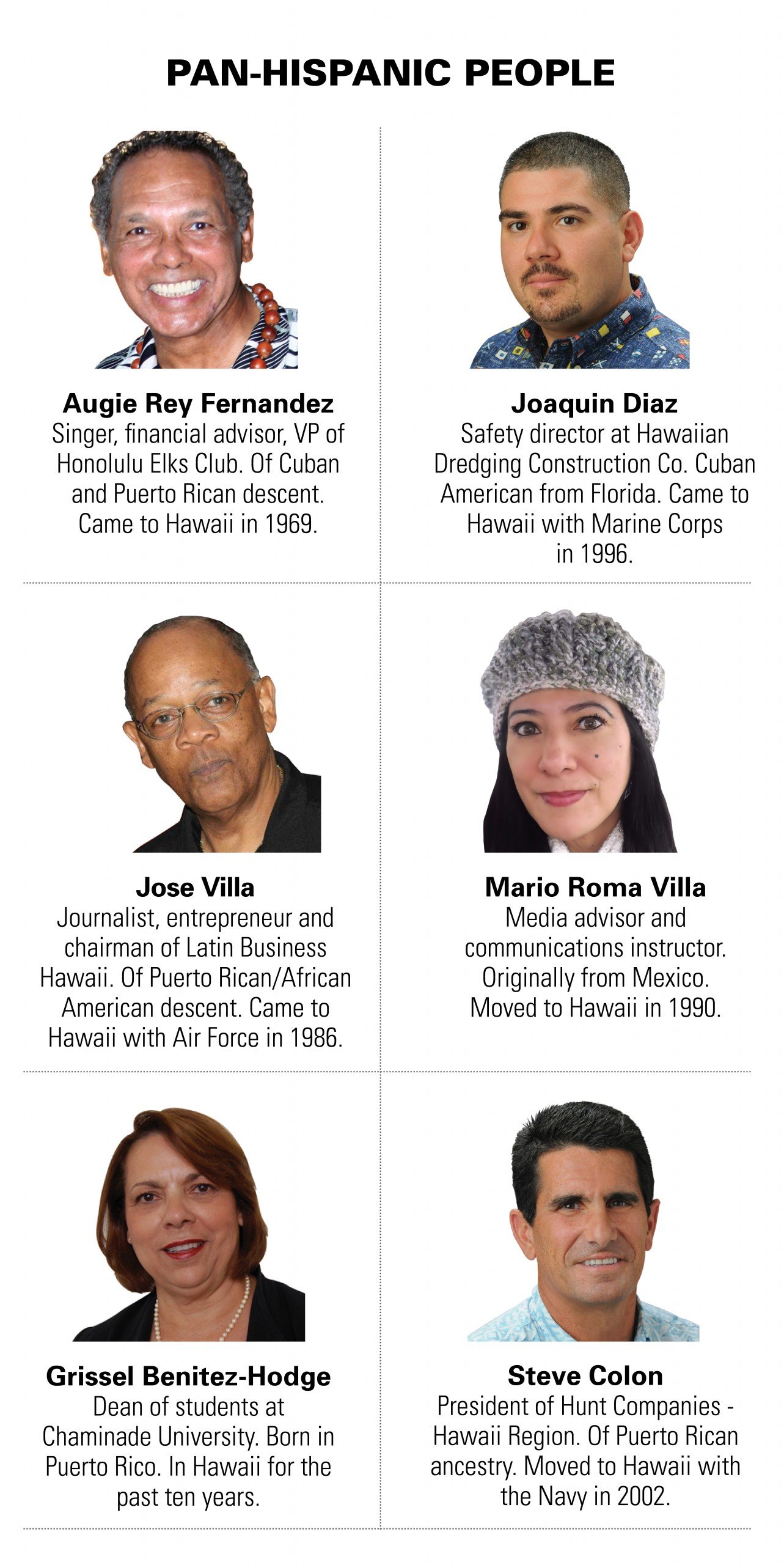 ---
Latino Tourists
Combined number of visitors from Brazil, Mexico and Argentina
Source: Hawaii Tourism Authority
---
Growing Markets for Tourism
Hawaii is becoming a more popular destination for tourists from Latin America. A record total of 25,593 visitors came to Hawaii last year from the well-populated nations of Brazil, Mexico and Argentina, according to the Hawaii Tourism Authority. That's a 15.7 percent increase over 2011, which itself enjoyed an 11.7 percent increase from 2010.
---
Long History in Hawaii
These tourists are affluent. HTA data shows that, on average, they spend more per trip than visitors from any other major market.The first Spanish speaker arrived in Hawaii in 1794, and Hispanics have lived here ever since.
The young sailor Francisco de Paula Marin, originally from southern Spain, arrived here just six years after Capt. James Cook's first visit, and became an advisor and a physician to King Kamehameha I. Marin reportedly introduced grapes, pineapples, coffee and guava to Hawaii.
The first large group of Hispanics came in 1830, when Kamehameha III brought 200 cowboys from California, a part of Mexico at the time, to Hawaii Island. The Hawaiian word for cowboy, paniolo, was coined as either a local variation of the ethnonym Español or the Spanish word for neckerchief, pañuelo.
More significant to traditional Hispanic presence in Hawaii was the arrival of about 5,000 Puerto Ricans as plantation workers in 1900 and 1901. Many stayed and provided the foundation of Hawaii's Puerto Rican community.
---
Delivered Fresh from Next Door
BY STACY YUEN
"We didn't plan to be tortilla guys," says Cuauhtemoc Macias of Sinaloa Hawaiian Tortillas, but his family has been making and selling them locally for 18 years. Now, the family has opened a retail shop next to their tortilla factory in the Honolulu Airport area to sell all kinds of Mexican and Latin American foods.
Cuauhtemoc Macias and his brother, Xicotencatl (their names are Nahuatl, the ancient Aztec language), run the day-to-day business of both the factory and the shop.
Patriarch Ysidro Macias and his wife, Veronica, started the family business with a restaurant in Hanapepe on Kauai.
The couple came with their five children on a Hawaii vacation in 1989 and loved it so much they moved to Kauai from Fresno, Calif. Ysidro Macias, a personal injury and workers' compensation lawyer who represented migrant farm workers, had no experience in the restaurant business when he opened Sinaloa Mexican Restaurant.
The restaurant has since closed, but the tortilla company creates about 50,000 tortillas a day. The store, Sinaloa La Tiendita, opened on Dec. 13, but don't expect a typical food-company thrift shop.
"We don't sell day-old tortillas. It's the freshest you can get since the production line is right here," says Cuauhtemoc. "We carry things you can't find in stores, like dry tortillas for frying your own chips. Fry these up and they'll taste like the same chips at your favorite Mexican restaurant."
Mexican cheeses, sodas, hot sauces and other Latin staples are shipped in regularly and you can also buy 12- and 13-inch tortillas that are hard to find elsewhere.
"The next step will be to carry fresh salsas and guacamole at the store," says Cuauhtemoc. "But that will come in time."
Sinaloa La Tiendita
3239 Koapaka St.
Open 9 a.m. to 3 p.m.
Monday to Friday.
Closed Saturday and Sunday
sinaloahawaii.com