Healing Hemp, Without the High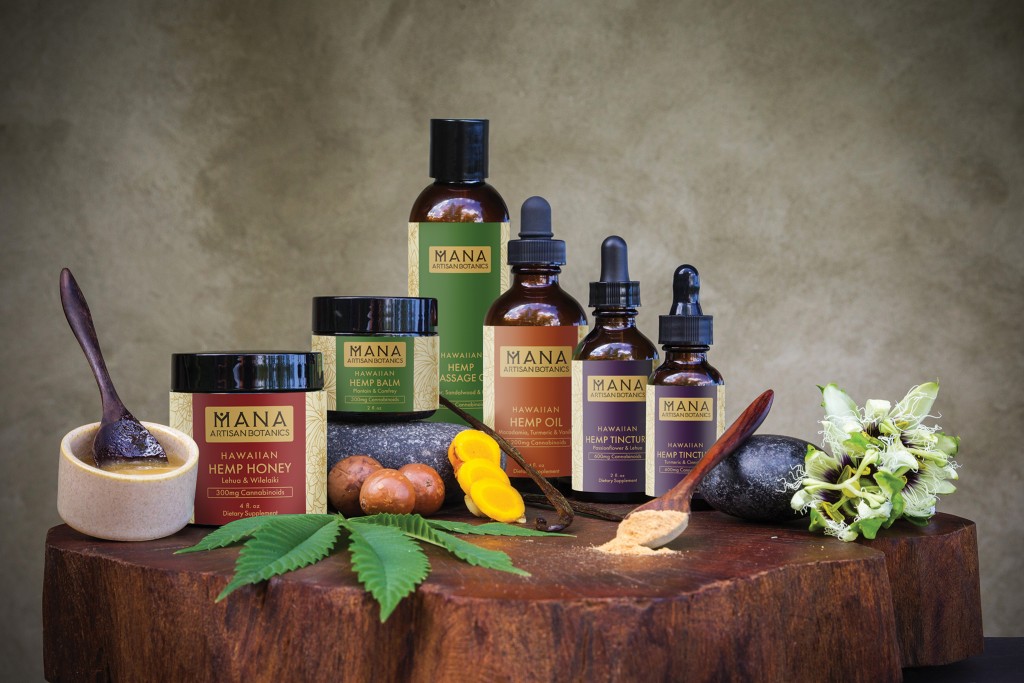 A Hawaii Island-based company is part of a fast-growing industry: making cannabidiol, or CBD products, for people seeking natural pain relief and other benefits.
Steve Sakala and Melinda Goossen are part of one of the country's fastest-growing industries: making and selling cannabidiol, better known as CBD.
It all started on their farm in Honaunau, South Kona. The couple was making CBD oil from hemp in small batches. They donated some to a friend of one of their guests, whose son has cerebral palsy. It worked well for him and in 2017, Sakala, Goossen and two Mainlanders founded Mana Artisan Botanics, which makes and sells organic CBD products from hemp.
CBD is one of dozens of cannabinoid chemicals found in marijuana and hemp plants. In the medicinal and recreational cannabis business, the THC chemical usually gets all the attention, but CBD is creating buzz because users says it's just as beneficial, without the high. CBD is used to help treat seizures, anxiety, chronic pain and more. In fact, the Denver-based Hemp Business Journal estimates that by 2020, the CBD market will grow to $2.1 billion in sales, $450 million from hemp-derived products alone.
CBD oils, balms and tinctures are already flooding the marketplace. After all, 33 states and Washington, D.C., have medical marijuana programs and 10 states plus D.C. have legalized marijuana recreationally. Dispensaries have entire CBD sections, but users can also buy products online. Celebrities such as Gwyneth Paltrow; Olivia Wilde; and Steve Kerr, coach of the NBA champion Golden State Warriors, tout the merits of CBD. However there are few scientific studies of CBD, probably because federal law restricts government funding for cannabis-related research.
Mana Botanics says it was the first Hawaii-based CBD company. The company sells its oils, balms, tinctures and honey at its Kona storefront and website, in select health food stores and in the Heaven on Earth day spa in downtown Honolulu.
"We're a wellness business, we're not just a CBD business. … You (also) have to have a good diet, you still have to exercise."


– Steve Sakala, Co-founder, Mana Artisan Botanics
Sakala and Goossen say three things set Mana Botanics CBD apart: The CBD is derived from the whole plant, everything is organic and with the exception of the hemp and coconut oil, ingredients are sourced from Hawaii. Mana Botanics tests its products with Steep Hill Labs Hawaii and PharmLabs Hawaii to ensure purity, potency and that THC levels remain below 0.3 percent. (Hemp still contains low levels of THC.)
Mana Botanics currently sources its extracted CBD from organic hemp grown in Colorado. Sakala says by the end of 2019, the company plans to start using CBD from Hawaii-grown hemp, either from his own farm or another permitted grower. There are currently fewer than 10 permitted hemp farmers in the Hawaii pilot program. Most other ingredients in Mana Botanics' product line already come from the Islands, including passion-flower grown on their own farm, turmeric from Aina Culture, lehua honey from Big Island Bees and vanilla from Hawaiian Vanilla Co.
"I think people are overwhelmed with all the stuff that's coming out and what can they trust," says Goossen, who has worked in the wellness industry for more than 20 years. She says she and Sakala not only spend a lot of their time educating their customers on what CBD is – and how it's different from THC found in marijuana – but also what to look for in a high-quality CBD product.
That's what's challenging about the CBD industry, even if business is booming. The U.S. Food and Drug Administration hasn't approved CBD products. (The FDA did however approve Epidolex, a CBD treatment for two rare forms of epilepsy.)
"We're not medical professionals, so we don't give out medical advice," says Sakala. "We're very careful to not say that these are medicinal products; it hasn't been evaluated by the FDA."
Buddy Fritz isn't waiting for the federal government. He just knows it works for him. Fritz, who moved to Hawaii Island from Colorado in 2015, broke the T9 vertebrae in the middle of his back.
"I went to the doctor and I struggled getting care," he says. "They're scared of prescribing anything for pain because of the opioid epidemic. I understand that; I don't want to go down that road either, but a lot of times by the end of the day, I was experiencing level 8 or level 9 pain and all they could tell me was to take ibuprofen, and it was having no effect."
Fritz says he tried other methods, including acupuncture, cupping, massage, even cryotherapy. A friend suggested Mana Botanics, so he visited the Kona shop about a year ago, purchased some CBD oil and has been using it daily since. "I take a couple of drops and I'm good to go for the whole day."
He says CBD has also helped him get off medications he was taking for cholesterol, high blood pressure and gout. But he says it's not just the oil that improved his health. Fritz says he stopped drinking, lost more than 50 pounds and does pilates three times a week.
A similar holistic approach to health is part of Mana Botanics' mission, says Sakala. "We're a wellness business, we're not just a CBD business. We come from a farming background, so a big part of what we're saying is not just about cannabis, it's about a lifestyle. You have to have a good diet, you still have to exercise."