Horses are Healers at this Kaua'i Nonprofit
Healing Horses Kauai uses riding therapy to improve their patients' physical, cognitive and emotional health.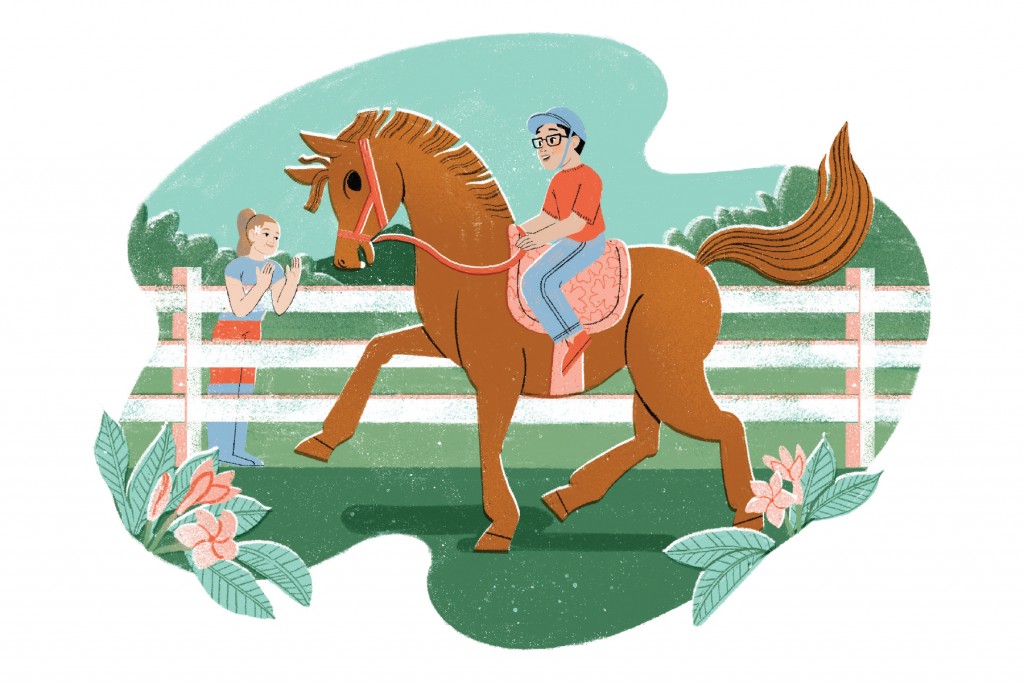 What was your first word?
Was it "mama," "dada" or did you ask for your favorite toy?
Karin Stoll, founder of the nonprofit Healing Horses Kauai, fondly recalls a 21-year-old wheelchair-bound young man, sitting on a horse at HHK and slowly uttering the command: "Waaalk."
It was the first word he ever said.
"There wasn't a dry eye…It was so important for that entire family to know that there was something going on inside his brain that they didn't know was there, and the horse was the one that motivated him to push out a word," Stoll says.
This is part of what they do at HHK.
The nonprofit welcomes riders of all abilities, providing an environment where healing and having fun can happen simultaneously, whether in a semi-private riding lesson or an all-day camp.
Jennifer Teves and her son Ethan had tried speech, physical and occupational therapy before turning to HHK several years ago.
For 12-year-old Ethan, who has Sotos syndrome and faces both cognitive and developmental delays, everyday actions such as walking and running can be more challenging than riding a horse.
"Physical therapy is hard to watch because he's in pain…Sitting down and bending is work, but with the horse, it doesn't feel like work," Teves says.
"He gets on there and says, 'Trot, trot!' and just wants to go…When we're there, I can just enjoy my son and enjoy the moment."
Ginger Chapin, HHK's barn manager and program director, explains that "walk" and "trot, trot" are two of the several commands that riders learn.
Using words instead of sounds allows riders to focus and give clear directions.
Teves says this has helped Ethan build a relationship with Riddles, the horse he rides, as well as with Ed Robinson, a volunteer who Ethan has grown especially close to.
Ethan works on his emotional and social development as he grows to love Riddles and learns responsibility as he leads the horse in and out of the stable, and thanks her after each ride.
Stoll, a mental health counselor, used other methods with young patients in the late '90s.
"Little kids are not interested in therapy. …So I used to take them to Pizza Hut, McDonald's and Burger King – every fast-food I could bribe these kids with so they would be willing to come see me and talk."
But fast-food was bad for the children's health, so Stoll instead took patients to her horse, Shiloh.
"The kids started to get better," Stoll says.
"They started to open up, to yammer, and they started to tell their parents what was making them miserable."
"The horse was the one that motivated him to push out a word."

–Karin Stoll, founder of Healing Horses Kauai
Those results led Stoll to start HHK in 2001. Stoll and several volunteers brought their horses to clients at different locations, working with people of all ages. Eventually, they became licensed therapeutic riding instructors.
Stoll secured nonprofit status for HHK in 2008, but a bigger turning point came in 2012, when Stoll's son, who works in theater, crossed paths with Bette Midler in New York City. The singer had already heard of Stoll back on Kaua'i, and donated 15 acres of land in Kapa'a, where HHK has been growing and helping people ever since.
You can support HHK at gofund.me/59163AC1 and healinghorseskauai.org.