Healthy Meals Made Easy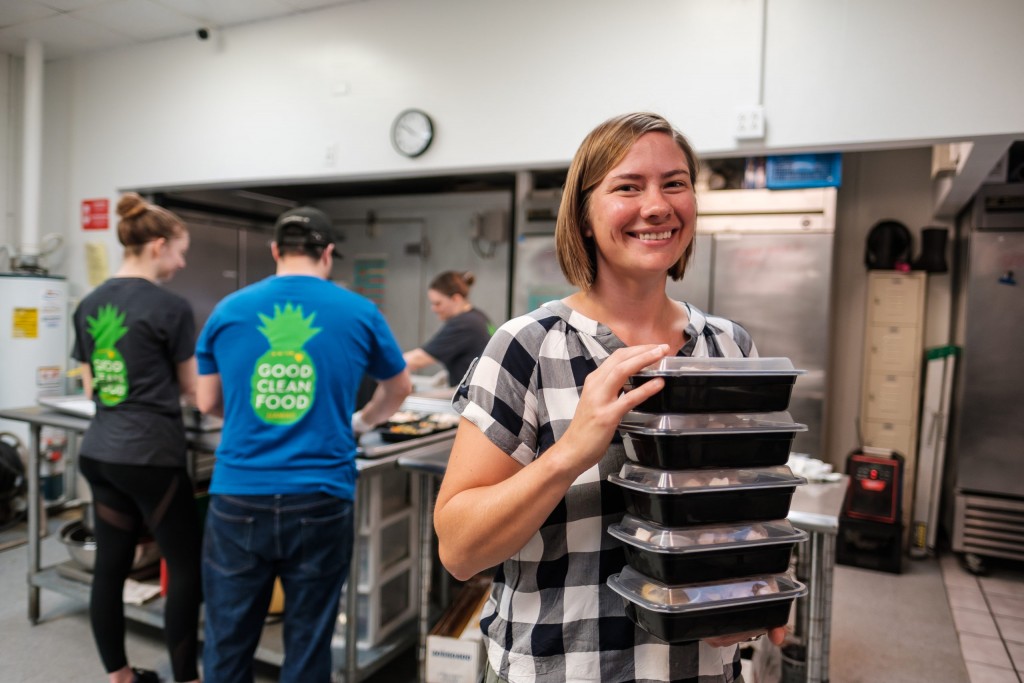 Good Clean Food Hawaii helps busy people avoid the fast-food trap by delivering nutritious, ready-to-heat meals to their homes, offices or gyms
Over the weekend at a Kailua commercial kitchen, Janelle Bremer oversaw the cutting, cooking and packaging of 160 pounds of cauliflower, 50 pounds of broccolini, 100 pounds of antibiotic-free chicken breasts and 80 pounds of grass-fed chuck roll that would become 1,000 meals for her O'ahu customers.
By Tuesday Bremer was back in the kitchen as her team made another 1,000 meals.
The founder and CEO of Good Clean Food Hawaii says she offers meals for breakfast, lunch and dinner – priced from $8.99 to $13.99 per meal – that are tasty, nutritionally balanced and stored within easy reach for busy people.
"When I was working full time, I struggled to balance my career with being active and maintaining a healthy lifestyle," says Bremer. "I found that meal prepping on weekends and bringing my lunch to work helped me to stay on track during the week. Once friends found out I was batch cooking on weekends, they asked if I could help meal prep for their families too."
GCF has five partner organizations across O'ahu – HMSA, Egan's Bootcamp, CrossFit Oahu, Orangetheory Fitness and F45 Training – where it keeps 26 refrigerators. Her clients pick up their meals at these locations and the partner companies get nutrition seminars, cooking demos, sampling events and catering for meetings.
Partners include HMSA
"Our goal is to provide healthy eating support beyond just meal service to our corporate clients," she says. People can also have meals delivered directly to their home or office, depending on their location.
HMSA had a GCF refrigerator installed in April in its employee lounge at company headquarters on Ke'eaumoku Street for twice-a-week deliveries of meals for HMSA employees. They can order online and their meals arrive packed, labeled and ready for them.
"At HMSA we're always working to create a healthier working environment," said President and CEO Michael Stollar. "Partnering with Good Clean Food makes it easier for all of us to choose healthy eating. The meals provide a great option for people managing a chronic condition, trying to lose weight, or simply wanting to eat clean."
Bremer, who grew up in a family of entrepreneurs, says the buzz about her home-cooked meal prep gave her the idea for the business, which is self-financed and now has more than 200 customers.
"It turns out I wasn't the only one struggling to balance being healthy and active with having a busy schedule," she says.
Amy Hennessey agrees. The director of communications for Ulupono Initiative says having high quality meals delivered to her office each Monday and Thursday is the ultimate convenience and a great way to ensure she doesn't waste food.
"This has been a lifesaver for me on days when it's very hectic and I don't have time to think about how to get food," she says. "It's right there and all I have to do is heat it and go. Much better than a heart attack in a sack!"
Hennessey orders six meals a week: five lunches and a breakfast. If her day includes a business lunch, she takes the extra meal home for dinner.
"When you're on the go as much as I can be, it's nice to know I have a healthy option," she says. "I first learned about GCF from my naturopathic doctor who recommended I try a paleo diet. She also knew my schedule was crazy busy and this would help me eat healthier meals without having to worry about groceries and cooking."
Each week, GCF makes 12 different meals within each of four categories: Paleo (no gluten, grains, dairy, soy or sugar); Keto (very low carb and also no gluten, grains, dairy, soy or sugar); Clean & Lean (similar to Paleo but smaller portions) and Plant-Based (vegetarian with vegan options). She says dressings, sauces and condiments are made in-house, without preservatives, and the packaging allows easy reheating.
Hennessey says she likes that Good Clean Food sources as much as possible from Hawai'i, including grass-fed beef, and fruits and vegetables from local farmers who work through wholesaler D. Otani Produce. "It's important to support our local farmers and ranchers," she says, "so I feel like I'm helping while getting a healthy meal – and it's all without worrying about food waste. Being single, that's a real problem since I can't always eat all of the fresh produce before it goes bad."
Bremer has a team of 12: eight people in food production and another four handling delivery, marketing and customer service. Deliveries are made Mondays and Thursdays. Customers can pick up their meals from a partner location or have them delivered straight to them. The meals are designed to be eaten within four days and each is labeled with calories, protein, fat and carbs.
Bremer says she has rules for her meals. First they have to taste great, look good and meet the company's sourcing guidelines. "We also make sure each meal is well-rounded and complete nutritionally."
She and her team also monitor how the meals hold up during packaging, delivery and reheating. "We want our customers' meals to be just as good when they eat them as they are when they're cooked," says Bremer.
Dietitian Courtney Johnson, who manages the Honolulu location of CrossFit Oahu and has led the CrossFit nutrition program for more than a dozen years, says CrossFit Oahu became a partner to make it easier for its members to adopt healthier habits.
"Anytime someone is creating new habits in their life, having support at home and work can make it much easier to stay consistent," says Johnson. "It takes some work upfront to make the default choice the better choice but setting up a positive environment is a game changer."
Johnson herself eats GCF meals and says they have helped tremendously with her busy schedule. "When I was teaching a lot of classes and was at the gym sometimes from 6 a.m. to 8 p.m., the GCF meals helped me stay on track and not spend money on takeout meals," she says.
"It has always amazed me how little changes toward living a healthier lifestyle can translate into big changes in people's lives," Bremer says. "Sometimes when you eat a little better, you're more motivated to be active or you sleep better. Over time all those little changes add up."