Hello Legal World, Here Comes Hawaii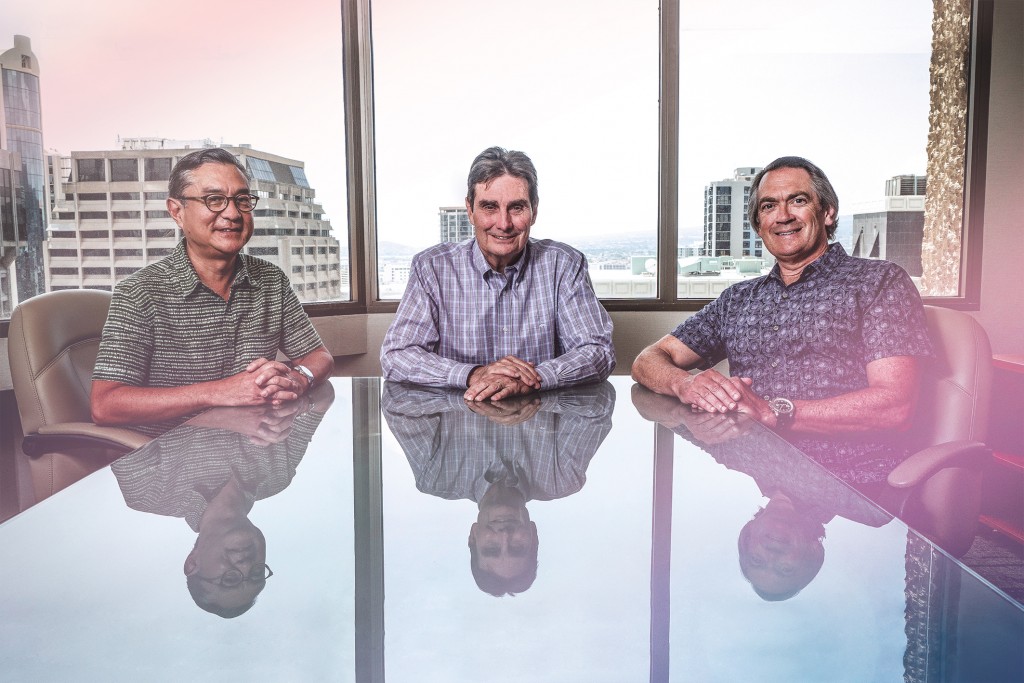 Local law firm Alston Hunt Floyd & Ing joins the largest partnership of attorneys on the planet
Honolulu has joined the world of global law firms with the finalized affiliation between one of Hawaii's most prestigious law firms – Alston Hunt Floyd & Ing – and Dentons, the world's largest legal firm with 9,000 attorneys, paralegals and professionals in 73 countries on six continents.
The addition of Alston Hunt is part of Dentons' "Pacific Rim strategy" to serve its clients, says Mike McNamara, CEO of Dentons' U.S. operations based in Washington, D.C.
"The Pacific has been a real central tenet of expansion plans, with expansion in Australia, Singapore and Mexico complementing our existence in China and Canada, and we'll be looking ahead to other parts of Asia as well. Hawaii is such a gateway to Japan, South Korea and Asia at large."
Jeff Haidet, Dentons' U.S. chairman, lauded Alston Hunt's "tremendous reputation in the Hawaii market" and predicted further growth in the Islands.
Dentons has been at the leading edge of the global megafirm trend and has been nicknamed the "Pac Man" of law firms. Twelve countries have been added in the past year.
The leadership of both firms said Alston Hunt was an attractive fit because of the clients the firms already had in common and because of the local firm's expertise, especially in litigation, real estate, health care and public policy law, McNamara says. Alston Hunt already had 22 of Dentons' top 100 clients, and more than half of the rest of the Top 100 have some Hawaii connection.
"The world is changing, and law practice is changing, and we saw an opportunity, as the founders of our firm have grown older, to build for the future in a way that no other firm in Hawaii has been able to do," says Paul Alston. "As we move to second- and third-generation leadership, this is a great opportunity to thrive. This way we get a chance to transition, with everyone having a great new opportunity."
Attorney Bill Kaneko, a partner who has been with Alston Hunt for 22 years, says the affiliation benefits not only clients, but the entire state. He says he has already met with state and city and county officials to strategize how to use Dentons' Global Trade and Investment Platform to build new opportunities to export products and services, and attract new visitors and foreign investment to Hawaii.
"Now I can approach potential clients (in Hawaii), whether they're in agricultural products or food products, and say 'Here's this opportunity to be able to sell in Korea or China or East Asia.' Or, if the state wants to attract direct foreign investment to Hawaii, then Dentons has those networks to be able to bring capital to Hawaii," Kaneko says.
Dentons signs went up and the last Alston Hunt signs came off the walls of Suite 1800 at 1001 Bishop St. on June 29.
Alston says clients can now have a legal partner across the street and access to experts around the world. "I have a client with operations in Hawaii, California, Mexico and Asia and they said, 'I don't want to deal with six law firms, just one. I want the lawyer here that I deal with to take care of these things.' "
That global advantage overcame concerns over losing the firm's strong local brand, Alston says. He also noted the firm now has access to the latest legal technology, including artificial intelligence tools that the firm could not afford before.
Hawaii's time zone position in the Pacific also means Dentons can now respond to Asian clients before the U.S. East Coast wakes up.
The new structure is known as a Swiss Verein – a voluntary association that has become common among global megafirms. Alston Hunt has ceased to exist; its partners are now partners in Dentons and the staff are Dentons employees.
The rate structure for Hawaii clients will remain the same, Alston says, and much of the decision-making will remain in Honolulu, though major decisions like hiring and new clients will be vetted through the whole organization to ensure there aren't conflicts.
The new relationship began slowly over cocktails last August at the Halekulani's House Without A Key restaurant.
"I was sitting having a drink with a friend who is a partner in Dentons, and we had been working on cases together for 10 years or so," Alston says. The conversation turned to whether Alston's was interested in joining forces.
"And my response was 'Should I be?' And he said 'Yes, it's a terrific firm.' "
By September Alston had met with the global CEO and chairman and they hit it off. In the conversation Alston told them he didn't want his firm to be a distant western outpost of a Mainland firm, but part of a team that recognized the importance of Asia, with his firm having the potential to play a role in the future as a Pacific hub. He also emphasized the importance of pro bono service in the Alston firm, which he said was especially important to continue.
"I said, 'This is who we are and what we do, and we can't take this conversation further unless you embrace that.' They agreed with it and said, 'We love everything you do in that area.' And that's really exciting to me."