Helping Our Communities Flourish through the Arts
Hawaiʻi Craftsmen supports local artists to ensure the fine craft in Hawaiʻi continues.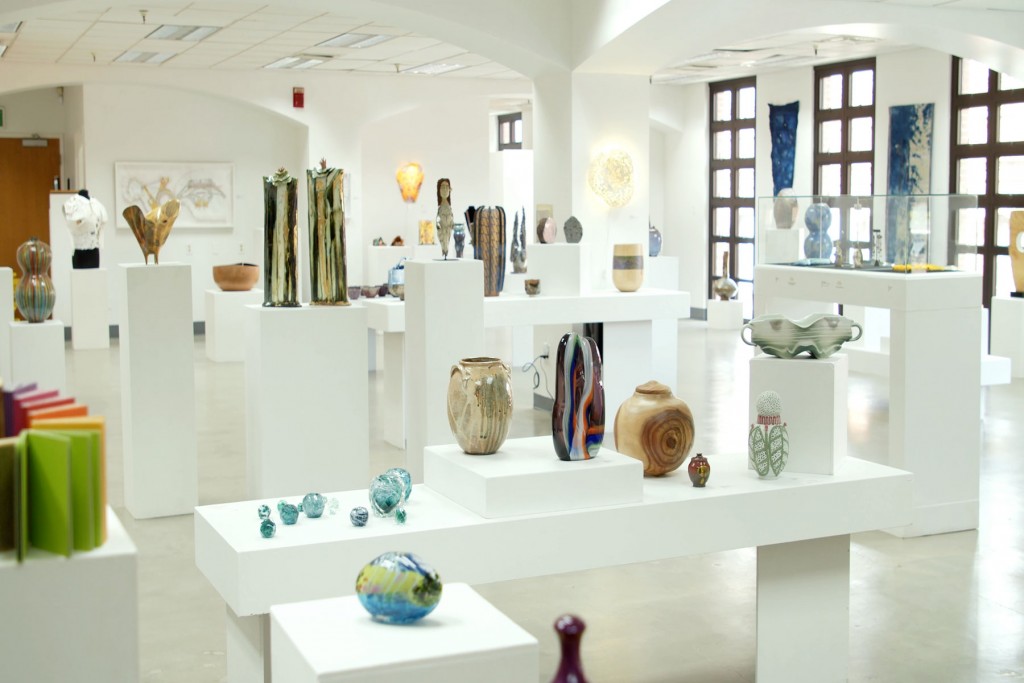 As a kid, Daven Hee made toys out of whatever was around. With a clothes pin, rubber bands and a piece of wood, he fashioned a rubber band gun. As an adult and successful ceramics artist, Hee now makes the toys he dreamed he had when he was young, like the whimsical "Atomic Ray Gun" he wishes that rubber band gun would have been. Hee's playful and technically challenging "Adult Toys" series has earned accolades and been featured in exhibitions; today, Hee teaches ceramic arts to other creative young minds at Mid-Pacific Institute in Honolulu.
For artists to thrive on these islands, far from Mainland art hubs and markets, is no easy feat. Helping Hee grow as an artist was the nonprofit Hawai'i Craftsmen, which he joined twenty-five years ago and in which he remains active, cultivating the next generation of artists. Formed in 1967, Hawai'i Craftsmen has nurtured the state's art community through hosting workshops (including on neighbor islands), organizing juried exhibitions, subsidizing travel, connecting artists with buyers and more. Over the last five years, Hawai'i Craftsmen has given out $40,450 in cash awards and sold 204 pieces for $157,816, which resulted in $94,689 in payments to 125 artists—economic lifelines for Island creators, whether they've been working for years or are just starting out.
Hawai'i Craftsmen's annual events provide educational opportunities for artists. The 'Aha Hana Lima ("gathering of the crafts") is an intensive, three-day workshop conducted by artists from out-of-state in various media, including ceramics, metal, wood, fiber and glass, and the Raku Ho'olaulea focuses on the Japanese pottery technique of raku, an entry point for beginners.
"We're impacting the community by really supporting craft artists. That's important, because artists create the cultural and social stories, the visual arts, the music, the literature that make Hawai'i a better place to live."

– Kim Coffee-Isaak, Project Director, Hawaiʻi Craftsmen
A cornerstone of Hawai'i Craftsmen's program is its Annual Statewide Exhibition, running each October through November. Hawai'i Craftsmen flies in a renowned artist as a juror to evaluate the entries, an experience most of the participating artists might not otherwise have.
This year's exhibition, which was held at the Downtown Arts Center in Honolulu, was the largest yet, with 550 entries from 195 artists across the main Hawaiian Islands; 2021 was also the first time Hawai'i Craftsmen sent a juror—this year, New York and Los Angeles-based curator and writer Angelik Vizcarrondo-Laboy—to Moloka'i, in keeping with its mission to support artists in underserved and rural communities statewide. Hawai'i Craftsmen project director Kim Coffee-Isaak estimated as many as a thousand people attended the 2021 exhibition, in part because pandemic restrictions have eased.
All of their efforts lead to a more vibrant and sustainable local arts community despite the challenges of living in the most isolated place on Earth. "We're impacting the community by really supporting craft artists," says Coffee-Isaak. "We help make it possible for artists to exhibit, to learn from world-class teachers, to put their work in public and become better artists. That's important, because they create the cultural and social stories, the visual arts, the music, the literature that make Hawai'i a better place to live."
---
Did You Know?
Hawai'i Craftsmen is one of 194 grantees selected statewide for its work to address some of Hawai'i's biggest challenges through the CHANGE Grants program. Each letter of the CHANGE Framework represents a sector, or six areas, that affects our community and its ability to thrive.
To support the CHANGE Framework or view all 194 grantees, visit HawaiiCommunityFoundation.org/CHANGE