Helping Seniors Stay Healthy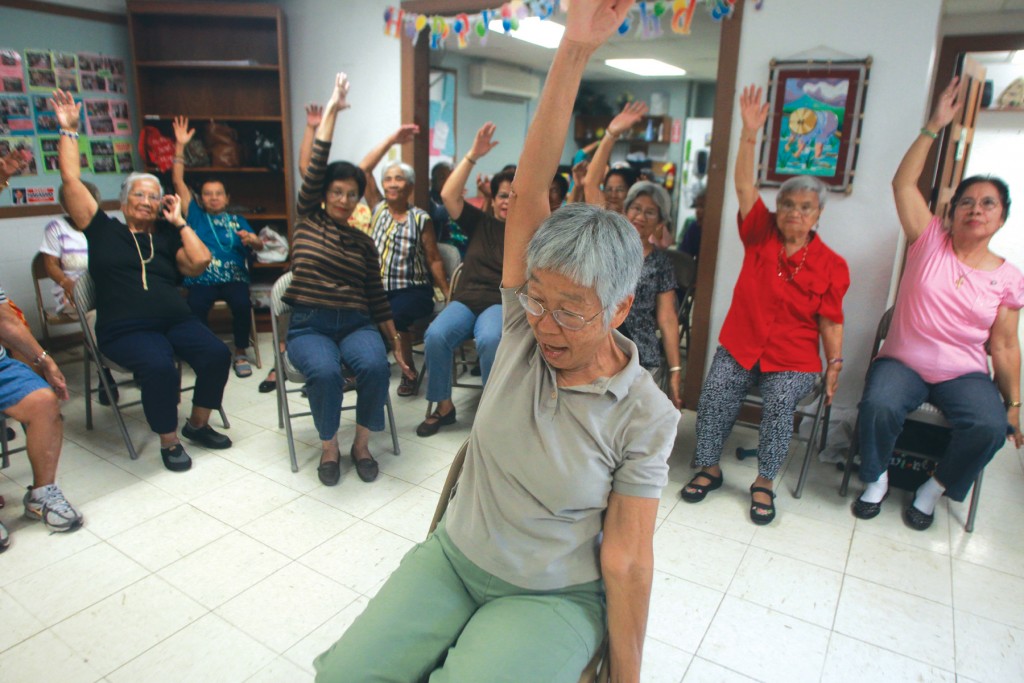 Emma Tugade says she was wracked with pain, and felt half-dead when she first came to the Gulick Elder Center more than 10 years ago. Today, the 73-year-old says, "I feel like I'm born again!"
The center is one of the many services provided by the nonprofit Kokua Kalihi Valley at its nine locations in the valley.
"Before coming to KKV, I was taking eight medicines; now I only take three. My diabetes is under control. I didn't exercise that much before because I was so depressed; the exercise I do now at KKV has helped me a lot. Even the kind of food I ate was bad for me. Now I'm eating healthier."
Exercise sessions are held for kūpuna at Kokua Kalihi Valley's Gulick Elder Center in Kalihi. Tugade says her past health problems read like a list from A to Z: "High blood pressure, high cholesterol, knee pain; the isolation was the worst. But now it's all gone – now I'm very jolly."
The Kalihi Valley resident was brought to Hawai'i from the Philippines in the 1970s as a picture bride by her husband, who was 40 years older. As a housewife and mother, she successfully raised two sons, but when her husband died in 2000, she fell into adeep depression.
Other seniors told Tugade about the elder care program at KKV. "I love the exercises, the people – the whole program! We learn about how to prevent illness, how to eat properly. We even dance and have birthday parties!"
"I feel like I'm happily married to KKV, and I don't want a divorce," she says.
Kokua Kalihi Valley was founded in 1972 to address the lack of health care for the area's low-income population, which is primarily Asian and Pacific island immigrants. Its 210 full- and part-time staff are fluent in 20 languages and dialects.
Merlita Compton has been the elder care services program director since 2013. Compton developed the curriculum for the elder care program at KKV – one of 10 nonprofits that received grants from Aloha United Way to help those in the ALICE population, or Asset-Limited, Income-Constrained, Employed.
"We received a three-year grant for $100,000 a year," Compton says. "The project will develop a trained, homegrown work force to provide personal home care for the aging population in Kalihi Valley. We want to hire people from the community who understand the culture and the language of the people we serve."
Compton says they'll mentor and train the ALICE group so they'll be ready for more formal education in outside programs for certified nurse aides or in-home respite workers. "We need to build their confidence."
KKV has over 30 social assistance programs: behavioral health, medical/legal partnerships, youth, nutrition, maternal/child, optometry, a pharmacy – "even a community kitchen," Compton says.
The nonprofit's annual budget is $18 million, with 35% coming from government sources and about half from patient revenue.
"I look forward to coming to KKV. I tell them 'thank you' all the time," says Tugade.