20 for the Next 20 Community Project: Housing for the Homeless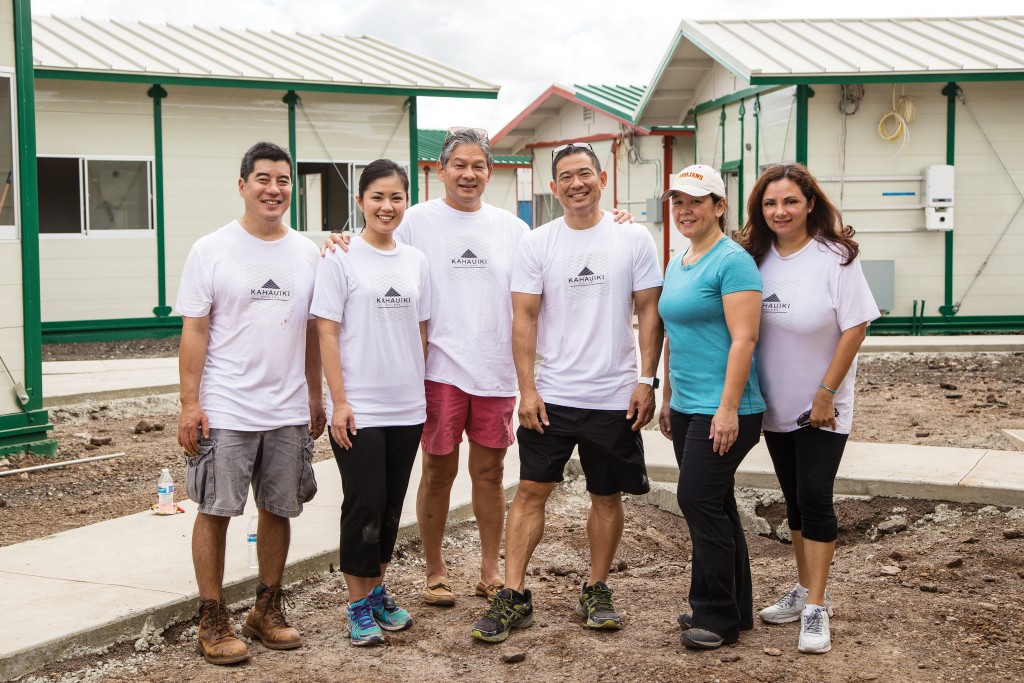 There were dozens

of volunteers on this December morning at Kahauiki Village, an 11.3-acre development that will eventually provide long-term housing to 153 homeless families on Oahu.

Though there was excitement in the air, it was surprisingly quiet for a group of this size. Everybody was on a mission — sweeping, mopping, painting, cleaning – to prepare the site for the pending first visit by the families that ended up moving in for good on Jan. 12.

In housing unit No. 1, Jennifer Oyer (née Hee) was on her hands and knees using a scouring pad to smooth bumps on the cement floor before construction workers laid tiles. "This is an amazing project. It will change people's lives immeasurably," said the chief development officer for The Salvation Army – Hawaiian and Pacific Islands Division.

Wiping the sweat off her brow, Oyer explained why she and her fellow members of 20 for the Next 20, Cohort 2017, selected this cause. "We got together several times and discussed the different problems in our society – unfortunately, there are many," she says. "But helping the working homeless rose to the top pretty quickly because of the tremendous need."

According to the 2017 Hawaii Homeless Point-in-Time survey, there are 4,959 homeless people on Oahu. Of those, 513 adults and 680 children live in transitional housing.

The Cohort 2017 members zeroed in on Kahauiki Village because its core mission is to help families with children in which at least one parent works, but can't afford a rental apartment.

A study from the National Low Income Housing Coalition published in June said the average hourly wage needed to rent a two-bedroom on Oahu is $35.20. However, the average hourly wage for renters in Hawaii is $15.64 and minimum wage is just $10.10.

When fully built, homelessness experts say, Kahauiki Village will permanently house about half of the homeless families now living in transitional housing on Oahu – 153 housing units providing shelter to 306 adults and 323 children.

"It is a big number. This project will make a dent, but it won't fully solve the issue," says Duane Kurisu, the driving force behind Kahauiki Village and the owner of aio Media Group, the parent company of Hawaii Business magazine.
A Safety Net
"Where I grew up on a plantation on the Big Island, if we caught three fish we would only keep one," Kurisu says. "The other two, we would give to our neighbors." The hope is the eventual Kahauiki community will mirror that spirit of neighbors helping each other.
The one- and two-bedroom units will offer subsidized rents of $725 and $900, respectively, including electricity, water and cable. Charging below-market rates will enable the families to save money, with the endgame of moving out when they are on solid footing.
Kahauiki families will also receive secure and affordable child care and preschool services on the premises, with assistance from Parents and Children Together, the Freeman Foundation and the McInerny Foundation.
Several of the project's partners, such as United Laundry Services, have promised to provide stable job candidates from the village with fair living wages and medical insurance.
"The visionaries of this project clearly thought long and hard about the many barriers that stand in the way of stable housing for people," said David Morimoto, 20 for the Next 20 Cohort member and executive VP, CFO and treasurer of Central Pacific Bank. "Affordable rent and child care are key components."
Long-term Support
Oyer says her fellow cohort members are determined to stick with this project over the long haul.
"The hope is for us to 'adopt' a small group of families and to get to know them better," Morimoto says. "We want to help them in any way we can."
The group also plans to return to Kahauiki, says Brian Dote, chief innovator at Mid-Pacific Institute and member of Cohort 2017. "There will be other volunteer opportunities with this project, like when they do the landscaping," Dote says. "We didn't choose a one-off blood drive or a one-off food drive because we wanted our project to have longevity."
Dote says the volunteer work at Kahauiki is physically demanding but worth the sweat. "Technically, I spent the morning scraping the plaster off the floor," Dote says. "But in reality, I helped prepare a loving home for a family – something that they can take pride and ownership in. That was priceless."
The Tradition Continues
by Gina Gelber, Managing editor
2017 was the third year in which members of the 20 for the Next 20 Cohort have taken up a community project — no small feat considering each of them already juggle work, family and volunteer responsibilities.
I'm often asked: With so many problems and not enough resources, how do the cohorts select their cause? It is never easy, but it involves brainstorming, debate and finally a focus on a community need in which cohort members feel they can make a difference.
The 2015 Cohort started this tradition by using design thinking on a project to combat cyberbullying in middle and high schools. The 2016 Cohort tackled climate change by raising several thousand dollars and partnering with Healthy Climate Communities on a reforestation project in Kailua's Kawainui-Hamakua Marsh.
I am excited to see what community project the members of the 2018 Cohort take up. It is a strong group, with high achievers in diverse areas. Being the shepherd of the 20 for the Next 20 projects at Hawaii Business magazine has been a privilege and one of the most rewarding aspects of my job. Thanks for your mana, cohort members.