How Hawaii's Beach Waters Rank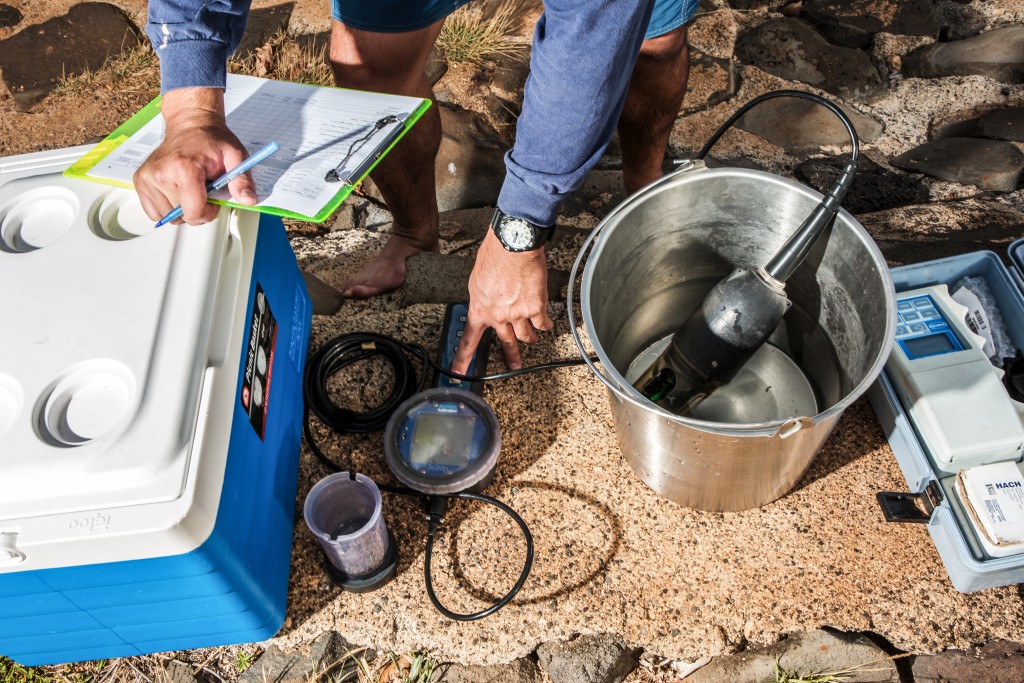 Was Your Beach Tested?
The state uses a tiered system based on risk to determine which beach waters to sample for bacteria.
Tier 1: These beaches take priority because they are heavily used and have factors that could influence higher bacteria counts, such as nearby streams and storm drains. Tested at least once a week.
Tier 2: These are average beaches. Tested at least five times a year.
Tier 3: These are beaches with generally good water quality, have no steams entering the area and are located far from human population centers, so they have little human activity. Tested once a year.
Here are the beaches tested in 2015 and in which tier they are placed:
| Beach ID | ISLAND | EPA BEACH NAME | 2015 TIER |
| --- | --- | --- | --- |
| HI616452 | Big Island | 2nd Beach (next to Mahaiula) | 2 |
| HI707059 | Big Island | Ahalanui Pond (Pu'ala'a Bch Pk) | 1 |
| HI326172 | Big Island | Anaeho'omalu Bay | 1 |
| HI713314 | Big Island | Banyan's Surfing Area | 2 |
| HI977673 | Big Island | Coconut Island Park | 2 |
| HI138086 | Big Island | Hakalau Co. Pk. | 2 |
| HI621002 | Big Island | Hapuna Beach St. Rec. Area | 2 |
| HI908102 | Big Island | Heeia | 3 |
| HI315019 | Big Island | Hilo Bayfront | 1 |
| HI582331 | Big Island | Holoholokai | 2 |
| HI246645 | Big Island | Honaunau Bay | 2 |
| HI315174 | Big Island | Honokohau Beach | 3 |
| HI857411 | Big Island | Honoli'i Beach Co. Park | 1 |
| HI831766 | Big Island | Honomalino Bay | 3 |
| HI152572 | Big Island | Ho'okena | 2 |
| HI659453 | Big Island | Ice Pond (single point) | 2 |
| HI670326 | Big Island | Isaac Hale Beach Co. Pk. | 3 |
| HI670254 | Big Island | James Kealoha Park | 1 |
| HI107517 | Big Island | Ka Lae (South Point) | 2 |
| HI013290 | Big Island | Kahalu'u Beach Co. Pk. | 1 |
| HI753566 | Big Island | Kailua Bay | 1 |
| HI377322 | Big Island | Kalahiki Beach | 3 |
| HI542822 | Big Island | Kalapana Beach (new) (Harry K. Brown Beach Co. Pk.) | 2 |
| HI261474 | Big Island | Kamakaokahonu | 1 |
| HI602472 | Big Island | Kamoa Pt. (Lyman's) | 3 |
| HI871399 | Big Island | Kapa'a Beach Co. Pk. | 3 |
| HI391407 | Big Island | Kapoho Bay | 2 |
| HI122881 | Big Island | Kapoho Tidepools (Vacationland) | 2 |
| HI627359 | Big Island | Kapu'a Bay | 3 |
| HI261869 | Big Island | Kauna'oa Beach | 2 |
| HI770607 | Big Island | Ka'upulehu | 3 |
| HI535602 | Big Island | Kawa Bay | 3 |
| HI978783 | Big Island | Kawaihae Harbor | 2 |
| HI713293 | Big Island | Keahou Bay (Kona) | 2 |
| HI514168 | Big Island | Kealia Beach | 3 |
| HI849313 | Big Island | Keaukaha Beach Park | 2 |
| HI929053 | Big Island | Keawaiki | 3 |
| HI858729 | Big Island | Ke'ei | 3 |
| HI459942 | Big Island | Kehena | 2 |
| HI784200 | Big Island | Keokea Beach Co. Pk. | 3 |
| HI559410 | Big Island | Keone'ele Cove | 3 |
| HI331785 | Big Island | Kiholo Bay | 3 |
| HI693485 | Big Island | Kolekole Beach Co. Park | 2 |
| HI887804 | Big Island | Kuki'o | 3 |
| HI490010 | Big Island | Lapakahi St. Hist. Park | 3 |
| HI380623 | Big Island | Laupahoehoe Beach Co. Park | 2 |
| HI691720 | Big Island | Lehia Beach Co. Pk. | 2 |
| HI540868 | Big Island | Leleiwi Beach Co. Pk. | 1 |
| HI694255 | Big Island | Mahai'ula Bay | 3 |
| HI273526 | Big Island | Mahukona Beach Co. Pk. | 3 |
| HI901744 | Big Island | Makalawena | 3 |
| HI223059 | Big Island | Makole'a Beach | 3 |
| HI379764 | Big Island | Manini Point Co. Pk. | 3 |
| HI720408 | Big Island | Manini'owali | 2 |
| HI647110 | Big Island | Manuka Bay | 3 |
| HI890924 | Big Island | Mauna Lani (Kalahuipua'a) | 2 |
| HI120357 | Big Island | Mau'umae Beach | 3 |
| HI470112 | Big Island | Miloli'i Beach | 2 |
| HI588578 | Big Island | Napo'apo'o Beach Co. Pk. | 3 |
| HI124561 | Big Island | Ninole | 2 |
| HI143737 | Big Island | Ohai'ula Beach | 2 |
| HI691739 | Big Island | Old Kona Airport (Pawai) | 3 |
| HI256093 | Big Island | Old Kona Airport St. Rec. Area | 3 |
| HI862286 | Big Island | Onekahakaha Beach Co. Pk. | 1 |
| HI935352 | Big Island | Pahoehoe Beach Co. Pk. | 3 |
| HI738158 | Big Island | Pelekane Bay | 2 |
| HI320616 | Big Island | Pine Trees | 2 |
| HI316864 | Big Island | Pohoiki Beach | 2 |
| HI227694 | Big Island | Pohue Bay | 3 |
| HI183806 | Big Island | Pololu Valley | 3 |
| HI668132 | Big Island | Puako | 1 |
| HI930479 | Big Island | Pueo Bay | 3 |
| HI224651 | Big Island | Punalu'u | 2 |
| HI478461 | Big Island | Pu'uhonua Pt. (Pu'u o Honaunau) | 2 |
| HI425303 | Big Island | Radio Bay | 2 |
| HI254097 | Big Island | Reeds Bay Park | 3 |
| HI936372 | Big Island | Spencer Beach Co. Pk. | 2 |
| HI754307 | Big Island | Wai'ahukini | 3 |
| HI381812 | Big Island | Waialea Bay | 3 |
| HI534434 | Big Island | Waipi'o Bay | 2 |
| HI934020 | Big Island | Waiulaula | 2 |
| HI643938 | Big Island | Wawaloli Beach | 2 |
| HI436267 | Big Island | White Sands Beach Co. Pk. (Magic Sands) | 2 |
| HI720900 | Big Island | Whittington Beach Co. Pk. | 2 |
| HI710019 | Kauai | Aliomanu Beach | 3 |
| HI270737 | Kauai | Anahola Beach | 2 |
| HI338804 | Kauai | Anini Beach | 2 |
| HI418744 | Kauai | Anini Beach Park | 3 |
| HI156238 | Kauai | Beach House Beach | 2 |
| HI891354 | Kauai | Black Pot Beach Park | 3 |
| HI166521 | Kauai | Brennecke Beach | 2 |
| HI853903 | Kauai | Donkey Park | 3 |
| HI976083 | Kauai | Gillin's Beach | 3 |
| HI949505 | Kauai | Glass Beach | 3 |
| HI554189 | Kauai | Ha'ena Beach Co. Park | 2 |
| HI385259 | Kauai | Hanalei Beach Co. Park | 1 |
| HI352580 | Kauai | Hanama'ulu Beach Co. Park | 2 |
| HI277808 | Kauai | Haula Beach | 3 |
| HI533519 | Kauai | Kahili Beach | 3 |
| HI758685 | Kauai | Kalapaki Beach | 1 |
| HI264001 | Kauai | Kalihiwai Bay | 2 |
| HI972832 | Kauai | Kapa'a Beach Co. Park | 2 |
| HI669328 | Kauai | Kaupea Beach (Secret Beach) | 3 |
| HI698776 | Kauai | Kawailoa Beach | 3 |
| HI402035 | Kauai | Kealia | 2 |
| HI124511 | Kauai | Ke'e Beach | 2 |
| HI530569 | Kauai | Kekaha Beach Co. Pk. | 2 |
| HI344813 | Kauai | Kepuhi Beach | 3 |
| HI119207 | Kauai | Kikiaola Beach | 3 |
| HI471488 | Kauai | Kilauea Pt. Nat. Wildlife Ref. | 3 |
| HI266627 | Kauai | Kipu Kai | 3 |
| HI955435 | Kauai | Koloa Landing | 2 |
| HI619039 | Kauai | Kukui'ula Bay | 3 |
| HI860960 | Kauai | Larsens Beach | 3 |
| HI434882 | Kauai | Lawa'i Kai | 3 |
| HI862821 | Kauai | Lucy Wright Beach Co. Park | 3 |
| HI889639 | Kauai | Lumaha'i Beach | 2 |
| HI798758 | Kauai | Lydgate State Park | 1 |
| HI547745 | Kauai | Moloa'a Bay | 3 |
| HI709808 | Kauai | Na Pali Coast State Park | 3 |
| HI953916 | Kauai | Niumalu Beach Park | 3 |
| HI502794 | Kauai | Nukoli'I Beach Park | 2 |
| HI176480 | Kauai | Pacific Missile Range Facility | 3 |
| HI468251 | Kauai | Pakala (Makaweli) | 2 |
| HI665178 | Kauai | Palama Beach (Nomilu) | 3 |
| HI130639 | Kauai | Papa'a Bay | 3 |
| HI363048 | Kauai | Pila'a Beach | 3 |
| HI396850 | Kauai | Po'ipu Beach Co. Park | 1 |
| HI247403 | Kauai | Polihale State Park | 2 |
| HI646762 | Kauai | Port Allen | 3 |
| HI742228 | Kauai | Prince Kuhio Park | 3 |
| HI520271 | Kauai | Princeville | 3 |
| HI701008 | Kauai | Salt Pond Beach Co. Park | 1 |
| HI542569 | Kauai | Sheraton Beach | 2 |
| HI358435 | Kauai | Shipwreck Beach | 2 |
| HI951651 | Kauai | Spouting Horn Beach Co. Park | 3 |
| HI936087 | Kauai | Tunnels Beach | 3 |
| HI179708 | Kauai | Wahiawa Bay | 3 |
| HI505816 | Kauai | Waiakalua Iki Beach | 3 |
| HI371632 | Kauai | Waiakalua Nui Beach | 3 |
| HI330114 | Kauai | Waikoko Bay | 3 |
| HI606168 | Kauai | Wailua Beach | 2 |
| HI245235 | Kauai | Waimea Rec. Pier St. Pk. | 2 |
| HI417823 | Kauai | Wainiha Bay | 3 |
| HI392082 | Kauai | Wai'ohai Beach | 3 |
| HI836118 | Kauai | Wai'oli Beach Park | 2 |
| HI682678 | Kauai | Waipouli | 3 |
| HI297944 | Lanai | Halepalaoa Beach | 3 |
| HI126591 | Lanai | Hulopo'e Beach Park | 3 |
| HI801428 | Lanai | Kahemano Beach | 3 |
| HI923988 | Lanai | Kaunolu Bay | 3 |
| HI854690 | Lanai | Keomuku Beach | 3 |
| HI735036 | Lanai | Lopa Beach | 3 |
| HI615699 | Lanai | Manele Bay | 3 |
| HI225961 | Lanai | Naha Beach | 3 |
| HI845453 | Lanai | Polihua Beach | 3 |
| HI579345 | Lanai | Pu'u Pehe Cove | 3 |
| HI362906 | Lanai | Shipwreck Beach | 3 |
| HI879646 | Maui | Ahihi-kina'u Natural Area Reserve | 3 |
| HI616569 | Maui | Alaeloa Beach | 3 |
| HI839739 | Maui | Awalua Beach | 3 |
| HI525524 | Maui | Father Jules Papa | 3 |
| HI253548 | Maui | Fleming Beach North | 2 |
| HI846900 | Maui | H.P. Baldwin Beach Co. Pk. | 2 |
| HI287670 | Maui | Hamoa | 3 |
| HI996835 | Maui | Hana Bay | 2 |
| HI797917 | Maui | Hanaka'o'o Beach Co. Pk. | 1 |
| HI553820 | Maui | Hata's | 2 |
| HI229021 | Maui | Honokeana Bay | 3 |
| HI432902 | Maui | Honokohau Bay | 3 |
| HI412391 | Maui | Honokowai Beach Co. Pk. | 2 |
| HI280286 | Maui | Honolua Bay | 2 |
| HI984456 | Maui | Honomanu Bay | 2 |
| HI985873 | Maui | Ho'okipa Beach Co. Pk. | 2 |
| HI901232 | Maui | H-Poko Papa | 3 |
| HI385800 | Maui | Huakini Bay | 2 |
| HI643627 | Maui | Ka'anapali | 2 |
| HI280920 | Maui | Kahalui Harbor | 1 |
| HI160433 | Maui | Kahana | 2 |
| HI432263 | Maui | Kaihalulu Bay | 3 |
| HI641844 | Maui | Ka'ili'ili Beach | 3 |
| HI705118 | Maui | Kalama Beach Co. Park | 2 |
| HI647373 | Maui | Kalepolepo Beach | 2 |
| HI761092 | Maui | Kama'ole Beach 1 | 1 |
| HI097179 | Maui | Kama'ole Beach 2 (Ili'iliholo Beach) | 2 |
| HI496115 | Maui | Kama'ole Beach 3 | 1 |
| HI797225 | Maui | Kanaha Beach Co. Park | 1 |
| HI404881 | Maui | Kanaio Beach | 3 |
| HI391006 | Maui | Kapalua (Fleming's) Beach | 2 |
| HI599968 | Maui | Kapoli Beach Co. Park | 3 |
| HI593477 | Maui | Kea'a Beach | 3 |
| HI959746 | Maui | Ke'anae | 3 |
| HI607763 | Maui | Keawakapu Beach | 2 |
| HI199865 | Maui | Keonenui Beach | 3 |
| HI650469 | Maui | Koki Beach Park (VFW) | 3 |
| HI276573 | Maui | Ku'au Bay | 2 |
| HI852861 | Maui | Kuiaha Bay | 3 |
| HI674004 | Maui | La Perouse Bay | 3 |
| HI407363 | Maui | Lahaina Beach | 2 |
| HI558359 | Maui | Launiupoko St. Wayside | 1 |
| HI884223 | Maui | Leho'ula Beach | 3 |
| HI864937 | Maui | Lower Pa'ia | 2 |
| HI058731 | Maui | Ma'alaea Beach | 1 |
| HI715975 | Maui | Mai Poina 'Oe la'u Beach Co. Pk. | 2 |
| HI978171 | Maui | Maka'alae Pt. | 3 |
| HI245556 | Maui | Makena Landing Beach | 2 |
| HI423064 | Maui | Maliko Bay | 2 |
| HI847607 | Maui | Malu'aka Beach | 2 |
| HI482300 | Maui | Mantokuji Bay | 3 |
| HI227321 | Maui | McGregor Pt. | 3 |
| HI861961 | Maui | Mokapu Beach Park | 2 |
| HI519980 | Maui | Mokulau | 3 |
| HI977299 | Maui | Mokule'ia Beach | 2 |
| HI983172 | Maui | Nahiku | 3 |
| HI764060 | Maui | Napili Bay | 2 |
| HI176594 | Maui | Nu'u Bay | 3 |
| HI491359 | Maui | Olowalu | 2 |
| HI740710 | Maui | Oneloa Bay Beach | 2 |
| HI279887 | Maui | Oneloa Beach (Big Beach) | 2 |
| HI756040 | Maui | Oneuli Beach | 2 |
| HI997014 | Maui | Palauea Beach Park | 2 |
| HI462219 | Maui | Papalaua | 2 |
| HI463097 | Maui | Paukukalo Beach | 3 |
| HI136430 | Maui | Pepeiaolepo Bay | 3 |
| HI339656 | Maui | Polo Beach Park | 2 |
| HI684864 | Maui | Po'olenalena Beach | 2 |
| HI167153 | Maui | Puamana Beach Co. Park | 2 |
| HI641109 | Maui | Punalau | 3 |
| HI157533 | Maui | Pu'u ola'i (Small Beach) | 2 |
| HI373055 | Maui | Pu'unoa Beach | 2 |
| HI789952 | Maui | Spreckelsville | 1 |
| HI765340 | Maui | St. Theresa's | 1 |
| HI814309 | Maui | Ukumehame Beach Co. Pk. | 2 |
| HI588333 | Maui | Ulua Beach Park | 2 |
| HI169380 | Maui | Wahikuli State Wayside Park | 2 |
| HI118874 | Maui | Wai'anapanapa State Park | 2 |
| HI916183 | Maui | Waiehu Beach Co. Park | 2 |
| HI343702 | Maui | Waihe'e Beach Co. Park | 2 |
| HI796679 | Maui | Waikoloa Beach | 3 |
| HI278988 | Maui | Wailea Beach Park | 1 |
| HI236756 | Maui | Waimaha'ihai Beach | 3 |
| HI284036 | Maui | Waipulani | 2 |
| HI702920 | Molokai | Awahua Beach | 3 |
| HI571680 | Molokai | Fagans Beach | 3 |
| HI928793 | Molokai | Halawa Beach Park | 3 |
| HI417163 | Molokai | Halena Beach | 3 |
| HI783671 | Molokai | Honouli Malo'o | 3 |
| HI376731 | Molokai | Honouli Wai | 3 |
| HI618345 | Molokai | Iliopi'i Beach | 3 |
| HI191374 | Molokai | Kahalepohaku Beach | 3 |
| HI939514 | Molokai | Kakahai'a Beach Park | 3 |
| HI923737 | Molokai | Kamaka'ipo Beach | 3 |
| HI559049 | Molokai | Kanalukaha Beach | 3 |
| HI941577 | Molokai | Kapukahehu Beach | 3 |
| HI565164 | Molokai | Kapukuwahine Beach | 3 |
| HI726225 | Molokai | Kaunala Beach | 3 |
| HI481092 | Molokai | Kaupoa Beach | 3 |
| HI384043 | Molokai | Kawa'aloa Bay | 3 |
| HI114962 | Molokai | Kawakiu Bay (Nui) | 3 |
| HI287930 | Molokai | Kepuhi Beach | 3 |
| HI206014 | Molokai | Kiowea Park (Kamehameha Coconut Grove) | 3 |
| HI928768 | Molokai | Kolo Wharf | 3 |
| HI934213 | Molokai | Lighthouse Beach | 3 |
| HI204811 | Molokai | Mo'omomi Beach | 3 |
| HI138494 | Molokai | Murphy Beach Park | 3 |
| HI904462 | Molokai | Oneali'I Beach Park | 3 |
| HI301825 | Molokai | Papaloa Beach | 3 |
| HI556777 | Molokai | Papohaku Beach | 3 |
| HI443237 | Molokai | Pelekunu | 3 |
| HI268134 | Molokai | Pohaku Mauliuli Beach | 3 |
| HI454004 | Molokai | Po'olau Beach | 3 |
| HI665969 | Molokai | Puko'o | 3 |
| HI329518 | Molokai | Sandy Beach | 3 |
| HI603285 | Molokai | Wailau | 3 |
| HI882094 | Oahu | Ala Moana Beach Co. Park, Center | 1 |
| HI306071 | Oahu | Ala Moana Beach Co. Park, D.H. | 1 |
| HI702973 | Oahu | Ala Moana Beach Co. Park, Ewa | 2 |
| HI145110 | Oahu | Aukai Beach Co. Park | 3 |
| HI908378 | Oahu | Banzai | 3 |
| HI593573 | Oahu | Barbers Point Beach Co. Pk. | 3 |
| HI798011 | Oahu | Bellows Field Beach Co. Pk. | 2 |
| HI309544 | Oahu | Camp Harold Erdman | 2 |
| HI950962 | Oahu | Chun's Reef | 1 |
| HI544313 | Oahu | Diamond Head | 2 |
| HI531535 | Oahu | Ehukai Beach Co. Pk. | 3 |
| HI767464 | Oahu | Ewa Beach | 3 |
| HI045715 | Oahu | Fort DeRussy Beach | 2 |
| HI555850 | Oahu | Fort DeRussy Beach Park | 2 |
| HI410735 | Oahu | Fort Hase Beach | 3 |
| HI767754 | Oahu | Fort Kamehameha Beach | 3 |
| HI941499 | Oahu | Gray's Beach | 2 |
| HI451176 | Oahu | Hale'iwa Ali'i Beach Co. Pk. | 1 |
| HI994019 | Oahu | Hale'iwa Beach Co. Pk. | 3 |
| HI132946 | Oahu | Halona Cove | 2 |
| HI646411 | Oahu | Hanaka'ilio Beach | 3 |
| HI451471 | Oahu | Hanauma Bay | 1 |
| HI854492 | Oahu | Hau'ula Beach Co. Park | 2 |
| HI628972 | Oahu | Hawaiian Electric Beach Park | 3 |
| HI927925 | Oahu | He'eia | 2 |
| HI815093 | Oahu | Ihilani Honu | 3 |
| HI515191 | Oahu | Ihilani Kohola | 1 |
| HI685981 | Oahu | Ihilani Naia | 3 |
| HI550240 | Oahu | Ihilani Ulua | 3 |
| HI412839 | Oahu | Iroquois Pt. | 3 |
| HI580360 | Oahu | Ka'a'awa Beach Co. Park | 2 |
| HI253930 | Oahu | Ka'alawai Beach | 2 |
| HI645485 | Oahu | Ka'ena Pt. | 3 |
| HI514582 | Oahu | Kahala | 2 |
| HI173325 | Oahu | Kahala Hilton Beach | 2 |
| HI759491 | Oahu | Kahana Bay | 3 |
| HI366432 | Oahu | Kahanamoku Beach | 1 |
| HI548986 | Oahu | Kahe Pt. Beach Co. Pk. | 2 |
| HI989341 | Oahu | Kahuku Golf Course | 3 |
| HI585092 | Oahu | Kaiaka | 3 |
| HI668562 | Oahu | Kaihalulu Beach | 3 |
| HI482719 | Oahu | Kailua Beach Co. Pk. | 1 |
| HI446787 | Oahu | | 3 |
| HI234342 | Oahu | Kaiona Beach Co. Park | 3 |
| HI787959 | Oahu | Kaipapa'u Beach | 2 |
| HI302297 | Oahu | Kakaako Waterfront | 3 |
| HI860454 | Oahu | Kalae'o'io Beach Co. Park | 3 |
| HI071892 | Oahu | Kalama Beach | 2 |
| HI353985 | Oahu | Kaloko (Queens) Beach | 3 |
| HI391176 | Oahu | Kaluahole Beach | 3 |
| HI410842 | Oahu | Kaluanui Beach | 2 |
| HI196120 | Oahu | Kanenelu Beach | 3 |
| HI272280 | Oahu | Kane'ohe Bay | 3 |
| HI904851 | Oahu | Kapaeloa Beach | 2 |
| HI733929 | Oahu | Kapi'olani Park | 2 |
| HI622160 | Oahu | Kaunala Beach | 3 |
| HI791127 | Oahu | Kaupo Beach Co. Park | 3 |
| HI304424 | Oahu | Kawaiku'i Beach Park | 2 |
| HI312049 | Oahu | Kawailoa Beach | 3 |
| HI698581 | Oahu | Kawela Bay | 2 |
| HI730738 | Oahu | Kea'au Beach Co. Park | 3 |
| HI612698 | Oahu | Kealia Beach | 2 |
| HI757588 | Oahu | Ke'ehi Lagoon | 2 |
| HI147970 | Oahu | Koke'e Beach Park | 2 |
| HI467112 | Oahu | Koko Kai Beach Park | 2 |
| HI767708 | Oahu | Kokololio Beach | 2 |
| HI848207 | Oahu | Kualoa Co. Regional Park | 1 |
| HI484535 | Oahu | Kualoa Sugar Mill Beach | 3 |
| HI681782 | Oahu | Kuhio Beach Park | 1 |
| HI431723 | Oahu | Kuilei Cliffs Beach Park | 3 |
| HI412224 | Oahu | Kuilima Cove | 3 |
| HI360513 | Oahu | Kuli'ou'ou | 2 |
| HI930562 | Oahu | Laenani Beach Co. Park | 2 |
| HI472847 | Oahu | Laie Beach Co. Park | 3 |
| HI183312 | Oahu | Laniakea Beach | 2 |
| HI596989 | Oahu | Lanikai | 2 |
| HI201901 | Oahu | Laniloa Peninsula (Beach) | 3 |
| HI739818 | Oahu | Laukinui Beach | 3 |
| HI800877 | Oahu | Lualualei Beach Co. Park | 2 |
| HI529142 | Oahu | Magic Island Beach | 1 |
| HI627464 | Oahu | Ma'ili Beach Co. Park | 1 |
| HI280966 | Oahu | Maipalaoa Beach | 3 |
| HI632106 | Oahu | Makaha Beach Co. Park | 1 |
| HI147212 | Oahu | Makao Beach | 3 |
| HI723399 | Oahu | Makapu'u Beach Co. Park | 1 |
| HI542752 | Oahu | Makaua Beach Co. Park | 3 |
| HI915061 | Oahu | Makua Beach | 3 |
| HI137325 | Oahu | Malaekahana Bay | 2 |
| HI717740 | Oahu | Manner's Beach | 3 |
| HI639551 | Oahu | Mauna Lahilahi Beach Co. Pk. | 3 |
| HI423413 | Oahu | Maunalua Bay | 3 |
| HI430267 | Oahu | Maunalua Bay Beach Park | 2 |
| HI908786 | Oahu | Mokule'ia Beach | 3 |
| HI504242 | Oahu | Nanaikapono Beach | 3 |
| HI467413 | Oahu | Nanakuli Beach Co. Pk. | 1 |
| HI682233 | Oahu | Nimitz Beach | 3 |
| HI157026 | Oahu | Niu | 2 |
| HI426406 | Oahu | North Beach | 3 |
| HI731423 | Oahu | Ohikilolo Beach(Barking Sands) | 3 |
| HI952205 | Oahu | Oneawa Beach | 2 |
| HI825419 | Oahu | One'ula Beach Co. Park | 3 |
| HI943325 | Oahu | Outrigger Canoe Club Beach | 2 |
| HI575467 | Oahu | Pahipahi'alua Beach | 2 |
| HI598745 | Oahu | Paiko Lagoon | 2 |
| HI478834 | Oahu | Papa'iloa Beach | 2 |
| HI990625 | Oahu | Papaoneone Beach | 3 |
| HI188157 | Oahu | Pipeline, The | 2 |
| HI197311 | Oahu | Point Panic | 3 |
| HI659533 | Oahu | Poka'i Bay Beach Co. Pk. | 1 |
| HI587568 | Oahu | Pounders Beach | 3 |
| HI148836 | Oahu | Punalu'u Beach Co. Park | 2 |
| HI193495 | Oahu | Pupukea Beach Co. Pk. | 3 |
| HI437024 | Oahu | Pu'uiki | 3 |
| HI960731 | Oahu | Pu'uohulu Beach | 3 |
| HI851298 | Oahu | Queen's Surf Beach Park | 2 |
| HI898947 | Oahu | Royal-Moana Beach | 1 |
| HI714359 | Oahu | Sand Island | 3 |
| HI776760 | Oahu | Sandy Beach Co. Park | 1 |
| HI617815 | Oahu | Sans Souci St. Rec. Area | 1 |
| HI860544 | Oahu | Sunset Beach | 1 |
| HI151343 | Oahu | Swanzy Beach Co. Park | 3 |
| HI248913 | Oahu | Tongg's Beach | 2 |
| HI776670 | Oahu | Turtle Bay | 3 |
| HI784010 | Oahu | Ulehawa Beach Co. Park | 2 |
| HI968326 | Oahu | Waiahole Beach Co. Park | 2 |
| HI997368 | Oahu | Wai'alae Beach Co. Park | 2 |
| HI109657 | Oahu | Waiale'e | 2 |
| HI944962 | Oahu | Wai'anae Kai Military Reservation Beach | 3 |
| HI668527 | Oahu | Wai'anae Regional Park | 3 |
| HI244505 | Oahu | Waikiki Beach Center | 2 |
| HI432476 | Oahu | Wailupe Beach Park | 2 |
| HI279194 | Oahu | Waimanalo Bay St. Rec. Area | 2 |
| HI471097 | Oahu | Waimanalo Beach Co. Park | 1 |
| HI696599 | Oahu | Waimea Bay Beach Co. Pk. | 1 |
| HI329454 | Oahu | Wawamalu Beach Park | 3 |
| HI267023 | Oahu | White Plains Beach | 1 |
| HI269028 | Oahu | Yokohama Bay | 3 |