How Hawaiʻi's Light Pollution Affects Wildlife and Humans
Wedge-tailed shearwater fledging season runs from early November to late December. That's when hundreds of grounded birds are found on roads and in people's yards in Hawai'i each year.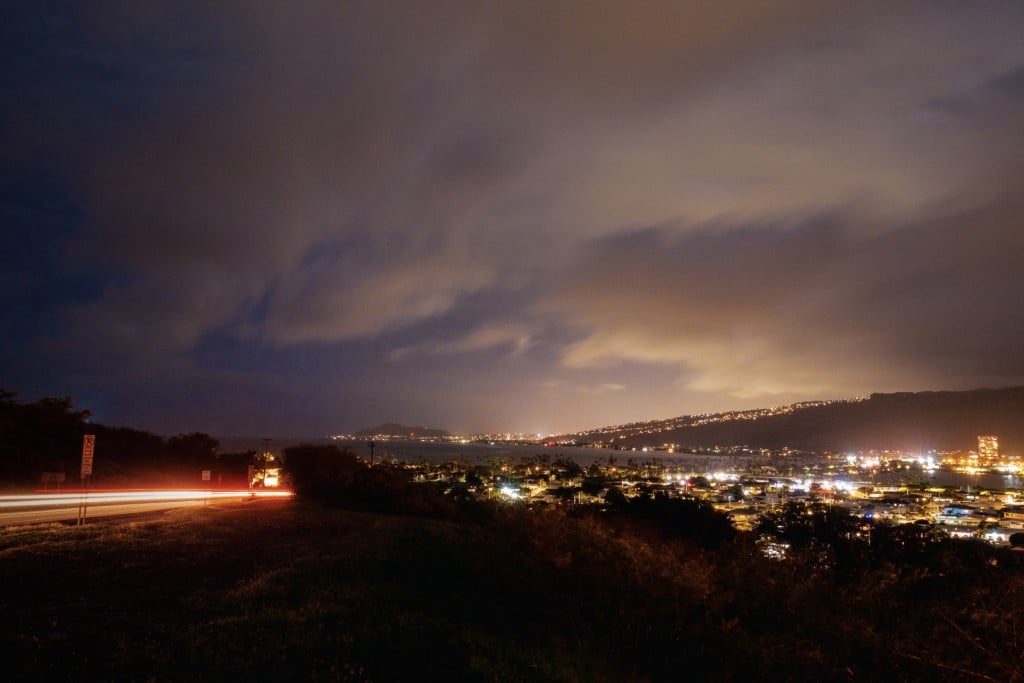 Part 1: Seabirds and Streetlights
"Fallout is the event of a bird falling to the ground, and that typically occurs after fledging, when seabirds take flight from their nesting colony for the first time," says Brooke Friswold, a wildlife conservation biologist whose research focuses on the wedge-tailed shearwater, Ardenna pacifica.
Wedge-tailed shearwater fledging season runs from early November to late December. That's when hundreds of grounded birds are found on roads and in people's yards in Hawai'i each year.
Friswold says wedge-tailed shearwaters tend to fly toward light after fledging. Marine ornithologists have competing theories explaining why seabirds do this. One theory is that birds are attracted to the moon's reflection off the surface of the water, an instinct that would lead them from their nests toward the ocean, says Micah Brodsky, a wildlife veterinarian who works with the nonprofit Hawaii Marine Animal Response.
This moonlight theory may also explain the behavior of sea turtles, which hatch on shore, then make their way to the ocean and swim to deeper water. Artificial light causes sea turtle hatchlings to spend more time in nearshore waters, where they are easy prey for reef fish and sharks.
Artificial light can confuse or disorient birds so they cannot navigate. In some cases, Friswold says, "they can collide with objects, or sometimes they'll circle until they become exhausted and fall to the ground." Downed birds are easy prey for dogs, cats and mongoose and can be crushed by cars.
Targeting Specific Areas
David Hyrenbach, a professor of oceanography at Hawai'i Pacific University, began collecting data on shearwater fallout when he met Keith Swindle, a U.S. Fish and Wildlife Service employee who at the time was focused on the conservation and recovery of the Newell's shearwater, Puffinus auricularis newelli, a threatened species.
Hyrenbach helped Swindle collect data on the incidence of seabird fallout in East O'ahu, where species like the wedgetailed shearwater predominate. The East O'ahu dataset runs from 2011 to 2020 and covers the 10 miles of Kalaniana'ole Highway from Olomana Golf Course in the north to Koko Marina in the south.
An analysis of the data by one of Hyrenbach's graduate students, Jennifer Urmston, found no significant difference in shearwater fallout numbers following the recent switch from high-pressure sodium bulbs to light-emitting diode highway lights. This was a relief for Hyrenbach, who was concerned the new lights might attract more birds than the ones they replaced.
He says the brighter light from the new LEDs was offset by shielding that directs light downward, reducing the overall spread of light. He adds that studies of lighting and seabirds on O'ahu can help inform policy on Kaua'i, where the wrong kind of lighting could be dire for threatened populations of two native seabirds.
The Newell's shearwater population on Kaua'i declined by 94% between 1993 and 2013. In that same period, the population of Hawaiian petrels, Pterodroma sandwichensis, declined by 74%, according to research conducted by André Raine, a conservationist and ornithologist who coordinates the Kaua'i Endangered Seabird Recovery Project.
Raine says that in addition to artificial light, Kaua'i's shearwaters and petrels are vulnerable to power line collisions and nonnative predators. His team works with the Kaua'i Island Utility Cooperative, sometimes to create laser fences around lines to deter collision, other times to divert lines away from areas where bird collisions are likely or to place key lines underground. His team also works with state land managers to reduce non-native predators including rats, cats, dogs, pigs and barn owls. Cats are the worst, says Raine. "Cats can wipe out colonies quickly if left to their own devices."
Raine says science can be used to help guide policymakers. For example, researchers know that seabird fallout is higher when the fledging period coincides with the new moon because artificial light from human settlement overpowers the dim moonlight. That's when additional precautions are warranted.
Just 2 Streetlights
Friswold's recent research focused on the area surrounding the seabird nesting area on Rabbit Island (Mānana) just off Makapu'u on O'ahu. In a paper – co-authored with Swindle, Hyrenbach and Melissa Price and published last year in the journal Marine Ornithology – Friswold reports that most fallout in the area occurred within 3 miles of the Mānana colony, with 60% of all fallout occurring along just 1 mile of Kalaniana' ole Highway, and 27% of all fallout occurring around only two light poles.
Because of the concentrated fallout, Friswold recommends targeted management in areas that surround seabird nesting areas. Lights out initiatives can help during fledging season. When lights need to be used, they can be shielded to direct light downward and reduce scattering. Motion sensors and timers can further reduce the light emitted. Hyrenbach says the Makai Research Pier is a perfect candidate for motion sensors because there's no need to light the whole facility all night.
Friswold says that if people care about fishing or water activities or the health of coral reefs, they should care about seabirds. As top order predators, seabirds help regulate coral reef ecosystems by hunting lower order fish colonies. Seabird guano, which contains nitrogen and phosphorus, nourishes nearshore invertebrates and fish. Guano also fertilizes the watersheds, says Raine. "Seabirds helped bring seeds to these islands before humans," he says. "They are the architects of our islands."
"Some of our conservation issues are extremely complex and hard to solve, such as overfishing, climate change and plastic pollution. These are all heavily affecting seabird populations," says Friswold. "However, artificial light pollution is a fairly simple problem to solve. It has tangible solutions, whereas some of these other issues are a lot more tricky. If we can focus and solve these really easy problems, it will buffer against some of the bigger issues we're working on that take more time."
Rescuing Downed Seabirds
The nonprofit Hawaiʻi Wildlife Center coordinates the O'ahu Seabird Aid Program, rescuing and rehabilitating downed seabirds. The program is a public-private partnership, bringing together nonprofits (Hawai'i Wildlife Center, Hawaii Marine Animal Response, Hawaiian Humane Society, Freeman Seabird Preserve), government agencies and programs (Hawai'i Department of Land and Natural Resources' Division of Forestry and Wildlife, Honolulu Zoo, City and County of Honolulu Grant-in-Aid) and private donors (Feather and Fur Animal Hospital, Hawaiian Electric Co. and Young Brothers).
The Hawai'i Wildlife Center works with field biologists to estimate when the fledging season will start and when seabird fallout will peak. Because of those estimates, the 2020 seabird aid program ran from Nov. 11 to Dec. 9.
The center coordinates the pickup and transport of birds to and from partners like the Hawaiian Humane Society, Honolulu Zoo, and Fur and Feather Animal Hospital in Kailua. On the ground, program manager Alexis Wessels evaluates the health of rescued birds and coordinates their release. According to Hawai'i Wildlife Center's founder and president, Linda Elliott, more than 80% of rescued seabirds are stabilized and released within 24 hours.
If birds aren't ready to fledge, they are housed at the Freeman Seabird Preserve at Black Point on O'ahu. Severely injured birds are transferred to Hawai'i Wildlife Center's Hawai'i Island hospital for treatment. Volunteer pilots from the U.S. Coast Guard Auxiliary and commercial shippers provide interisland transport.
In 2020, 618 birds were rescued by the program.
Part 2: Sleepless Nights and Honolulu's City Lights
Recent studies suggest that light pollution may contribute to insomnia and mental illness among humans. And this effect is most pronounced in large cities, where light is so bright that it blocks out the stars in the nighttime sky. Homeless people living on the streets are among those most affected by light pollution.
In parts of Honolulu, the nighttime sky can be 20 times brighter than the natural nighttime sky seen on Hawai'i Island, says Richard Wainscoat, an astronomer at UH's Institute for Astronomy. Light pollution from the city interferes with the work of astronomers like Wainscoat, whose research focuses on identifying near-Earth objects that could collide with Earth.
O'ahu's large population is to blame for the city's bright nights, but lighting policy also plays a role. In the past decade, cities worldwide have switched to LED streetlights, says Kevin Jim, a senior scientist and astronomer at the Honolulu-based tech and innovation company Oceanit.
LED lights are much more energy- efficient than the bulbs they replace, so governments save money and energy. LED lights also offer more control over directionality if properly shielded, and because they don't run as hot as older luminaries, LEDs can be brighter.
Hawai'i Island's County Council approved a measure in 2011 to replace its low-pressure sodium streetlights with LEDs. The measure amended the county lighting code to require that new streetlights emit less than 2% blue light. It also required that lights be directionally shielded to aim light down.
"It's just unfortunate physics in the atmosphere that blue light scatters back down to the ground more efficiently than green, yellow and red light," says Wainscoat. Before the adoption of LED light, "most of the street lighting was sodium- based – kind of an orange-colored light – that didn't have a lot of blue light."
"The biggest problem is that the technology used to produce what we call white light requires the use of blue light," says Jim.
Interferes with Sleep
Blue light mimics the wavelengths of daylight, resets the human circadian rhythm and promotes wakefulness. The negative effects of blue light on sleep have become widely recognized, says Jim, and some sleep researchers now advocate reducing nighttime exposure to blue light.
"That's why, for instance, if you have an iPhone, you can set it to automatically shift and produce less blue light in the evening and it's why you'll hear people talking about wearing blue-blocker glasses."
Laboratory studies have found that exposure to artificial light at night increases alertness and delays the onset of sleep, perhaps by suppressing melatonin secretion.
Among night shift workers, chronic exposure to artificial light results in circadian rhythm disruption and elevated rates of insomnia. The UCLA Sleep Disorders Center reports that night shift workers "get a daily average of two to four hours less (sleep) than normal" and "they are less likely to feel well rested when they wake up."
Sleepiness can have a negative effect on attention, concentration, reaction time, memory and mood. And insomnia may contribute to the risk of developing depression, bipolar disorder and anxiety disorders.
Some countries, such as Denmark, Norway and Sweden, have banned night work except for workers who request an exemption. Other countries, like Singapore, prohibit pregnant women from working at night unless they provide written consent and receive clearance from a doctor. The U.S. does not have special regulations on night shift work. According to the Bureau of Labor Statistics, roughly 15% of American workers are assigned to the night shift.
First-generation LED bulbs favored blue wavelengths far more than the bulbs they replaced. Manufacturers say newer models emit less blue light, but Jim says that blue light can still leak through their filters.
Different Policies
Wainscoat says that light pollution is even coming from space: Companies like SpaceX are putting satellites into low Earth orbit to provide high speed internet access for remote areas.
"It's conceivable that if you're in a very dark place, you would see more satellites in the early evening than you would see stars," he says. However, most light pollution comes from human settlement, and O'ahu is much brighter than Hawai'i Island, which Wainscoat and Jim both cite as a good example for its lighting policy.
"It's a beautiful place at night," says Jim. "They seem to have a general philosophy that you shouldn't use lights unless you need them."
In 2019, O'ahu finished converting more than 53,000 streetlights to LEDs, which Mayor Kirk Caldwell touted as more energy-efficient and brighter than the lights they replaced.
Jim credits Honolulu county for properly shielding lights and installing dimmers, but he believes the lights should be dimmed further at night and that existing LEDs should be phased out in favor of warmer, 2,700-kelvin lights. Right now, most lights are 3,000 K, and some are a cool 4,000 K.
"Hawai'i could be internationally known as the very best place to see the stars, and it should be," he says. "Honolulu could be absolutely beautiful at night – not just for people who like to look down at the Honolulu city lights – but why not for the lights in the sky, too?"
Homeless People at Risk
For homeless people in urban Honolulu, ceaseless light may contribute to mental illness. The effects are gradual – less dramatic than seabirds plummeting from the sky, but equally alarming.
Researchers have not yet investigated the effects of artificial light on homeless people, but current research on night shift workers suggests that living and sleeping under streetlights all the time could have a major impact.
The Institute for Human Services' Sumner Street men's shelter provides respite from artificial light along with bedding, toiletries and meals. At night, with the lights off, the first floor and second floor dormitories on Sumner Street are much darker than the LED-illuminated sidewalks outside on nearby Nimitz Highway.
The shelter has reduced capacity – from 112 to 76 bunks – to ensure safety during the pandemic. The top bunk of each bed has been removed, and remaining beds are socially distanced. The shelter operates near capacity every night.
Shelter manager Taumaoe Atuatasi says shelter staff celebrate frequent successes in connecting homeless people with service providers and transitioning them into permanent housing, but rates of substance abuse and mental illness remain elevated among the homeless, and "they need more than we can give here."
Jill Wright, director of community relations for IHS, agrees that mental health and substance abuse are major issues among the homeless population. In the 2020 O'ahu Point in Time Count survey, 33% of unsheltered adults indicated a mental health problem, and 27% indicated a substance use problem. The study relied on survey responses, and Atuatasi says the data on mental illnesses could be an underestimate, as some homeless people have never received a diagnosis, so they don't believe they are mentally ill.
It's unlikely that researchers will investigate the effects of light pollution on the homeless in the near future because of ethical and logistical issues. Incentives to participate in studies can be perceived as bribes. And light exposure can't be metered on the streets like it is in a lab.
But it stands to reason that months and years of exposure to artificial light on the streets would be at least as harmful to the homeless as a few hours of light are to participants in lab studies. The homeless might benefit from a dark night sky most of all.