Government Internships Are Great for Learning Political and Life Skills
Rep. Lauren Matsumoto offers many hands-on opportunities, while UH Mānoa helps political science students land positions.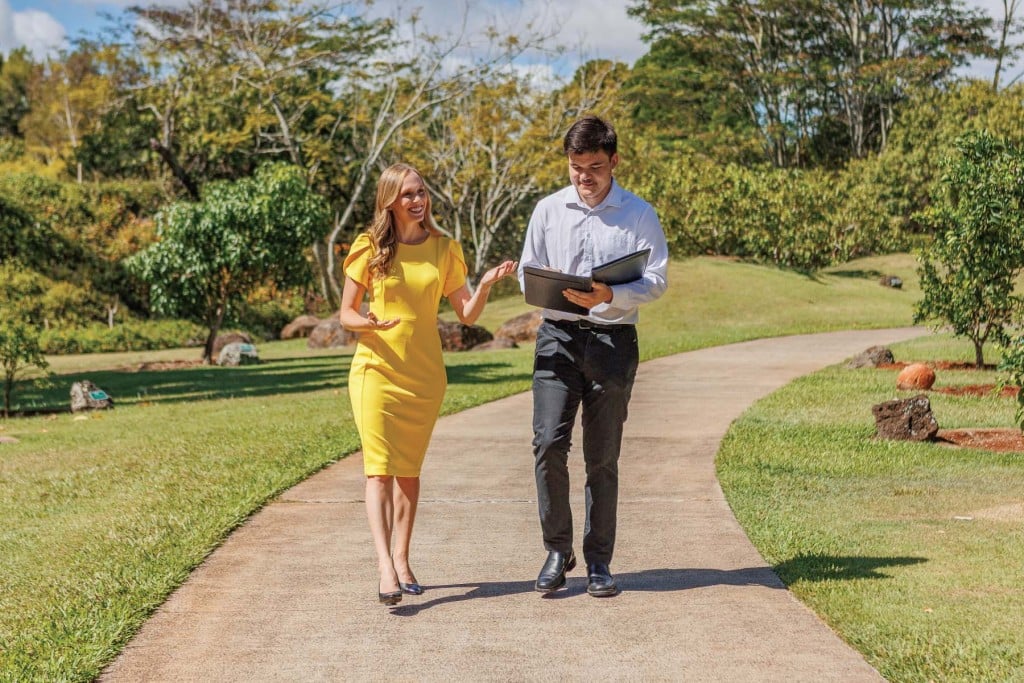 State Rep. Lauren Matsumoto was 24 when she first ran for the Legislature and she says she worked 16 hours a day to win the election, with no mentor to guide her.
So when she got into office, she sought out women who could serve as mentors for her and started an internship program for local high school and college students. "I wanted to give other students the opportunity I didn't have."
Matsumoto says the skills she teaches her interns include humility, balance and "always taking the opportunity to learn something new."
"With each intern we've had, being able to watch the growth has been some-thing that has been really special, and it's what keeps me going," says the Republican, who represents House District 45, which runs from Waialua to Mililani. Students can apply for her internships at repmatsumoto.com.
Gaining Self-Confidence
Travis Afuso, a Mililani High School valedictorian in 2018, has been interning with Matsumoto since his freshman year of high school. He has since graduated from the U.S. Military Academy at West Point, been commissioned as a second lieutenant and recently moved to Fort Benning, Georgia, to be trained as an infantry officer.
He says he chose to intern with Matsumoto to gain insight into the effort and dedication required to be a local elected official, because they "have the most impact on your day-to-day life."
Afuso says Matsumoto's most valuable gift is her trust and confidence in him. He remembers one neighborhood board meeting when Matsumoto asked him to fill in for her.
"It definitely built on one of the things that I was challenged by … gaining in my own self-confidence, being able to interact with people, hold conversations."
He has also helped run her fundraisers. "She took a very significant interest in trying to mentor me and giving me some responsibility in order to develop me."
Matsumoto says she encourages all of her interns to get out of their comfort zones and try new things. "I tried to give as many opportunities as possible because I know how important that is to actually have the hands-on learning."
Students interning with Matsumoto learn the legislative process along with the "soft skills" of professionalism, managing issues and working hard that apply to any career, she says.
How She Mentors
In her first year at the Legislature, Matsumoto says she joined a nonpartisan group called Women in Government. There she found women to mentor her and learned "the importance of just empowering other women."
Through her internship program, she provides her interns with the same guidance and lessons she received from these women, including humility.
"It doesn't matter where you are at: Don't think you're ever above anybody." That mindset is essential to legislators and anyone else who wants to connect with the community, she says.
Teaching Balance
Matsumoto is very open with her interns about her challenges, including balancing her family life with being a legislator.
She says she was raised with the mindset of "you can do it all," but now she teaches her interns that's unrealistic unless you have a team to help you create that balanced life.
"Just acknowledging that it's something that I'm working on is a lesson in itself," she says, a lesson that she passes on to her interns.
"I think so often when you're interning, you're like, 'OK, this person has it figured out, they know how to do it.' And then realizing that I don't have to have it all figured out, sometimes it's really freeing."
Internships for UH Mānoa Students
Many of Matsumoto's interns come from UH Mānoa, which has an internship program run by the political science department.
Jairus Grove, associate professor and chair of the department, says that for students majoring in political science, a government internship can be their capstone project before graduation. Students from other majors are also eligible.
These internships can be in either the executive or legislative branches at the county, state or federal levels.
Grove shares tips on how and when to apply:
Begin speaking with your faculty advisor during your sophomore year about internships for your junior or senior years. He adds that if an opportunity arises earlier, take it. "The sooner, the better," he says.
Apply for and set up the internship during the semester before it will begin.
Grove also says you should find a government internship in one of these three ways:
The most effective way to obtain an internship is to complete the internship application found in an email sent to all UH Mānoa students a few weeks before the application deadline, which is at the end of each semester. It will also be posted on the internal newsletter calendar for all Mānoa students each semester.
Search for a government internship on your own and present your findings for approval to Grove or Professor Larry Nitz, also in the Department of Political Science.
Ask your academic advisor or a member of the political science faculty for help finding an internship.