Politics Can Be Like "a Street Brawl Outside a Bar"
David Louie recalls his time as the state's top lawyer (2011-14) in the memoir, "From the Desk of the Attorney General." Here are behind-the-scenes excerpts.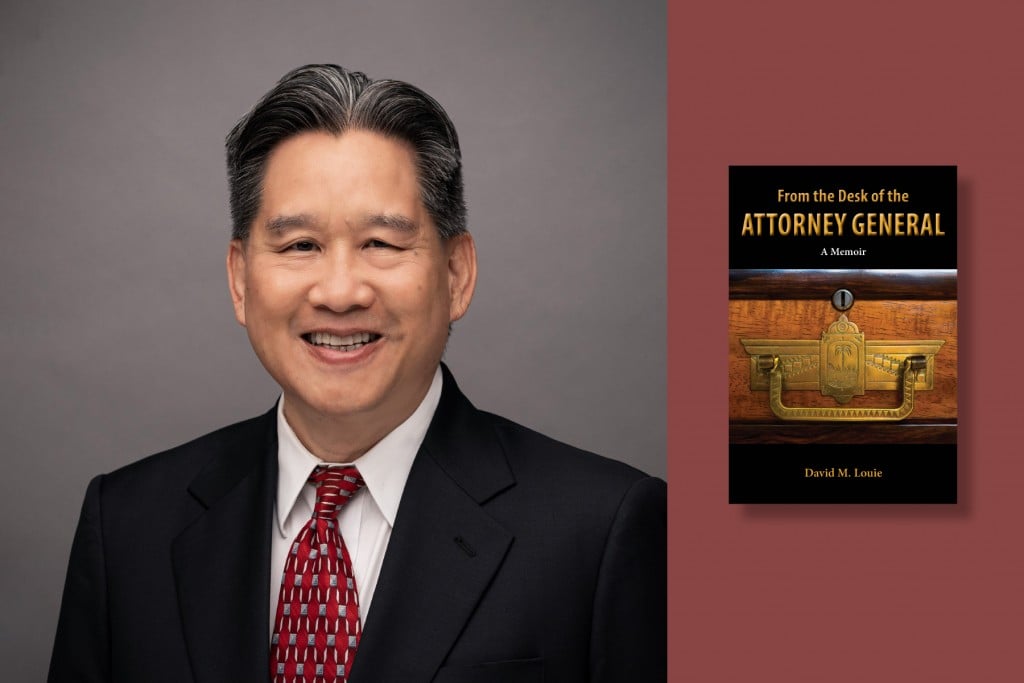 Gut and Replace
Once I took this job, I had a lot to learn. New rules, new procedures, new people, new ways of looking at the world. I thought I was sufficiently prepared with 30 years as a trial lawyer and some experience in government. But this was not just any old legal job in state government. This was the top job at the intersection of law, government and politics. …
Litigation and law are processes that have evolved over centuries to resolve disputes and conflict in a civilized manner. There are rules, lots of rules, stylized procedures that lawyers have to observe while fighting in court. …
Although government also has rules, politics has very few. The difference between fighting in court as a lawyer and political fighting is like the difference between a boxing match with a referee and a street brawl outside a bar. …
A few months into the job, during my first legislative session, I was summoned to a meeting with two state senators a few days before a deadline for third reading and final approval of bills in the Senate. They handed me a draft bill that was a classic "gut-and-replace" bill. …
The draft gut-and-replace bill that was handed to me would have legalized gambling in Hawai'i. Gambling has been a contentious issue at the Hawai'i legislature for decades. …
The strategy was clever, daring and calculated to avoid contentious committee hearings and the opposition of anti-gambling community groups. Hawai'i was having a fiscal crisis and was financially underwater by about $500 million. As will be described later, Gov. Abercrombie was looking for money anywhere he could. The senators were trying to use this fiscal crisis to accomplish a goal that had been thwarted for many years. The senators just wanted me, as attorney general, to bless it. I surmised that they wanted the cover of the attorney general so they could blame me when the predictable firestorm of opposition would erupt. I politely told them I would study it, then declined to give them the blessing they sought, since such a major change in policy should not be implemented in this fashion.
Another Audacious Effort
On another occasion, a prominent state senator asked my office to help revise the state's ethics laws. The ethics laws are quite robust and were being interpreted by the Ethics Commission to severely restrict government employees, including legislators, from receiving any gifts or meals greater than a $25 "gift of aloha." Years before, politicians had freely received expensive meals, trips and golf outings. Some politicians did not feel that taking such favors meant that they were corrupt, so they bristled at the restrictions.
We drafted a bill that modestly relaxed the ethics rules on meals. But the senator wanted more and drafted a bill that eviscerated the rules to allow legislators to accept unlimited amounts of food and drink, even a container truck full of steaks, produce and liquor, without breaking the laws.
I thought this was audacious and said we would not support it. But the real audacity was yet to come. Someone leaked the senator's bill; when the press called, the senator's office claimed the attorney general had drafted it. The press called us to confirm. Was this true? Would we take the blame for the client? Absolutely not! I was disappointed but not surprised. I had learned from many years of litigation that silence is often taken as assent, so if you are silent in the face of a falsehood, the perception can become the reality. We immediately called the senator's office and told them to take credit for the bad bill, or we would let the press know the full story. The senator's office retracted their claim and admitted they had drafted it. The bill predictably died. This episode reminded me that I had to watch out, even from those we served.
TV Star Daniel Dae Kim
In addition to specific powers granted by the constitution and laws, the attorney general also has soft powers to convene, use the bully pulpit of the office and provide presence at events to shine a spotlight on issues. …
Another soft power of the attorney general is simply to call people up and make suggestions. One such episode occurred when Daniel Dae Kim, one of Hawai'i's superstar actors, who was starring in the hit TV series "Hawaii Five-0," posted a challenge on his Facebook page to encourage people in the Islands to vote. He asked his followers to send him a picture of themselves in the voting booth so that they could be entered into a drawing for a chance to visit the "Hawaii Five-0" set during filming.
Voter turnout in Hawai'i is notoriously low, so this was certainly a well-meant gesture, and it got publicity. Unfortunately, the law in Hawai'i and elsewhere prohibits offering or giving people something of value to vote or not vote. I personally reached out and called Kim's publicist to tell her the problem and suggest that they walk back the offer. Surprisingly, the publicist refused and told me that their Los Angeles lawyers had said this was fine. She was sure their lawyers knew more about the laws of Hawai'i than our office. I asked her to please have Kim call me.
The next day, Kim and I spoke. I explained the law and that we did not want to make this a big deal, but that we needed him to cancel his offer. Kim had attended law school before becoming a successful actor. He quickly understood and graciously agreed to walk back his offer the next day. By making a call and having a conversation, I was able to get the necessary result.
Why Do You Talk Funny?
Being a lawyer in Hawai'i, with its many races and ethnicities, also influenced and shaped my perspective on social justice issues while allowing me the opportunity to develop the skills, tools and perspective needed to serve as attorney general. Part of my perspective on social justice issues is based on simply living and experiencing how diversity in Hawai'i has allowed many people of different races to succeed and flourish. …
One of the major differentiating factors used by people in Hawai'i is not specifically race, since Hawai'i has so many people of different races, but whether a person is "local." Although being "local" could sometimes be a marker for race, the more important and overriding question has been whether a person has local roots and understanding of local culture. One common question that comes up when people in Hawai'i meet for the first time is, "Where you wen' grad?" – in which someone is asking where you graduated from high school, not college. High school was often a determinant of neighborhood, income level and a family's professional status, and knowing how to answer this question suggests that you are local.
Being Chinese American, I looked like a local, because of the many Asian Americans here. Until I opened my mouth, people would usually think that I was likely born and raised in Hawai'i. … Although many locally born Caucasians could speak pidgin, I could not, and my clumsy attempts would be met by gales of laughter from my friends.
When I was a young lawyer, I tried a case on Maui. After I won the trial and got a defense verdict, I asked to talk to the jury about the case to get feedback from them on how I did as a lawyer. When I met with some of the jurors, I was surprised that they did not want to talk about the case at all – my performance, my cross-examinations or my closing argument. Instead, they said they had a burning question for me. They said six of the jurors thought I was from the mainland, but six of the jurors thought I was local – but that I had gone to Punahou School … and that was why I "talked funny."
This book is published by Legacy Isle Publishing, an imprint of Watermark Publishing. It is available at bookstores, online retailers or at bookshawaii.net.