HPD Chief Susan Ballard on Leadership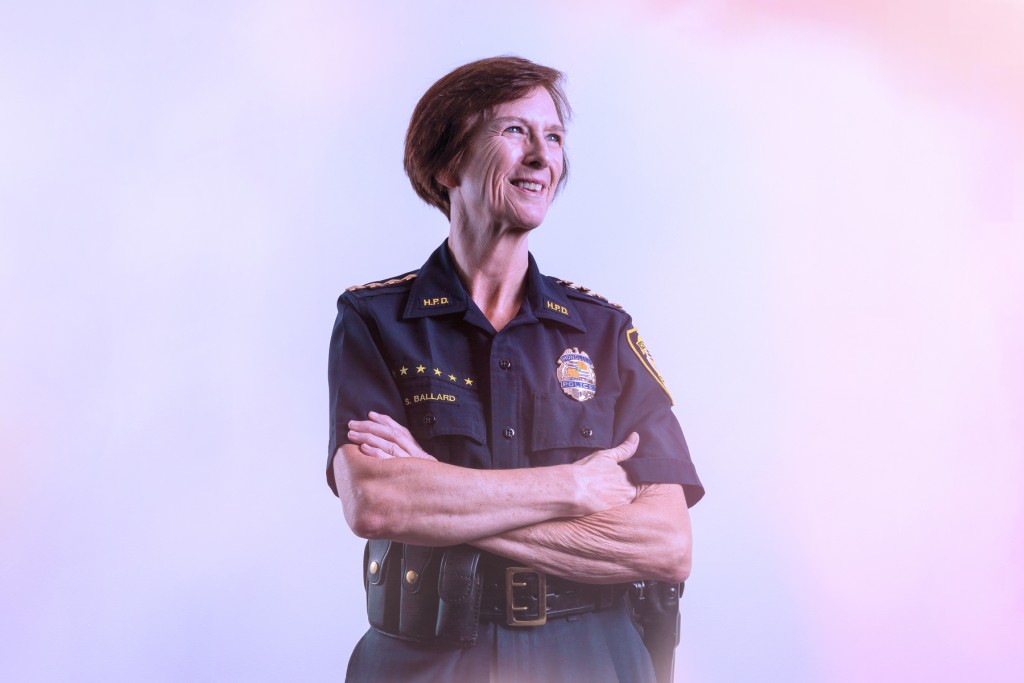 We could not arrange a sit-down interview with Honolulu Police Chief Susan Ballard, but she did email answers to these four questions from contributing writer Gina Gelber.
Q: What advice do you have for women who want to be leaders?
Ballard: Take the time to learn about and try new things in your company or organization. This will give you a well-rounded view of how your organization works and of how everyone works together to achieve success.
Interact and get to know as many people within your organization as you can. Listen to each one of them because everyone has something to offer.
Never lose your temper and always treat people with respect and dignity.
Q: What are the biggest obstacles and how do you overcome them?
Ballard: One of the biggest challenges is the public's mistrust of HPD. What is alleged to have occurred during the prior administration does not reflect the values of HPD or its officers. It's now up to us to change the negative image and replace it with one that accurately reflects the hardworking, honest men and women in the department.
Another challenge is the staffing shortage. We have a large number of vacancies and that affects the patrol districts and support units. To address the situation, we're using technology and a streamlined hiring process to shorten the hiring period from one year to six-seven months. We have also adopted mandatory minimum staffing levels to further ensure the safety of the public and officers.
The third challenge is homelessness. HPD is continuing to work with other government agencies and social service providers to address the situation. We worked with partners to open an outreach center in Chinatown, and we recently designated an officer to focus on issues related to homelessness.
Q: Describe the role that trying, failing and learning has played in your success.
Ballard: When I was a sergeant at the police training academy, there was a major who taught me about taking risks, and it impacted my entire career. He encouraged us to be creative and told us that we'd never know if something was successful if we didn't try it. He also told me that if I failed at something, I shouldn't keep running into the same wall over and over. Instead of going through something, try going around it.
Having worked in many divisions in different assignments, I learned that just because a task has always been done a certain way doesn't mean that there isn't a better way. Do the research, talk to people, test it out, then go for it. If it doesn't work initially, see if you can change or adjust things to make it succeed. If it still doesn't work, then at least you've tried.
Q: What is the toughest aspect about being a leader?
Ballard: Being a leader is all about people, and people always have issues. Some issues are small, some are big and some are painful.  As a leader and a fellow human being, you have to have courage, empathy, patience, forethought and forgiveness. Don't take anything personally. When you make a mistake, admit it and correct the situation as best you can. Learn from the mistake, move on and stay humble. To me, seeing our employees and the department do well is extremely rewarding.
One of the biggest adjustments that I've had to make since becoming the chief was being in the public eye. I am a very private person, but that changed once I took on this job. While I'm still getting used to it, I'm very humbled by the outpouring of support and aloha from the community and the officers. It is a small price to pay.