HPU Students to Be Global Leaders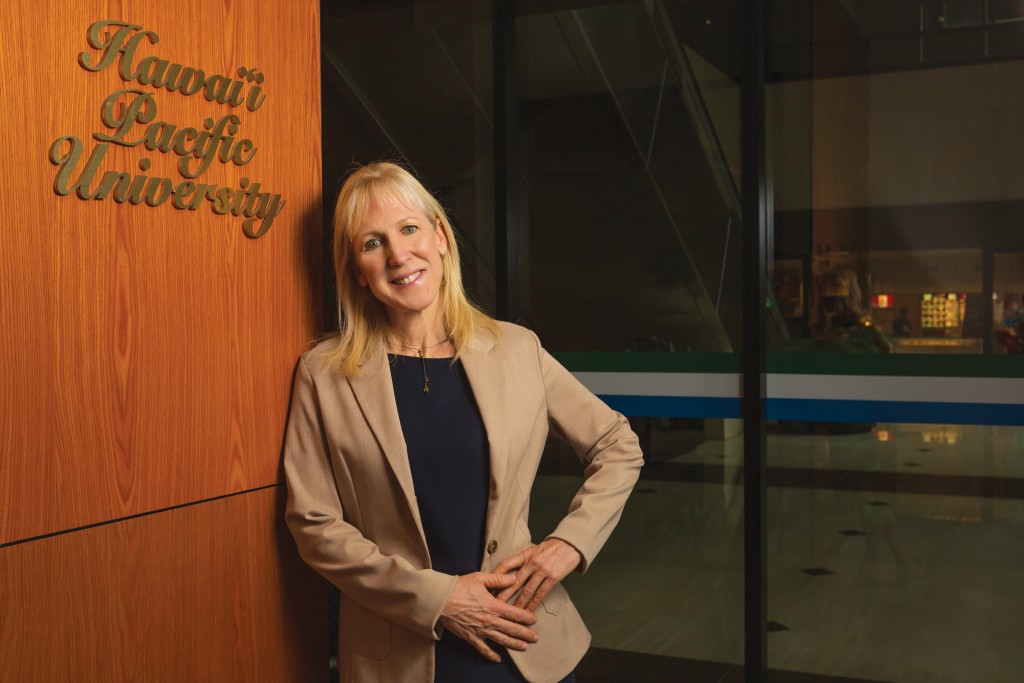 Deborah Crown is trying to provide students at Hawaii Pacific University's College of Business Administration with real-world experience while they are still in school.
She became dean at the state's largest business college in August 2011, the fourth dean or interim dean in the past five years. She says her focus is on answering the question, "How do we take the things that we do well and do them better?" That means optimizing talent and resources that already exist in the CBA.
"We want to pull together all of the pieces where HPU has been historically strong into a central model," says Crown. "Our goal is to develop profession-ready global leaders. It's not just in a book, it's learning how to actually do it, how to apply it. And we have to make sure that it's not just done in a single course, but over the whole program."
She says one major area is a project-based initiative led by CBA faculty to give students real-world experience.
"I think the professors will continue to be as active as they are," says Ingrid Johnsen, an entrepreneurial studies senior and president of HPU's Students in Free Enterprise club. "But what Crown has brought in is the proactive involvement from the college, so it's like we have two pillars to stand on now. … She's definitely connecting the dots and I believe she will continue to make things better. She's a good leader because she picks up on the strengths of the various players and builds on that. Students have definitely noticed her presence."
Before coming to HPU, Crown was at San Jose State University, where she was the Lucas Endowed Professor of Strategic Leadership and associate dean of the Lucas Graduate School of Business.
Hawaii Business contacted or tried to contact the previous deans to ask why there has been so much turnover in recent years. Aytun Ozturk, HPU's business dean from 2008-2010, says he'd stepped down to pursue more academic work because the many responsibilities of being dean prevented him from doing that. However, he says, he stepped down only after he had accomplished the goals he had set for the college and was happy with where the college was headed.
The other former deans could not be reached or declined to talk on the record.
Johnsen says, "I would ideally like to have one single dean, to not have HPU go through these personnel changes, but at the same time, sometimes it's necessary."
Crown adds, "Fortunately, the CBA has benefitted from the stability of excellent faculty fully committed to adding value to students."
Disclosure: Marcie Kagawa is an intern at Hawaii Business and an undergraduate student in communications at HPU.