Hub Coworking Hawaiʻi and Superpower Academy Offer Support for Working Parents and Keiki
Hawaiʻi's largest coworking space, the Hub Coworking Hawai'i, and Super Power Academy have created a Superpower Camp at the Hub to provide working parents a flexible work space and a new educational childcare solution for the summer.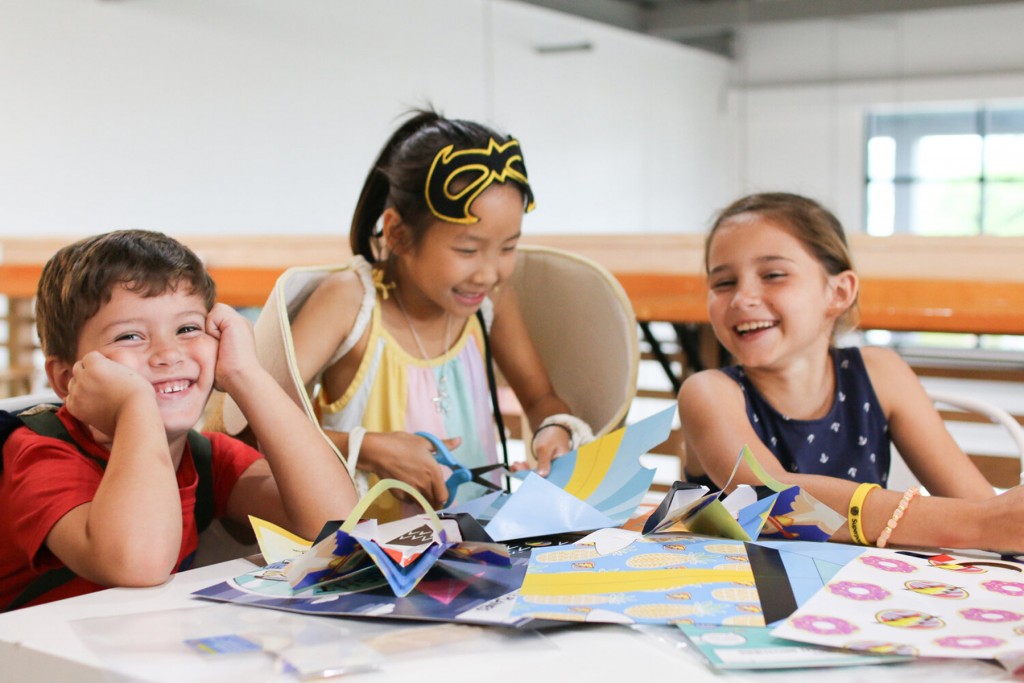 As the Hub reopened at the beginning of the month, they saw a slow increase in people returning to work and a fast decline in available summer programs for children. Companies bringing back employees to the office are now faced with childcare challenges as their places of work are not suitable for children and employees with children may need a more flexible schedule.
The solution is two-fold:
The Hub is kid friendly and open to new members who would like the chance to get out of the house with their keiki during the week and still be productive. The Hub changed their office rental to daily, weekly and monthly rentals to accommodate current needs and be as flexible as possible for those seeking alternatives to working from home.
Additionally, the Hub created a partnership with Superpower Academy, a local educational subscription for children that delivers projects to complete teaching them critical skills such as innovation, leadership and patience.
Superpower Academy
Superpower Academy at the Hub is a flexible hands-on summer program where parents can work at the Hub while their children benefit from a fun educational experience. This program is geared towards children from kindergarten to fifth grade and will be hosted in a 1,000 square foot room that provides educational fun in a safe environment.
The camp begins June 22, 2020 and will run through July 31, 2020 with potential to run longer if needed. Parents who are already members of the Hub or who have purchased a day pass to work at the Hub, may bring their children Monday through Friday, from 9am – 2pm, even if they are not participating in the camp. If they are participating, each week will have a theme based on the Academy's "superpowers" or critical skills, and the Superpower Academy lessons will happen from 9:30am-11am. The curriculum is used by elementary teachers and combines STEM with social and emotional learning. All superpowers will be taught by Alicia Donnelly, a current Kindergarten teacher at Kamiloʻiki Elementary.
Superpower Camp at the Hub is offered on a first come first serve basis with a limit of 10 children per day to ensure a safe environment. Parents can purchase day passes for maximum flexibility or they can purchase a package of 5 days for a discount and select what days they want to have their children attend. Take home Superpower activities will also be available on Tuesdays and Thursdays.
Day passes for the Superpower Camp at the Hub are $50 per day. A five day package is discounted at $225.
To purchase a spot for your child, please visit the eventbrite link or purchase at the Hub's Host desk. For more information or to take advantage of the discounted 5 day-pack for your keiki, email info@hubcoworkinghi.com.
Parents working at the Hub will have access to:
The Hub's productive and creative workspace

A socially distanced safe, fun and creative space for employees cleaned twice a day. To see what the Hub is doing to keep the workspace safe, please see their COVID-19 OPERATIONAL UPDATES.

1 Gig symmetrical fast wi-fi
Private meeting rooms, flexible offices, coworking, kitchen and more
24/7 access to help with the flexibility of current shifting schedules
Great A/C location, organic coffee, meeting rooms, brainstorming corners and other amenities
Flexible offsite place to work, meet up with teams face to face
Onsite parking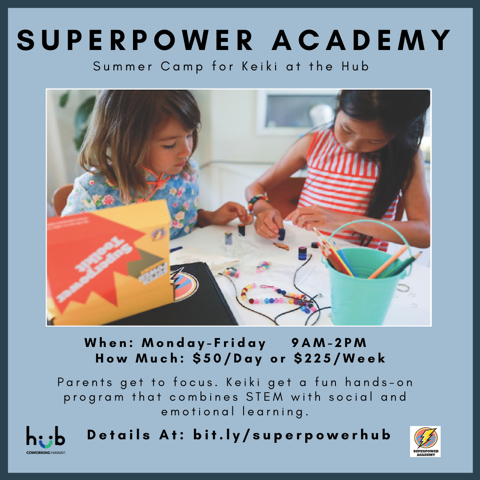 To learn more about the SuperPower Camp at the Hub, please visit www.hubcoworkinghi.com/superpower.
To learn about the educational benefits of the Super Power Academy curriculum, please visit www.superpoweracademy.org.