Hurricane Ian's Aftereffects May Impact Hawai'i in a Few Years
Sharilyn Tanaka of Atlas Insurance Agency says tens of billions of dollars in payouts by global reinsurance companies will likely ripple into premium increases here down the road.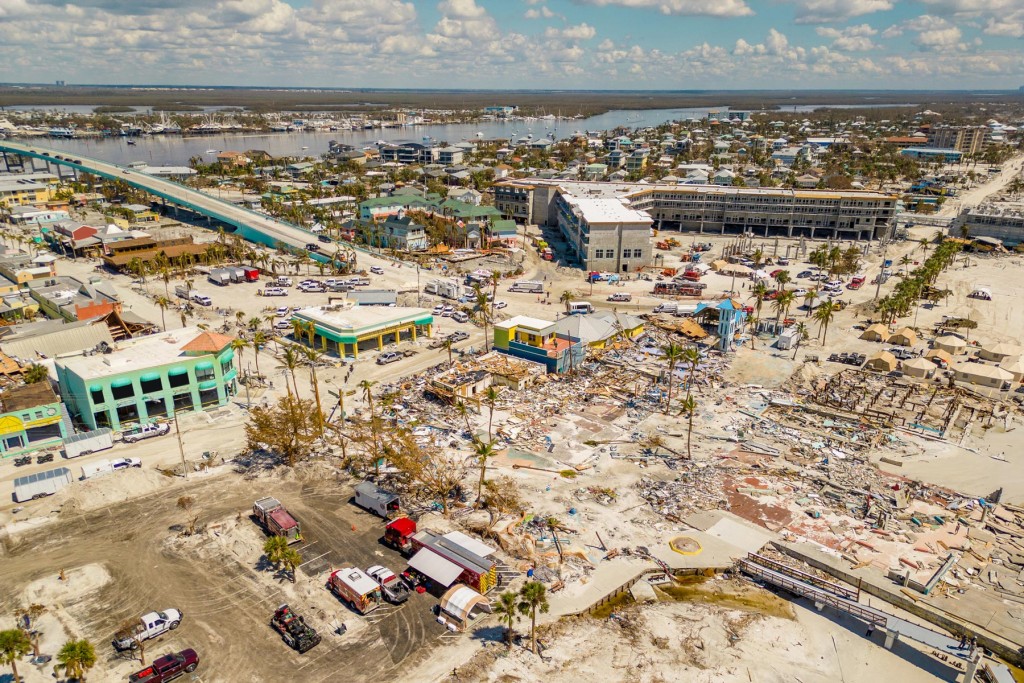 Hurricane Ian may have struck nearly 5,000 miles away, but Hawai'i homeowners could feel its fallout with higher hurricane insurance rates within a few years, says one local expert.
Ian left an estimated $53 billion to $74 billion in damage caused by winds that reached 150 miles per hour at first landfall, as well as storm surge and inland flooding. The wreckage on the mainland stretched from Florida to Georgia, South Carolina, North Carolina and Virginia.
An analysis earlier this month by RMS, a catastrophe modeling firm, said the destruction of the Category 4 storm will have a lasting impact on Florida's insurance market. Hurricane Andrew, a Category 5 storm that hit South Florida in August 1992, caused damage equal to $53 billion in 2021 dollars. Nearly 1 million policyholders lost their coverage after 11 insurers went bankrupt in Andrew's aftermath.
Hurricane Iniki's Impact
Hawaiʻi hasn't seen a hugely destructive hurricane for 30 years, when Kauaʻi took a direct hit from Hurricane Iniki, also a Category 4 storm, on Sept. 11, 1992.
Hurricane Iniki's losses were a fraction of those caused by Andrew at $3.1 billion, or about $6 billion in 2021 dollars, but the impact to the local insurance market was similar: Insurers stopped writing hurricane policies for local homeowners. The state stepped in several months after Iniki with the creation of the Hawaii Hurricane Relief Fund to help provide coverage, but by 2000, private insurers had returned to the market.
Today, eight to 10 insurance carriers write personal hurricane policies in Hawaiʻi, says Sharilyn Tanaka, VP of personal lines at Atlas Insurance Agency. Hawaiʻi's state insurance commissioner ensures the companies are financially stable and able to pay claims should another hurricane come ashore, she notes.
"It's important for consumers to understand the financial stability of the company that they're working with," she says.
Tanaka says Hurricane Ian will impact the global reinsurance market – the companies that insure the insurance companies, including carriers that service Hawaiʻi homeowners. Reinsurance companies in the U.S. and Europe estimate some $7.5 billion in insurance claims from Ian so far, according to a roundup by Insurance Journal.
"So when the cost of the reinsurance increases, that's when the cost of the insurance policies here in Hawaiʻi will be affected," Tanaka says. "It's not going to be a direct immediate increase that we will see, but we will more than likely see an increase, I would say, within the next two years."
Mortgages Require Insurance
In Hawaiʻi, the state does not require property owners to carry hurricane insurance, but homeowners with mortgages are required by lenders to carry hurricane insurance for single-family homes.
Tanaka suggests homeowners review their coverage to make sure their homes and belongings are covered in the event of a storm. Most policies also cover loss of use if the home is unlivable after a storm, providing rent money while the home is being repaired.
One of the misconceptions for many homeowners is that they're covered for wind damage from a hurricane under their homeowners policy.
"The homeowners policy will cover wind, defined as a windstorm with speeds up to 74 miles an hour, so if there's a windstorm that comes through and it blows off shingles from your roof, then that would be covered under the homeowners policy," she says. "Once it goes above 75 miles an hour, then it becomes a named hurricane and that's when the hurricane insurance will come in and homeowners insurance will stop."
Condominium owners don't have to carry hurricane insurance – the master policy carried by the condo association satisfies that requirement for lenders – but Tanaka says it's still a good idea, and is generally affordable, often costing in the hundreds of dollars each year. That's because while the association's policy covers the cost of returning the building to its original state, it does not cover any improvements to individual units, such as upgraded flooring, kitchens or baths, nor does it cover an individual owner's appliances, furniture or other personal belongings.
Flooding Concerns
Hurricanes often bring flooding and Tanaka cautions that homeowners insurance and hurricane insurance policies don't cover such damage.
Flooding that comes in from the ground, the ocean or overflowed streams is only covered by policies purchased through the National Flood Insurance Program, which recently changed its flood risk methodology.
"If you do not have a flood policy, there would be no coverage for damage to your home" from flooding, says Tanaka.