Hawaii Entrepreneur Awards 2023: Student Entrepreneur of the Year
Honoring a younger member of the innovative community who has a passion for learning and the tenacious spirit of an entrepreneur.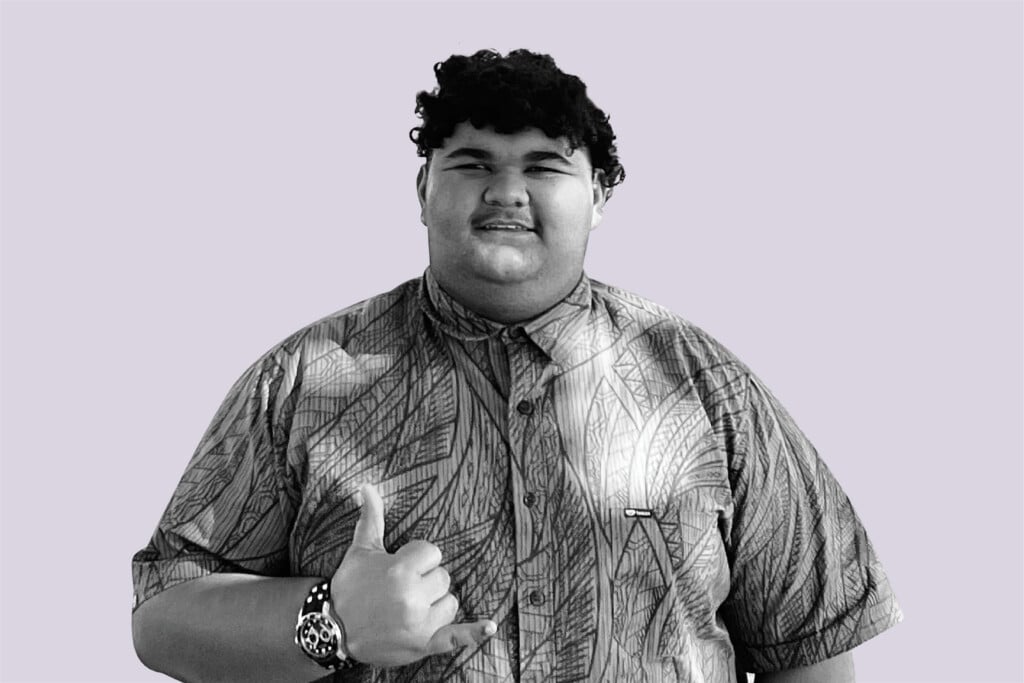 Winner:

Coen Cadinha, Big Boy Sweets
When he was 13, Coen Cadinha decided selling li hing lemon peel gummy bears at school wasn't challenging enough. So he became the first in his family to start a business: Big Boy Sweets, a pop-up candy and snack shop.
Despite pushback from adults who thought he was too young, he says, his products were an instant hit.
"I went to (my first) market and I sold out the first day," Cadinha says. "Then I did the next week and the week after."
Cadinha, now 15 and attending high school online, has extended his product line from li hing lemon peel gummies, strawberry belts and Skittles to Chex Mix, ube cereal treats and drink pouches.
After enrolling in Hawai'i Rising, an e-commerce program for Native Hawaiian entrepreneurs, Big Boy Sweets opened an online store via Shopify.
His plans include expanding his in-person sales, operating a vending machine and getting his products into more mom-and-pop shops.
"But eventually, I'd have my own store."
Finalist:

Lexi Nelson and Preston Holt, It's Paradise
Has a specific smell ever transported you to a distinct memory? Lexi Nelson and Preston Holt strive to do that with candle scents like "Lanikai Beach" and "Road to Hana."
The 2022 UH Mānoa graduates launched It's Paradise, a candle business that uses fragrances to trigger memories of iconic Hawai'i locations, with the help of the 2022 UH Venture Competition and the Summer Startup Launchpad.
"We spent several weeks in Waikīkī surveying hundreds of people," and testing different scents and designs on them, Holt says. "Ultimately that gave us enough data to match certain scents to certain places."
It's Paradise says it uses coconut soy wax and 100% natural fragrances to appeal to even the most sensitive noses.
This year, the couple hopes to expand its scents to include mainland destinations and focus more on the company's social impact.
"We also are really passionate about giving back to the communities," Nelson says.
Finalist:

Alexandria Buchanan, Sharai Swim
Alexandria Buchanan always dreamed of running her own business – "creating something that was all on my own," she says.
So Buchanan saved the gift money she received from her McKinley High graduation and from working part-time, and poured everything into the birth of Sharai Swimwear, an eco-friendly line launched on Oct. 30, 2021.
"I decided to start with bikinis. And I wanted Sharai to really focus on all bikini lovers rather than a certain look that social media and other brands try to push," says Buchanan, now a junior at UH Mānoa.
Body positivity is the beating heart of Sharai Swimwear's marketing. A message on its website reads, "I created Sharai to empower others to feel comfortable and confident in their own bodies."
Sharai also emphasizes sustainability. "I'm really glad that our bikinis are all made of Carvico Vita, which is a recycled nylon" made with ocean plastic and discarded fishing nets, she says.