Trees As Living Art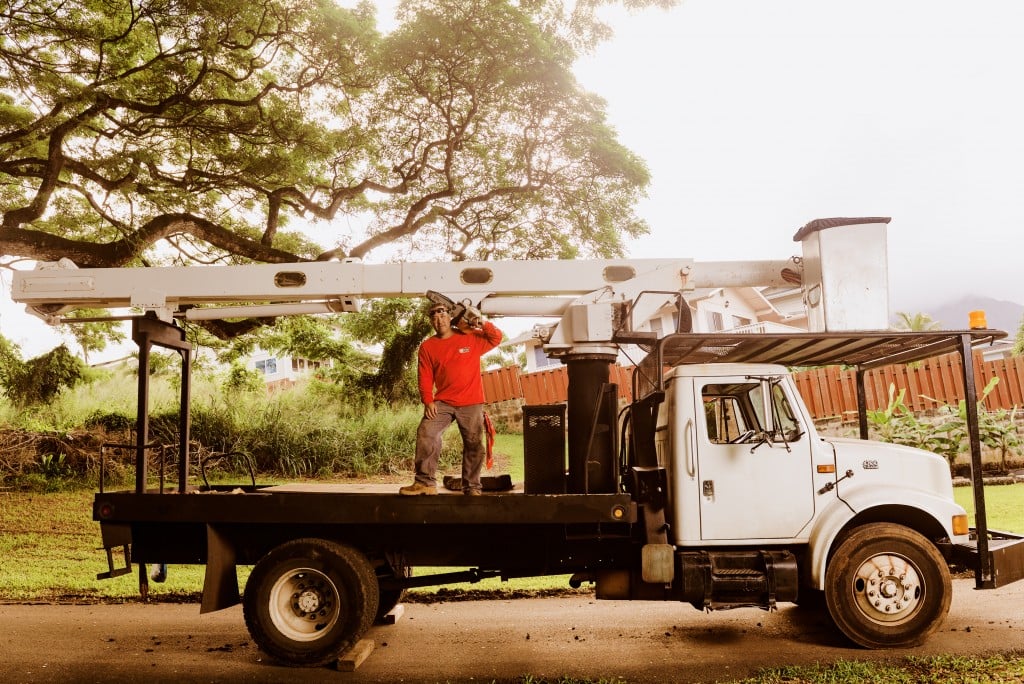 Don't tell his wife, but Wayne Hu is in love with trees.
"For me, to be able to trim trees is like Michael Jordan being able to play basketball. I just looove tree trimming.
"Trees are supposed to be three dimensional. You're supposed to be able to look at it from here, then walk down the road and look at it from there, and it's supposed to be symmetrical all the way around. And if I just miss one leaf, that's going to bother me and I won't be able to sleep."
An ironworker for more than 16 years, Hu says he now finds more meaning in tree trimming, "because I can physically appreciate the work that I do and I can feel proud of it."
"When you shape a tree, it's like an art. If you don't have that, you're just another tree cutter."

— Wayne Hu, Owner, Eager Beavers LLC.
The energetic 46-year-old father of two (who claims he "gets bored real easily") embodies the name of the company he founded in 2008: Eager Beavers LLC.
"I came up with the name while watching the Discovery Channel," explains the Ewa Beach resident. "Beavers are essential in nature, they're loyal, but they're also busybodies. And my boss at work used to call me an 'ant,' because I'd keep on working so hard. And I also liked the idea of a small beaver taking down this huge tree."
Hu had been trimming trees on the side for about eight years while still holding down his ironworker's job, but once he went full-time, he didn't lack for clients.
"It's funny," reflects the Roosevelt High grad, "I started the business in the middle of the 2008 recession, yet from the beginning I had enough jobs to work seven days a week if I wanted to. My wife thought I was crazy."
Hu is quick to give his wife of 15 years, Tara, credit for carrying the burden of all the company's administrative work, for which Hu says he has a strong aversion. "You might as well put a bullet in me, right there, if I had to stay in an office all day," he says jokingly.
Although he considers himself an arborist – he's a member of the Aloha Arborist Association – Hu says he hasn't had the time to take the written exam to become certified. "Plus, you can pass the written test, but then not have any field experience." For jobs that require a certified arborist, longtime mentor Steve Nimz is a consultant.
Which leads to how serious Hu is about trimming trees. "When I first started to get interested in trees in the mid-'90s, there were so many people calling themselves tree trimmers, but they were really just yard people and unskilled.
"I see tree trimming as a trade or an industry, not something fly by night that anyone can do. I think there should be more regulation or training.
"I see the young kids trying to get into the business, but they're more in it for the money. If your heart is not in it, you won't last. It's outdoors, it's physical – you have to love it to stay in it."
As for the "physical" part, Hu admits to suffering multiple injuries due to the repetitious nature of his job. He's had tennis elbow, golf elbow and rotator cuff damage, but, luckily, so far he's not needed surgery.
When Hu first started the company, it was just himself, a pick-up truck, a chainsaw and a trash barrel. Now he's got nine trucks or dump trucks, two chippers, two stump grinders, a bulldozer, and assorted chainsaws, blowers, pole pruners and loppers.
And he employs five full-time and one part-time worker ("though I could use three or four more guys").
Hu says he's lucky enough to have about 200 to 300 regular customers, of which about 60 percent are residential and 40 percent commercial.
"We should treat all customers as if they were our only client," Hu believes. "We have a fiduciary duty to tell clients what's right and wrong with their trees, and to give them as much information as possible to make an educated decision.
"It's my job to keep the tree as structurally sound as possible, and then the client will fall in love with their tree."
One of those customers who has "fallen in love" with its trees because of Hu's work is the YWCA of Oahu's Camp Kokokahi.
"Wayne has a great eye for shaping our monkeypod trees, lifting the canopy, and extracting dead branches," says Kokokahi manager Ron Foronda. "When he comes out to do an estimate, he actually puts a lot of thought into it, explains the scope of the work and hours required. He's so accommodating to our needs."
Candice Wessinger, the YWCA's COO, adds, "What we like about Wayne at Eager Beavers is the way he studies each tree and removes branches to not only make the tree healthier, but more beautiful. When Wayne trims the trees, he brings out the natural beauty of each tree.
"Trimming trees – and particularly these majestic, more-than-100-year-old trees – is an art."
---
Eager Beavers LLC
368-0664
eagerbeavers808@yahoo.com