Hawai'i's Love-Hate Relationship with Tourism Is Getting a Little Friendlier
Support for the state's largest industry rose to 57% in the latest Hawai'i Tourism Authority survey. It should probably be higher.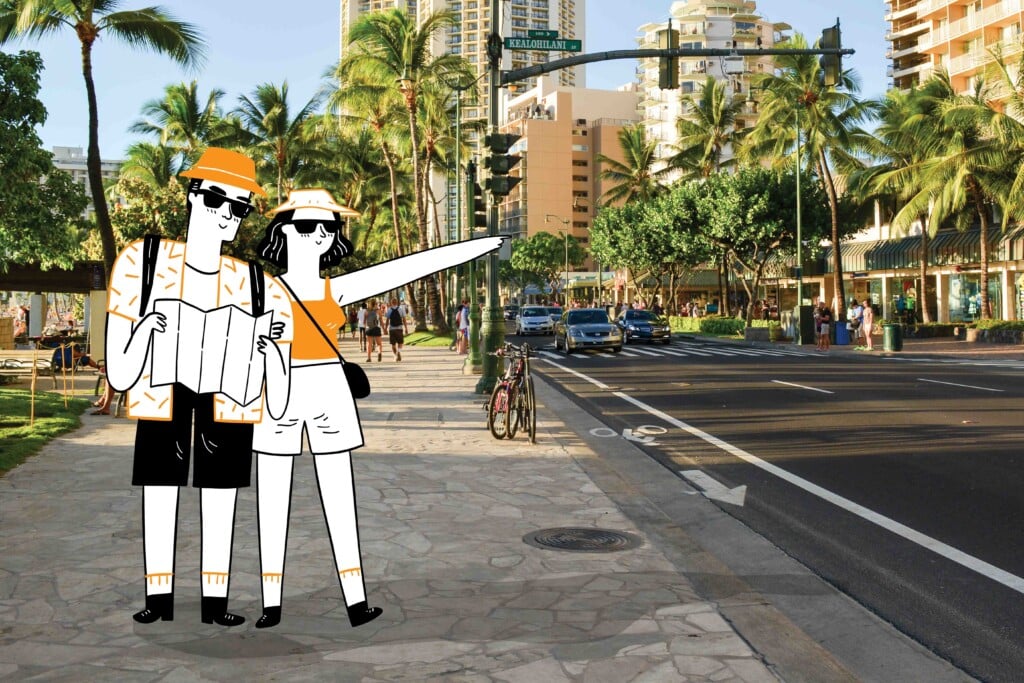 Hawai'i's people have long had a love-hate relationship with tourism. Unfavorable feelings increased throughout the 2010s, but the latest survey by the Hawai'i Tourism Authority of local residents (released in February) found 57% said tourism brings more benefits than problems. That's a 3 percentage-point increase from the previous HTA survey.
Where you land on the love-hate spectrum depends on many factors, such as your job, memory, the island you live on, how you feel tourism is being managed and even your knowledge of state finances (I'll save that intriguing one for last).
Jobs are an obvious divider: An appreciation for tourists makes sense for those whose jobs or businesses directly depend on them. Criticism is more likely from people who feel they get no economic benefit from tourists, but suffer from their impact: overcrowding, higher housing costs, environmental damage and other pain.
In between are people with mixed feelings. They have friends and family whose livelihoods depend on tourism, or their own jobs have indirect tourism ties.
How Soon We Forget
I'm surprised that positivity about tourism – as measured by the HTA survey – had not increased more. I loved the uncrowded beaches and hiking trails during the height of the pandemic, but I remember more that as many as 140,000 people were out of work in Hawai'i – 21.9% of the local civilian workforce. In fact, throughout 2020, the state's unemployment rate was the second-highest in the nation, below only Nevada's, and the main driver was the absence of tourists.
Don't forget the miles-long lines for free food, or that many people only kept their jobs and businesses thanks to massive amounts of temporary government spending.
For further reminders of Hawai'i's struggles then, see a new book with an evocative title, "Our Beaches Were Empty, Our Hospitals Full," by former Honolulu Mayor Kirk Caldwell and Georgette Deemer. Click here to read excerpts.
Since October 2021, Hawai'i's unemployment rate has kept well below 4% and was at 3.3% in April 2023, the latest month for which statistics were available when I wrote this.
No surprise that the workforce recovery tracked with the return of tourists. A total of 9.15 million came in 2022, close to the 10.28 million in the peak year of 2019, according to HTA.
Different Effects on Different Islands
The impact of tourism varies from island to island. On an average day in 2022, there were 100,000 visitors on O'ahu, an island with 905,000 residents. So every 10th person would have been a visitor.
But during a typical day on Kaua'i and Maui in 2022, with their smaller populations, 1 out of every 6 people on each island was a visitor. Residents there feel the impact of tourists more, but by the same token, both islands are more dependent on tourism for jobs than O'ahu.
Properly managing tourism is essential to people's attitudes. The HTA survey found that overall attitudes about tourism aligned with people's attitudes of whether they felt tourism was being properly managed to enhance its benefits and mitigate its harm.
Regenerative tourism is essential to that management, everything from ensuring that more local businesses and jobs benefit from tourism to reducing vacation rental homes to imposing user fees that are reinvested into regenerating overused sites, as has already been done at Hanauma Bay and elsewhere.
Here's the part about knowledge of state finances shaping the public's attitudes: Tourism leaders are especially irked that tax revenue generated by the industry is channeled into the state's general fund, then spent with no mention of where the money came from.
They believe residents would have better attitudes about tourism if they knew how this year's nearly billion dollars in hotel room tax revenue will be spent: say $240 million for public schools and teacher salaries; $115 million on roads, sewers and water lines; $80 million on parks and so on. I think they're right. What do you think?