Japan is a Large Growth Market for Hawaii Entrepreneurs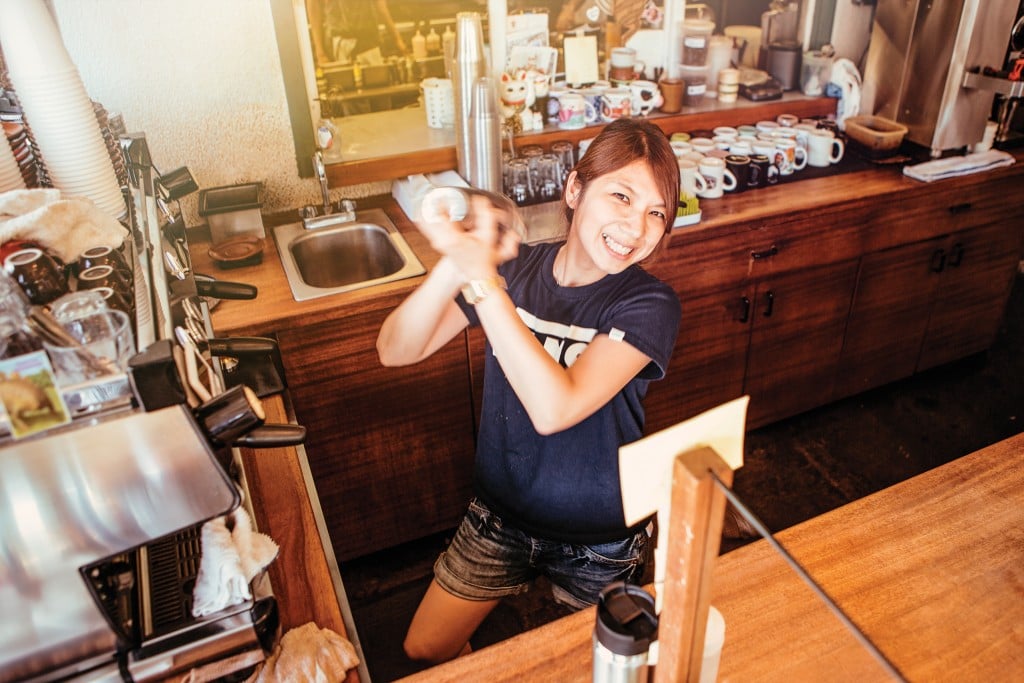 Eric Rose can't forget the day a year and a half ago when a group of Japanese businessmen walked into Morning Glass, his trendy coffee house in Manoa, and suggested taking the concept to Japan.
"They came in out of the blue," he remembers, "and started a conversation. We're now in the design phase. They have a space, I did the layout and we're waiting to see a final design.
"I think this is a good time, because Japan loves Hawaii."
Indeed it does. The signs of Japan's longtime love affair with Hawaii include tens of millions of tourists over the decades, the enduring popularity of hula and Hawaiian music in Japan, and, now, a wave of local food businesses flourishing in Japan.
A decade ago, Leonard's Bakery pioneered this trend by leveraging the lineups of Japanese tourists at its Kapahulu shop into a malasada foothold in Yokohama. More recently, Eggs 'n Things, Honolulu Coffee and L&L Hawaiian Barbecue have opened dozens of locations in Japan, all under franchise agreements. Cafe Kaila launched a couple of years ago, while Maui Mike's' Fire Roasted Chicken opened just a few months ago. Morning Glass hopes to start this summer.
"Eggs 'n Things has three locations in Hawaii and 16 in Japan, and has gone from zero to 16 in five years," says John Holman, director of the Trade Information Center, part of the U.S. Department of Commerce's Hawaii Export Assistance Center.
"Another success story is Honolulu Coffee. It has 12 locations in Hawaii and 28 in Japan, again, in the last five years."
BREAKFAST TREND

Holman, who advises local businesses on economic opportunities abroad, says these brands are riding trends in Japan.
"There's been a breakfast-food craze in Japan over the last couple of years," says Holman. "It seems pancakes have become very popular in Japan. Boots & Kimo's, Eggs 'n Things, they're super popular with the Japanese. And we've seen inquiries from partners in Japan who say, 'We want to franchise this local business.' "
That's exactly what happened to Eric Rose and his Morning Glass coffee house. After the interest by his Japanese partners, Rose went to Japan to look at spaces. The partners put up the financing, found the staff and sent them to Hawaii for training with Rose. Under a licensing agreement, the Japanese locations will be managed by the Japanese partners, but with continuing assistance and training by Rose in Hawaii.
"The space is a little larger, and it's not going to look like anything here," says Rose. "It's not a copy of what we do here, but will be its own self. The point is to do something really cool and different, something very unique and unlike what's been done."
Interest in opening Hawaii-branded retail establishments in Japan isn't new, but has gained momentum with the surge in Japanese visitors over the last few years and their interest in all things Hawaii, including breakfast foods.
Raquel Cabanting, manager of Leonard's shop on Kapahulu Avenue, says the company's malasada venture in Yokohama is successful – "It's doing good business in Japan" – without diminishing the popularity of Leonard's close-to-Waikiki location.
Holman says the Hawaii brand is strong, but it will not guarantee success in Japan. "The absolutely critical factor is finding a great partner on the ground who is well capitalized, knows the market, and understands the brand and where it will do well," he says.
"Location is absolutely critical. While the Hawaii brand is strong, you have to make sure it's placed in an area where it resonates with consumers."
That is exactly what Norman "Puna" Nam, owner of the popular family restaurant Cinnamon's in Kailua, has discovered. His Japanese partner opened a Cinnamon's in Tokyo's pricey equivalent of Los Angeles' Rodeo Drive two years ago and, while it has done reasonably well, they recently found a better spot. "It's doing OK, but nothing fantastic," says Nam. "We're moving to a better location." A second Cinnamon's in Yokohama is also doing alright, but Nam has recognized just how important location is. "This is a little closer to the main street," he says.
As an expert in cross-border retailing, Holman suggests franchising in Japan, instead of owning your own stores. "You have to hire local, know employment laws, have a supply chain, manage the finances, whereas, with a franchise, you create a concept and turn it over to your local Japan partner.
"Honolulu Coffee is a case in point. It had a vision for expanding internationally and maintaining a high level of excellence."
CRUCIAL CONNECTIONS
Ed Schultz, president of Honolulu Coffee and one of its three owners since 2008, couldn't agree more. Schultz had been visiting Japan for three years doing market research before the company opened its first franchised store in Tokyo in 2012, specializing in pancakes, eggs Benedict and, of course, coffee. He says his Japanese partner had great connections to commercial property, solid finances and market familiarity.
"We wanted someone who had a lot of beverage experience and knew our industry, also with good liquidity to grow a business, and great landlord connections," said Schultz. "Over there, it's important, because a very few landlords control the vast majority of shopping and retail in Japan and it's important to be able to take a new concept to the premier landlord with someone who can say, 'Don't worry, we know what we're doing.' If we had done it on our own, or maybe with someone else, we would not have been able to secure the locations we have."
With good locations and Japanese consumers' great interest in "casual American breakfasts," Schultz says, Honolulu Coffee expanded rapidly, adding 10 locations in one year alone. "We grew quickly because the concept was successful and a lot of landlords wanted it. Now we have to be more strategic about where we go, so we'll be opening more like three or four a year."
Both Morning Glass and Honolulu Coffee are riding what Schultz calls the "Third Wave" of coffee retailing: specialty retailers who source their own beans, and roast and grind them themselves to offer artisan blends. He calls the Yuban and Lion's coffee era the first wave, and Starbucks the second.
"We felt that in Japan, this (Third Wave) market really hadn't been opened yet," says Schultz. "It's an amazing food and cafe culture, but a step behind the world in specialty coffee, and, with our brand being Hawaiian, we felt it was a fantastic way to enter the market."
For Schultz, riding the concurrent breakfast wave has been an important ingredient for success.
"There's been a shift toward casual American breakfasts and that's gone crazy," says Schultz.

"It's driven by the fact that they don't have affordable American breakfasts. They've only been available at high-end hotels and how often can you go there? It's one of those things they've never had.
"Typical Japanese restaurants haven't figured that out. The luxury hotels have a bunch of Western chefs and those places are familiar with that type of food, whereas the casual Japanese cafe was never set up to do breakfast. They've never had 'two eggs, your way, with bacon and hash browns.' Japanese people have always loved waffles and they always add stuff to it like a crepe, but now they're doing that with pancakes. The pancakes over there look crazy!"
CURRENCY WOES
The biggest drawback, says Schultz, is currency fluctuation. He and his partners are paid in yen, and they've lost considerable headway as it loses ground against the dollar. Just as problematic are the costs for their Japanese partners, who pay for beans and other ingredients in dollars. Their costs rise as much as the yen falls.
"Both sides are hurt. We're hurt on the royalty side, and they're hurt on the profit-margin side. But it hasn't created a partnership problem because both sides are being hurt. If only one side got hurt, it could affect the relationship."
Morning Glass' Rose is also firmly aboard the Japanese coffee bandwagon. "There's a definite appreciation for good coffee in Japan, an interest in it, and an appreciation for what we're doing," he says. But Rose's process of opening in Japan has been slow and deliberate, first creating a licensing agreement and then overseeing each piece of the development of his shop in the Chuo-ku neighborhood, a city within the big city of Osaka.
"They were interested in Tokyo, but I thought Osaka made more sense for what and who we are at this point," says Rose. "It's still a big city but it has a more laidback feel than Tokyo. In my mind it made sense to open in a place where it was much more about food and drink and less about style."
Rose says he prides himself on serving the best cup of coffee in town, along with great food, and thinks his formula will translate well in a country that has seen major inroads by coffee, despite a strong tea culture.
"We have always had a very, very strong following from Japanese customers," he says. "When we opened in Manoa, we ended up on Japanese coffee blogs. There was a lot of talk about us and people started seeking us out. Visitors from Japan would come because they read about us on coffee blogs and, once that happened, we started getting attention from Japanese magazines."
THE PIONEER
But long before the coffee shops and Hawaii businesses began expanding to Japan, Leonard's Bakery and proprietor Leonard Rego were the test pilots. Interestingly, he did not initiate his expansion; it was one of his Japanese fans who conceived the idea of bringing the unique Portuguese doughnut to Yokohama.
"In this family, the son married in Honolulu and he has always been fond of malasadas," says Rego. "He said he wanted to open up a business and his dad said he'd lend him the money."
Creating a licensing/franchise arrangement with Rego, the family and Rego tested to see if a recipe designed for a tropical climate would translate into chillier Japan. When Rego brought key ingredients to Japan, "we got a test kitchen and made some batches," he says. "There were a lot of malasadas we cooked up. We started bagging them up and giving them away outside and people were really jazzed."
The process and equipment were a bit different than in Hawaii: For instance, heaters were needed to help the dough rise and fryers were recalibrated to a different temperature.
Eight years ago, his Japanese partners brought Rego over two weeks before opening day. They had re-created the Leonard's look from Hawaii and "the paint was still drying in the shop when they opened," he says. "They worked really hard and did a good job."
The Leonard's outlet in Yokohama is in a four-story complex that includes a theater and has an entire floor of Hawaii-themed stores, either retailers from Hawaii or Japan retailers with a Hawaii flair. Right next door to Leonard's, says Rego, is the North Shore Shrimp Truck.
Holman says the Hawaii brand does well in Japan because it is an established market, with high disposable income, discriminating consumers and an affinity for Hawaii. But, he says, the federal government export agency that he is part of is also helping other states with their own successes.
"Whenever you have a business with a solid brand image, there's a potential to franchise that company. This is happening in other states as well. Brands are being franchised overseas. And with emerging markets and large consumer markets in Asia, that's where a lot of the growth is happening. It can be challenging to do business in Latin America, and Europe is a more competitive market with entrenched brands already in the marketplace, whereas in Asia, there's a lot more growth in the consumer class."
DIFFERENT STRATEGIES
Schultz is looking at global expansion – he and his partners have Honolulu Coffee outlets in Shanghai, Guam and, just opening, Vancouver, British Columbia. Leonard's Rego is content with a smaller foreign footprint. "The bigger you are, the harder you fall," he says, "and I don't want those kinds of problems."
Rego says Leonard's succeeded in Japan because of his partners' high standards. They're committed to the product "and they're really nice."
That's important, he says. "Make sure there's good chemistry with the people, that you like working with them, and their hearts and souls are in what they're doing. And make sure they're just as concerned about your product as you are."
His Japanese partners bought all the equipment, put up the money to open in Yokohama and continue to pay him a royalty every three months. At first he went over annually to assist, but hasn't been there since 2012.
"They're doing a really good job. There's a line over there, too."
Eric Rose has specific ideas for his first coffee shop in Japan.
"It's not going to be run like Toyota," he says. "No exercises every morning. We want it as much as possible to be run like Morning Glass. And if it winds up not working, it's going to have been a great experience. I've met great people. Trying to understand what I do from a different cultural perspective, in a different vernacular, has been great for me."
---
HOW TO SELL IN JAPAN
Here's advice for Hawaii businesspeople on tackling the Japan market from those who are there and from the
U.S. Department of Commerce:
• Franchising is the most viable way to enter the Japanese market; find a partner in Japan who knows the ropes, the market and your product.
• Choose a partner who is going to work with you on a shared vision, such as whether you will open only one location or many. To find the right partner, do research, network, ask within the industry and pick carefully.
• Choosing the right locations can be the reason you succeed or fail. Your partner needs to have good contacts with landlords and the commercial market. Retail rents are high in Japanese cities, so you need an insider who knows what locations will create high volume for your brand.
• Make sure your partner cares as much about your product as you do.
• Discuss whether you will be paid in yen or dollars. The yen has fallen recently against the dollar, but the future of currency markets is unpredictable.
• Know that trends come and go, so consider expansion carefully. Japan is currently a hot market for Hawaii retailers because of the high regard in which Hawaii brands are held.
For more information from the Hawaii Export Assistance Center, go to tinyurl.com/HIexport.
---
EXPORTS IN THE OPPOSITE DIRECTION
Hawaii restaurants are succeeding in Japan by serving casual American breakfasts and local treats, but one Hawaii entrepreneur is taking Japanese treats and successfully marketing them to America.
Candice Kawasaki Sombrero has created a niche market with Skoshbox, a company that assembles Japanese goodies and toys, packages them in colorful boxes, and ships them to Americans eager for unique delicacies created in Japan.
"Our customer base is primarily in the U.S.," says Kawasaki Sombrero by email during her latest trip to Japan to visit existing suppliers and meet new ones. "We ship an assorted box of Japanese candy/snacks and toys each month to members in all 50 states and Canada, and we hope to expand worldwide in the future," possibly starting with Britain, Australia and Hong Kong.
Skoshbox launched three years ago with 650 subscribers and has grown steadily. Although the operation does not release its latest subscriber numbers, it's now shipping to customers in all 50 states and has 132,000 Facebook fans.
"Many of our members have studied or lived in Japan, or are anime/manga enthusiasts, parents sending college care packages, and individuals with no access to Japanese markets and treats," says Kawasaki Sombrero.
She hopes a new partnership with a Japanese anime and pop-culture company called Tokyo Otaku Mode will help her company grow and go global. "To date, Skoshbox has been operating with a very small team; limited resources and manpower has been a constant challenge," she says. Now, she adds, Skoshbox has use of facilities in Japan, access to better snacks and toys, plus teams of buyers, developers, artists and others.
Kawasaki Sombrero started with a single size box, at $10 each, all packaged in her parents' Hawaii condo. "We had boxes stacked in every bedroom, the living room, hallways and, even, on top of the piano." Today, she has two additional box sizes, a packing headquarters in Los Angeles, and plans to keep growing.