Joe Volcano Offers Alternative to Cigarettes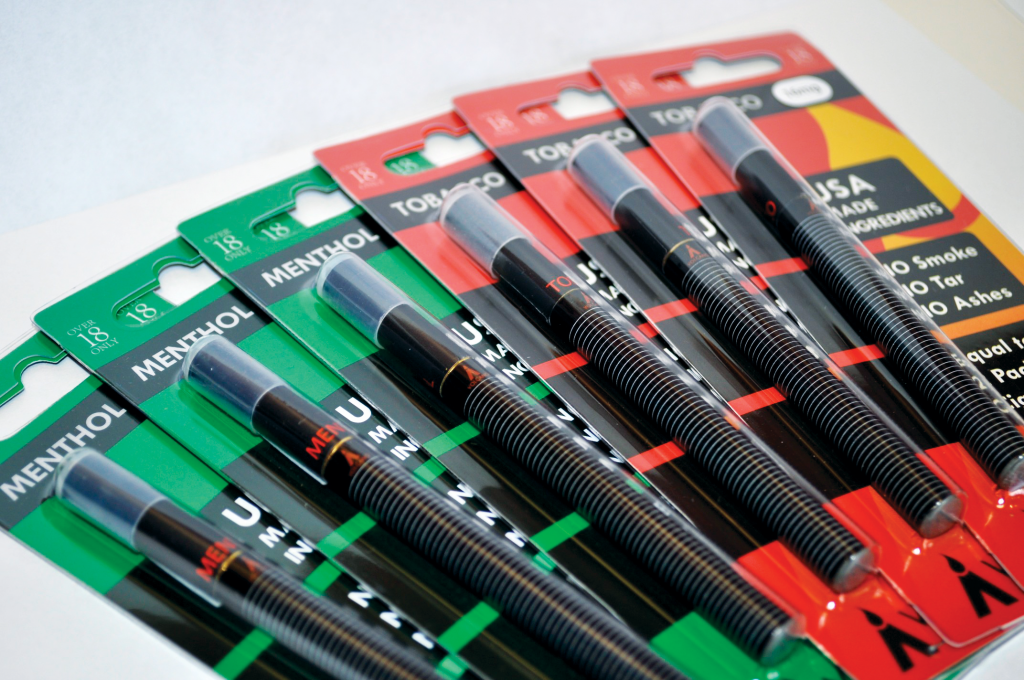 "Joe Volcano" saw an opportunity in the ban on smoking in workplaces and restaurants, so he quit his job selling ad space on tourist maps two years ago to launch Volcano E-cigs.
The company says it is one of the country's largest sellers of electronic cigarettes online, and now has two locations on Oahu and a handful of franchises on the mainland. Joe Volcano, the name he uses with his business, says e-cigs are a healthier alternative to smoking because the vapor inhaled by the user is primarily purified water, nicotine, flavoring and propylene glycol. Compare that, he says, to nearly 600 compounds and additives in some cigarettes.
He started the business in his Kailua home, but booming sales prompted him and his partners to open what they call the world's first vapor café, upstairs at 449 Kapahulu Ave. A Kailua store was just replaced by a Windward Mall outlet.
"I wanted to create a comfortable place for my customers to taste and try our products," he says of the vapor café. On the horizon: a "Volcano Rock Bar" in Waikiki and distribution deals with retailers in Hawaii, he says.
While Volcano is based in Hawaii and employs 36 people, the cartridges containing his "E-Juice" are formulated on the mainland and the vaporizor is made in China.
Talk radio host Rush Limbaugh is a customer and sometimes talks about the Volcano e-cigs while using them on the air. Joe Volcano says Limbaugh became a user after being asked not to smoke his cigar on a local golf course and being offered an e-cigarette as an alternative. He's been "vaping" ever since.
What's an e-cigarette?
Electronic cigarettes are about the size of regular cigarettes. You insert cartridges that are mostly filled with water, nicotine and flavoring, and as you inhale, the e-cigarette vaporizes the liquid and you breathe in the vapor. The amount of nicotine depends on the strength of the cartridge used.
Since the vapor is mostly water, the manufacturers say you should be able to smoke them anywhere, but Volcano E-cigs's website suggests, "You should use caution and sound judgment anytime you use our products in a public place."
The U.S. Food and Drug Administration says it is currently formulating regulations for electronic cigarettes. It says its initial tests of two popular brands "showed that the product contained detectable levels of known carcinogens and toxic chemicals to which users could potentially be exposed."
www.volcanoecigs.com