Talk Story: Corbett Kalama, Executive VP and COO, Harry and Jeanette Weinberg Foundation – Hawai'i Office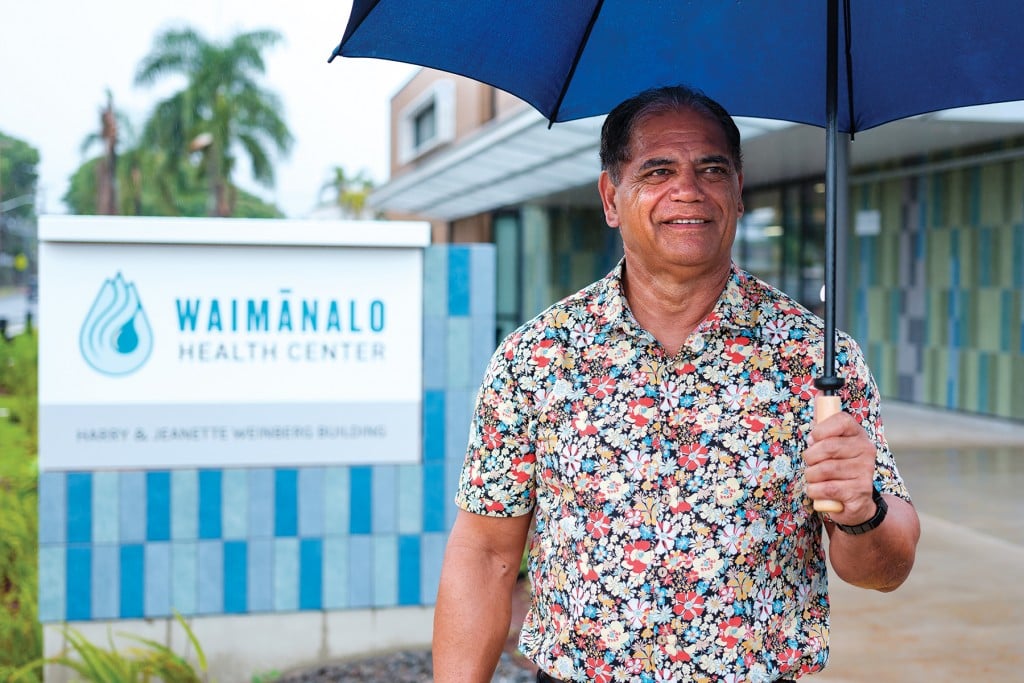 Kalama grew up in poverty but had a successful banking career
and now leads a nonprofit that provides $12 million in grants annually in Hawai'i. He is using his personal and professional experience to seek answers to some of Hawai'i's most daunting problems.
Q: You were at First Hawaiian Bank for 32 years, led the wealth management division and retired as an executive VP. What drew you to a nonprofit?
Kalama: I had observed Harry's foundation since I was a child. In 1982, I got hired by First Hawaiian Bank and I got to see a side of Harry most people didn't see. Beyond his rough exterior, there was a lot of concern about the vulnerable. In those days there wasn't a lot of media coverage about his philanthropic efforts – they (the Weinbergs) did it to take care of people, not for any recognition.
I grew up as one of 11 children in a 900-square-foot home. We were on welfare, food stamps and relied on the kindness of others. It never failed, every Wednesday morning before Thanksgiving there would be a box of food at our door from various nonprofit groups. For the low income and the vulnerable what becomes a happy place is when somebody says: You add value.
Q: How does your experience at the bank inform your current role?
Kalama: (While still a junior executive) I was in a meeting in which (then First Hawaiian CEO) John Bellinger was discussing how heavily regulated the banking industry was. I raised my hand, which was out of the ordinary for that time, and asked to what extent we were lobbying at the state and national level to affect legislation.
It got quiet and Mr. Bellinger didn't necessarily answer my question, but he and Walter Dods later asked if I would join them for lunch. I think that was on a Thursday. They asked what my experience had been. Monday morning I'm at my little branch and I get a phone call from our HR director indicating they were sending me to the state Legislature.
That put me on a path to work more with Walter, who got me involved in many things, including nonprofit fundraising. Subsequently, I became head of the bank's Community Reinvestment Act program, basically a community development program that was set up because low-income people weren't getting fair access to credit.
I also got exposed to things like housing. I created rent-to-own financing of properties. I really understood commercial lending, retail lending and personal lending – and some of the obstacles that folks in our low-income areas struggle with.
Walter would always say: "Strive to achieve your goals and aspirations but never forget about your community." That's the best advice I ever got.
Q: How do you stay connected with the needs of the vulnerable?
Kalama: There are many ways. I went to San Francisco to understand their efforts at repurposing buses for showers for the homeless. I rented a hotel room, dropped my luggage then dressed down and stayed on the streets.
This type of activity not only helps with the services we provide, but also with educating volunteers so they are not offended when the people on the street are not necessarily joyous when they receive help the first or second time. The first thing that goes through their head is: Am I going to make myself vulnerable to you when you may or may not be here tomorrow?
Q: How does the foundation select which nonprofits to fund?
Kalama: It goes back to serving the low income and vulnerable. Beyond that, we look at strength, commitment and stability of the nonprofit's board. We also look at the executive director and staff. There is a lot of interaction and due diligence.
You are looking for passion that may not be reflected in a piece of paper. Track record is critical.
Q: Are you optimistic about the state of giving in Hawai'i?
Kalama: These are exciting times because you've got people heading organizations that share the same vision. When you look at the ALICE Report done by the Aloha United Way (which covers the 37% of Hawai'i households that are Asset Limited, Income Constrained, Employed), it indicates we needed to define our measures of poverty above the federal guidelines because of our cost of living. One out of every two families cannot afford housing. One out of every two families cannot afford child care. That has become a good foundational talking piece.
Duane Kurisu (owner of Hawaii Business Magazine) has been integral in bringing those challenges to the forefront. Last year, he led the Hawai'i Executive Conference that brought together business and nonprofit leaders. We all recognized that narrowing the gap is not someone else's responsibility, it is ours.
We had a moment of: "We can't hide from it anymore." The affluent and corporate community have to help close this gap.
Q: What's the most daunting problem plaguing the vulnerable?
Kalama: Housing. When you look at Hawai'i, we've got an opportunity because we have a lot of large landowners. They can provide long-term leases at a nominal cost. We've been talking inside our organization about the possibility of doing a long-term lease at a dollar per year. The state has tons of land. There are possibilities where we can do land swaps, a bunch of things that are being talked about in boardrooms.
We can have affordable rentals. We can build in different ways to help folks create equity through savings accounts. Models exist, but we just don't apply them. Many years ago, the state had shared appreciation programs, 10-year buyback programs, etc.
This interview has been edited for clarity and conciseness.