Kau Kau Corner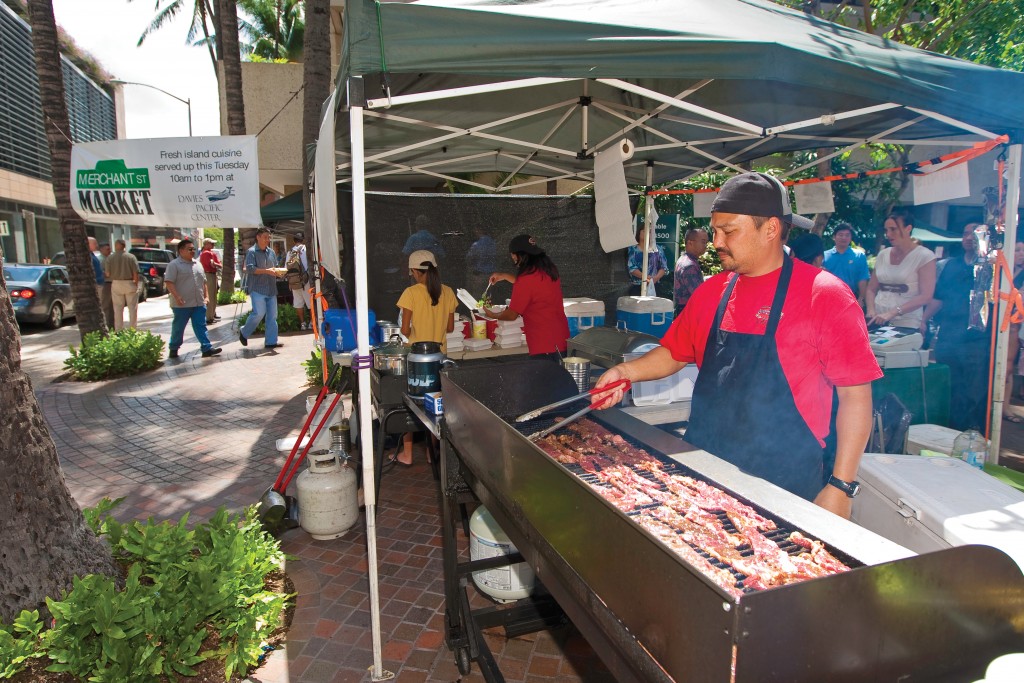 Don't be alarmed if you see smoke billowing and a crowd gathered in front of the Davies Pacific Center around lunchtime on the second or fourth Tuesday of the month.
It's not a fire, it's the Merchant Street Market, which features local food vendors such as Stacey's Lau Lau, Le Crepe Cafe, Hawaiian Style Chili Co. and Pat's Peanuts. Grandma G's Kitchen also has a loyal following that is willing to stand in line for up to 15 minutes for what's been called "the best kalbi downtown." Its barbecue chicken and sweet sour spare ribs have also gotten the nod.
"We wanted to do something different and draw more foot traffic to our property and vendors," says Cecily Ching, general manager of the Davies Pacific Center.
The market features live local music and seating on the second floor's open-air mezzanine, but on a sunny, trade-wind day, seats fill quickly. (If territorial tenants from the building confront you and insist the seating is only for them, don't believe 'em. Unless you're a vagrant or a troublemaker, Ching says, seating is open to the public.)
Merchant Street Market Corner of Merchant and Bishop streets
Every second and fourth Tuesday 10 a.m. to 1 p.m.