Kids Get a Kick Start on Life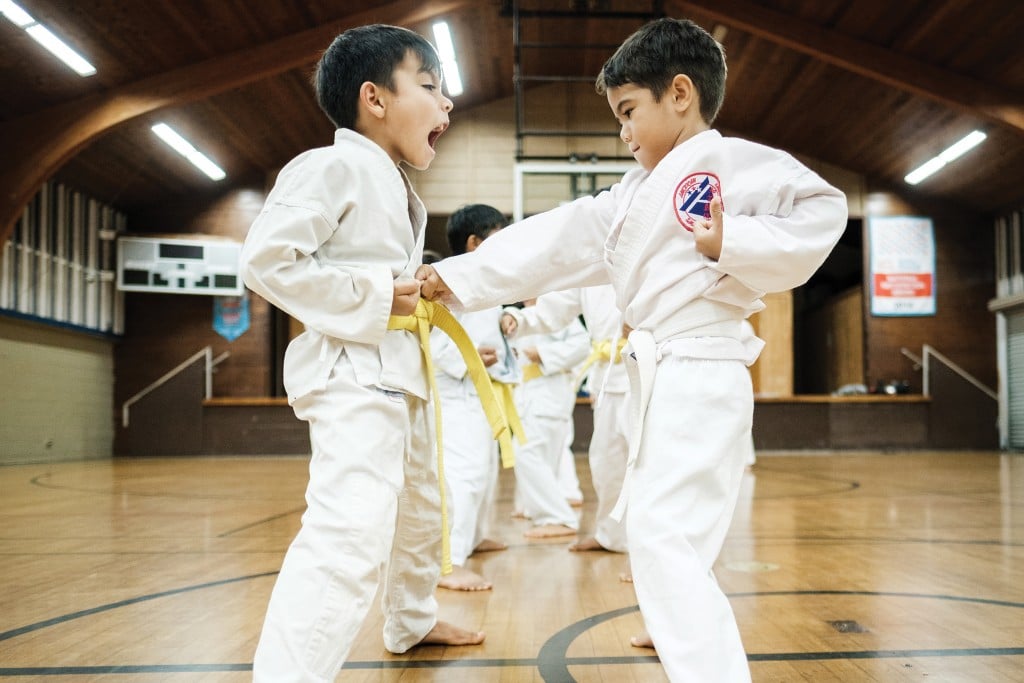 "The martial arts teach you a way of life, a way to live. It's not necessarily just being able to defend yourself," explains Lee Donohue, president of Kick Start Karate, an after-school program to combat gangs and juvenile delinquency.
"We have tenets or mantras we try to live by. One of the big ones is, 'Always seek perfection of character.' How do you do that? Our school has 16 bylaws, probably passed down from Confucianism, and the kids have to recite the bylaws after every class. Then we discuss one of the bylaws and what it means to them."
The 75-year-old former Honolulu police chief founded KSK in 1994.
"When I was assistant chief, I got this assignment in Japan to study their koban, or neighborhood system of policing," recalls Donohue. "Every police officer there has a black belt in judo or kendo. When they go out into the field, they invite the kids from the community to come and work out with them, in order to build character and rapport.
"So when I came back, I told Chief Mike Nakamura that we already had a Police Activities League program teaching children karate, so why not just merge the two?"
Thus, the nonprofit KSK was formed.
One of Donohue's friends, Amy Abe, a retired teacher from Waipahu High School, originally handled the life skills – what Donohue calls the "education" or "guidance" part of the program – and Donohue, a black belt in karate since 1970, taught the martial arts. Abe passed away about 10 years ago and Eric Quemado, a teacher at Kapolei Elementary School, now handles the education segment.
"Some of these kids have never sat at a table where the utensils are placed a certain way," Donohue says. "So we'd take them to the culinary arts program at Kapiolani Community College and teach them proper table manners, everyday life things.
"Eric has his own lessons, such as one on anti-bullying. He also makes himself available to any student who wants to learn music."
The program is designed to instill leadership, Donohue says, so as students progress through the curriculum, they become mentors to their younger counterparts.
KSK originally started at the HPD Academy in Waipahu. Last January, it opened a new branch at Church of the Holy Nativity in Aina Haina.
The nonprofit's annual budget is about $70,000. It has 18 part-time instructors and one part-time executive assistant. It holds an annual fundraiser, "A Taste of Kick Start," receives a few private grants for items such as equipment and uniforms, and is a beneficiary of the Friends of Hawaii Charities.
"Teachers or counselors can refer students to us, but we get them mostly through word-of-mouth," Donohue says. "They hear that we offer guidance, music, martial arts training, free trips to tournaments and college scholarships.
"Kids are staying with us for at least seven to eight years. For some families, we're into the third generation of their relatives. If they really love us, they stay with us."
Donohue estimates at least 1,000 students have been helped by KSK.
"When we started back in '94, there was a big youth gang problem both in Honolulu and Waipahu. You don't see that same gang problem anymore, and there's been improvement in the schools."