Kona Coffee Fights Back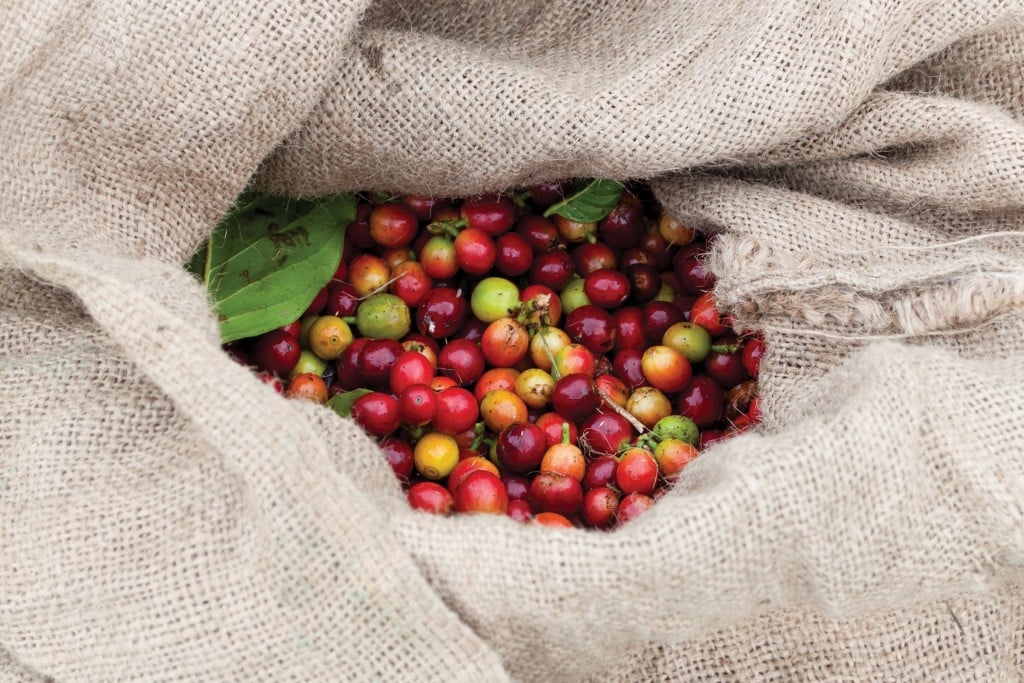 New equipment helps farmers battle the dreaded coffee beetle borer, but despite a labor shortage, farmers still rely on hand-picking rather than mechanical pickers. That may change for some growers as technology improves.
Kealakekua, Hawaii Island – Coffee beans come out of the machine's opening, with most dropping into a bag while the rest are shot by a burst of air through a tube into a waste bag. The machine has determined that the discarded beans are infested with coffee beetle borer, a tiny pest that has plagued most coffee regions across the globe, including Hawaii.
Tommy Greenwell, a fourth-generation coffee farmer, grabs a handful of the discarded beans and picks through them to show how well his mechanical sorter detects damaged ones. He finds beans with holes the width of a sesame seed – little more than a pinhole – and raises one to the light. A visiting farmer leans in to look and exclaims, "Wow."
Greenwell, like some other growers in Kona, has reinforced his coffee farm with new equipment to fight the miniscule pests. He says he's also considering robotic harvesting as agricultural technology continues to improve and human pickers become harder to find.
However, in an industry built upon hand-picked, quality coffee, there's much debate about mechanical harvesters. Some local growers believe existing technology is ill-suited to Kona's terrain and unable to match the quality of human hands.
"Kona coffee is a very high value crop," says Suzanne Shriner, president of the Kona Coffee Farmers Association, "and one of the reasons we get that high dollar for it is because we hand-pick our red cherries, and those have the most flavor and are low in defect."
Controlling the coffee beetle borer has "added a lot to our expenses and we also have a labor shortage," Shriner says. "So finding people to strip the trees can be even more expensive, generally in the range of $15 to $20 an hour."
A farm labor shortage is happening nationwide across all kinds of crops, leading to an industrywide push for more automated farm equipment. Technological advancements, such as enhanced computer "eyes," have increased the accuracy and speed of equipment.

Automation has been common in the macadamia nut industry for many years and in one interesting development, engineering student teams at the University of Arizona's College of Engineering created and then updated a prototype for a macadamia nut harvest machine for Kawainui Elemental Farms.
"It consisted of a vehicle platform with a hopper for carrying harvested nuts, a sweeper arm and pickup head for collecting them, and electrical components for power and navigation," according to the students' report.
Greenwell says developments like that lead him to think of an automated future. In the state of Hawaii, only a few coffee farms mechanically harvest. The Kauai Coffee Co., one of the largest growers in the Islands, says it uses 12 mechanical harvesters that originally were designed to pick blueberries but modified to pick coffee cherries. In the late 1970s and early 1980s, Greenwell says, his family attempted the same method in Kona, but with a mechanical raspberry picker; fuel and other extra costs made it unfeasible – hand-picking the coffee cherries was much cheaper then and better protected the quality of the crop.
Today, however, the increased cost of labor and controlling the coffee beetle borer has left many farmers with little or no profit, Shriner says. "The price of Kona Coffee at the market is very high, but a lot of that doesn't always come back all the way to the farmer because so much goes into expenses," she says.
In the warehouse on Greenwell's family-owned farm, hydraulic pumps and gears hiss and buzz as machines sort and process coffee. Greenwell says these machines help maintain quality as they filter out infested or unsellable coffee. As his workers run the equipment, he provides a tour for one of the many local farmers who sell coffee cherries to his company, which are processed and sold under Greenwell Farms Kona Coffee brand.
Most small farmers in Kona sell their coffee crop to mills rather than process it themselves – some have outside jobs in addition to their farms and others can't or don't want to invest in the necessary equipment. These mills buy Kona coffee cherries at prices ranging from about $1.20 to $2 a pound.
"About 75 percent of Kona coffee farmers still sell cherry to wet mills, and when you sell cherry you can get $2, if you're lucky," Shriner says.
But other small farmers sell directly to consumers. "It's really the only way as a farmer to be financially successful," Shriner says. "It takes 8 pounds of cherry to make 1 pound of roasted coffee, but I can sell my own roasted from $27 to $35 a pound. So if I sell my red cherry, I'm giving all of that profit away to someone else."
Francisco Javar takes a do-it-yourself approach. He owns a 4.5-acre farm with roughly 1,400 coffee trees plus other crops. He operates his own wet mill and drying system, though he uses Greenwell's services to help control pests and to manage the final roasting and packaging for his coffee. Javar says that combination is the best way to maintain his profit.
Even if he bought his own roasting equipment, "It would still be cheaper if I just went to Greenwell," Javar says.
Javar also saves money by caring for and harvesting his trees on his own. Besides, he says, the big farms scoop up all the available laborers. "So any farmworker that comes down, all goes to them. All these people who fly in and then out after the season go to the big farmers."
He also survives financially because he keeps a small personal customer base. Kona's coffee is popular with consumers, so he profits from direct sales with his Malia Farms brand.
The coffee beetle borer was first found in Kona in 2010, but has since been detected on Oahu and Maui. It has slashed Kona's farm productivity, Greenwell says. "It used to be a ratio of 5-to-1 – 5 pounds of coffee to 1 pound of sellable grade A coffee," he says. "Today we're talking 7-to-1, which also doubles the price."
Consumers' willingness to pay top dollar for Kona coffee has kept most farmers from giving up. The price of red cherry has increased from $1.71 to $1.79 a pound, say Greenwell and Shriner, among the highest prices in Kona's history. Even higher prices are collected for green bean and parchment coffee. The USDA's latest Hawaii coffee report said parchment coffee sold last season for an average of $11.10 a pound, while green bean averaged $16.50 a pound.
"Coffee is at a good price, but no one's seeing it in their pocketbook because it's all going to control," Greenwell says.
"We've been farming for 150-something years and now, all of a sudden, we have to change our farming habits."