Kukuiula Luxury Development Opens on Kauai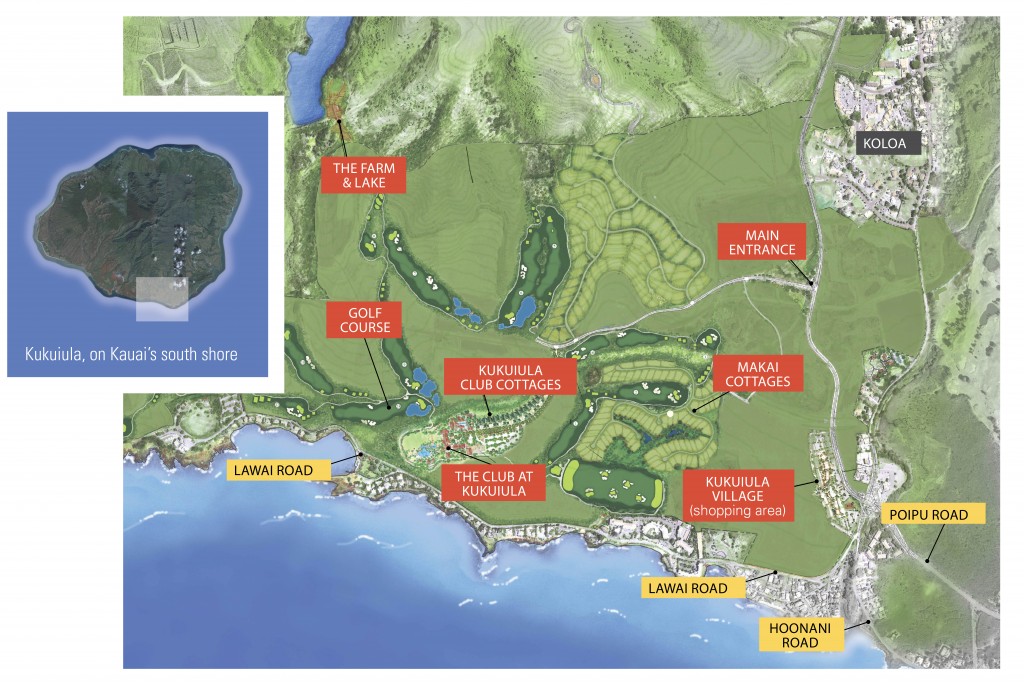 By any measure, Kukuiula on Kauai's south shore has been an ambitious undertaking. When Alexander & Baldwin first proposed the private golf club and master-planned, luxury community in the early 1980s, it received a zoning entitlement of more than 3,400 residential units.
But, for many on Kauai, the idea of a luxury development on that scale was disturbing and the developers eventually recognized that the project's original scale was too much for Kauai's sleepy south shore.
"We needed to be a more gracious, low-density, low-profile development," says Brent Herrington, president of Kukuiula Development Co. (Hawaii) LLC, a partnership of A&B and DMB Associates Inc. of Scottsdale, Ariz.
Now, after three decades of navigating zoning hearings, permits, infrastructure upgrades and construc-tion, Kukuiula has celebrated its grand opening and welcomed its first member residents. In June, Kukuiula debuted its 18-hole, Tom Weiskopf-signature golf course, $100 million clubhouse, spa and other members-only amenities. The nearby Kukuiula Village shopping complex has already been open for two years.
When Kukuiula is finished (Herrington says it could take another 20 years), the 1,010-acre development will have no more than 1,500 residential units spread over multiple neighborhoods. That's less than half the original entitlement. Herrington expects Kukuiula will ultimately offer memberships for everything from "lock-and-leave" condominiums to high-end hillside homes with ocean views and as many as a dozen different price options, all connected by roads, paths and parks.
Remaining on Kukuiula's "to do" list is the final installment of the shopping center and the construction of two community parks.
As Kukuiula prepares for a major marketing blitz, it's worth noting that the bulk of its construction took place during a major recession. How was Kukuiula able to forge ahead when at least half-a-dozen smaller residential and commercial projects on Kauai's south shore stalled, faltered or were abandoned?
Herrington says that, unlike smaller-builder subdivisions, which are more susceptible to prevailing economic winds, Kukuiula was conceived as a decades-long project intended to withstand multiple economic cycles.
"Projects like this are approached with an altogether different order of long-term planning and capital allocation, recognizing it's very, very expensive to initiate something like this," he says.
"There's no question that … the magnitude of the downturn is radically greater than, I think, anybody in the real estate industry could have planned for," Herrington says. Still, he says, Kukuiula has largely gone as planned, with even a few pleasant surprises.
"We're a big project and this is a small county, so we anticipated the process would be challenging. The reality has been better than predicted and our relationship with the county has been very good. They've been tough on us, as, I would argue, they justifiably should be."
This big and complicated project was done primarily using local companies, labor and suppliers, and Herrington says he has been "blown away" by their work ethic, professionalism and ability to handle the jobs. "From the quality of workmanship, ability to hit a budget and keep a schedule – we've just been dazzled by the capability that exists in Hawaii."
Despite the strategic decision to halt marketing during the height of the recession, Kukuiula achieved $108 million in "Founder" pre-sales and now has nearly 100 members made up of full-time Kauai residents, people who already lived there part time, and those who plan to spend only a few weeks to a couple months a year on the island.
Herrington says Kukuiula has reached a significant milestone. "Our first two homes are occupied and people are sleeping there. That's the moment when, after 10 years, you stop being a real estate project or construction site, and start thinking and behaving as a community."
Prices
• Half-acre to 1-acre homesite lots start at just under $1 million;
• Makai Cottages start at $2.2 million;
• Initiation fees for club membership are included in the price of new homesites ($50,000 for owners of resold homes). Dues are $1,000 a month.
Kukuiula Timeline
Early 1980s
A&B's initial planning and entitlement efforts for Kukuiula
1985
A&B applies for first county permits
2002
DMB and A&B form venture to develop Kukuiula
2003
Decision to reduce density and downzone property from 3,400 units to 1,500
2004
County approves rezoning.
Development of roads, water lines and other infrastructure begins
2006
First lots, called Founders lots, go on sale
2007
Groundbreaking for Kukuiula Village shopping center
2008
Groundbreaking for club and golf amenities
2009
First shops open at Kukuiula Village
2009
First homes break ground
March 2011
First residents move in
June 2011
Club, spa and golf amenities open