Lawmakers Fundraise During the Legislative Session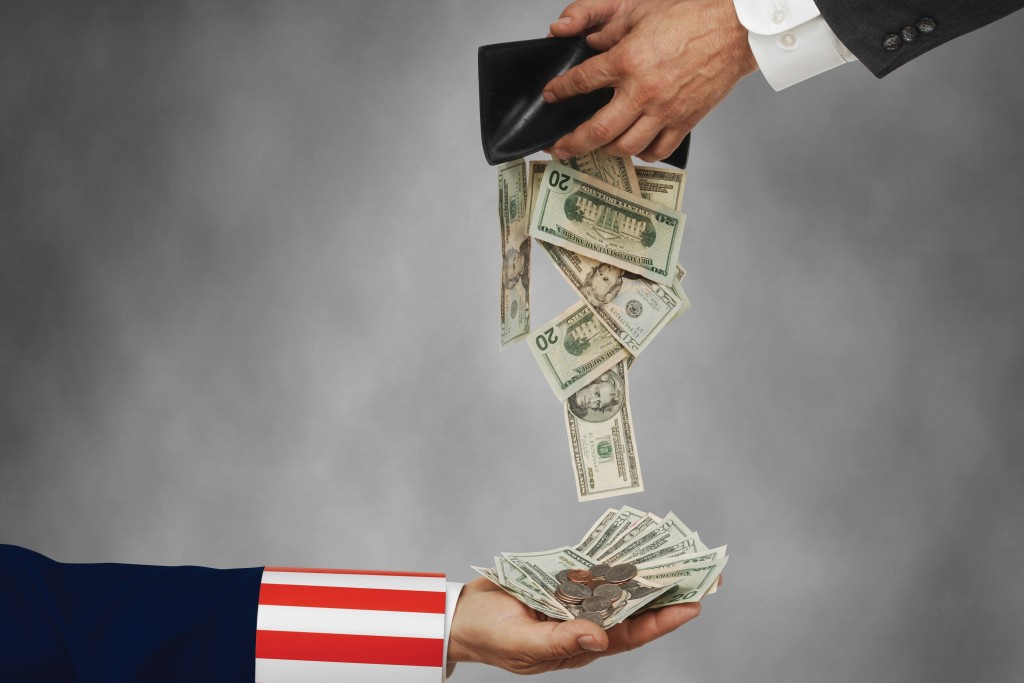 The annual session of the Hawaii state Legislature is when issues are debated, compromises are forged, new laws are created – and legislators ask for your money.
An analysis by Hawaii Business magazineshows that during the 2011 state Legislature, 14 of the 25 state senators held fundraisers during the session, according to filings with the state Campaign Spending Commission.
Members of the state House were less active: only 14 out of the 51 representatives reported to the commission in advance that they would hold fundraisers during the session.
Ten state senators and 32 state representatives scheduled no fundraisers at all this year, according to required reports filed with the commission by Oct. 31. But of those fundraisers that were reported, more were scheduled during the four months the Legislature was in session than in the other eight months of the year combined. And those numbers under-report total activity, since much fundraising both inside and outside the session goes on without a formal dinner or cocktail party.
"The fundraisers are often held during session because that's the time when most lobbyists are around and most interested parties are active," says Sen. Clayton Hee, a veteran lawmaker first elected to the state House in 1982. "From a fund-raising point-of-view, that's the best time to hold a fund-raiser."
The fundraising analysis by Hawaii Business fails to show a definitive pattern of fundraising just before big hearings or important legislative votes. However, a perception persists among donors and observers that state politicians, especially committee chairmen and others with positions of power, use their influence over key legislation to leverage contributions. It's something Sen. Les Ihara has consistently fought against – hoping to ease both the perception and the reality.
Ihara has repeatedly tried –with no success – to have an internal rule passed to forbid fundraisers during the session. His thinking: It is bad policy and bad looking to hold hearings and votes on bills at the same time you are asking people for money.
Ihara acknowledges he's unlikely to see that rule ever formally adopted. "But a lot of senators are doing (their fundraisers) after the session on a voluntary basis," he says. In 2011, for instance, 10 Senate fundraisers were scheduled during the "off-season."
From Ihara's perspective, not asking for money during the session makes good sense. "Basically, it is like a judge soliciting financial support from contestants when he has a case before him. You wait until after the contest or before it. After all, we are judges and juries on these issues. It really is an ethics issue, using your position for private advantage."
While some lobbyists say they sense an increase in fundraising in the days surrounding key committee votes, they say more common patterns are dates that fall within a legislative recess or those that avoid conflict with colleagues' fundraisers. For years, an informal sign-up calendar circulated at the beginning of each session so legislators could pick fundraiser dates that would not conflict.
Holding fundraisers during one of the many breaks in the session lessens the chance that lawmakers will have to leave a committee hearing or a floor session to share drinks, pupu and ideas with supporters. In 2011, about 10 fundraisers were scheduled during legislative recesses.
Hee says the number of fundraisers held during the session has declined in recent years. Laws have been passed prohibiting contributions from companies who have active bid or nonbid contracts with the state or counties. In addition, the state Campaign Spending Commission became more vigorous in enforcing campaign laws and regulations during the term of commission administrator Robert Watada (1996-2006) and since then.
"The culture of raising funds has changed since Bob Watada's time," says Hee. "He stuck to the rules and that was a huge departure from the way things used to be. When I was Judiciary chair in '87-88, I had a fundraiser at Honolulu Country Club. It was huge. People were upset because the lines were too long.
"But those were different times."
Watada, retired and living in Oregon, says by telephone that he believes the process is much less obvious than it was a decade or so ago.
"Envelopes (of cash or checks for fundraising tickets) were being delivered right there at their Capitol offices," Watada says. "If you do that, you are campaigning (on government property) and we tried to make an issue out of that."
He says it was fairly easy to demand a separation between campaign fundraising and official government or legislative activities, but it was harder to demonstrate any quid pro quo. "I tried to see if there was a clear correlation between fundraising and votes, but generally we could not find the pattern. But, clearly, the candidate, the legislator, knows who gave to him."
In an ideal world, Watada says, there would be no fundraising during the legislative session. "But that's not going to happen. That's the time when you have the big-money people's interest," he says.
Privately, some lawmakers say too much can be made of a correlation between a legislator's interests or agenda and the background of those who tend to support him or her. If a legislator shows a strong interest in, say, the concerns of the medical community or environmentalists, it makes sense for those groups to financially support that legislator, these lawmakers say.
Kristin E. Izumi-Nitao, the Campaign Spending Commission's current executive director, agrees it might be better if lawmakers avoided fundraisers during legislative sessions, but she says the commission's primary focus is on transparency and public involvement in the process. That's why, she says, the commission has beefed up its website (Hawaii.gov/campaign) and wants it to be more user-friendly for the general public and not just for its primary users – candidates and contributors.
"We try to be vigilant and we'd like to see greater voter interest in what the candidates are doing," she says. While the commission monitors compulsory reports by legislators and candidates about their fundraising, and will follow up if a report is missing or incomplete, "We are basically only as good as what they report," she says.
One practice the commission wants to ban, Izumi-Nitao says, is that a candidate or legislator can buy up to two tickets to another candidate/legislator's fundraiser. There is no dollar limit, which means a well-established candidate in theory can boost another candidate by buying two fundraiser "tickets" at the maximum contribution limit – thereby shifting a lot of money from his or her campaign fund into someone else's campaign.
"We tried to get specific dollar limits included, but, so far, have been unsuccessful," Izumi-Nitao says. A bill imposing a specific dollar cap has stalled in conference committee at the Legislature. The Campaign Spending Commission intends to continue pressing for passage in the upcoming session.
Another process ripe for reform, she says, is "meet and greet" sessions with influential legislators sponsored by various interest groups that lobbyists and others often must pay to attend. Veteran lobbyist G.A. "Red" Morris says this is a longstanding process by which business associations or other interest groups can offer their members and other people interested a chance to meet lawmakers in an informal setting.
"Nobody's trying to buy any votes," Morris says. "It's just aloha."
Morris, whose clients include the Hawaii Hotel & Lodging Association, the Hawaii Insurers Council, the Hawaii Liquor Wholesalers Association and many others, has seen big changes in fundraising since he started in 1963. Today, he says, formal fundraisers are likely to be smaller, quick in-and-out cocktails and pupu affairs, although the ticket price has steadily crept up.
"In the '60s and into the early '70s, we had those $25 Chinese dinners which were long, drawn-out affairs with a bottle of scotch on each table and toasts before every course," he says. "That made for long nights and rough following days. And I don't think they made that much kala on them either."
Also gone are the days when a lobbyist would stroll into a lawmaker's office only to be confronted with a stack of fundraising tickets he was expected to buy or distribute to others. Today, Morris says, tickets are likely to come in the mail and are targeted at people who have contributed or participated in the past.
"Once you get on the list and contribute $25 or more, you are involved in the process," he says.
There are other changes in fundraising patterns. For instance, a growing list of fundraisers are held on behalf of more than one legislator. Sometimes, it will be a group of younger lawmakers holding a joint fundraiser at a hip Downtown spot, such as the $100 fundraiser atGrand Café and Bakery on April 6, 2011, shared by, among others, Reps. Sharon Har,Angus McElvey, John Mizuno and Karen Awana, all members of the Filipino Caucus. Sens.Malama Solomon and Donavan Dela Cruz co-hosted a $100 fundraiser at the Mandalay Restaurant on March 28, 2011.
Other times, a fundraiser will be a joint effort by heavy hitters. For instance, Senate President Shan Tsutsui and Vice-President Donna Mercado Kim held a big joint "fun-raiser" at the hotel formerly known as the Waikiki Edition on the final day of the 2011 session.
Tsutsui posted the fundraiser announcement with the Campaign Spending Commission; Kim did not, because, according to officials at the commission, she reported that, at the time, she was exploring a run for the U.S. Senate and thus did not fall under state jurisdiction. Nonetheless, Kim later reported to the spending commission that she raised many thousands of dollars on that date.
While combined fundraisers are efficient, they serve another purpose. If lawmakers have "safe" races or strong fundraising prowess, they can help raise money for candidates they like.
Another pattern points to the propensity of senior legislators to skip the money chase during the session. They can comfortably hold fundraisers at other times of the year – or simply solicit money quietly without a formal event – because their goodwill is valued year-round by lobbyists, businesses and individuals. Junior legislators and Neighbor Islanders are more likely to fundraise during session, when interest in their work is at its peak.
However it is accomplished, many veterans argue that fund raising – which is disliked by many candidates and contributors – is a necessary evil.
"Everyone who runs for public office has to resort to fund raising and some are just better at it than others," says lobbyist Morris. "It takes money to get elected, but it also takes bodies."
Morris calls it "Politics 101," a lesson he learned years ago from Hannibal Tavares, then a lobbyist for the sugar industry and later mayor of Maui County. "I can still remember his booming voice," Morris says. " 'Find someone you believe in. Work for them, get involved in the political process and work to change what you want or what you don't like.' It's pretty simple."
His point was echoed by another veteran lobbyist, attorney Robert Toyofuku. Relationships between elected officials and lobbyists and interest groups are far more complex than simply money changing hands, he says.
"People have misperceptions that if you contribute or take people to lunch, it's corrupt and you have them in your pocket. It's just not true. You may not even be discussing an issue; you might be discussing relationships. And that doesn't mean they are going to vote for any of your issues."
Still, Toyofuku says, it makes sense to be aware of the power dynamics within the Legislature.
"They don't always vote for what my client wants, but, still, I will support them. And that's why the chairs have a better chance of raising money, because they have better control of the issue."
Who Held Fundraisers and When
In bold are fundraisers held while the Legislature was in session.
SENATE

Name
District
Fundraiser dates
(2011)
Price per ticket
Malama Solomon (D)
Dist. 1 (Hilo-Waimea)
March 28
$100
Gilbert Kahele (D)
Dist. 2 (Waiakea-Kau)
April 6
$50
Josh Green (D)
Dist. 3 (Kohala-Kona)
Feb. 10
April 7
Oct. 13
$500
$500
$125
Shan Tsutsui (D)
Dist. 4 (Wailuku-Paia)
May 5
May 12
$1,000
$200
Rosalyn Baker (D)
Dist. 5 (South/West Maui)
June 30
$100
J. Kalani
English (D)
Dist. 6 (E. Maui-Molokai-Lanai)
April 20
$100
Ronald Kouchi (D)
Dist. 7 (Kauai-Niihau)
April 19
$100
Brickwood
Galuteria (D)
Dist. 12 (Iwilei-Kakaako-Waikiki)
May 2
$500
David Ige (D)
Dist. 16 (Pearl City-Aiea)
June 30
$100
Michelle Kidani (D)
Dist. 17 (Mililani-Waipio)
April 21
Aug. 23
Oct. 19
Nov. 2
$500
$1,000
$50
$250
Clarence
Nishihara (D)
Dist. 18 (Waipahu-Pearl City)
May 11
$50
Maile
Shimabukuro (D)
Dist. 21 (Ko Olina-Nanakuli-Makaha)
May 2
$100
Donovan
Dela Cruz (D)
Dist. 22 (Mililani-North Shore)
March 28
$100
Clayton Hee (D)
Dist. 23 (Kahuku-Kaneohe)
April 27
$250
Jill Tokuda (D)
Dist. 24 (Kaneohe-Enchanted Lake)
May 6
$50
Did not hold fundraisers
These state senators did not file any reports by Nov. 9 to the state Campaign Spending Commission of their intent to hold a fundraiser during 2011 for the 2012 election.
SENATE

Name
District
Sam Slom (R)
Dist. 8 (Hawaii Kai-Diamond Head)
Les Ihara (D)
Dist. 9 (Palolo-Kaimuki-Waikiki)
Brian Taniguchi (D)
Dist. 10 (Manoa-Makiki)
Carol Fukunaga (D)
Dist. 11 (Makiki-McCully)
Suzanne Chun
Oakland (D)
Dist. 13 (Kalihi-Pauoa-Nuuanu)
Donna Mercado
Kim (D)
Dist. 14 (Moanalua-Halawa)
Glenn Wakai (D)
Dist. 15 (Kalihi-Salt Lake-Aiea)
Mike Gabbard (D)
Dist. 19 (Waikele-Kapolei)
Will Espero (D)
Dist. 20 (Ewa-Waipahu)
Pohai Ryan (D)
Dist. 25 (Kailua-Hawaii Kai)
Who Held Fundraisers and When
In bold are fundraisers held while the Legislature was in session. 
HOUSE

Name
District
Fundraiser dates (2011)
Price per ticket
Gilbert Keith-Agaran (D)
Dist. 9 (Kahului-Paia)
Sept. 27
$49
Angus McKelvey (D)
Dist. 10 (Lahaina-Kihei)
April 6
$50
James Tokioka (D)
Dist. 15 (Lihue-Koloa)
April 6
$100
Daynette "Dee"
Morikawa (D)
Dist. 16 (Niihau-Koloa-Waimea)
Nov. 27
$50
Gene Ward (R)
Dist. 17 (Kalama-Hawaii Kai)
March 17
$500
Mark Jun Hashem (D)
Dist. 18 (Hahaione-Kahala)
April 11
$50
Barbara Marumoto (R)
Dist.19 (Waialae Iki-Kahala)
Sept. 7
$50-$2,000
Karl Rhoads (D)
Dist. 28 (Palama-Downtown)
April 6
$100
Joey Manahan (D)
Dist. 29 (Kalihi Kai-Kapalama)
March 29
$50
John Mizuno (D)
Dist. 30 (Kamehameha Hts.- Kalihi Valley)
April 6
$100
Linda Ichiyama (D)
Dist. 31 (Moanalua-Salt Lake)
March 9
$50
Roy Takumi (D)
Dist. 36 (Pearl City-Pacific Palisades)
April 13
$250-$1,000
Sharon Har (D)
Dist. 40 (Makakilo-Kapolei)
April 6
$100
Ty Cullen (D)
Dist. 41 (Waipahu-Waikele)
March 29
$25-$50
Rida Cabanilla (D)
Dist. 42 (Waipahu-Ewa)
March 30
$50
Karen Awana (D)
Dist. 44 (Honokai Hale-Nanakuli)
April 6
$100
Gil Riviere (R)
Dist. 46 (Waialua-Haleiwa-Laie)
Oct. 11
Oct. 19
$50
$50
Jessica Wooley (D)
Dist. 47 (Laie-Kaneohe)
Aug. 2
$100
Pono Chong (D)
Dist. 49 (Maunawili-Enchanted Lake)
April 11
$50
Did not hold fundraisers
These state representatives did not file any reports by Nov. 9, 2011, to the state Campaign Spending Commission of their intent to hold a fundraiser during 2011 for the 2012 election.
HOUSE

Name
District
Mark Nakashima (D)
Dist. 1 (Kohala-Hilo)
Jerry Chang (D)
Dist. 2 (S. Hilo-Keaukaha)
Clift Tsuji (D)
Dist. 3 (S. Hilo-Puna)
Faye Hanohano (D)
Dist. 4 (Puna-Kalapana)
Robert Herkes (D)
Dist. 5 (Puna-S. Kona)
Denny Coffman (D)
Dist. 6 (N. Kona-Kailua-Kona)
Cindy Evans (D)
Dist. 7 (North Kona-South Kohala)
Joseph Souki (D)
Dist. 8 (Wailuku-Waikapu)
George Fontaine (R)
Dist. 11 (Makena-Kihei)
Kyle Yamashita (D)
Dist. 12 (Pukalani-Kula)
Mele Carroll (D)
Dist. 13 (Kahoolawe-Lanai-Molokai-
E. Maui)
Derek Kawakami (D)
Dist. 14 (Hanalei-Kapaa)
Calvin Say (D)
Dist. 20 (St. Louis Hts.-Palolo-Kaimuki)
Scott Nishimoto (D)
Dist. 21 (Kaimuki-Diamond Head)
Scott Saiki (D)
Dist. 22 (Moilili-McCully)
Tom Brower (D)
Dist. 23 (Waikiki-Ala Moana)
Issac Choy (D)
Dist. 24 (Manoa)
Della Belatti (D)
Dist. 25 (Tantalus-McCully)
Sylvia Luke (D)
Dist. 26 (Dowsett-Pauoa-Punchbowl)
Corrine Ching (R)
Dist. 27 (Nuuanu-Liliha)
Aaron Johanson (R)
Dist. 32 (Lower Pearlridge-Aiea-Halawa)
Blake Oshiro (D)
Dist. 33 (Aiea-Halawa Hts)
K. Mark Takai (D)
Dist. 34 (Newtown-Pearl City-Waimalu)
Henry Aquino (D)
Dist. 35 (Pearl City-Waipahu)
Ryan Yamane (D)
Dist. 37 (Mililani-Waipio Gentry)
Marilyn Lee (D)
Dist. 38 (Mililani-Mililani Mauka)
Marcus Oshiro (D)
Dist. 39 (Wahiawa-Whitmore Village)
Kymberly Pine (R)
Dist. 43 (Ewa Beach-Puuloa)
Georgette "Jo" Jordan (D)
Dist. 45 (Waianae-Makaha)
Ken Ito (D)
Dist. 48 (Heeia-Kaneohe)
Cynthia Thielen (R)
Dist. 50 (Kailua-Kaneohe Bay)
Chris Lee (D)
Dist. 51 (Lanikai-Waimanalo)
Correction: The print version of this story (appearing in Hawaii Business magazine's December 2011 issue) lists fundraisers that were held during the 2009 and 2010 legislative sessions. They have been omitted from this online version. Also, ticket prices for fundraisers by senators Michelle Kidani and Barbara Marumoto were incorrectly reported. Hawaii Business magazine regrets the errors.