Hawai'i's Top Leadership Conference Inspires Tomorrow's Leaders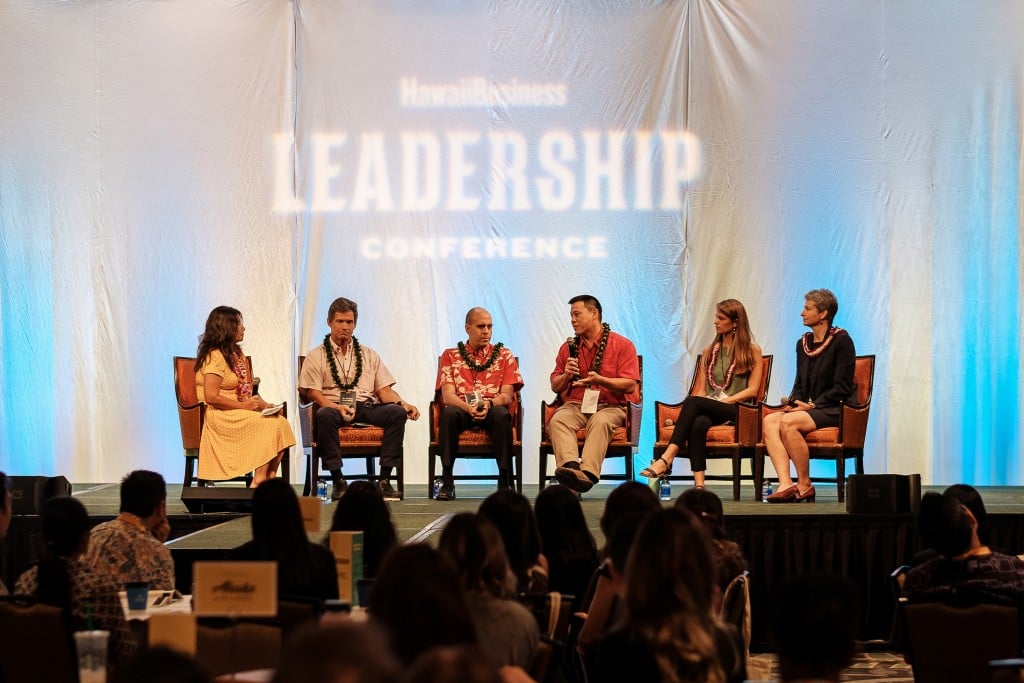 Thursday, January 1, 1970, 8:00 am – 5:00 pm
By Noelle Fujii-Oride
Tomorrow's business leaders need to do more than set examples in their workplaces. They also have a responsibility to help Hawaiʻi tackle its biggest challenges.
"We look at an issue in business or in education, and we can look at it from a micro level, but we got to understand how it fits within the whole context of what's going on in our community," said Jack Wong, CEO of Kamehameha Schools, during a panel discussion about the ways business leaders can be community stewards.
He was one of 55 speakers at Hawaii Business Magazine's sixth annual Leadership Conference, where attendees spent time networking and investing in themselves, their teams and their communities. The event, which attracted more than 600 attendees, was held Thursday at the Hilton Hawaiian Village.
First Hawaiian Bank has been the conference's presenting sponsor for six years. Sherri Okinaga, vice president and talent development manager, said the bank continues to sponsor the event because it wants to uplift the community's leadership. "That just makes Hawaiʻi better," she said.
One of Hawaiʻi's biggest challenges is climate change, which was the focus of the conference's morning general session. The panel featured UH Mānoa's Dr. Charles "Chip" Fletcher, who is also vice chair of the Honolulu Climate Change Commission; John Leong, CEO of Pono Pacific and Kupu; Bettina Mehnert, president and CEO of AHL and a member of the Honolulu Climate Change Commission; Brian Kealoha, executive director of Hawaiʻi Energy; and Danya Hakeem, director of agriculture and circular economy innovation at Elemental Excelerator. The panel was moderated by LiAnne Yu, contributing writer for Hawaii Business Magazine.
Hawaiʻi has an opportunity to demonstrate how to live sustainably as the world looks for ways to halt global warming at a safe level, Fletcher said. Panelists offered suggestions that business leaders could do to help, like partnering with clean energy startups on pilot projects, participating in energy efficiency programs and implementing green company policies.
"I think the most important thing is to do something," Mehnert said. "Is this going to solve the problem? No, but all of us doing everything together will make a difference."
In the community stewardship panel, Duane Kurisu, founder and chairman of aio, talked about his journey developing Kahauiki Village, a community for formerly homeless families near Sand Island. The project was a collaboration between businesses, nonprofits, and state and city governments. He and other panelists agreed that leaders need to be passionate, know when to ask for assistance from others and be willing to take a leap of faith in order to help address Hawaiʻi's larger problems.
Kurisu added that Hawaiʻi is fortunate to have such a strong sense of community, which makes projects like Kahauiki Village possible.
Hilton Hawaiian Village Waikiki Beach Resort, Kalia Road, Honolulu, HI, USA