Letters to the Editor: November 2015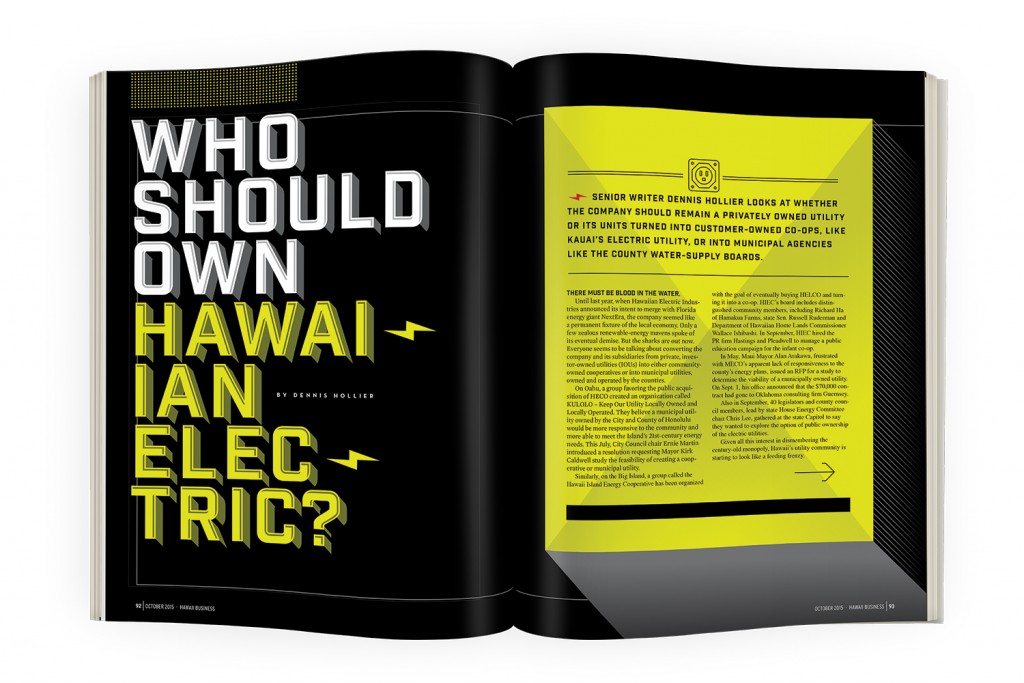 HECO's Ownership Not the Crucial Factor
More important is the utility's skill and innovation in adapting to disruption in the electricity sector
I appreciate the efforts of Hawaii Business and Dennis Hollier to dig deep into the complex issues of Hawaii's evolving electricity system (latest story: "Who Should Own Hawaiian Electric," October 2015). Electricity customers need to understand the important decisions required to transform Hawaii's energy sector, and they require good information to make well-informed decisions as advancing technology makes more products and services available directly to customers. However, as pointed out by Kauai Island Utility Cooperative's CEO, David Bissell, "Ultimately, it's about how you [the electric utility] act and function as an organization."
During this period of disruptive technology, several key factors will determine success – no matter what the ownership model. Those factors are the electric utility's leadership, it's cultural environment and how it embraces strategic planning, analytics, flexibility and innovation. KIUC, which has taken close to 15 years to nurture its current culture, is often cited for its leadership, innovation and nimbleness.
Unfortunately, Hawaiian Electric Industries, the holding company of the Hawaiian Electric Companies, was slow to recognize the need for the right type of leadership for a business in transition. Although a bit late, I strongly believe HEI made a good choice in finally naming Alan Oshima as CEO of Hawaiian Electric Co. in October 2014. Oshima is familiar with disruptive technology and transformation, bringing his experience from the telecommunications sector. Now, under his leadership, the HECO companies are undergoing the huge internal reforms needed to navigate change. The question is: Can the HECO companies move fast enough to survive the disruption to their evolving organizational structure and business model?
As it is doing in many industries, Big Data is transforming the electricity sector. As we move further away from the traditional central power design to integrating more renewable resources (both utility and customer-sited systems), and unbundling and procuring other ancillary services typically provided by the utility, the electric utility's primary commodity is shifting from electrons to data. This paradigm shift requires the utility to be the aggregator of data – that is, the analysis and management of data for the efficient delivery and usage of the cleanest and cheapest electrons while maintaining power quality and stability of the grid at affordable rates.
Capturing the potential of data analytics requires a strategic business transformation with three main elements: (1) good planning, (2) senior management capacity to really focus on data (rather than historic rules of thumb) and (3) the ability to address the cultural and skill-building-capacity challenges needed throughout the organization to embrace change. Therefore, the HECO companies' success at weathering the disruption depends on the speed at which they dump their existing organizational structure with decision-making protocols designed around multilevel approval processes and adopt a structure that accommodates analytics and automation.
Focusing on ownership models does not delve into the operations of a utility to solve the real challenges that will lead to higher performance, customer satisfaction and, hopefully, more affordable electricity rates. What's needed to navigate this electricity paradigm shift are organizational and cultural changes, the right kind of leadership and workforce investment. NextEra says it can accelerate and improve upon this transformation because of its experience. Hawaii should study and evaluate that experience rather than put up artificial challenges and roadblocks to stymie consideration of the merger.
Timing is everything. The costs will be huge if Hawaii misses the boat by not focusing on what really matters to achieve transformation.
Mina Morita
---
Many pluses to municipally owned utilities
Thank you for a very informative article that went deeper into the issue of who should own the Hawaiian Electric Companies than anything I have read so far. A similar process of remunicipalisation has happened in Germany in the last few years. Since nearly all existing grid concessions in the energy sector are up for renewal in the period up to 2016, about two-thirds of all German cities and towns are considering buying back both electricity generators and distribution networks.
A report this year by the Wuppertal Institute for Climate, Environment and Energy (tinyurl.com/ofvr9gf) says 72 investor-owned utilities (IOUs) have been converted into municipally owned utilities or munis. Eighty-one percent of citizens surveyed say they trust their local municipal utility, compared to only 26 percent who say they trust corporations. German citizens also want more renewable energy and feel munis will provide that. The report analyzed the impacts:
Achieving environmental objectives and organization of the local energiewende, or energy transformation.
Higher local added value.
Harnessing tax regulations for improving municipal services.
Improving the income situation of the city.
Democratization of supply and stronger orientation toward the common good (public value).
Creating and protecting good jobs.
Acting socially responsibly regarding energy supply.
Expansion of eco-efficient energy services.
Harnessing customer relations and public image.
Materializing synergies with other sectors.
Based on expert opinions, the study finds that the likelihood of these targets being reached is "high to very high."
A muni can integrate local services better that an IOU. For example, in Hawaii, the water department could schedule its pumps to run when the utility has excess power and the billing/planning/construction systems for water and electricity could be integrated.
A municipal utility would improve the job situation in its city considerably, rather than exporting jobs to the IOU's headquarters. Its revenue helps to strengthen the regional economy by creating jobs and investing in the region.
However, we need to analyze the investments needed in the future. The HEI purchase is valued at $4.2 billion, but the move to 100 percent renewable energy will cost in the neighborhood of $30 billion. As long as this can be done with low interest rates (3 to 5 percent), energy prices will fall. Co-op banks have low interest rates that would apply to the Big Island, but not to most of Maui and Oahu, and their funding is limited. An IOU like NextEra has access to large funding sources, but could it get a low enough interest rate?
Online comment from ChrisMaui
---
Third Option:
Get Everyone Off Big, Aging Grid
Hawaii Business' story is the best attempt by any local media entity to thoroughly compare the pros and cons of nonprofit ownership of the Hawaiian Electric utilities with continued for-profit monopoly ownership by either Hawaiian Electric Industries or NextEra.
To me, it does not matter how genuine NextEra's talk about embracing local values may be. Even if it is sincere, NextEra's actual business practices in Hawaii will still be governed by its "prime directive" – a fiduciary responsibility to maintain or increase value for shareholders.
I am glad NextEra entered the picture because its takeover bid has largely been the catalyst to bring discussions about nonprofit alternatives into mainstream debate. And thanks to Life of the Land's long-term commitment to challenging the status quo and its recent formal request to the Public Utilities Commission to study nonprofit ownership options.
Even though I have been trying to stimulate thought and discussion about nonprofit alternatives to electric utility ownership for 13 years, I now think a third alternative also deserves consideration. In the future, it may be more technically feasible and cost-effective for taxpayers to subsidize lower-income customers who cannot afford the upfront cost of investing in distributed electrical generation and storage. That is, pay for all remaining Hawaiian Electric customers to go off the grid.
It may be cheaper to replace HEI's increasingly decrepit centralized grids with a decentralized network of smaller, newer, more efficient and cost-effective micro-grids and nano-grids. These micro-grids and nano-grids could be built as needed on an incremental basis, at less than the cost of modernizing HEI's legacy grids and perpetuating our dependence on HEI.
Online comment from Tom Brandt
---
Go Back to Your Home Countries
The common theme in these illegal immigrants' comments (Hawaii's Dreamers, August 2015) is that it's the fault of the USA that they "cannot" achieve their potential. They should return to their home countries immediately, where they are legal citizens, and try there to achieve their potential and blame their home country for whatever failures they encounter. If they truly want to enter our country and partake of its bounty, they should do it legally.
Posted online by malolo
---
Don't Kill Tourism With Higher Taxes
I read with horror your September 2015 editorial concerning affordable dwelling units. I agree that ADUs (or in-law units, ohanas, etc.) can contribute to the housing supply, but as the owner of a small condominium on Maui for the past 15 years, I think you misjudge absentee property owners such as myself.
Our condominium is rented out over 200 days a year and our family spends a minimum of four weeks there annually. This generates transient accommodations tax (9.25 percent), general excise tax (4.16 percent), use of local suppliers, restaurants, etc. On top of this, we pay property tax at a current rate of $8.55 per $1,000 valuation, belong to several local organizations and contribute to a dozen Hawaii charities. We always fly Hawaiian when we can and charge many thousands of dollars on its branded MasterCard.
We are not alone in our contribution to the Hawaiian economy. So for this, you want us to pay over $25 per thousand in property tax? Tourism is the state's No. 1 industry. Don't kill it.
William D. Devlin
Mill Valley, California
---