Repurposing With Style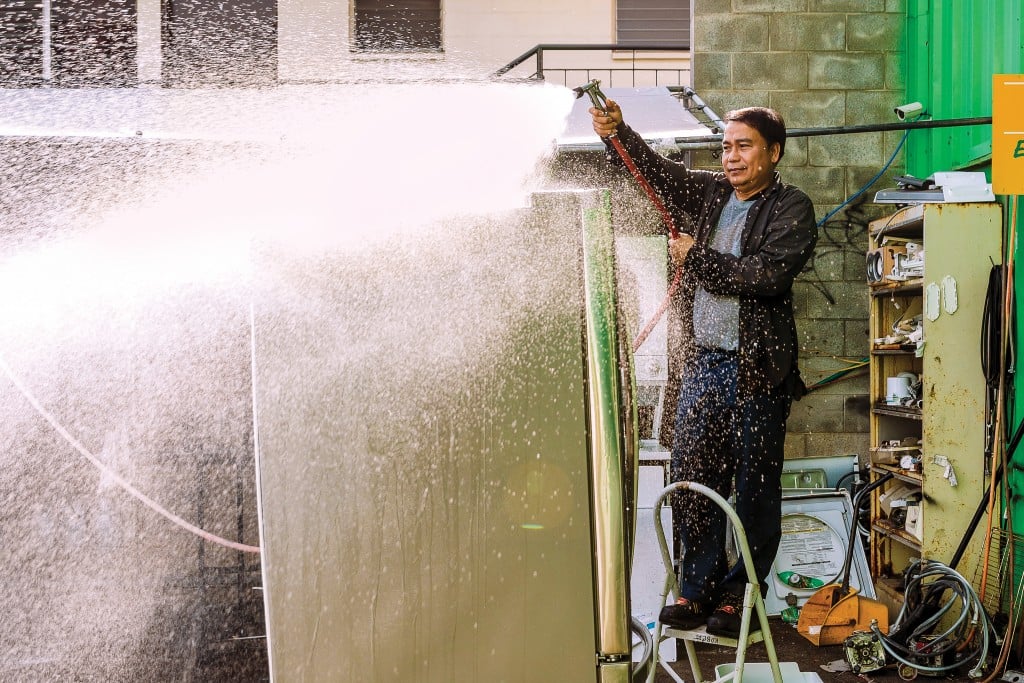 Ross' Appliances & Furniture was founded in 1975 by Ross Wigney, an Australian who served as an electrician's mate aboard Jacques Cousteau's ship Calypso.
"He met a girl on the Mainland, and when the Calypso pulled out of port, Ross stayed behind," recalls current Ross' owner Tyler Palmer, with a knowing smile. "They moved to Hawaii. Then Ross found some old washers and dryers in the backyard of the place they were renting.
"He started to fix them up, then he later took appliance repair classes. He and his wife would deliver in a small truck. Later, Ross opened a small store."
Palmer began as a salesman at Ross' in the 1990s, then later did a "management buyout" in 2000, when Wigney decided to move to the Mainland. "I had been training with him for 10 years, and this is a very unique business. You can't just walk in and do it. You need connections."
The Kailua resident – originally from Orange County, California – moved here in 1988 after his brother-in-law got stationed at Schofield Barracks. "I was looking for a bed and came to Ross'. But Ross said he was a little low on stock because he was short on sales staff."
So Palmer, a born salesman from a salesman's family, jumped at the chance to work in his field, and has been at the reconditioned bedding, appliance and furniture outlet ever since.
The main store on Mokauea Street carries appliances and is the site of the innovative "Green Bed Factory." A second store at Dillingham Plaza sells furniture and new and reconditioned mattresses. The company has been at the Mokauea Street location for about 15 years and owns the building. The Dillingham Plaza store opened a few years ago.
Some date the beginning of the modern environmental movement to the first Earth Day in April 1970, and the original Ross' store was a product of those times. Now, with a renewed interest in sustainability and "going green," Palmer thinks his company is a forerunner.
"If we're able to recondition or repair a used item and we can double its life span, then it's like creating a new product out of thin air. That's big.
"As far as the carbon footprint goes – we're saving on the metal, fuel, labor, rubber – to create another product. On a little island like ours, that impact is even bigger.
"And customers can save a lot of money. A lot of people can't afford to buy a new $800 washer."
Ross' obtains used appliances at auction or directly from owners who are remodeling. "We buy still-usable washers and dryers, we clean and repaint them, we replace parts that increase the life of the appliances – and then we get another 10 years out of them," Palmer says.
The Kalihi company also does furniture, fixtures and equipment removal from the major Waikiki hotels after their renovations. "Sometimes it's free, sometimes they pay us and sometimes we pay them when we pick up," Palmer explains. "We prefer hotel mattresses and furniture because they're commercial-grade and more durable."
Dillingham Plaza store manager Brian Sarchet says that all mattresses and furniture items go through a sanitation process when they arrive. "If the mattresses are in really good shape and have been well-protected by the hotels, then we clean, bag and resell them. If they're in bad shape, then we strip the upholstery off and rebuild them at the Green Bed Factory."
Outdated furniture – such as entertainment centers – is "converted" to more useful pieces, like cabinets or drawers, according to Sarchet. Hotel sofa beds that fold out are popular, especially with customers who expect visitors.
For customers who prefer new beds, the store carries two lines of memory foam mattresses – MLilly and Nature Sleep. "Both lines represent really good value for the consumer," Sarchet says. "They cost less here than what you could buy them for online."
About 75 percent of Ross' customers are individual homeowners or renters, and the remainder are property managers or businesses, Sarchet says. "They come from the surrounding area of Kalihi and from all over the island. We get students, Waikiki condo owners and the military."
Zenaida Lazarte, 51, a marketing administrator for Wyndham Hawaii, has been a regular customer of Ross' for about a year. So far, the downtown resident has purchased a queen-size mattress, a sofa bed and a massage chair.
"Their products are an unbeatable value, and their customer service has been more than I could ask for," Lazarte says. "I also like the quick and friendly delivery."
Ross' did about $3 million in sales in 2015, according to Palmer. Between both locations, it employs about 20 workers – including Palmer's 20-year-old son, Andrew, who's a delivery driver.
Palmer recently began shipping container loads of refurbished mattresses and box springs to retailers on the Hawaii Island and Kauai.
"Small business is difficult with all the taxes and regulations," Palmer reflects, "but the biggest thing I have learned is that government is my partner. Once you come to grips with that, everything's OK."
As for future growth, Palmer says he's happy where he is – remaining sustainable.
---
ROSS' APPLIANCE & FURNITURE
401 Mokauea St. and 1505 Dillingham Blvd.
841-7336, 841-7331
rosshawaii.com